Yes, most peanut butter is perfectly safe to feed your pup in moderation. Smooth or crunchy, it's a fantastic treat and a perfect way to get your dog's pills down. However, it's extremely important to choose a safe brand for your pup. Some commercial peanut butter brands for human consumption contain ingredients that can be seriously toxic or unheathly for our furry friends. So, be sure to read our article to see what's safe and not.
At A Glance: Best Peanut Butter For Dogs
When Is Peanut Butter Bad For Dogs?
While most dogs go nuts for peanut butter, there are a few health concerns you should be aware of regarding the type of peanut butter you share with your furry friend and how much to give him.
Xylitol Toxicity
The primary peanut butter ingredient that's bad for dogs is xylitol. Xylitol is a sugar substitute used in chewable vitamins, baked goods, toothpaste, sugar-free chewing gum, and some human peanut butter brands. While safe for humans, xylitol is extremely toxic to dogs. The major brands that contain xylitol include Go Nuts, Nuts n' More, Krush Nutrition, Hanks Protein Plus, and P28 Foods.
How is xylitol toxic to dogs? When dogs ingest xylitol, it's more quickly absorbed into the bloodstream compared to humans. This can cause the pancreas to rapidly release too much insulin, causing a serious drop in blood sugar levels (a condition called hypoglycemia). Hypoglycemia can occur within 10 to 60 minutes of eating xylitol. However, in some cases serious effects can take up to 12 or 24 hours to occur. Left untreated, it can be quickly life-threatening.
Symptoms of xylitol poisoning include weakness, lack of coordination, collapse, and seizures. If you suspect your pup has consumed xylitol, contact your veterinarian or an emergency clinic immediately. You can also reach the Pet Poison Helpline at (855) 764-7661.
Did You Know?
Poisoning and other accidents can occur with your pup anytime, and emergency vet treatment can cost you hundreds or even thousands of dollars. If you have 
pet insurance
, accidental poisoning may be covered, which can help save you money and allow you to focus on your dog's health.
Additional Health Concerns
Even xylitol-free peanut butter isn't good for some dogs. Peanut butter is high in calories, fat, and sodium, so it's not an ideal treat option for overweight or obese dogs and dogs with diabetes or pancreatitis. If your pup suffers from any of these conditions, it's best to check with your vet to see if he should eat peanut butter.
Also, keep in mind that some human brands contain unhealthy fats, sugars, and artificial preservatives that may cause health problems down the road. It's important to read the ingredients carefully when choosing peanut butter for your pup.
Is Peanut Butter Good For Dogs?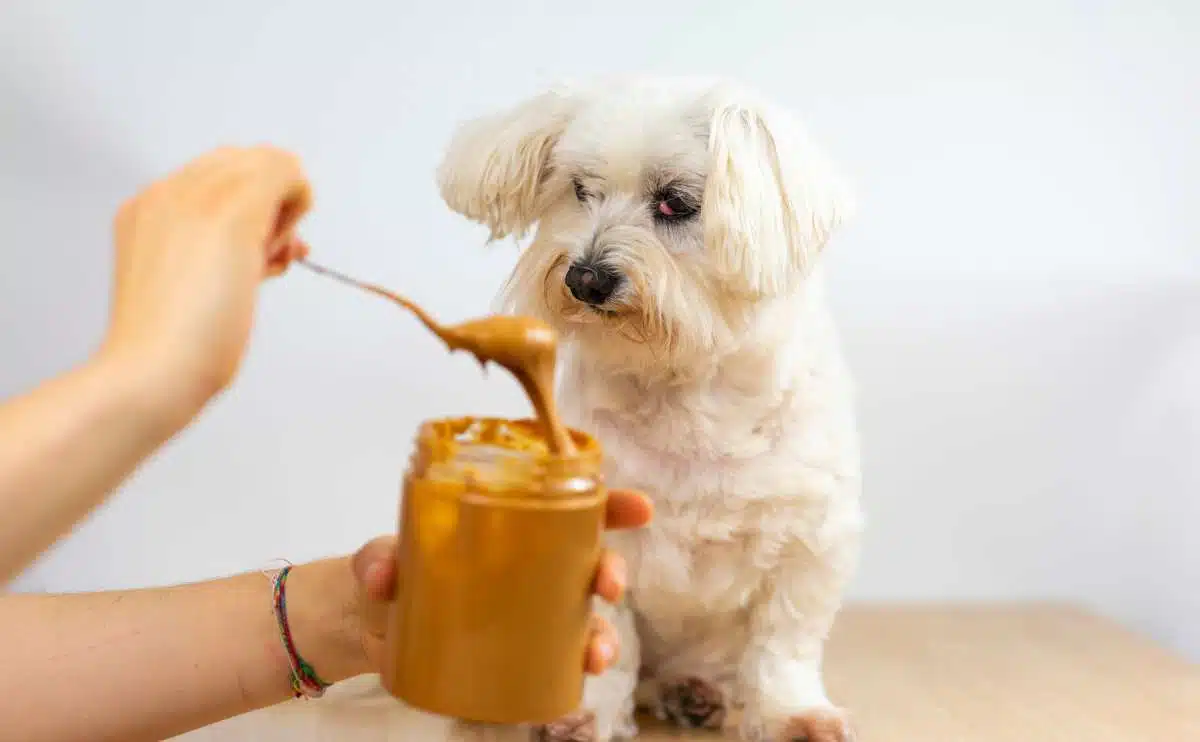 When given in moderation, dog-safe peanut butter is a nutritious treat for most dogs. It's rich in protein, healthy fats, and fiber and a good source of vitamins E and B6, magnesium, iron, selenium, and niacin. But peanut butter can also be a pup owner's best friend for entertainment and other purposes.
Stuff a Kong Classic Toy with peanut butter and freeze it for a fun interactive experience
Smear peanut butter over a lickmat for a longer-lasting treat
Use a small amount of peanut butter to hide a pill
Use it as a distraction when trimming your pup's nails
Our Personal Experience With Dog Eating Peanut Butter
We spread some peanut butter on a lickmat to help our separation anxiety-prone King Charles Cavalier Spaniel. She loves it! She licks until the mat is clean, then she falls asleep on top of it. The only downside is her long ears tend to get messy when they drag through the peanut butter. The mat washes clean, and it's easy to store when not in use. Lexie seems to look forward to when we leave because she jumps when I get the LickiMat out.

– Sadie Cornelius, parent of a Cavalier King Charles Spaniel
What Peanut Butter Is Safe For Dogs?
While most commercial human peanut butter brands, such as JIF, Skippy, and Peter Pan, are safe and non-toxic for our furry friends, they're not the best choices. For example, both JIF and Skippy have high sodium levels. JIF also contains artificial preservatives, and Skippy includes hydrogenated vegetable oil and sugar.
Your healthiest options are peanut butter made specifically for dogs, unsalted peanut butter, and homemade peanut butter. See our reviews of the 6 best peanut butter for dogs. Most of our top picks are made for dogs and are fortified with healthy nutrients for pups, such as omega-3 fatty acids or probiotics.
How Much Peanut Butter Can Dogs Have?
Experts advise sticking to modest amounts when giving your pup any snacks or treats. The general rule is that treats and additional food shouldn't exceed 10% of your dog's daily caloric intake. The remaining 90% should come from a complete and balanced dog food.
However, because peanut butter is so high in calories and fat, it's best to alternate it with healthier treat options. Small dogs can have ½ teaspoon of peanut butter, and you can give larger dogs up to ½ tablespoon every few days.
Frequently Asked Questions
Here are some questions we often get from our readers about peanut butter for dogs. Don't see yours here? Ask us in the comments.
Can Dogs Be Allergic To Peanut Butter?
Yes, some dogs can be allergic or have a food intolerance to peanuts and peanut butter. Milder reactions to peanut butter (atopic dermatitis, or skin allergies) include red and itchy skin, bald patches, and hotspots that develop over time. More serious is an immediate anaphylactic reaction, which can cause difficulty breathing, swelling, vomiting, diarrhea, and even collapse.
Can Dogs Eat Peanut Butter And Jelly?
It depends on the type of peanut butter and jelly you choose. Some sugar free jellies may also contain xylitol, so read the ingredients carefully. Also, you should never give dogs grape jelly because grapes are toxic to dogs.
Can Puppies Eat Peanut Butter?
Yes, you can give a puppy as young as 8 weeks old a very small amount of xylitol-free peanut butter as a reward for good behavior on occasion. When you're training an older puppy, it's better to use training treats instead of peanut butter because of the high fat and calorie content.
Why Do Dogs Like Peanut Butter So Much?
Theories abound about why peanut butter is so tasty for our canine companions. Some experts believe that dogs have taste buds that naturally crave the fat, protein, sugar, and salt content of peanut butter. The idea is that dogs (and people) are hardwired to crave certain nutrients their bodies need. Also the high sugar, salt, and fat content in peanut butter that dogs can sniff out make it an irresistable offering.
Healthy Treat Options
Peanut butter is a special occasional treat, but if you're worried about the high fat and caloric content in peanut butter, you have many other healthy treat options. See our picks for the best low-calorie treats for weight control, hypoallergenic treats for pups with skin allergies, treats for diabetic pups, and CBD treats to help ease anxiety or joint pain. We've also chosen your best options for organic treats, vegan treats, and freeze-dried treats.
Tagged With: Food Safety