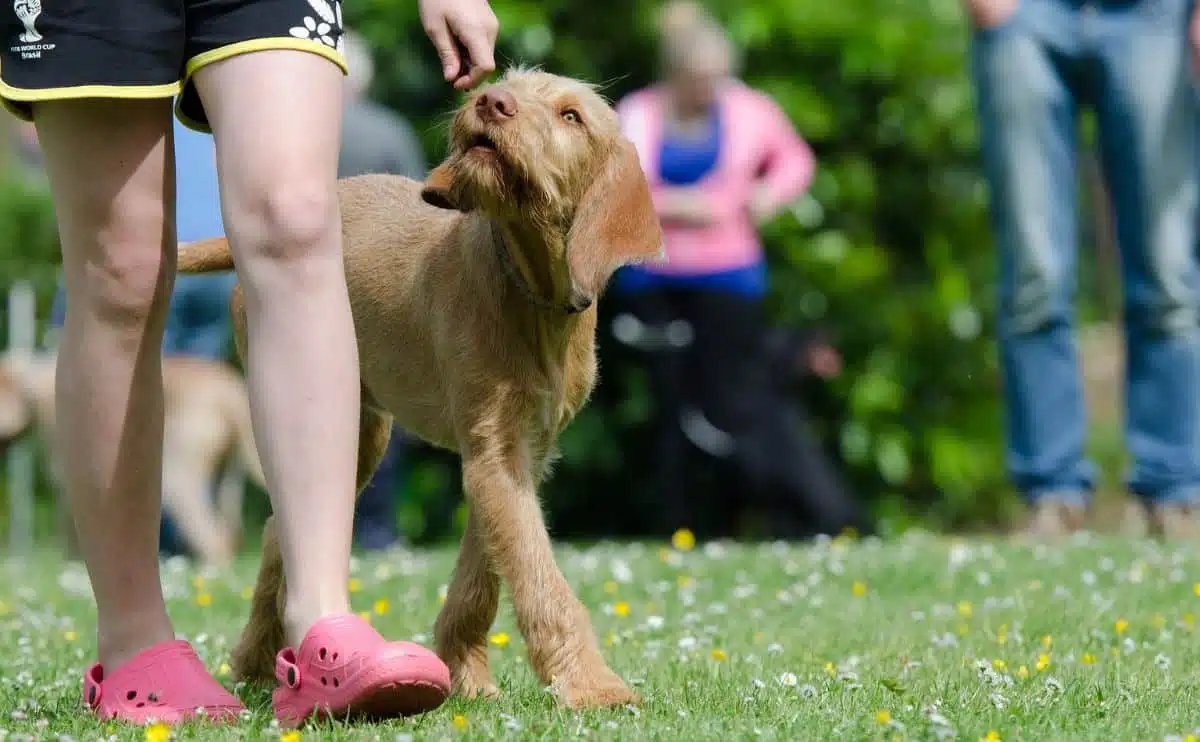 Picking a treat to give your dog while training can be tricky. You don't want to give them a treat filled with calories. Especially since you'll be giving many at a time. You also want one that is all-natural, meaning there are no artificial flavors or colors.
That's why it's so important to read the labels of every food-related item you purchase, whether it's for you or your pet. And if you need a handy carrying case for your treats during training, we recommend this one. Let's take a look at the best training treats for puppies and dogs.
Winner: Zuke's Mini Naturals Healthy Moist Training Treats Review
If we had to pick one winner, we'd choose these Zuke's treats as the best dog treats for training, offering a great natural product for a very competitive price. As the title suggests, Zuke's Mini Naturals Healthy Moist Training Treats are made for training and are among some of the best puppy training treats.
This dog training treat bag comes in seven different flavors: chicken, duck, peanut butter, pork, salmon, wild rabbit, and exotic. Each treat has 3.5 calories, and there is no wheat, corn, or soy in these products. So if your dog has an allergy or is intolerant to one of those ingredients, these will be safe for her. The treats are pea-sized and remain soft as long as you seal the package properly. These treats are crafted in the U.S.A.
Our Personal Experience
"We've used Zukes to train our dog, and they're perfect because of how tiny they are. You don't have to break up bigger treats into smaller, digestible pieces. They're not crumbly either, so you can carry a lot at a time and not worry about crums or parts breaking off. Our dog loves them because they're tasty and easy to chew."

– Sadie Cornelius, Cavalier Dog Parent
Pricing
Best Training Treats For Dogs
Teaching your dog a new trick or house training her can be stressful. You may find that using treats is easier than dog training without treats. There are lots of things you can use as treats for your dog. In fact, some people use marshmallows, hot dogs or croutons, although we do not recommend these food items.
We suggest sticking with snacks that contain more natural ingredients and fewer preservatives. Below are some reviews of the best dog-training treats.
CANIDAE Grain Free Pure Chewy Treats for Dogs Review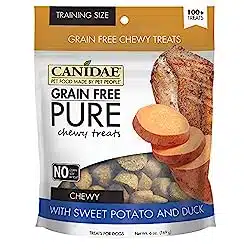 CANIDAE Grain Free Pure Chewy Treats come in three flavors: rabbit & kale, sweet potato & duck, and turkey & apple. The treats have no corn, wheat, soy, or fillers, so they are perfect for more sensitive dogs.
These treats are made in the United States, and there are more than 100 treats per bag.
Pricing
Greenies Pill Pockets Review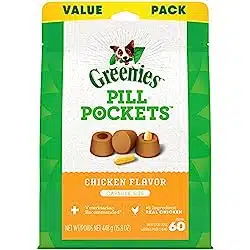 These treats are actually made to put pills inside to make it easy to give dogs their medicine. However, they're also great puppy treats for training. Greenies Pill Pockets treats are designed by vets and are made right here in the U.S.A. in Kansas City, Missouri. The treats are available in three different flavors: chicken, real peanut butter, and hickory smoke.
They also come in two sizes: large (to fit most capsules) and small (to fit most tablets). These all-natural treats have fewer calories, less fat, and lower sodium than most human foods. These treats are also soft, so you can tear them apart easily to make them last a little longer.
Pricing
Hill's Science Diet Adult Training Treat Bag For Dog Review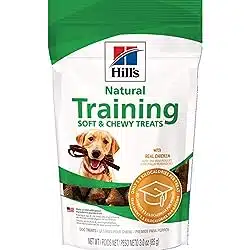 These Hill's Science Training Treats are made in the U.S.A. There are about 30-40 treats in the bag, and for best quality, you'll want to use them up within 3 weeks of opening.
This will help keep the treats soft, as they're meant to be. There is no corn or artificial colors or flavors in these treats, and the number 1 ingredient in them is chicken.
Pricing
Milk-Bone Flavor Snacks Review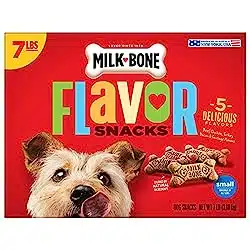 These Milk-Bone Flavor Snacks are common training treats for puppies but do contain more preservatives than most of the treats we reviewed. Each box includes five different flavors: bacon, beef, chicken, sausage, and turkey.
The treats include 12 minerals and vitamins to help keep your dog healthy. Unlike the Greenies, these treats are crunchy. They claim the texture helps clean your dog's teeth and freshens breath. Since these are harder, they're difficult to break into smaller pieces, but if you can manage it, you'll get 2-3 treats out of each bone.
These treats aren't our first pick for training treats due to the preservatives, but the choice is ultimately up to you. These training treats for puppies are made in the U.S.A.
Pricing
Old Mother Hubbard Crunchy Classic Natural Dog Treats Review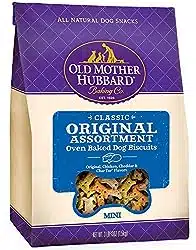 Old Mother Hubbard's mini biscuit assortment of treats are crunchy and bone-shaped. Included in the box are original chicken, cheddar, and char-tar flavored bones. These treats are all-natural with no artificial preservatives. Old Mother Hubbard dog treats are made in North America.
Pricing
How To Train Your Dog Using Treats
Now that you have an idea of what treats you want to get for your pup, you need to know how to implement training with the treats. Watch this short video below on How to Train Your Dog Using Treats.
Why Are Treats Effective For Training Dogs?
As you learned in the video, positive reinforcement is more effective than negative. Reward your dog for positive behaviors, do not punish her for negative ones. The Association of Professional Dog Trainers (APDT) uses treats to train dogs in their care.
The APDT also suggests using small, chewy treats to help with timing for your training purposes. You can also be generous and give more treats because the smaller the treat typically means fewer calories. (You don't want to make your dog overweight by giving too many large treats!) Besides, your dog doesn't care how big the treat is. She just loves that she's getting so many and getting attention from you. Learn more about other dog treats and training tips.
Tagged With: Comparison, Treats