Nothing is more frustrating than a dog who misbehaves. Or maybe your pup is already obedient, but you want to advance his skills and teach him tricks — like fetching a beer from the fridge?
Thanks to the internet, you can bring expert dog trainers to you anywhere. Learn more about virtual dog training options, benefits, class types, pricing, and more.
Article Overview
5 Reasons To Consider Online Dog Training
What are the benefits of using an online dog training rather than a traditional, in-person dog trainer? There are a few advantages:
Prices are usually less expensive than an in-person dog trainer – Personal dog trainers can cost anywhere from $30 to $100 per hour. Online dog training is far less (sometimes free).
Not restricted to the dog trainer's schedule – With online dog training, you can train your dog on your time.
You can train virtually anywhere – In most cases, all you need is a device to stream videos and an internet connection.
Learn in a natural environment– Training at home allows your dog to learn in his regular element instead of an unfamiliar setting. This can be especially helpful with territorial dogs.
You will build a stronger connection with your dog – Through behavioral training at home, you're reinforcing your position in the home as the alpha.
Flexibility – You can start with an online puppy training program. Then you can use a virtual personal training session to speak to a professional and fine-tune any skills that require extra attention.
Best Online Dog Training Course
Now that you know some of the reasons why online dog training is beneficial, what are your best options? We picked our best dog training online courses on several factors, including the number of classes available, affordability, reputation, effectiveness, and more.
Doggy Dan: The Online Dog Trainer Review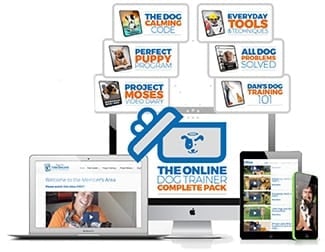 #1
When it comes to the best dog obedience training courses online, The Online Dog Trainer, aka Doggy Dan, is the man. His "5 Golden Rules" help you become the pack leader so your dog listens. And you can try out his program for only $1.
First, you must complete "The Calming Code" foundation classes, which teaches you how to establish trust and alpha status with your dog. You can then move on to the other courses, including Everyday Tools & Techniques, Puppy Perfect Program, All Dog Problems Solved, and Dan's Dog Training 101. He also has his popular "Project Moses" section, showing Dan's progress in training his puppy from 8 weeks to 8 months old.
Doggy Dan has more than 350 online videos including training videos for dogs in all stages of life. If you run into any questions, you can post photos, videos, and questions and someone from Dan's team will respond back. In addition to the online forum, courses, and resources, Doggy Dan also offers one-on-one sessions with his dog behaviorist Hayley Wright for an additional fee. If you're unhappy with your experience, there's a 60-day money-back guarantee, no questions asked.
Our Personal Experience
Our rescue puppy needed training, so we turned to Doggy Dan's online solution during the COVID-19 pandemic. Over the past three months, this video program has helped us bond with Barley and build trust, leading to better behavior. We are still working on many behaviors "with" Doggy Dan, but are encouraged by Barley's progress so far. – Michelle S., Canine Journal
Pros

Cons

Hundreds of videos online
App makes it easy to train without a computer
Access immediately upon signing up
Dog Calming Code method builds trust before training
Community access and forum to ask questions (after trial period)
Uses positive reinforcement, no force or aggression
Trusted by the New Zealand SPCA (Society for the Prevention of Cruelty to Animals)
Individual coaching sessions available (added cost)
60-day money-back guarantee

Must have a strong internet connection to view content
Not U.S. based (but is in English)
Monthly fee (after 3-day trial)
No mention of dog trainer certifications
Price
Brain Training For Dogs Review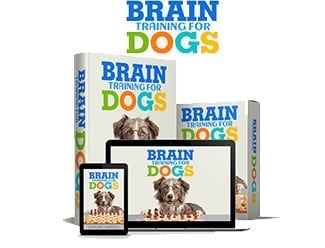 #2
Brain Training For Dogs is a series of games and courses for improving your dog's obedience. The games are taught by Adrienne Faricelli, Certified Professional Dog Trainer, Knowledge Assessed (CPDT-KA), who has more than 10 years of experience.
Adrienne's courses engage your dog on a mental level to help your dog develop intelligence. Her program follows the belief that a more intelligent dog is a better-behaved dog. The Brain Game method uses mental stimulation learned through the games, so a dog's brain will become more open and receptive to learning new information. There are seven modules that take you from preschool through graduation. You'll also get access to 7 Trick Training, Obedience 101, Polishing Up, Adriane's Archives, and a bonus Behavior Training guide.
In addition to the videos, you'll get access to a library of information on how to change specific problems and a private forum where you can discuss dog behavior, training, and more with other like-minded owners.
Pros

Cons

U.S.-based trainer with 10+ years experience
Adrienne is a CPDT-KA, featured in USA Today
Uses positive reinforcement; no force or aggression
Can start right away with instant access
One-time fee
Troubleshooting guides and step-by-step guides with picture and video demonstrations
Private forum
60-day, no-risk money-back guarantee

Cannot download videos; must have an internet connection to view content
Clunky user experience on the site
No app (just browser version)
Price
The video below is a sample of some of the things you might learn from Adrienne's brain training games.
Full Brain Training For Dogs Review
Petco Dog Training Review

#3
The popular retail dog store Petco has in-person dog training at locations across the country, but they also now offer both group and private online classes with trainers via Zoom. Since Petco is a national chain, they have a large selection of class dates and times to pick from, and you can start right away.
Petco believes in the power of positive reinforcement training, guided by expert-tested methods meant to build trust and support your dog's physical, social, and mental health. All teachers are AKC-certified, and you can read a short bio (but not reviews) on the trainer before picking a course.
Because the classes are live, you must commit to a class schedule versus doing them on your own time. If you need more structure and prefer to have more interaction, Petco classes could be a suitable fit for you.
Pros

Cons

Variety of trainers, class options, and dates
All instructors are AKC-certified
Backed by 50+ years of Petco experience
Receive a full refund up to the start of the 2nd class if you're not satisfied

Experience varies based on the teacher (and other dogs if you choose a group class)
Classes are at specific date and time
Price
Online Dog Training Resources Compared
Want to see how the various dog obedience classes online compare? We took a look at all the options in our review so you can see their features side by side.
What Are My Other Options?
These online dog behavior training solutions are worth considering even though they didn't make it into our top picks.
All Day Dog Adventures | Instinct | MasterClass (with Brandon McMillan) | Perfect Pooch | SIRIUS | Udemy | Zak's
All Day Dog Adventures Review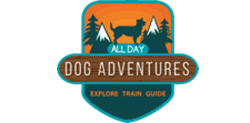 Visit Website
All Day Dog Adventures offers private dog behavior consultations to help you with your dog's issues at home. Topics cover door manners, food guarding, counter surfing, separation anxiety, and more. You'll fill out a history questionnaire, client form, and training disclaimer. Then, they'll set up an appointment time that works for your schedule. Before the class, they might ask you to submit a video of your dog's behavior, so they can see it in action.
When it's time for your appointment, their trainers spend up to two hours working with you and your dog. They'll provide tips to combat their bad dog behavior using force-free techniques. After your virtual Zoom or Facetime session, you get a written training plan to keep working on what you learned.
All Day Dog Adventures also has classes for puppies and dogs on specific tricks, including scent training. Check their website for details and dates.
Pros

Cons

Personalized, individual attention
Set your own schedule
Work on correcting a specific behavior
Low-commitment

Expensive
Not a long-term course for ongoing training
Price
Instinct Dog Behavior & Training Review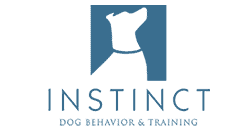 Visit Website
Instinct Dog Behavior & Training is a dog training school, founded in 2009 by two dog parents and certified dog instructors. Based in the New York City area, Instinct recently expanded its services to include an online dog school.
Instinct's library of online training and behavior resources is free. Just pick a class, enter your name and email, create a password, and get instant access to their courses, including e-books, videos, quizzes, PDF guides, and more. Their team of certified behavior consultants and board-certified veterinary behaviorists reviews all content.
At the time of publishing, they had limited online courses, but claim to be expanding into more content soon. They also have an Instinct Pup Line where you can call and speak with a certified trainer daily from 10 am-4 pm ET for a fee.
Pros

Cons

No cost for courses
Classes developed by their team of board-certified behaviorists
Trainers available via phone for an additional fee

Only a few online classes to pick from
No forum for additional support
Price
MasterClass: With Brandon McMillan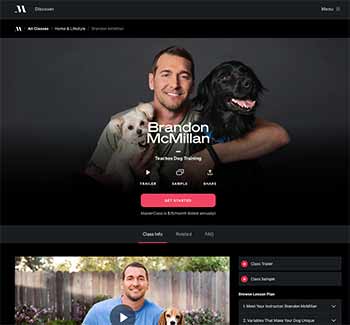 MasterClass is a collection of online courses taught by celebrities and highly-notable people in their respective areas of expertise. They have classes ranging from songwriting with Alicia Keys to cooking with Gordon Ramsay. Brandon McMillan, an expert dog trainer and Emmy-award-winning former tv show host, has a MasterClass on dog training.
In his three-hour course, McMillan walks you through the basics of building a solid foundation of trust with your dog. Then you'll learn lessons ranging from basic commands to how to correct destructive behaviors like chewing and digging. It's on the pricier side ($180 per year), but you also get access to 100+ other classes and topics. So you can brush up on some other hobbies or skills in addition to improving your pup's behavior. They also offer a 30-day guarantee, so you can get a refund if you are not pleased with the service in the first few weeks.
Our Personal Experience
Brandon's approach to dog training focuses on helping "untrainable" dogs rehabilitate and become family dogs. His loving and focused approach helps you uncover your dog's inherent strengths, allowing them to shine and you to build a trusting relationship. – Michelle S., Canine Journal
Pros

Cons

Stream or download to watch offline
View on desktop, phone, or tablet
PDF workbook included
30-day satisfaction guarantee

No live option
No forum for additional support
Price
The Perfect Pooch Train-At-Home System Review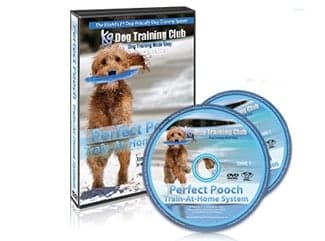 Visit Website
Dana Gallagher is an award-winning Certified Professional Dog Trainer (CPDT) who claims to "instantly cure 19 of your dog's worst behavior problems in just 6 days" with her Perfect Pooch Train-At-Home System. Dana's method is based on scientific learning theory and positive reinforcement — there is no punishment or pain involved.
Lessons include: How To Stop Unwanted Barking, How To Stop Biting, How To Stop Eliminating At The Wrong Place, How To House Break Your Puppy, and more.
Pros

Cons

Dana is a CPDT
Can purchase VIP Insiders Club for direct access to Dana
Uses positive reinforcement, no force or aggression
60-day money-back guarantee

Cannot download videos; must have an internet connection to view content
Price
SIRIUS Dog Training Review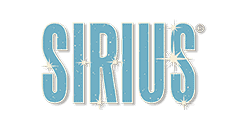 Visit Website
SIRIUS is a popular puppy school developed by Dr. Ian Dunbar in the San Francisco area more than 30 years ago. They have in-person classes but recently transitioned to adding online training for puppies and dogs. With SIRIUS classes, you advance to the next level as you complete each previous one (there are pre-requisites).
Similar to Petco's online dog classes, you'll get personal attention since instruction is "in-person" via Zoom. Note that all classes take place in Pacific Standard Time. Slots book up quickly, so be sure to plan in advance and prepare to wait a few weeks before starting.
Pros

Cons

Live classes with certified dog trainers
Courses are based on your dog's age and level
Classes are kept small for more individual attention

No money-back guarantee (but can cancel or reschedule with 5 days notice before class starts)
Must meet at specific dates and times vs on your own schedule
Price
For graduates of SIRIUS Puppy Kindergarten, Puppy Training I or Basic Manners Foundations: Redirecting Rowdy Behavior or Intro to Tricks classes are also available.
Udemy Review

Visit Website
Udemy, an online learning website, has a growing number of courses, including hundreds of dog training classes. Subjects include (but are not limited to): Dog Aggression, Dog & Cat Behavior Issues, Training From Puppy To Dog, Common Dog Behavior Issues, and more. You can even take a class on how to become a dog trainer.
Before signing up, you can read a class overview and requirements as well as feedback and reviews from students who took the course. Teachers set their own prices, so costs vary by class.
Pros

Cons

Wide-variety of options
Search classes by length, rating, topic
Classes available in other languages, including Spanish and Portuguese
Low commitment to purchase individual courses
Train on the go with Udemy's app
30-day money-back guarantee

Not as much of a holistic program as other training plans
An overwhelming number of options to pick from
No built-in community for additional resources
Trainers not vetted or guaranteed certified
Price
Zak George's Dog Training Revolution Review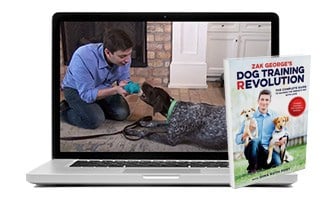 View This Book On Bookshop.org
Zak George is a celebrity dog trainer with over three million YouTube subscribers. He's also featured as an expert on several Animal Planet shows and as a dog expert on late-night TV and morning news. His YouTube channel, Zak George's Dog Training Revolution, is one of the most popular training channels in the world, with more than 10 million views annually.
In 2016, he published Zak George's Dog Training Revolution, summarizing his YouTube content into a book format. It covers everything from choosing the right pup for you, housetraining and basic training, handling biting, leash pulling, jumping up, barking, aggression, chewing, and other behavioral issues.
Zak also goes into health care essentials, how to do tricks, traveling tips, and activities to enjoy with your dog. He references the videos in the book to see success stories in action as you read along.
Zack advocates that people shouldn't treat their dogs like members of a pack because they are domesticated animals now and not the ancient wolves they once descended from. Using his positive methodology, he tailors training to each dog's unique personality.
Pros

Cons

Many free resources on his YouTube channel
Book is affordable
Well-established, reputable trainer, trusted by celebrities and featured on TV
Covers a wide range of topics for all dog types and behaviors

No community (except for reading through comments on YouTube channel)
Doesn't offer one-on-one training
Must commit to doing on your own time
Price
4 Tips On How To Train Your Dog Online Successfully
Training your dog online, no matter which class you take, requires patience, time, and dedication. Here are a few ways to make the most of your experience so you're set up for success:
Schedule time each day to work on skills – Even if you're signing up for a live class with dedicated times, you still need to work on "homework" in-between classes.
Repetition is key – Dogs are creatures of habit. You need to do certain techniques over and over again before they pick up and master a skill.
Stay persistent – Don't give up if they don't learn something overnight.
Use food as treats (or training treats) – One way to cut down on calories when training is to use food instead of treats (just feed them less at mealtime). Another way would be to use training treats, which tend to be smaller with fewer calories than a traditional dog treat. If you train right before their mealtime, they're hungry (and receptive) to respond to food as a reward. You can also read our article on how to train a dog without treats.
Additional Training Resources
Hopefully, you now have a broad overview of the variety of online dog training tools at your disposal. Each training system is unique. So what may work for one dog might not work best for another. Pick a course that meets your needs and schedule. And in the end, a small investment could go a long way, not only in improving your dog's behavior but, ultimately, your relationship with him.
Some trainers might recommend using a collar specifically for training purposes. We share some of the options in our dog training collar review. We also encourage you to stock up on dog training treats. If you're working on a specific issue, search our site to view our training articles to learn more.
What dog commands or behaviors do you want to improve?