To sustain this free service, we receive affiliate commissions via some of our links. This doesn't affect rankings. Our review process.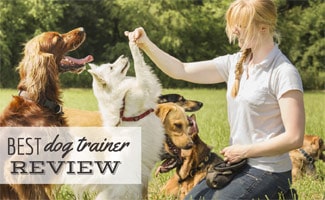 Hiring a dog trainer to correct your dogs behavioral challenges can be expensive but it could also lead to your dog looking to the trainer as the alpha dog. Your dog may want affirmation from the trainer instead of you. Not only could this cause some problems at home where he may not listen to you, but it may also hurt your feelings a bit that your dog is closer friends with someone else. Have no fear, Doggy Dan to the rescue!
The Online Dog Trainer, otherwise known as Doggy Dan, is one of New Zealand's leading dog training experts who works with clients around the world via his internet portal. He helps you train your dog online by providing videos for various scenarios (pulling on the leash, aggression, barking, etc.). Dan offers hundreds of videos, which are all recorded from real client problems. Let's dive into this online dog training review to see if this can actually work for you and your pup.

Visit Doggy Dan's Online Training Program
Doggy Dan's Online Training Program Review
Pros
Doggy Dan has been able to train any dog he's been faced with
60-day money back guarantee, 100% satisfaction guarantee
Ask Doggy Dan questions and send photos and videos
Uses positive reinforcement, no force or aggression
Weekly updates
Inexpensive
You get to train your dog yourself
Trusted by the New Zealand SPCA, Society for the Prevention of Cruelty to Animals
Hundreds of videos
Cons
Cannot download videos, must have internet connection to view content
Only covers 34 topics, so there's a chance your problem isn't covered
Key Features
60-day "no questions asked" money back guarantee
Forum to ask Doggy Dan and his team any questions — you can even send in photos and videos
Pay $37 every 30 days for access to all of Doggy Dan's online resources
Pricing
3 day trial for $1
$37/month
Note: If your budget and schedule allows, it is unlikely you will find a better training method than in person with an expert because it allows for truly customized feedback and lessons. If you would like to find a dog trainer near you, visit The Association of Professional Dog Trainers website. However, if you think Doggy Dan's online solution may be the best choice for you and your pet, keep reading.
Doggy Dan Reviews — What Customer's Think
The only reviews we could find were on Dan's Facebook page that he shared himself, so they're all positive.
Hi (Dan), Diesel and I joined your online classes a few days ago and just to let you know in just a few days he's made friends with the cleaner and his number one enemy the mean green steamer! His pulling on the lead is 99.9% perfect; he even calmly walked passed swans and kids on bikes today! He's nearly a year old doing very well but issues with barking, pulling on the lead and not letting me clean up was why I took your advise and wow what a change in just a few days!!! Thank you so much. – Linda, Facebook 6/14/2016
Saturday a handyman came to my house. I've used his services often before although not recently. We had a 20-minute relaxed discussion about the work to be done. It was obvious he had something he wasn't saying on his mind the entire time. As he was leaving, he spun around to face me. He said, "This is the first time in three years that we talked about anything without your dog barking the whole time. He made it very difficult to hear. What happened?" "I changed myself," I answered. "Through a friend, I found a dog trainer who truly gets dog behavior and I did what he said. I call him "Doggy Dan the Wonder Man." He's in New Zealand and has online videos and text explanations. I watched and read everything, learned how to correct my own behavior, and Maka changed. We're not completely there yet and we're making huge progress." "How long have you been doing this?" he asked. "About a month," I replied. "WOW!" he replied, turned around, and left. Gotta love it. – Elizabeth S., Facebook 9/15/2015
Doggy Dan's Videos: See Him In Action
Here's an overview of what a subscription to Doggy Dan's videos consists of and why you should trust him to train your dog.
Why Choose An Online Dog Training School?
Visit Doggy Dan's Online Training Program
Why should you consider Doggy Dan with dog training online rather than the traditional dog trainer you see in-person? For starters, Doggy Dan's prices are much less expensive than an in-person dog trainer. Personal dog trainers can cost anywhere from $30 to $100 per hour. You are also restricted to the dog trainer's schedule. With online dog training school, you can train your dog on your time. You also build a stronger connection with him through behavioral training, reinforcing your position in the house as the "alpha dog." We hope our Doggy Dan Review has helped you and your pup find a behavioral training solution that works.
If your dog has a specific habit you're trying to fix like eating wood, whining or digging holes, you might check out one of our training articles. We also have an article on how to train a dog without treats which covers some of the basics like sit and lay down.
What do you want your dog to learn?