To sustain this free service, we receive affiliate commissions via some of our links. This doesn't affect rankings. Our review process.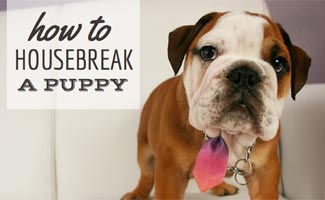 Housebreaking a puppy can be stressful, but it's also a great bonding experience for you and your pup. Just remember to be patient with her during this process. It's harder for her than it is for you (even though you're the one cleaning up the mess). Follow these tips and you're sure to find success – together!
Preparing To Bring Your Puppy Home
Woohoo! Your just gained a child (that's what we like to think of our pets as, family) and you're bringing her home for the first time! It's such an exciting time for you. but it's also scary. You may need some tips to know what to expect from her and what you should do to provide a safe environment. Read about bringing a puppy home to learn what you need for her and other essential need-to-knows.
How To Potty Train A Puppy
Learning how to house train a puppy can be challenging, but in the end it is rewarding. It's recommended that you start potty training a puppy when she's 12 to 16 weeks old. If you follow these steps for potty training puppies correctly, you could have a house trained pup in just a couple of weeks.
Have a regular feeding schedule for your puppy.
Take your puppy out first thing in the morning and then every 30 to 60 minutes. Also take her outside after meals and naps and before bed for potty breaks.
Take her to the same spot every time. (The scent will help him to go potty.)
Stay outside with her while you're trying to house train her.
After she goes potty, give her lots of attention and show her she did a great job. Maybe give her a treat or take her for a walk as a reward.
How to Potty Train a Puppy Infographic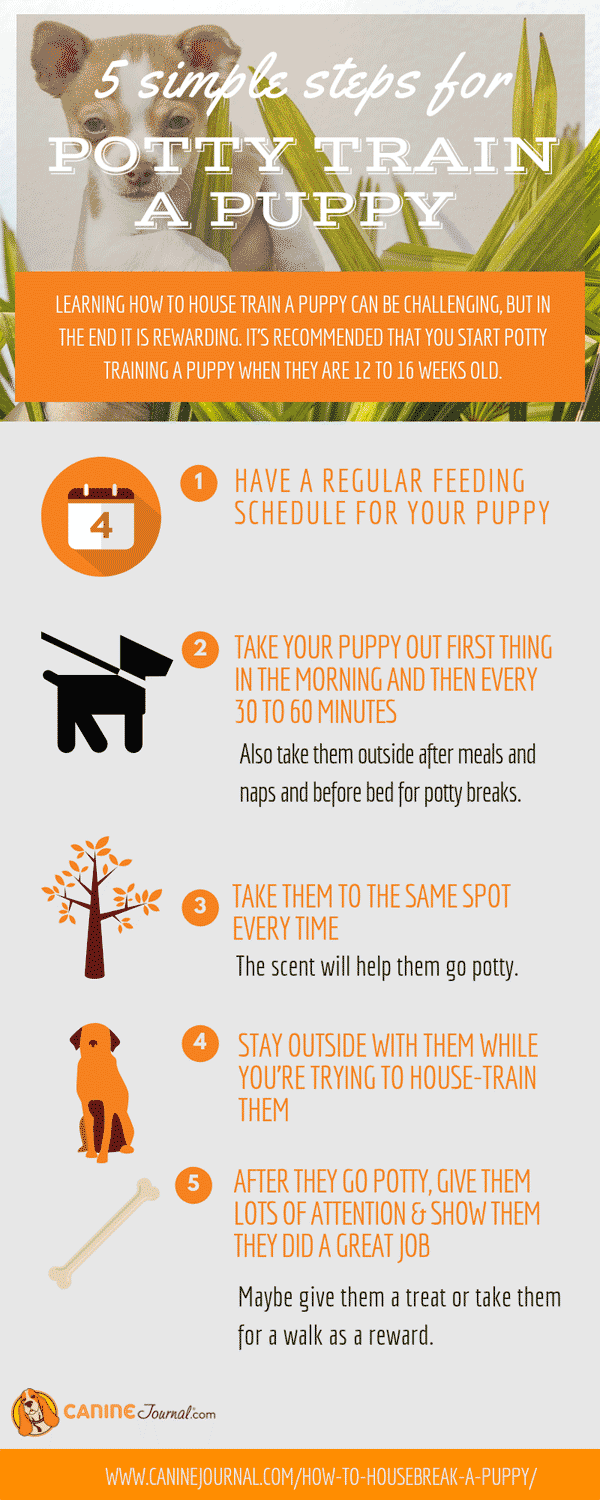 For more potty training tips, check out this video:
What If My House Trained Puppy Has An Accident?
So you think you've got your puppy house trained, but then she has an accident. What happened to all the success you had? Perhaps one of these reasons is behind the incident.
Too Young – Dogs younger than 12 weeks haven't developed bladder or bowel control yet.
House Training Not Complete – She just isn't quite there yet. She may not know how to tell you that she needs to go out.
Regressing is Real – Some puppies fall back in their progress so remember to be patient with them.
Does Crate Training Work?
Many pet parents try crate training with their pup. The idea is that your pup will look at her crate as her safe place. She will consider it her home and will go to it when she needs rest or feels scared from a storm. Because of this she won't want to go potty in the crate because it's her home. Read this article to learn more about how to crate train your puppy.
How long did it take you to potty train your puppy?
Disclaimer: This website contains reviews, opinions and information regarding products and services manufactured or provided by third parties. We are not responsible in any way for such products and services, and nothing contained here should be construed as a guarantee of the functionality, utility, safety or reliability of any product or services reviewed or discussed. Please follow the directions provided by the manufacturer or service provider when using any product or service reviewed or discussed on this website.