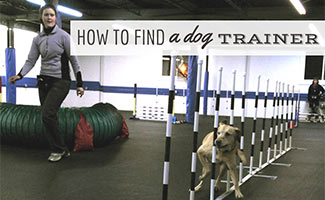 There are no universally recognized certificates available to differentiate good dog trainers from bad. But, the best dog trainers learn by taking continuing education courses, researching animal behavior and new training techniques, and they do a great deal of hands-on work to gain real-life experience.
So with no real governing body to guide you, how do you pick the right trainer for your needs? We've put together a list of things to consider when finding the best dog trainers in your local area or online.
Criteria For Finding A Good Dog Trainer
Your dog should meet the prospective dog trainers before committing to any contracts or work plans. Does your dog listen to and respect them? This is essential for effective training. A suitable trainer is someone who you feel comfortable with, and who your dog abides as well. A dog that is acting out of respect versus fear for the trainer will learn to produce the desired outcome in the future for you and the trainer.
Do any of the dog trainers you are considering use physical discipline? If so, stay away. Examples of physical training include: yelling, yanking on leashes, alpha rolling (forcing a dog to lie on its back), grabbing the scruff of the neck, kicking, and hitting. These indecent and unethical training techniques can actually make a dog more aggressive and less obedient.
On the flip side, dog trainers who use positive reinforcement methods and get results are the real deal. These techniques include using dog treats, attention, and praise as rewards for a dog that demonstrates good behavior.
Online Dog Training
An affordable alternative to in-person dog trainers is online obedience courses. You can do them from anywhere, including the comfort of your own home, whenever it's convenient for your schedule.
Our experts review the best online dog training courses.
How To Find A Good Dog Trainer
There are many ways to track down local dog trainers. Recommendations from trusted friends and family is a great way to start. Another way is to visit local trainers while they work with current clients to see their training approach and environment.
References: Word of mouth is one of the best ways to find a trainer. That's why it's a good idea to talk to people who have either taken a training class or used a trainer. Someone who has dealt with a trainer first-hand can tell you what goes on during a session. Some good places to look for references are friends, veterinarians, groomers, pet sitters, and the staff at your local shelter.
Observe a Class: A trainer who takes pride in their work should have no problem letting you sit in on a class. Watch how the dogs take to the trainer. If the dogs are not happy, then the trainer is most likely intimidating, creating a poor learning environment. Also, watch how the trainer interacts with owners. If a trainer reprimands an owner without properly teaching them the right way, then you might want to look elsewhere.
Trainer Organizations: There are two major organizations for dog trainers: The Association of Pet Dog Trainers and The International Association of Canine Professionals. Many trainers will belong to one or both of these, so ask for credentials.
It may take a bit of work, but once you find a dog trainer who believes in the value of positive reinforcement and makes you and your dog feel comfortable, training will be more enjoyable and rewarding for you and your dog. And your dog will become an even more trusted friend than he is today.
Video: What To Look For In A Trainer
This short video, the trainers from Pawsitive Futures, based in Atlanta, share some tips on what to look for in a reputable trainer.
At-Home Training
In addition to working in person with a trainer, you can also take online classes with an obedience expert or try teaching your dog some basic obedience tricks at home. If you have a puppy, check out our puppy training tips.
Tagged With: