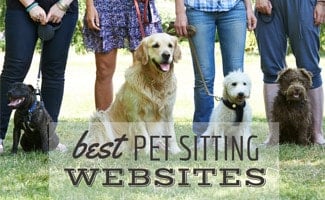 Are you going out of town for vacation? Or maybe you're working long hours and don't have time to get home to take out Fido? Dog-sitting services are like Airbnb for pups, giving them the luxury of a home-stay with the freedom and attention they deserve while you're away. Some even offer other services like grooming, walking, and training. Now isn't that preferable to a crowded kennel or roughing it in a cage?
Find out how much top pet sitting websites cost, where geographically they're available, and which is the best fit for your needs.
Article Overview
Why Dog Sitting Vs Kennel Or Boarding?
More than 43 million households own dogs in the United States. That's a lot of dogs that need love and attention. Combine that with our busy lives, and you may find it challenging to take your dog on walks and feed them throughout the day (or when you're traveling). That's where dog-sitting services come to the rescue.
What are the benefits of dog sitting over a traditional kennel or boarding?
Flexibility – No restrictions for boarding center options. You work with the sitter to set your drop off and pick up times on your schedule.
Convenience – Some sitters offer to pick up and drop off your pet. You are likely to find a sitter in your neighborhood. This is also good for finding sitters while traveling.
Peace Of Mind – Most pet sitting services have limited insurance that will cover some damages or theft, should the sitter be guilty of the act.
One-On-One Attention – Nothing beats knowing your beloved animal is in a loving, happy home with someone who will give them extra love and the freedom to roam around.
Familiarity & Consistency – If you find a sitter you like, you can build trust with them and have a home away from home (or in your home) for your pup.
Personalized Service – In addition to more attention and lots of walks, the sitter will feed your pup, play with them, administer medications, and more.
Keep An Eye On Your Pup While Away
While it's illegal to use indoor video cameras on guests without their knowledge, a popular use of a home security system is to use the security cameras as pet cams and aim them at your pup's crate or another area they like to stay while you're out. You can keep an eye on them, see what they're up to, and make sure they're okay, putting your mind at ease and letting you enjoy your outing.
What You Must Know Before Reading Our Reviews
Pet sitting rates vary based on location, experience, and type of pet.
Proceed With Caution
While we have personally had great experiences with these services, we are also aware of many disappointments from other customers. Many online pet sitters are untrained, non-professional, unlicensed individuals. A love for pets is what brought them to work in this business, but a lack of knowledge, experience, CPR and first aid training may lead to complex and heart-wrenching circumstances.
Many companies claim that they run background checks on the contracted sitters you can find on their sites. A background check into the criminal history of any contractor can give you peace of mind that your dog walker may not rob your house or has a criminal history of animal-related offenses. But in no other way can a background check predict how a total stranger will care for your dog.
Treat your dogs as you would your children. Would you trust a childcare provider without getting personal references and word-of-mouth recommendations from your trusted friends and acquaintances? No. For this reason, we strongly urge you to take these same steps for the care of your dogs, no matter what service you use.
Be sure to choose sitters who have a long history of positive reviews. We have read several complaints of sitters hired to come to the house but don't visit enough for feedings, walks, potty breaks, etc. Be sure to discuss in detail your expectations and make sure they are taking note.
We also recommend that you always meet the sitter before leaving your pet to make sure you are comfortable with the person, their schedule, the lodging situation, etc.
If you have any concerns about your pet staying with an unlicensed and unbonded individual, search your local listings to find someone who better meets your needs.
Dog Sitting Website Reviews
Below are reviews of some popular online pet sitting services.
Rover | Fetch | Care.com | HouseCarers | PetSitters.org
Rover Review

Rover.com is an online platform that allows pet owners to connect with independently contracted pet sitters to care for their pet at your home, or your pet can stay at the sitter's house. Browse their site by zip code and view the possible sitters in your local area.
Rover provides reviews of dog sitters and shows their availability dates. Also, sitters receive "badges" for various pet care best practice training sessions. Dog sitting rates are listed upfront, along with the services offered and what types of animals the sitter accepts.
Rover offers 24/7 support, a reservation guarantee, and a Rover Guarantee that reimburses you for physical damage to your home or vet bills up to $25,000 per claim (after a $250 deductible) for pet injuries sustained while under the care of a Rover sitter.
Personally, we have had great experiences both as a sitter and using the service for dog sitting, but we understand that not everyone has. So, as mentioned above, be sure to research the sitter options, read their reviews carefully, and do a meet and greet in the home to make sure you are comfortable with the situation before leaving your dog.
Rover merged with DogVacay, another dog sitting website, in 2017.
Check out this 30-second video to find out how to find the perfect sitter on Rover.
Coupon Code
Read Our In-Depth Rover Review
Fetch! Pet Care Review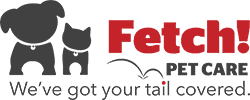 Fetch! Pet Care does things differently. You don't get to hand-pick your sitter. Instead, Fetch! personally matches every client to the most qualified sitter in your area who's available on your dates. They also schedule a free in-home consultation for you and the sitter to meet. The website also has clients' testimonials.
Each sitter goes through a criminal background check, and your dog has limited insurance during the reservation. You should expect to receive updates via text, email, and phone call to know how your pup is doing. Fetch! also offers dog walking and overnight visits.
Care.com Review

Care.com offers pet care in addition to other types of care (senior, child, etc.). For pets, they will pet sit, walk your dog, train, groom, and board them as you need. How does it work? Sign up for an account and create the job you need to be completed, e.g., a pet sitter for a weekend.
Care.com guarantees that caregivers will contact you within three days after posting your job. So, given this extra lead time, you will need to plan for your job. Once they respond, you can review the profiles of the candidates and request criminal background checks. You can then conduct interviews and check references to hire whomever you like best.
HouseCarers Review

HouseCarers matches you with a house sitter in your area. The house sitter will take care of your home and pets while you are away, so you don't have to worry about boarding. Your house will also look "lived in" while you are away so that criminals won't see your home as a target.
The downside is that HouseCarers does not have any guarantees and does not perform a criminal background check. When we searched for a house sitter near our area, we found results for people who were available for any location — not necessarily locals. We thought this was strange and not very helpful.
Petsitters.org Review

Petsitters.org (run by the National Association of Professional Pet Sitters) isn't a pet sitting service, but it's a good resource to locate NAPPS-accredited pet sitters in your area. There are no reviews of the sitters, so you can't see how they have done in the past. You have to do a bit of your own investigative work for this one: contact the person, conduct an interview, ask for references, conduct a background check, etc.
Make Sure Your Sitter Is Bonded And Insured
You'll want to hire a pet sitter that is bonded and insured. What does this mean?
Bonding
Bonding for pet sitters protects the dog sitting company against employee theft. How does this work? If something goes missing while a pet sitter is staying in your home and you accuse the sitter of potential theft (should the police become involved and convict the sitter of the crime), then the bond would be covered by the company. The guilty sitter would then be responsible for paying back the bond to the company.
Insurance
If your provider has pet sitting insurance, your property is protected from any damage that the sitter may cause while in your home. Some policies extend coverage to include items stolen from your home during a house sitter's stay. So, make sure that your pet sitter has insurance before contracting with them.
Pet Health Insurance
Oh no, a horse fly bit Fido, and he's acting sluggish. No worries. If your dog doesn't already have pet health insurance, some pet sitting services offer it for accidents, illnesses, and injuries to your pup (or others) during any pet sitter stay.
Rover.com comes with a Rover Guarantee, an added layer of protection when the responsible party is unable or unwilling to pay for costs arising from damage or injury attributable to his or her negligence (when insurance is not available).
Best Pet Sitting Infographic
We summarized some of the benefits and why you should try out one of these services in the infographic below.

Source: Best Pet Sitting Websites
Is Pet Sitting Better Than Boarding?
Next time you're leaving town or working late, you may want to search for a dog sitter online. That way, your dog can stay in the comfort of its home and not be boarded at a strange place where it may or may not be comfortable.
Want to take your pet with you on your next trip? Learn some tips for successfully traveling with your pet. Are you interested in becoming a pet sitter? Read our dog sitting guide to get started. And lastly, check out our reviews of dog walking apps if you need some help while you are at work or running errands.
Have you used a pet sitter before? What was your experience?