To sustain this free service, we receive affiliate commissions via some of our links. This doesn't affect rankings. Our review process.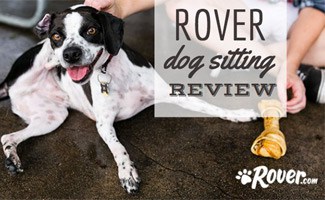 Taking a last minute trip but need your dog cared for while you're away? You call the kennel, but they're already booked up for the weekend. What other options do you have?
Pet sitting services like Rover offer pet sitters in your local area the opportunity to meet and make bookings to watch your dog while you're away. Find out why it's one of most popular pet sitting services around.
What You Must Know Before Reading Our Reviews
Pet sitting rates vary based on location, experience and type of pet. Our pros and cons reflect feedback we've received on the pet sitting services overall, not the individual providers they employ. Please read our cautionary statement below carefully before ordering from any of these services.
Proceed With Caution
While we have personally had great experiences with these services, we are aware of many disappointments as well. Many of the sitters employed by online pet sitting services are untrained, non-professional, unlicensed individuals. A love for pets is what brought them to work in this business, but a lack of knowledge, experience, CPR and First Aid training may lead to complex and heart-wrenching circumstances.
Be sure to choose sitters who have a long history of positive reviews. We have read several complaints of sitters who are hired to come to the house but don't visit enough for feedings, walks, potty breaks, etc. Be sure to discuss in detail your expectations and make sure they are taking note.
We also recommend that you always meet the sitter before leaving your pet to make sure you are comfortable with the person, their schedule, the lodging situation, etc.
If you have any concerns about your pet staying with an unlicensed and unbonded individual, search your local listings to find someone who better meets your needs.
Rover
Pros
Background checks
Choose your pay rate as the sitter
Great app and website to book and pay
See sitter's availability on the calendar and their fees upfront
May be more flexible for drop off and pick up times opposed to a kennel
Great sitter communication via the app with text, photo and video sharing
Ability for sitters to GPS track walks
Cons
Rover takes 20% of sitters' earnings
Many complaints of grave issues that were not handled satisfactorily by the customer service team
Key Features
Dog and sitter can stay at owner's home or sitter's home (depending on preferences)
Sitter walks, feeds, plays and cares for your dog
Easy way to find regular or occasional dog walkers near you
Reviews of each dog sitter are available on Rover.com website
Rates are listed upfront
Limited pet insurance included (be sure to read the details)
Sitters can send photos and videos to give owners updates
Rover Guarantee covers your dog's health for incidents during stay, damage in your home (if the sitter comes to your home) and third-party damage expenses (e.g. if your dog is being walked and another dog bites them)
Pricing
Price varies for owners depending on what the sitter charges. Owners are charged a service fee of 5-7% of the booking total. Each sitter charges their own rate and Rover keeps 20% of the profits.
Coupon Code
Use this link and you will receive a $25 credit towards your first booking with Rover!
Read The Terms Of The Sitter Agreement
Make sure you read the terms of agreement before you entrust your dog to someone. Unfortunately, we've read complaints about Rover sitters and often times the situation is explained in the sitter agreement and should not be a surprise. Reading the agreement helps you know what to expect in various situations.
After you've read the terms, speak with the sitter/owner about what good care to the pet means. Do this before you or the owner leaves, so there is a clear understanding about how the pet should be cared for.
Want To Be A Pet Sitter?
Read our guide to becoming a pet sitter. You can set up a meet and greet with a dog and their owner first to see how the two of you mesh. But first, did you know there's a proper way to approach a dog? Rover has some tips in this short video below.
What Do Customers Think?
Below are some Rover.com reviews from people who have worked for the company.
Our Personal Experiences
Several members of our team have used Rover.com and had great success with loving caregivers and dog lovers.
In fact, one of our team members has been pet sitting for this service for more than three years. She has enjoyed the opportunity to care for other's furry friends, and the experience inspired her to get her own dog. Now she uses Rover to have play companions for her pup and has an even deeper appreciation and understanding of the importance of trusting sitters to care for fur babies.
Our number one tip is to do your homework — carefully research and read reviews, do a home visit with your dogs, etc. Feeling comfortable with your pet sitter before you leave your dog with them is crucial to a successful boarding situation.
Positive Rover Reviews
I felt very comfortable leaving our dogs. She is attentive and caring.. will use her again if i come back to Big Bear Ca.. Thank u Jenny. – Susan O., Site Jabber 8/8/2018
I have used Rover.com twice. In arizonia and Montana. Both times I found excellent sitters, and both times we were gone 10 days. Our care givers sent pictures and updates and put our minds at ease. We will be using Rover again in the future! – Donna H., Trust Pilot 12/10/2018
Negative Rover Reviews
I left my dog with sitter for ten days, they were neglected and starved, I would like a refund, they were severely dehydrated when I got them back, dogs seem to have been kept locked in a pissy room most of the time and not fed properly because of The significant weight loss. – BBB 8/10/2018
I don't doubt that they probably have excellent service and people are quick to respond. The reason I am giving 2 stars is the price. I needed a pet sitter for my 3 cats over the holidays. Cats don't really require much to take care of, just a quick visit to feed them and clean out the litter box. But the way that rover does it is that they charge per pet which is insane! It would have cost me hundreds of dollars more than using other services. Every other place I've seen charges the rate for up to 3 cats and not per cat. – Natasha K., Trust Pilot 12/13/2018
If you've had a negative experience with Rover, we suggest calling its Trust & Safety number: 888-727-1140.  
Why You Should Pick Rover Pet Sitting
Rover is among the most popular pet sitting websites and dog walking apps. Rover's sitters get background checks and their app and website make it easy to communicate with the sitter/owner. Unlike a kennel, your pup will get one-on-one attention from the sitter and perhaps even some adorable photos or videos of them sleeping or playing to help you rest assured that your furry family member is in good hands.
Why would you pick Rover over a kennel or other pet sitting service?
Disclaimer: This website contains reviews, opinions and information regarding products and services manufactured or provided by third parties. We are not responsible in any way for such products and services, and nothing contained here should be construed as a guarantee of the functionality, utility, safety or reliability of any product or services reviewed or discussed. Please follow the directions provided by the manufacturer or service provider when using any product or service reviewed or discussed on this website.