To sustain this free service, we receive affiliate commissions via some of our links. This doesn't affect rankings. Our review process.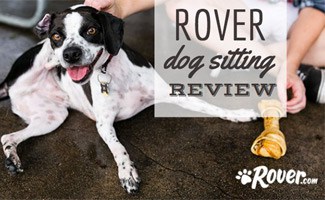 Taking a last minute trip but need your dog cared for while you're away? You call the kennel, but they're already booked up for the weekend. What other options do you have?
Pet sitting services like Rover offer pet sitters in your local area the opportunity to meet and make bookings to watch your dog while you're away. Read our Rover pet sitting reviews to see why we think it's the best pet sitting service.
Rover Review
Pros
Background checks
Excellent customer support
Choose your pay rate as the sitter
Great app and website to book and pay
See sitter's availability on the calendar and their fees upfront
May be more flexible for drop off and pick up times opposed to a kennel
Great sitter communication via the app with text, photo and video sharing
Ability for sitters to GPS track walks
Cons
Rover takes 20% of sitters' earnings
Key Features
Dog and sitter can stay at owner's home or sitter's home (depending on preferences)
Sitter walks, feeds, plays and cares for your dog
Easy way to find regular or occasional dog walkers near you
Reviews of each dog sitter are available on Rover.com website
Rates are listed upfront
Limited pet insurance included (be sure to read the details)
Sitters can send photos and videos to give owners updates
Pricing
Price varies for owners depending on what the sitter charges. Owners are charged a service fee of 5-7% of the booking total. Each sitter charges their own rate and Rover keeps 20% of the profits.
Coupon Code
Use this link and you will receive a $25 credit towards your first booking with Rover!
Want To Be A Pet Sitter?
Read our guide to becoming a pet sitter. You can set up a meet and greet with a dog and their owner first to see how the two of you mesh. But first, did you know there's a proper way to approach a dog? Rover has some tips in this short video below.
What Do Customers Think?
Below are some Rover.com reviews from people who have worked for the company.
Our Personal Experiences
Several members of our team have used Rover.com and had great success with loving caregivers and dog lovers.
In fact, one of our team members has been pet sitting for this service for more than three years. She has enjoyed the opportunity to care for other's furry friends, and the experience inspired her to get her own dog. Now she uses Rover to have play companions for her pup and has an even deeper appreciation and understanding of the importance of trusting sitters to care for fur babies.
Our number one tip is to do your homework — carefully research and read reviews, do a home visit with your dogs, etc. Feeling comfortable with your pet sitter before you leave your dog with them is crucial to a successful boarding situation.
Positive Rover Reviews
Rover is the best! You can make your own schedule, work whenever you want and simply put your profile into away mode when you are busy. Everything is customizable, so you get to set your price, choose what kinds of pets you'd like to either sit or walk, whether you also do grooming, what size dog you would be open to watching. However, you are taking on the responsibility of someone;s family member, so that is something to keep in mind. – Indeed, 11/19/2016
For most of my old Lab's Rusty's life my kids have been able to care for him when I travel. This was getting to be an imposition, so I decided to try Rover.com. BINGO! I found Charmaine and her wonderful family who live
quite close to me. She is in Bridle Trails. We did the meet and greet and Rusty seemed very comfortable with her and the house. She is so friendly and obviously loves dogs. His first 7 night stay turned into 10 and this recent one was 5 nights. She even delivered him back to me because she had an early appointment. Both Rusty and I couldn't be more pleased. – Susan, Trust Pilot 12/9/2016
Negative Rover Reviews
I would not sign up for the protection plan they offer for $49.95. It is absolutely useless. I have had a horrible experience with the site and getting the funds I am owed. Almost all the dogs I sat for are horribly behaved and don't have any manners. The owners are demanding and don't plan well. I've had three dogs come to stay and they ran out of food while visiting. The owners refused to reimburse me and the protection plan doesn't cover food. Nor does it cover the destruction the dogs have inflicted on my house. I will never use this company again and am done with pet sitting in my own home game. This has just been an awful experience all around. – Indeed, 2/23/2016
Had one great dog/house sitter. The second one was nice enough but left my dog alone all evening and my neighbor called to tell me my dog had been whining for four hours!!! Then when we returned home we found the stove burner on. Wow! – Julie, Trust Pilot 12/9/2016
Why You Should Pick Rover Pet Sitting
Rover is our #1 pick for best pet sitting website and dog walking app. We think Rover is great because they have stellar customer service, their sitters get background checks and their app and website make it easy to communicate with the sitter/owner. Unlike a kennel, your pup will get one-on-one attention from the sitter and perhaps even some adorable photos or videos of them sleeping or playing to help you rest assured that your furry family member is in good hands.
Why would you pick Rover over a kennel or other pet sitting service?