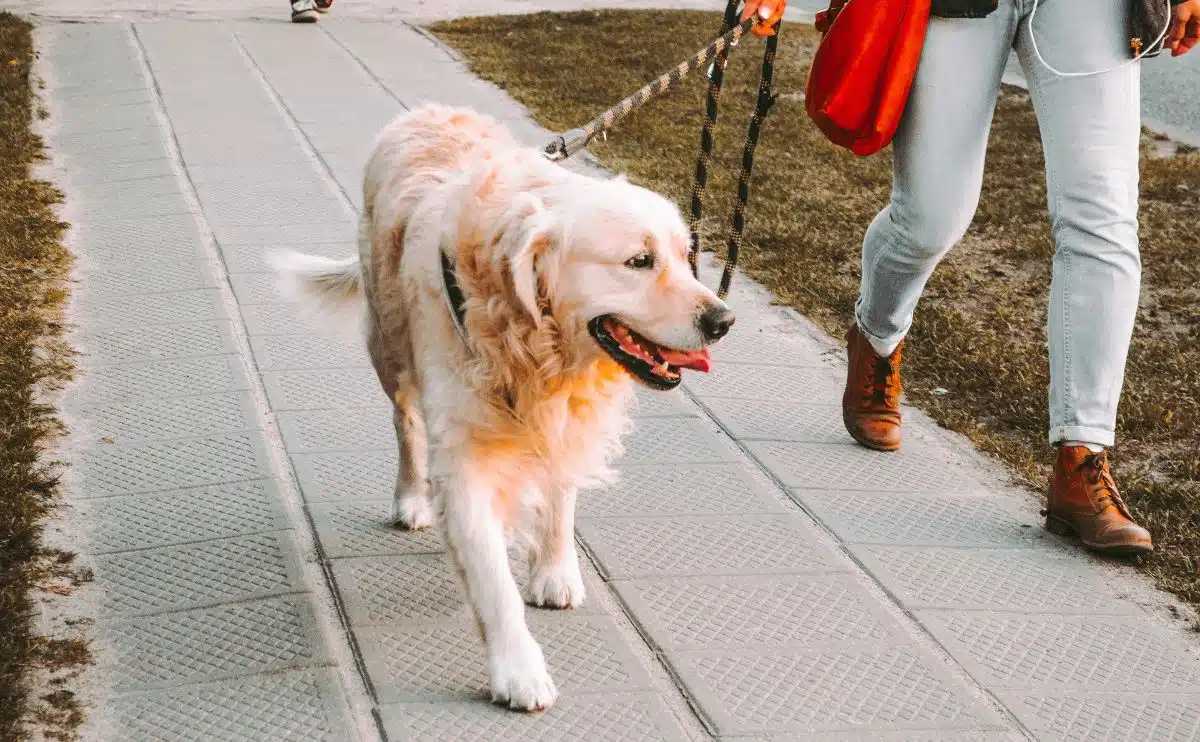 Are you in search of a walker? Whether you're at the office all day or face frequent delays getting home, finding a reliable dog-walker can be a chore. How can I find dog walkers near me?
That's where the best dog walking apps come in super handy. You can easily connect with many walkers that live near you and are eager for your business. Learn more in our dog walker app review.
Can I Benefit From A Dog Walking App?
Dog walking apps are similar to Uber and its competitors regarding your location. You will find more app members in urban areas than you would in smaller cities and more rural locations.
The more popular the app, the greater chance of finding dog walkers near you. Hey, that's technology, folks. But there are other factors to consider, including dog walker cost, reliability, and safety/security issues. We address these factors in our Wag vs Rover vs Barkly Pets reviews.
What You Must Know Before Reading Our Reviews
Dog walking rates vary based on location, experience, and type of pet. Our pros and cons reflect feedback we've received on each overall company, not the online pet sitters you can find on their sites. Please read our cautionary statement below carefully before hiring from any of these services.
Best Dog Walking Service: Proceed With Caution
While we have personally had great experiences with these services, we are aware of many disappointments. Many online dog walkers are untrained, non-professional, unlicensed individuals. A love for pets is what brought them to work in this business, but a lack of knowledge, experience, CPR, and First Aid training may lead to complex and heart-wrenching circumstances.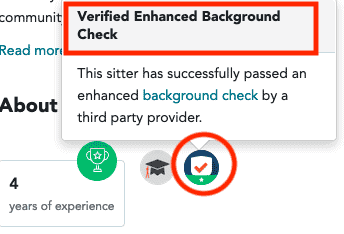 Many companies claim they run background checks on the contracted walkers you can find on their sites. A background check into the criminal history of any contractor can give you peace of mind that your dog walker may not rob your house or has a criminal history of animal-related offenses. But in no other way can a background check predict how a total stranger will care for your dog.
Treat your dogs as you would your children. Would you trust a childcare provider without getting personal references and word-of-mouth recommendations from your trusted friends and acquaintances? No. For this reason, we strongly urge you to take these same steps to care for your dogs, no matter what service you use.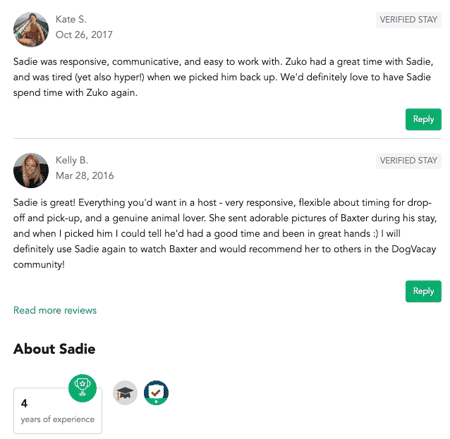 Be sure to choose dog walkers who have a long history of positive reviews and discuss in detail your expectations and make sure they are taking note.
We also recommend that you always meet the walker before allowing them to care for your pet to make sure you're comfortable with the person, their schedule, etc.
If you have any concerns about your pet being cared for by an unlicensed and unbonded individual, search your local listings to find someone who better meets your needs.
Best Dog Walking Apps
Here are our top picks for dog walking based on our experience and popularity.
Rover Review

Rover.com, the popular pet sitting portal, can help connect you with independent dog walkers near you, regardless of where you live. Rover is akin to Uber for dog walking apps regarding its popularity. Their site is easy to navigate, and everything from pricing to availability is upfront.
You can filter by days and times when your pup needs a walkthrough of their site or app. Each pet caregiver also has a profile page, including customer reviews and other services they offer that are easily accessible. You can choose the walker you think is the best fit. Rover.com offers the ability to track your dog's walks, or you can put a Fitbark on them to track their activity throughout the entire day.
While Rover does criminal background checks on all dog walkers you can find on their site (as mentioned above), we still recommend you get personal references and set up an informal meet-up to get to know the person before leaving your pet with them. The background check should not serve as an indication of how they will treat your pet.
Our First-Hand Experience
We have successfully used Rover.com's pet sitting services for our dogs several times over the past three years. They have stayed more than two dozen times with four different sitters, and we were thrilled each time.

We spent a great deal of time finding the best sitter for our situation, with the best (and most consistent) reviews. We also conducted meet & greets at the sitter's homes before leaving our beloved pups, ensuring that everything was as described and that everyone got along well. The extra time we invested upfront was well worth it to give us all peace of mind that everyone was safe and happy, allowing us to fully enjoy our vacation.

Our dogs came home with wagging tails, we received lots of photo updates during their stay and the sitters invited us back each time. The love and attention they received via Rover sitters was significantly better than what we have experienced at kennels in the past.

– Michelle S., Canine Journal
| Pros | Cons |
| --- | --- |
| More users than other apps, so it's easier to find a walker near you | On-demand bookings are not available in every area |
| Ability to GPS track your dog's walks | Quite a few stories of terrible experiences with Rover sitters |
| Rover Guarantee reimburses you up to $25,000 for vet care expenses or property damage if something goes wrong | |
| Easy search and filter features | |
| Transparent pricing, walker profiles, and more | |
| Criminal background checks conducted | |
| iOS and Android mobile apps | |
Pricing
Dog walkers set their own rates, with prices beginning around $15 per 30-minute walk.
Watch this quick video about some of the more unusual requests dog walkers might get from their clients about their dogs (which you can leave in the pet care instructions).
Wag! Review

Another popular dog walking app, Wag! has a couple of cool features that Rover doesn't offer. The most noteworthy is that you receive weekly activity reports to know how your dog is doing when you're not there.
Wag! does criminal background checks on each new hire and provides them training. Wag! also offers profiles of their walkers, but you're required to provide credit card information before you can view walkers in your area — Rover doesn't have this requirement. Like Rover, Wag! also offers extended pet sitting and boarding services.
| Pros | Cons |
| --- | --- |
| Your home is protected up to $1 million when booking a walking or sitting service | Usage not as widespread as Rover (but good in medium and large urban areas) |
| Provides a lockbox to store your key | On-demand bookings not available in all areas |
| Follow your dog's walk with live GPS tracking | Can't always pick your walker of choice (especially with on-demand feature) |
| Includes activity reports each week | Some users complain about the company's poor customer service |
| Company donates meals to rescue dogs | |
| Criminal background checks conducted | |
| iOS and Android apps | |
Pricing
Wag! sets rates by market, with the average at $20 per 30-minute walk.
Barkly Pets Review

Barkly Pets discontinued services in September 2022.
Want To Become A Dog Walker?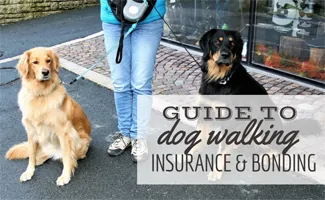 If you're interested in starting a dog walking business, all of these services offer a great way to connect with clients. Be sure to learn about dog walking insurance and see if it's the right fit for your business.
Let Your Sitter In And Out With A Smart Lock
Get alerted to activity in your home while you're gone, and remotely control your door locks using smart locks from Frontpoint Security.
Need A Pet Sitter?
If you're going on vacation or a business trip, you'll need more than dog walking. Rover and Wag! also offer pet sitting and personal boarding services, but there are some others to consider. Be sure to check out our reviews of the best pet sitting websites for some alternatives.
Tagged With: