Want to take your dog hiking with you off-leash? Or do you have a Houdini hound at your home? A Global Positioning System (GPS) dog collar or tracking device could be just what you need. These tools allow you to keep track of your dog's location and where she's heading via tracking technology located in a device on their collar. Learn more in our best GPS dog collar review.
At A Glance: Best Dog GPS Collar For…
| Overall | Escape Artists | Small Dogs | Sporting Dogs |
| --- | --- | --- | --- |
| Astro 900 | | | Alpha 200i |
| | | | |
| | | | |
Benefits Of GPS Collars
The American Society for the Prevention of Cruelty to Animals (ASPCA) found in a study that 14% of lost dogs are never located. The best way to find a lost dog is to scour your neighborhood and make sure your dog has an accurate ID tag on her collar.
On the other hand, imagine if you could know the instant your dog roams away and track where she's heading. The peace of mind is worth it. Also, if you take your dog hiking off-leash, she's free to explore far away from you without you having to worry about where she is.
GPS Microchip vs Standard Microchip: What's The Difference?
When you hear the word microchip associated with pets, you typically think of microchips embedded subcutaneously. But there are some significant differences between an internal microchip and a GPS microchip for dogs and how they allow you to keep track of your dog.
GPS Microchip
A GPS chip for dogs is external, usually worn on your dog's collar. The GPS chip sends a continuous signal to the global satellite system, which allows you to see your dog's exact location in real-time. Some GPS pet trackers can also feature message alerts and information about your dog's activity levels and health.
Standard Microchip
A standard microchip for dogs is implanted under your dog's skin and contains information like the chip ID, breed, owner details, and more. You can't track your dog's whereabouts at any given time with a standard microchip. It's only helpful if someone finds your dog and takes them to a shelter or a vet's office with a particular scanner to read the chip.
Best GPS Dog Collars And Trackers
There are many variations of GPS dog collars and GPS pet trackers, so we've broken down our reviews into categories we think will help you choose the type you need.
Best GPS Collar Overall: Garmin Dog Tracker Astro 900 Review
Although mainly marketed for sporting dogs, the Garmin Astro 900 makes an excellent GPS tracker for avid hikers, campers, and those living on large, remote farms.
One of Garmin dog tracker's most prominent selling points? It's a self-contained GPS unit (that doesn't rely on cellular service) and has GLONASS reception that performs better in challenging environments.
The waterproof GPS collar transmitter has a sturdy, adjustable steel antenna, which transmits your dog's position as often as every two and a half seconds to your handheld receiver. The signal is strong enough to track your dog's status even in heavy tree cover or deep canyons.
The receiver has a 2.6-inch color display, which lets you see your dog's current location and a trail of her previous path on the map. The Garmin Astro 900 is feature-rich with an electronic compass, enhanced map drawing capabilities, BirdsEye Satellite Imagery compatibility, and much more.
| Pros | Cons |
| --- | --- |
| No need for cell service and no monthly service fees | Expensive |
| Range up to 9 miles | Not suitable for small dogs (too large for Beagles) |
| Rechargeable battery (optional, not included) | The learning curve to set up and use |
| Receiver unit expandable up to 20 dogs (extra collars not included) | |
| Collar is waterproof | |
| Vibration alert if your dog leaves your designated safe zone | |
| Uses rechargeable lithium-ion batteries | |
Pricing & Tech Specs
Best For Escape Artists: Tractive GPS Pet Tracker Review
Tractive GPS Pet Tracker is an excellent option if you live in the city or suburbs and have a dog who likes to stray. The Tractive device attaches securely to most collar types and includes a built-in SIM card, which allows you to track your dog from your smartphone or PC.
Its live-tracking mode lets you see where your dog has traveled and where she's heading. You can also set up a safe zone via the app and receive a text alert if your dog leaves the area.
The downsides? You must be in the range of a cell tower for this GPS dog tracker to work — and pay a monthly service fee. Tractive relies on LTE connectivity, which may not be available in very remote areas, but if you're on a limited budget, you should give it consideration.
Our Personal Experience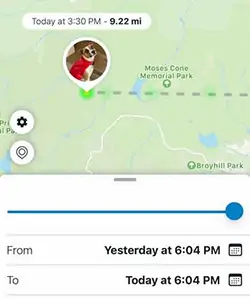 We tried out Tractive for an honest review. Our dogs love to hike with us, and Tractive is great at telling us where and how many minutes our dogs were active once we connected to a cell signal or WiFi. It even shows their whereabouts visually on a detailed map. If our dog got lost in a populated area well served by cell service, this product would be a tremendous help!
However, the GPS wouldn't connect to the app when we didn't have a cell signal during our mountain hikes, so the tool would prove unhelpful if they got lost during our mountain adventures. And, while it tracks the minutes of activity, the data is less detailed than with other traditional activity trackers.
| Pros | Cons |
| --- | --- |
| Affordable pricing | GPS device relies on cell service, so it doesn't work out of a cell tower range |
| Easy to set up and activate | You must pay a monthly service fee ($5-$7) |
| Lightweight device for dogs 9 pounds or more | Some consumer complaints about short battery life |
| Receive text alerts if your dog leaves her safe zone | |
| Compatible with iOS, Android, and Windows smartphones | |
| Batteries last 2 to 5 days, and it fully recharges in 2 hours | |
Pricing & Tech Specs
Best For Small Dogs: Trackimo Review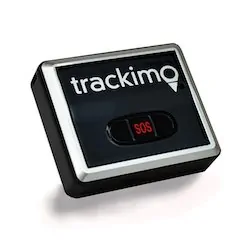 Trackimo is similar to the Tractive GPS Pet Tracker in that it relies on cell service and requires a monthly service fee. But Trackimo is more compact than Tractive, making it an excellent option for smaller dogs.
You'll end up paying more upfront for Trackimo, but it offers a free year of service, and then you'll end up paying $5 per month. Since Trackimo relies on cell service, it's not ideal for remote areas. But if you live in an area with reliable cell service, Trackimo is another excellent option for pets who tend to roam.
| Pros | Cons |
| --- | --- |
| Reasonably priced | It relies on cell service, so it may not work in remote areas |
| Easy setup and activation | You must pay a $5 monthly service fee (but the first year is free) |
| Lightweight and extremely compact device | Several customer complaints that the location tracking isn't accurate |
| Battery life up to 96 hours | |
| Receive text or email alerts if your dog leaves her safe zone | |
| Compatible with iOS and Android smartphones | |
Pricing & Tech Specs
Trackimo offers a full year of service free and a 30-day money-back guarantee.
Best For Sporting Dogs: Garmin Alpha 200i Review
The Alpha 200i is an excellent solution if you have multiple dogs you're training or tracking in the field. This waterproof GPS dog collar and receiver unit combine GPS tracking with inReach technology that uses 18 training levels of continuous and momentary stimulation.
Like the Garmin Astro, the Alpha doesn't rely on cell service, so it's an excellent choice for remote areas. The handheld, glove-friendly receiver features a three-inch color touch screen and comes preloaded with TOPO U.S. 100K mapping and a rechargeable battery. In addition to showing your dog's location and direction, the Garmin Alpha even gives you each dog's speed.
| Pros | Cons |
| --- | --- |
| It doesn't require cell service or service fees | The collar tracker is too large for small dogs |
| Includes tracking and training | It requires time to set up and learn the system |
| Range up to 9 miles | |
| Battery life up to 20 hours (15 with inReach enabled) | |
| Expandable up to 20 dogs (extra collars not included) | |
| Collar is waterproof | |
| Tone or vibration alert if your dog leaves your safe zone | |
| Many positive reviews from consumers | |
Pricing & Tech Specs
How Does Garmin Alpha Work?
Check out Garmin's video below to see all the great features you get with its Alpha 100 TT system.
Need An Activity Monitor Or Training Collar?
If you've found our GPS dog tracker reviews helpful and are interested in learning more about other types of dog collars, be sure to check out our dog activity monitor reviews, smart collar reviews and our dog training collar reviews.
Tagged With: Collars, Gifts