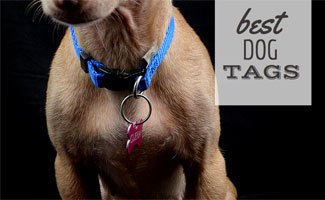 You're walking your pup when suddenly they spot a squirrel and pulls hard enough to break free from your grasp. Or they hear a loud noise, get scared and run away. Either way, they're on the loose and out of sight!
If someone finds them, they won't know how to get your best friend back to you without a pet dog tag. That's why it's important for our dogs to always have their ID tags on them at all times.
Best Personalized Dog Tags For Pets
We've chosen some of the best dog tags for you to choose from based on your preference. Below are the categories for you to take into consideration when selecting dog tags for dogs.
Informational| Custom Design | Engraved
Best Informational Dog Tag: PetHub Review

Visit Website
PetHub does basic pet ID tags in addition to using QR codes for dog name tags. How do the QR code tags work? First, create your pet's online profile on PetHub. You'll include your pet's name, breed, age, medications, allergies, your contact information and more. Next, you can link the profile to one of the QR coded dog collar tags.
These are a bit more technical than the average ID tags for dogs, but the nice thing about them is that you can include a lot more information on them via the QR code. Compared to typical dog ID tags, if your dog gets lost and is injured, the vet can scan the QR code and learn about the dog's medications and allergies, in addition to contacting you.
You can update these custom dog tags for pets, so if you move or your dog changes medications you can update your dog's profile.
Price: tags starting at $12.95; subscription starts at $4/month
Coupon
Best Custom Designed Dog Tag: Shutterfly Review
Visit Website
You can design your pet name tags on Shutterfly's pet tags designer. Choose between bone, circle or heart shaped pet tags and then create your custom pet tags.
You can add a photo, print and more to customize the dog tag. Just don't get too carried away with the customization that you forget to add your pet's name and your contact information! 😉 If you're looking for customized dog tags, Shutterfly is your best bet.
Price: $6.99
Our Experience
When we adopted our new puppy, an ID tag was at the top of our list of needs. We ordered and customized an adorable dog ID tag at Shutterfly that gets tons of compliments, looks beautiful and has held up well, even with all his puppy antics! – Michelle S., Canine Journal
Best Engraved Dog Tag: Amazon Review

View on Amazon
If you're worried about the print on pet tags for dogs wearing off, engraved pet tags are the bet route for you. Amazon offers some of the best engraved dog tags and at reasonable prices. We like this particular one because it is silent!
Price: $13.98
Our Experience
We bought this tag for our dog, Lexie, when we first adopted her (Note: I blurred the contact info for security purposes). I love that it doesn't make any noise or jangle in her bowl when she's eating. Also, it allows more room on her collar for the rabies vaccination tag and hooking her leash. The ID has held up well for several years. Make sure you get the correct size for the width of your collar. – Sadie C., Canine Journal
Get Rid Of That Jangle, Jangle
Tired of hearing your dog's tag make that metal clanging noise? Check out the FreezeTag.
Get Your Dog An ID Tag Before It's Too Late
Can't fit everything you want on your dog's ID tag? Consider buying a second tag. That way you can include not only your contact information but other necessary information like allergies, medications and vet information. This can be life-saving if your dog has an illness and depends on medication to live.
Want to be extra careful? Take it step further and get a GPS collar which will help you track down Fido using your phone! Be sure to read our article on finding a lost dog to learn even more.
And don't forget you'll need a collar for your tag to attach to. Luckily, we've reviewed the best collars to fit your dog and an article dedicated to picking the right sized collar for your pup.
What information do you think should be on a dog's tag?