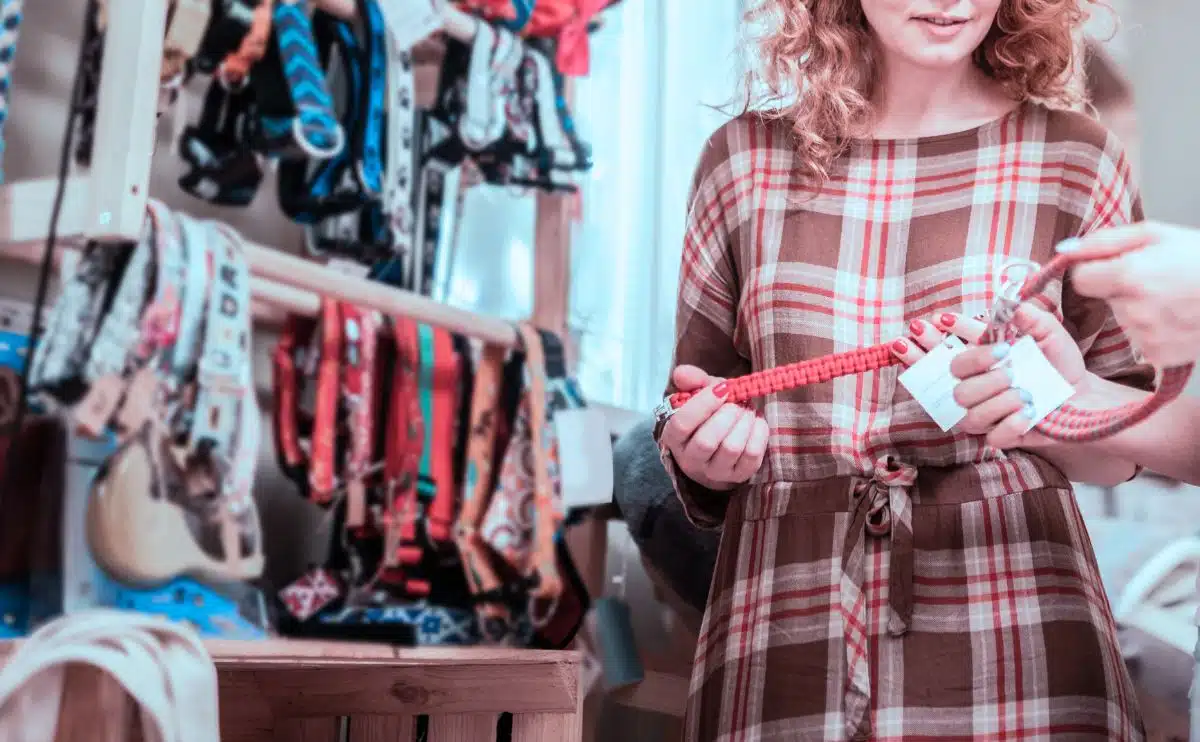 As much as you'd love for your pup to run wild and free like Lassie, it's just not a smart risk to take. The keyword here is "risk" because no matter how well-behaved your pup is, there's always the chance that they won't heel when hollered for or come when called. They could run off in play and lose their way home, or worse, dart into a busy street. That's why a collar and a leash are a must for every pup. Before you decide, take a look at our collar and leash guide to find what combo fits you and your canine best.
The Importance Of Dog Collars & Leashes
In addition to helping you keep your pup safe, collars also provide a place to hang your dog's personalized identification tag, which contains their name and yours, a phone number, and proof of rabies vaccination. In the event, your dog does get loose and can't find their way home, a collar with ID tags attached ensures that the sweet soul that finds your runaway canine will easily know how to get them home.
Safety aside, there's also another big reason for collaring, and thereby leashing, your dog: training. Some collars are designed specifically as training tools, but the ones that aren't are still valuable tools in teaching your dog to mind their Ps and Qs. For example, it'd be much harder to teach your pup to heel if they couldn't begin by learning to associate the word with the action. A slight tug of the leash used in conjunction with the verbal command is a much stronger training tool than verbal commands alone.
How To Get The Correct Size For Your Dog
Before you purchase a collar or leash, it's critical to make sure you are getting the right size for your pup's weight and size.
"Try to find a collar that isn't too narrow – when pressure is applied to a narrow collar (for instance, if a dog pulls) the pressure around the neck is much greater. Wider collars do less damage to your dog's neck than narrow ones. You should also be mindful of the material you choose – some collars are more decorative than functional, so if you attach the lead to the collar it needs to be strong enough. Make sure you measure your dog's neck carefully and try to get a collar that's adjustable. It should fit snugly, so you can get two fingers beneath but no more, to reduce the chance of them slipping their collar. Loose collars are also more likely to get caught or snagged, increasing the chance of injury."

– Dr. Joanna Woodnutt, MRCVS
We've linked some of our favorite Amazon products below, but please double-check that you are purchasing the appropriate size for your dog. Some collars and leashes are designed for larger or smaller dogs, so be sure to read the item description before you purchase. Here's a handy guide to help you ensure you pick the correct thickness and length.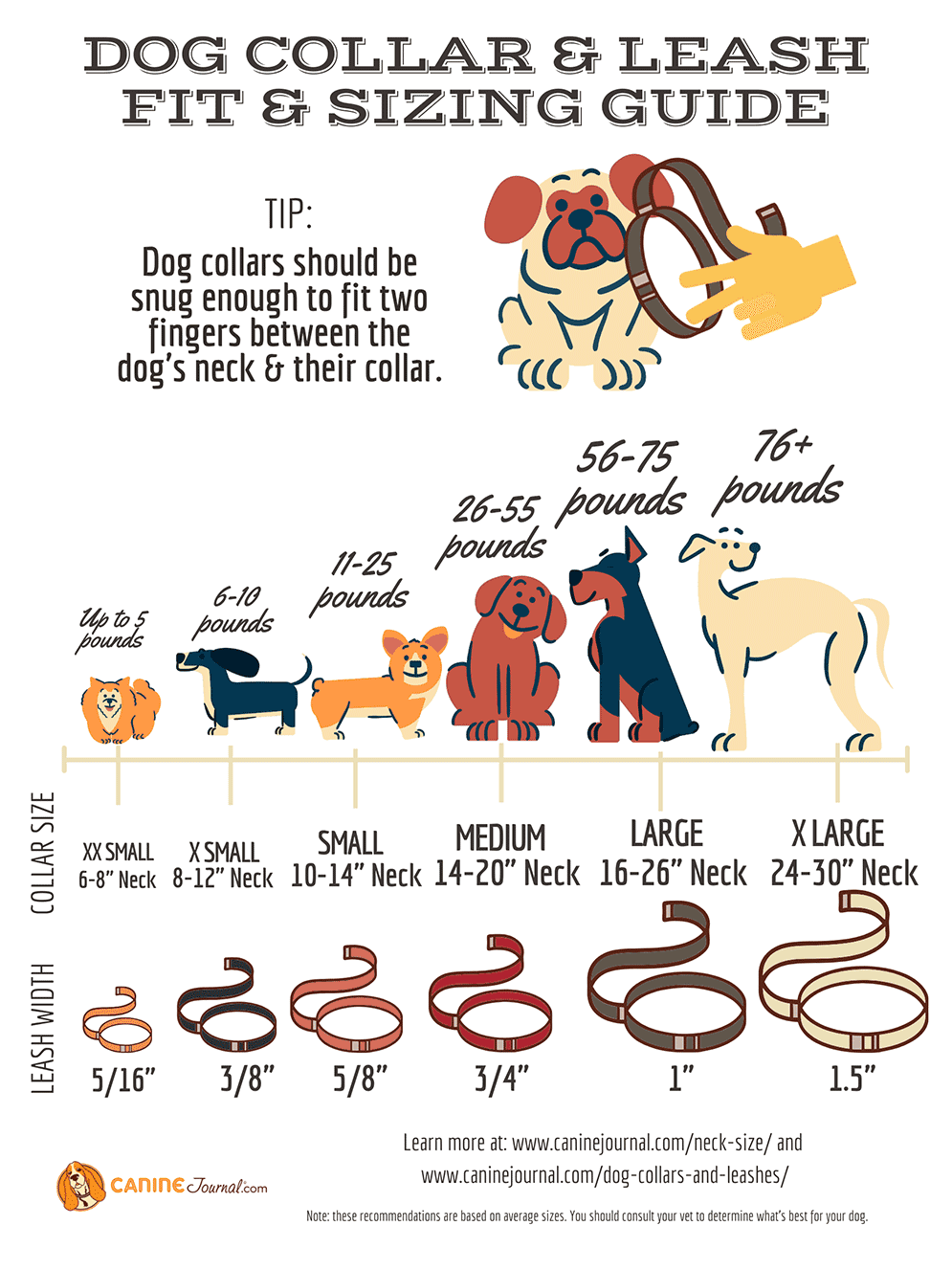 Types Of Dog Collars
Picking out the right collar for your dog may be tougher than you think. From flat collars to shock collars, we'll give you all the info you need to pick the perfect collar for your pup.
Flat Collars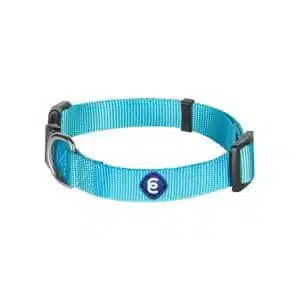 Flat collars are your standard, everyday dog collar. Often made from nylon or other hardy materials, flat collars generally have plastic or metal quick-release closures and should fit comfortably on your dog's neck. A good rule here is you should be able to fit 2 fingers under the collar easily. A ring is attached to the collar, which is the place to attach ID tags and also your leash.
Martingale Collars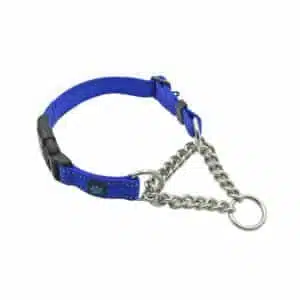 Martingale collars (aka limited-slip collars) are great for dogs with slender necks (think Greyhound, Saluki, Whippet, etc.) that can easily dip out of a flat collar. The collar is designed with a length of material with rings at each end and another length of material running through the rings.
The leash is attached to a ring on the second length of material, and when your pup tries to slip out of their collar, the martingale tightens (only to the size of your dog's neck when properly adjusted) to prevent their attempted escape. Read more about the martingale collar.
Head Collars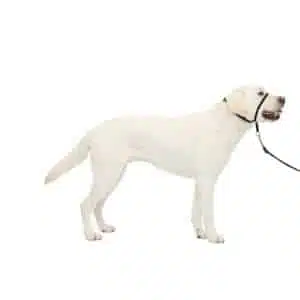 Head collars are perfect for headstrong dogs, both those that are playful and those that just don't know their strength, and they are reminiscent of a horse's halter. One strap goes around your dog's neck, just behind the ears, and the other around their muzzle.
The leash attaches to the ring on the muzzle material. Head collars work by controlling your dog's muzzle and the amount of leverage (aka pulling power) your pup has. Proper fit should be used, and don't hesitate to ask a trainer or sales clerk at your local pet store for fit tips. Learn more about the PetSafe Gentle Leader.
Choke Collars
A choke collar looks like a thin chain and works like a pinch collar in that it tightens according to the tension put on the leash. A choke collar works much like a rope looped through itself. When the leash is pulled tightly, the collar pulls tightly around the dog's neck, causing it to choke itself and relax back into stride to loosen the tension.
The choke and pinch/prong collars are not advisable for fragile-necked breeds and are generally used with stronger, more aggressive breeds. For a deeper look at choke collars, read our article on choke collars.
Pinch/Prong Collars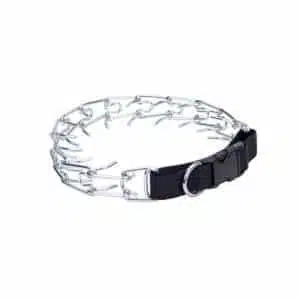 The pinch collar, also known as the prong collar, is a metal collar made of various links which can be expanded or shortened by removing or adding an additional link. Each of the links in the collar has a set of prongs that sits against a dog's skin until the dog puts tension on the leash, then the prongs pinch the dog's neck, pulling them to attention and thereby making them mind.
Please use caution and know how to properly use this type of collar, which you can learn more about in our article on pinch collars. The pinch collar also has a small silver ring to attach to a dog's leash, and this ring sits on the back of the dog's neck.
No-Bark Collars
It's important to note that while no-bark collars address the issue of barking itself, they do not address the root of barking. For an in-depth look at no-bark collars, read our article no nark dog collar. For more insight as to why dogs bark and the proper training methods to address it, check out why dogs bark and how to stop it.
Spray Collars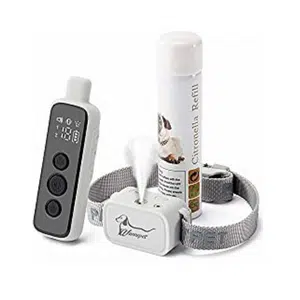 Spray collars work by spraying a non-toxic substance in the dog's face when it senses that your dog is barking. In theory, your dog will get tired of being sprayed in the face every time they bark and will subsequently learn that no barking = no spraying.
The citronella spray collar is considered the most humane of all the aversive collars. Read more about it in our citronella dog collar article.
Sonic Collars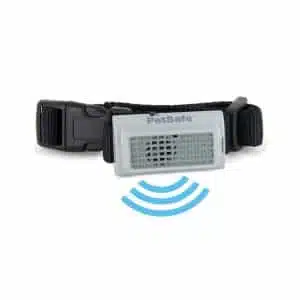 The sonic (aka ultrasonic) collar has a device that sits against your dog's throat, and when they bark, it detects the vibration and sends out a high-pitched noise, only detectable to your pup, to deter them from barking.
Shock Collars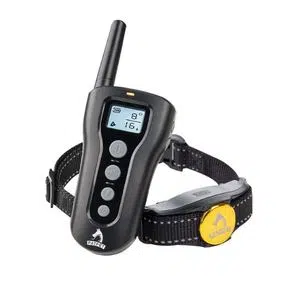 Shock collars, like sonic collars, have a device that sits next to your pup's throat to detect when they begin barking. Only, instead of sending out a sound you can't hear, it sends a shock to the back of their neck.
There are several different shock levels you can use in increasing measures if your dog won't stop barking. Unlike the sonic collar, which is untestable because it's undetectable to the human ear, you can test the shock collar against your own skin before using it on your pup. Learn more about shock collars for dogs.
Considering A Dog Harness?
Many pet parents opt to use a dog harness instead of or in addition to a collar. A harness can give you better control over your pup, especially if your dog pulls on the leash a lot or wriggles out of a collar easily. See our reviews of the best dog harnesses to learn more.
Types Of Dog Leashes
While the best leash for you is ultimately the one that feels most comfortable in your hands, certain types of leashes are better for certain situations.
Flexi Leash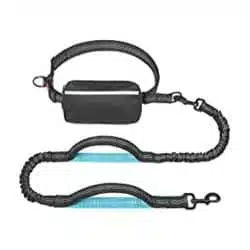 These extendable leads, with their iconic plastic handles, are a great option for walks in the park, field explorations, or basically anytime your pup has a little room to romp. We'd be wary of using this type of lead in heavy traffic, at a crowded park, or anytime you need to have a little more control. Check out our retractable leash reviews.
Nylon Or Leather Leash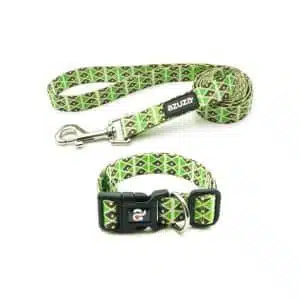 Whether you choose nylon or leather, this straightforward style of lead, with a loop on one end and a clip on the other, is a great all-around option. Whether you're letting your pup out for a quick pee break or going out for a quick walk, everyone needs one of these leads.
Generally speaking, leather is a little easier on your hands, while nylon tends to be less expensive but can cause "rope burn" if pulled through your palms quickly. Most state and local parks request you use a leash of no more than 6 feet, so you may wish to consider this when choosing the length.
Chain Leash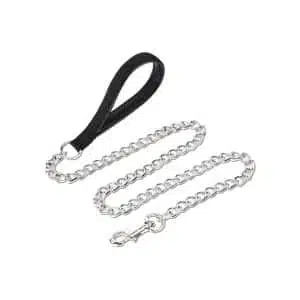 Chain leads may look pretty, but they're heavy and even harsher on your hands than a standard nylon leash. They're also not-so-great on your pup's teeth, should they decide to play tug-of-war one day with the lead.
Specialty Leashes
Not all leads are created equal. Aside from your standard options, there are some pretty fancy options out there. Whether you're looking for a retract-into-the-collar gadget or a hands-off option for exercising, here are a few specialty, self-explanatory lead options and our favorites among those available for purchase today:
Video: How To Buy The Best Dog Collar Or Harness
This 3-minute video from PetCo walks you through some additional tips on how to pick out the right type for your pup (no pun intended).
Don't Risk Your Dog's Life
Whether you opt for a simple set-up or one that's more involved, the main thing is that you choose a collar and leash combo, period. It will not only make it easy for you to control your pup in group situations, but it's also an effective training tool to teach your pup that they don't always have to lead. Sometimes, it's nice to just follow.
If you plan on traveling with your dog, having a good leash and collar is even more important. You may find that you need other gear for backpacking, hiking, or camping with your dog (if that's your sorta thing).
Tagged With: Collars, Leashes