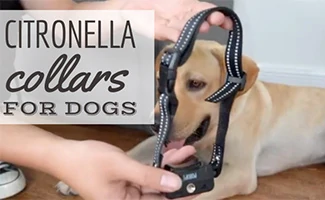 Citronella dog collars have been gaining in popularity ever since studies were released showing the negative psychological effects of electric shock collars on dogs. Furthermore, studies by the Animal Behavior Clinic at Cornell's College of Veterinary Medicine suggest that citronella dog collars are even more effective than electric shock collars.
How Does A Citronella Dog Collar Work?
A citronella dog collar is a type of spray dog collar. Spray dog collars work by spraying a substance (in this case citronella, but versions also exist that use water or lemon juice) in the dog's face when they do an unwanted behavior.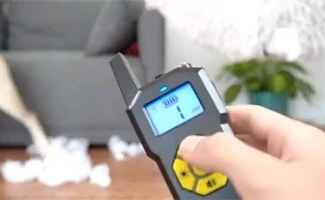 The idea is that the dog, discomforted by the citronella spray, will learn to stop barking to avoid being sprayed in the face. Pet owners consider the citronella dog collars to be more humane than the electric shock dog collars, and citronella collars have been proven to be more effective than shock collars (in some instances, a dog given an electric collar would keep barking despite the shock, whereas with the citronella collar, the odor was so unpleasant that later a substitute could be used and the dog would still not bark, fearing the smell of the citronella spray).
Are Citronella Dog Collars Humane?
While there's no doubt citronella dog collars are more humane than electric shock collars, we should still consider the psychological impact of the spray collar on your dog.
Your dog could be punished with a spray of citronella despite having done nothing. Another issue is the psychological implications of such punishment. For instance, barking is a natural reaction for any dog, and can often be a way for dogs to protect their owners. It would be terribly ironic if, for example, your dog was about to save you from a burglar, but because of repeated citronella sprays to her face, she would do nothing to alarm you of the intruder.
That example aside, we feel it is simply wrong to impede or constrain such a natural function. We feel that as the dog's owner, it is your responsibility to train and take care of your dog. Now you have a living being, a life, on your hands that deserves just as much care and nurturing as if it were your own child.
Best Citronella Barking Collar: WWVVPET's Citronella Spray Dog Training Collar with Remote Control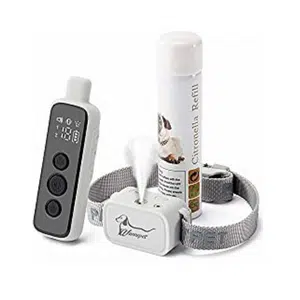 If training doesn't seem to be doing the trick, you might want to consider adding some paw-sitive reinforcement. This citronella collar might be the thing you've been s-praying for.
All jokes aside, we recommend WWVVPET's Citronella Spray Dog Training Collar with Remote Control as an addition to your already-in-place training regime. The rechargeable collar lasts up to 11 days and 27 days for the remote. It has a 1,000-foot range and is water-resistant. It has three training modes (beep only, beep + vibration, beep + vibration + spray) and it comes with a can of citronella, which lasts up to 400 sprays per can.
Our Personal Experience
We bought the WWVVPET Citronella Remote Control Collar for our two-year old dog to stop his incessant barking. We haven't even had to spray him yet and his behavior is sooo much better, even just with the beeps! And we've only been using it for 2 days. It may not be cheap, but it really works with our dog!

– Michelle S., Canine Journal
Hopefully, you'll find some luck with a citronella collar for your dog. For other dog training tips, head over to our "Dog Training Advice" article. After all, barking is part of what you signed up for. And if you need more help, we might suggest a dog course, including online dog training or reading our complete guide to all types of dog collars.
Tagged With: Barking, Collars