This post may contain affiliate links and we'll be compensated if you make a purchase. This doesn't affect rankings. Our review process.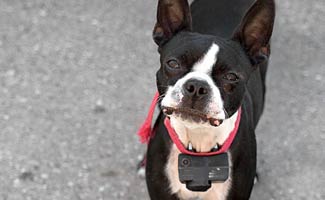 There are a wide variety of reasons that one may be searching for a dog training collar, whether it's an attempt to teach obedience, a way to control nuisance behavior or even a way to define boundaries. There are six specific types of dog training collars which address a wide array of training needs and each collar works in a different way to the other with a specific training need in mind.
Types of Dog Training Collars
The varieties of dog training collars include the pinch collar, the choke collar, the Gentle leader collar, the Martingale collar, the anti-bark collar (including the shock, citronella and ultrasonic varieties), remote dog training collar and finally the invisible fence collar which is somewhat less for behavioral problems and more so for marking boundaries for your dog. There are some rather controversial arguments against using some of the above listed training collars; however, each type of collar has its own uses and when used properly with your individual dog in mind they can all be effective.
Should Dog Training Collars Be Used At All?
Many people question why dog training collars must be used at all, suggesting that behavioral training and positive reinforcement can work just as well as training collars do. The problem with using only positive reinforcement training is that dogs, just like people, forget. A dog can be taught to walk well on a leash, to stop barking at the gardeners outside the house, and to stop still when they get to the front door of their home.
Training Collars Can Supplement a Positive Training Experience
However, even with this knowledge there are moments when a dog's innate instinct takes over instead. Faced with a squirrel on the front porch and knowledge that he or she must stop at the front door out of its masters desire the dog cannot always throw over the instinct to track and kill that pesky squirrel. Using training collars does not have to be a negative experience and when used with care and when using the appropriate collar choice for your dog and your specific problem collars can supplement a positive training experience.
Types of Dog Training Collars
The Pinch Collar
The first collar that may be suggested or recommended to you when training your dog is the pinch collar, also known as the prong collar. The pinch collar can be used for a wide variety of reasons including teaching your dog to heel, teaching your dog not to pull, teaching your dog not to heed distractions while you are walking and not to pick up "dirty" items from the ground while you are walking together. Read our article on the pinch collar for details.
The Choke Collar
The second collar that may be suggested or recommended to you when training your dog is the choke collar. Choke collars are used in many of the same training situations as pinch collars, for the most part in maintaining composure outside the home and with aggressive dogs. Choke collars can be helpful with larger dogs or dogs with aggressive tendencies; but they should not be used on small or fragile necked breeds. Read our article on the choke collar for more.
The Martingale Collar
The third collar that may be suggested or recommended to you when training your dog is the martingale collar. Martingale collars work much the same way as a choke collar without metal against the dog's skin and with the soft fabric or nylon creating the pull rather than a metal chain. Dogs are much less likely to choke when wearing a martingale collar rather than a choke collar. Read our article on the martingale collar for details.
The Anti-Bark Collar
The fourth collar that may be suggested or recommended to you when training your dog is the anti-bark collar. As its name suggests an anti-bark collar is intended to stop your dog's nuisance barking. There are three different types of anti-barking dog collars, some of which receive more criticism than others. Read our article on the anti-bark collar for details.
The Invisible Fence Collar
The fifth collar that may be suggested or recommended to you when training your dog is the Invisible fence collar. The invisible fence collar is used for the express purpose of notifying your dog when it is approaching the invisible boundary around your home set up by your invisible fence collar. To learn more about keeping your dog safe behind an invisible fence, read our article on the invisible fence collar.
The Remote Dog Training Collar
Remote dog training collars involve a handheld transmitter and a wireless collar receiver. You then set the transmitter to send a radio signal to your dog's receiver and they can receive a tone, vibration or static shock to reward or correct behaviors.
Gentle Leader and Easy Walk Harness
PetSafe has created two unique training items, The Easy Walk harness and Gentle Leader Headcollar, they both have their own features. Check out our article to find out which is best for your needs.
With such a wide variety of dog training collars to select from to address behavioral problems and set rules for your dog, training has been made increasingly easier. While these collars can assist you in training your dog, you should always keep in mind that training your dog requires work and patience on your part as well. It is also important to remember that even while using corrective measures you are responsible for judging the safety of your dog and other dogs when you using are out with your dog and using dog training collars.
The information contained in this article and website is not intended nor implied to be a substitute for professional safety advice; it is provided for educational purposes only.
We are a participant in the Amazon Services LLC Associates Program, an affiliate advertising program designed to provide a means for us to earn fees by linking to Amazon.com and affiliated sites.