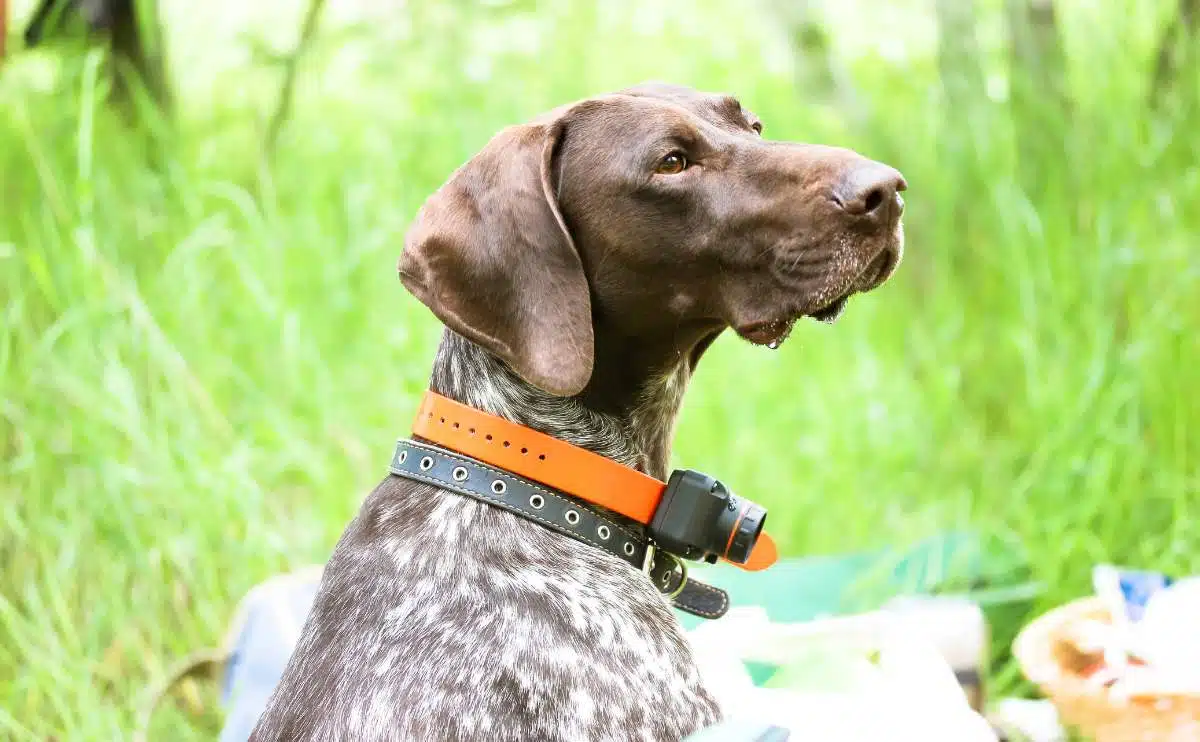 Whether you're trying to teach obedience, prevent excessive barking, or help your dog learn his boundaries, these best dog collar for training may be able to help. There are seven types of dog training collars that can help address an array of training needs. What type of collar is best for dog training? Each collar works differently, which means training will vary.
Should I Use A Training Collar?
Many people question the benefits of using a dog training collar, suggesting that behavioral training and positive reinforcement can work just as well as training collars do. The problem with using only positive reinforcement training is that dogs, just like people, forget.
With the right training collar, you can teach a dog to walk nicely on a leash, stop barking at the gardeners outside the house, stop when they get to the front door of their home, and much more.
Training Collars Can Supplement A Positive Training Experience
However, even with this knowledge, there are moments when a dog's innate instinct takes over instead. Faced with a squirrel on the front porch and the knowledge that they must stop at the front door out of their master's desire, the dog cannot always resist the instinct to track and kill that pesky squirrel.
Using training collars doesn't have to be a negative experience. When using the appropriate collar choice for your dog appropriately, training collars can be an excellent supplement to a positive training experience.
Best Dog Training Collar
When you're looking for the best training collar, you'll want to consider your specific needs. Every dog is different, and once you determine your training needs, you can find the best collar for you and your pup. We've included our top choices for each type of collar we discuss. Be sure to talk to your vet and seek advice from a trainer to make sure you know how to use any collar correctly.
Types Of Dog Training Collars
There are controversial arguments against using some of these types of training collars. However, each type of collar has its uses, and when used properly with your dog in mind, they can all be effective.
Keep Your Pup Safe
Make sure you learn how to use these collars correctly because they could injure your dog if misused.
Pinch Collar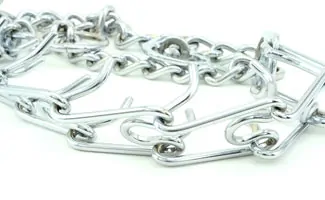 The first collar that many trainers recommend when training your dog is the pinch collar, also known as the prong collar. You can use a pinch collar for many reasons, including teaching your dog to heel, not to pull, not to heed distractions while walking, and not to pick up "dirty" items from the ground while walking together.
Best Pinch Dog Correction Collar
We like the Herm SPRENGER Ultra-Plus Prong Dog Training Collar if this is the type of collar you'll be using. This collar has multiple size options, and many professional trainers recommend it.
Choke Collar
Choke collars are used in many of the same training situations as pinch collars — for the most part, in maintaining composure outside the home and with aggressive dogs. Choke collars can be helpful with larger dogs or dogs with aggressive tendencies, but you shouldn't use them on small or fragile-necked breeds.
Best Choke Dog Correction Collar
The JuWow Chain Dog Training Choke Collar is our top pick for the best dog choke collar. This durable collar is an excellent choice and won't tarnish, rust, or break.
Martingale Collar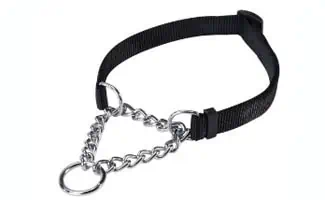 Martingale collars work much the same way as a choke collar without metal against the dog's skin and with the soft fabric or nylon creating the pull rather than a metal chain. Dogs are less likely to choke when wearing a martingale collar rather than a choke collar.
Best Martingale Dog Control Collar
The Guardian Gear Martingale Adjustable Choke-Style Dog Collar is our top choice for the best martingale collar. This collar comes in various sizes and colors and easily adjusts when you apply pressure to the leash.
Anti-Bark Collar
As its name suggests, an anti-bark collar intends to stop your dog's nuisance barking. There are three different anti-barking dog collars (citronella, shock, and sonic), some of which receive more criticism than others.
Best Anti-Bark Dog Control Collar
We are giving you our top pick for the best anti-bark collar. We chose the Trulrox No Shock Bark Collar since we like the no-shock choice for this type of collar.
Invisible Fence Collar
An invisible fence collar notifies your dog when he's approaching the invisible boundary around your home set up by your invisible fence collar. This collar can help when you don't want to put up a physical fence around your property or when your dog likes to climb fences.
Best Invisible Fence Dog Control Collar
Our first choice for the best invisible fence is the PetSafe Wireless Fence Pet Containment System. This collar will cover an area up to a half acre and offers adjustable levels of correction.
Remote Dog Training Collar
Remote dog training collars involve a handheld transmitter and a wireless collar receiver. You then set the transmitter to send a radio signal to your dog's receiver, and they can receive a tone, vibration, or static shock to reward or correct behaviors.
Best Remote Dog Training Collar
The SportDOG FieldTrainer 425X is our choice for the best remote dog training collar. Also known as an e-collar, this high-end choice has a variety of excellent features.
Gentle Leader & Easy Walk Harness
The Easy Walk Harness and Gentle Leader Head Collar both are alternatives to training dog collars and have their unique features. The Easy Walk Harness is more for dogs who need to learn not to pull on a leash, while the Gentle Leader Head Collar is meant to prevent excessive barking, lunging, and jumping.
Best Gentle Leader & Easy Walk Harness Dog Training Collars
We recommend the PetSafe Easy Walk Harness and the PetSafe Gentle Leader Head Collar as the best products for this type. PetSafe created these items, so they are our top pick.
A Trainer Can Help You Choose The Best Collar
This three-minute video from National Geographic WILD is just one example of how a trainer can guide you on the best type of training collar for your dog's issues and the proper use.
Where Do I Get Help With Training?
With such a wide variety of dog training collars to select from to address behavioral problems and set rules for your dog, training has been made increasingly easier. While these collars can assist you in training your dog, you should always keep in mind that training your dog requires work and patience on your part as well.
If you need assistance with training, be sure to reach out to your vet for ideas and consider using a local trainer or an online training course to give you some guidance.
Tagged With: Collars, Training