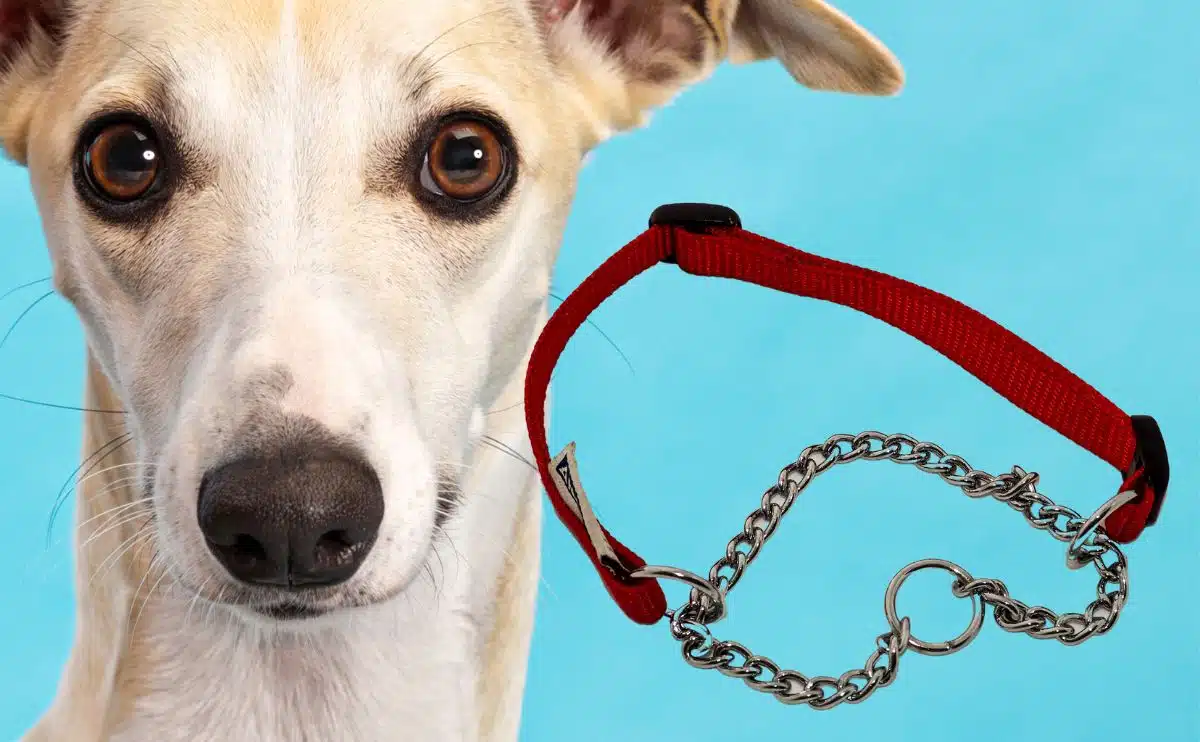 Martingale collars are designed specifically for dogs with heads that are smaller than their necks. These collars gently tighten against the dog's neck if they pull, back up, or spin. It is typically worn by greyhounds, whippets, Italian Greyhounds, Salukis, Borzoi, and Wolfhounds.
What Is A Martingale Collar?
A martingale collar is generally made out of fabric or nylon that forms a circle like most collars and has a crescent shape on the back formed by another section of the same material (nylon), or there are martingale dog collars with chains instead.
How To Use A Martingale Collar
How does a martingale collar work? The larger loop of the collar fits around the dog's neck, and the smaller loop sits at the back of the neck and has a D-ring that attaches to the leash. When relaxed, the martingale collar fits loosely and keeps your dog comfortable. But, when the dog tries to pull, the second loop tightens the fabric around the dog's neck for a gentle no-pull effect.
Martingale Collar Pros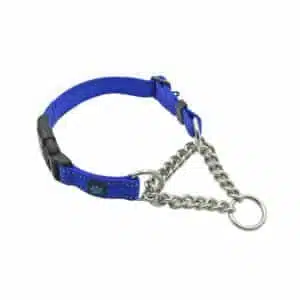 View the Guardian Gear Martingale Collar on Amazon
More Comfortable – Martingale collars work much like a choke collar but without metal against the dog's skin. It also incorporates a soft fabric or nylon to create the pull rather than a metal chain.
Dogs are much less likely to choke when wearing a martingale collar vs a choke collar.
To maintain control of a dog who charges the door or leaves the house whenever a visitor drops by.
Reduce leash pulling.
Slip Collar vs Martingale
How is a slip collar different from a martingale? A slip collar, also known as a choke chain, is a type of dog collar that tightens around the dog's neck when tension is applied to the leash. It consists of a chain loop that passes through another ring, creating a sliding mechanism. When you pull on the leash, the collar tightens, creating pressure on the dog's neck. The idea is that this pressure serves as a correction to discourage certain behaviors, like pulling on the leash. Slip collars are designed to tighten around the dog's neck to discourage pulling and other unwanted behaviors, but they can be potentially harmful if not used correctly.
A martingale collar is designed to offer a gentler approach to preventing dogs from slipping out of their collars. It is often referred to as a "limited slip" collar because it doesn't tighten to the same extent as a slip collar. The key difference is that a martingale collar is designed to prevent the collar from becoming too loose and slipping off the dog's head rather than serving as a correction tool like the slip collar. It provides a more controlled and humane way to discourage pulling or backing out of the collar. Martingale collars are generally considered a safer alternative to slip collars, but they should still be used responsibly and with proper training.
Are Martingale Collars Cruel?
Martingale collars are not as effective with bull-necked dogs as they have less of an impact on the dog. But, unlike choke collars, martingales can be used on more fragile-necked dogs like greyhounds but are not recommended for extremely small dogs. Martingale collars should also never be left on 24 hours a day, seven days a week.
Cons For The Martingale Collar
There are significantly fewer critics of the martingale collar than the pinch and choke collars. The softer material and lesser force of the martingale collar against a dog's neck is why such a lesser amount of criticism. That being said, there is an increased risk of the dog choking when left unsupervised while wearing a martingale collar. This increased choking risk results from the fact that if the D-ring on the collar catches on something, the collar will tighten and potentially choke the dog. But, when the collar fits correctly and is used only periodically, the martingale collar can be a very appropriate training solution.
Other Types Of Collars For Dogs
Martingale collars are just one of the many types of collars available for training your dog. We highly encourage you to check out our article on the best dog training collars, too, for alternatives if a martingale isn't the best fit for your type of dog.
Tagged With: Collars