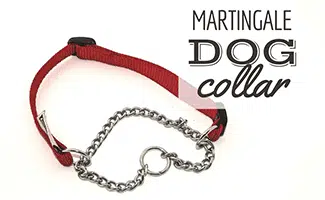 Martingale collars are designed specifically for dogs with heads that are smaller than their necks. These collars gently tighten against the dog's neck if they pull, back up, or spin. It is typically worn by greyhounds, whippets, Italian Greyhounds, Salukis, Borzoi, and Wolfhounds.
A martingale collar is generally made out of fabric or nylon that forms a circle like most collars and has a crescent shape on the back formed by another section of the same material. The larger loop of the collar fits around the dog's neck, and the smaller loop sits at the back of the neck and has a D-ring which attaches to the leash. When relaxed, the martingale collar fits loosely and keeps your dog comfortable. But, when the dog tries to pull, the second loop tightens the fabric around the dog's neck for a gentle no-pull effect.
Martingale Collar Pros
View the Guardian Gear Martingale Collar on Amazon
More Comfortable – Martingale collars work much like a choke collar but without metal against the dog's skin.  It also incorporates a soft fabric or nylon to create the pull rather than a metal chain.
Dogs are much less likely to choke when wearing a martingale collar vs a choke collar.
To maintain control of a dog who charges the door or to leave the house whenever a visitor drops by.
Reduce leash pulling.
A Few Warnings
Martingale collars are not as effective with bull necked dogs as they have less of an impact on the dog. But, unlike choke collars, martingales can be used on more fragile necked dogs like greyhounds but are not recommended for extremely small dogs. Martingale collars should also never be left on 24 hours a day, seven days a week.
Cons For The Martingale Collar
There are significantly fewer critics of the martingale collar than the pinch and choke collars. The softer material and lesser force of the martingale collar against a dog's neck is why such a lesser amount of criticism. That being said, there is an increased risk of the dog choking when left unsupervised while wearing a martingale collar. This increased choking risk results from the fact that if the D-ring on the collar catches on something, the collar will tighten and potentially choke the dog. But, when the collar fits correctly and is used only periodically, the martingale collar can be a very appropriate training solution.
Tagged With: Collars