Halo and SpotOn are very similar virtual wireless dog fencing systems, but there are some significant differences between the two. How do these two GPS-enabled systems compare? We'll give you all the details you need to help you decide which one is best for your specific needs and your budget.
Visit Halo Collar's Website | Visit SpotOn Virtual Fence's Website
Equipment
Halo's collar can accommodate neck sizes between 11″ to 30.5." SpotOn recently added a small collar to its lineup, so now SpotOn can accommodate 10″ to 26″ neck sizes. Both collars are waterproof and have convenient rechargeable batteries. The battery life of the Halo 2+ Collar is 21 hours, while SpotOn's battery lasts from 18 to 24 hours. Some users say SpotOn's recharges faster.


Another improvement, the Halo 2+ Collar is much more rugged than the original and can withstand chewing and harsh terrain. Both systems have excellent portability and can be used over any terrain.
Equipment Winner: SpotOn & Halo (Tie)
Features
Both GPS systems work the same way, but when it comes to features, SpotOn wins this category. With SpotOn, you can create 1,000 fences, which can overlap each other. Halo only allows you to set up 20 fences, but you can't overlap them. Still, both systems can cover an extremely wide area of property.

Both systems give you multiple correction levels (including tone, vibration, and static modes), but SpotOn gives you 30 levels, while Halo only gives you 15. You can use their apps to manage your fences and feedback for your pup.
Features Winner: SpotOn
Performance
We've relied on customer feedback to gauge this category. Our research shows that this GPS satellite fencing technology needs a lot of tweaking for both companies. For both Halo's original collar and SpotOn, we've seen a 50/50 mix of positive vs negative reviews for how their systems perform.

The main complaints about both systems involve inaccurate feedback for fencing boundaries, lost GPS signals, and hit-or-miss customer service. More specifically, Halo users complain about lag time with alerts and false-positive alerts. SpotOn user complaints are more about the system being difficult to activate and that the apps crash frequently.
But Halo listened to its customers and launched the new and improved Halo 2 Collar in late 2021 and even more upgrades with Halo 2+ in mid-2022. These improvements include enhanced GPS and location accuracy and better cellular, WiFi, and Bluetooth connections. The Halo mobile app also gets far superior customer reviews than SpotOn's app.
Performance Winner: Halo
Price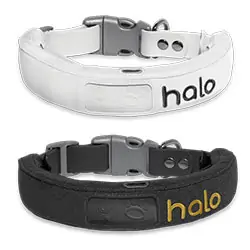 The clear winner in this category is the Halo Collar. While SpotOn has a few added features that Halo doesn't, we don't think those features make up for the huge price disparity between the two systems in the initial purchase price alone. Both systems also require a monthly subscription plan, and we think Halo still comes out on top with these fees factored in. Here are the pricing details.
Halo Price
The Halo collar and system price includes 30 days free of their Gold subscription plan (see below). The site often offers discounts on its system (we've seen $699 and $799). Halo has a 60-day satisfaction guarantee and a one-year warranty.
Coupon Code
Use this link to get $350 off your Halo Collar purchase (you must enter your mobile number to unlock the discount).
Halo Subscription Plans
A Halo subscription plan is required to enable data storage for fences, GPS location services, activity tracking, and training from Cesar Millan.
The Basic plan gives you most of what you'll need for the system to work, including unlimited cellular data. The Silver plan's major benefit is advanced tracking, and the Gold plan gives you premium training content.
Basic: $4.49/month
Silver: $9.99/month
Gold: $29.99/month
SpotOn Price
SpotOn offers a 45-day money-back guarantee and a one-year warranty. You can get a 90-day free trial of their subscription plan but only if you sign up for the one or two-year plan.
SpotOn Subscription Plan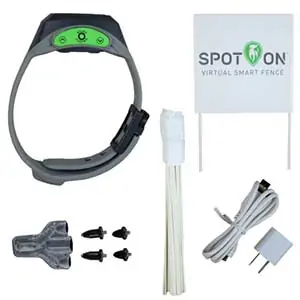 The SpotOn Virtual Fence requires its AT&T and Verizon cellular coverage services for its tracking feature to work.
$9.95/month (monthly)
$7.95/month (1-year plan)
$5.95/month (2-year plan)
As you can see, the initial price of the SpotOn system is nearly $500 more than Halo. We also think Halo's Silver monthly plan at $9.99 per month is all you'd need (and very likely the Basic plan at $4.49 per month will work for many people). Compare this to SpotOn's cheapest plan option at $5.95 per month (which requires a 2-year commitment), and we still think Halo has the leg up here.

Price Winner: Halo
Customer Service & Reputation
Both of these companies are fairly new, so it's hard for us to get a long-term idea of their reputation or customer service track records. Still, from what we've seen from user reviews, both companies get mixed reviews for their customer service and tech support.

Halo tech support is available for video chat sessions via Zoom Mondays through Fridays and live chat, phone, and email support seven days per week. SpotOn tech support is available Mondays through Fridays via live chat, phone, and email. We give the nod to Halo for offering live Zoom sessions.
Customer Service & Reputation Winner: Halo
Overall Winner

We recommend Halo 2+ over SpotOn, largely due to the significant pricing differences but also because Halo can accommodate many more dog sizes than SpotOn. However, the choice between the two ultimately comes down to your needs. SpotOn could be better for you if you want more customizable fencing and better battery life in the collar. If you'd like to learn more about either product, you can read our full Halo 2+ or SpotOn review.
Overall Winner: Halo
If you're not sold on these expensive GPS-enabled systems, then you may want to consider some more affordable wireless dog fencing systems. These other systems work well for a regular-sized family yard using radio frequencies to keep your dog in bounds.
Tagged With: Containment