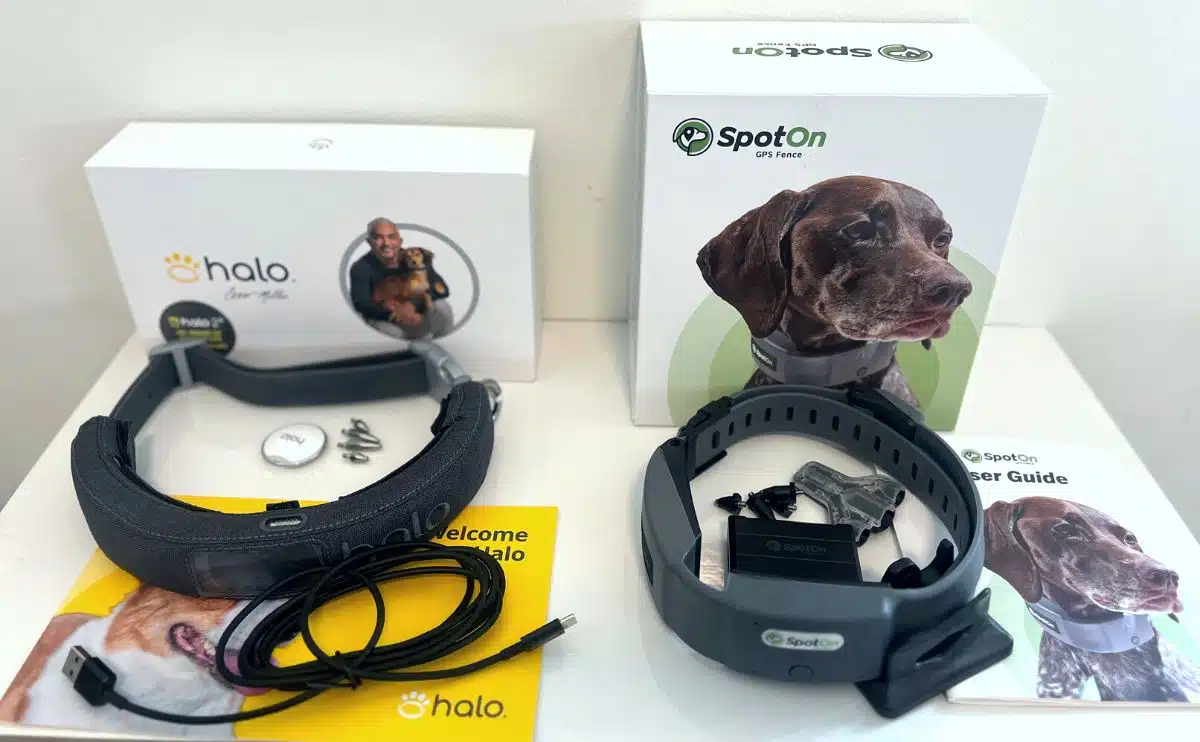 Halo and SpotOn are both popular and similar virtual wireless dog fencing systems, but there are some significant differences between the two. How do these two GPS-enabled, wireless dog training collar systems compare? We'll give you all the details you need to help you decide which one is best for your specific needs and your budget.
Visit Halo Collar's Website | Visit SpotOn GPS Fence's Website
Halo & SpotOn vs Other Wireless Fences
You might be wondering what makes these high-tech collars so appealing. They have a number of benefits over traditional wireless dog fencing systems.
No Installation – They don't require any digging or professional installation to create a barrier. They use GPS satellites, and you create fenced zones using their apps.
Portable – Take and create virtual fences wherever you go.
Larger Boundaries – Your only limitation is the coverage area (but with thousands of acres, you have countless options).
No Extra Equipment – No base station is needed to communicate with or transmit a signal.
Flexibility – Create "no go" areas and multiple zones.
Tracking – Tracking via cellular service to see where your dog is located in real-time (as long as you have reliable cell service in the area you are tracking).
Latest Versions For Both Collars
Before we launch into our comparison of Halo vs SpotOn, we should point out that both Halo and SpotOn have made significant overhauls of their first-generation systems based on customer feedback. These upgrades include everything from improved collar durability and battery life to GPS and cellular performance. SpotOn also introduced a newly designed app. Below is a side-by-side look and first-hand review of the latest models of both collars (Halo 3 and SpotOn Gen2).
We pick winners for each category and documented our own trials to give you a more in-depth analysis. We'll get into more detail below with our personal experience testing out the two products.
At A Glance: Halo Collar vs SpotOn GPS Fence
Equipment
First off, let's take a look at the physical collars and equipment.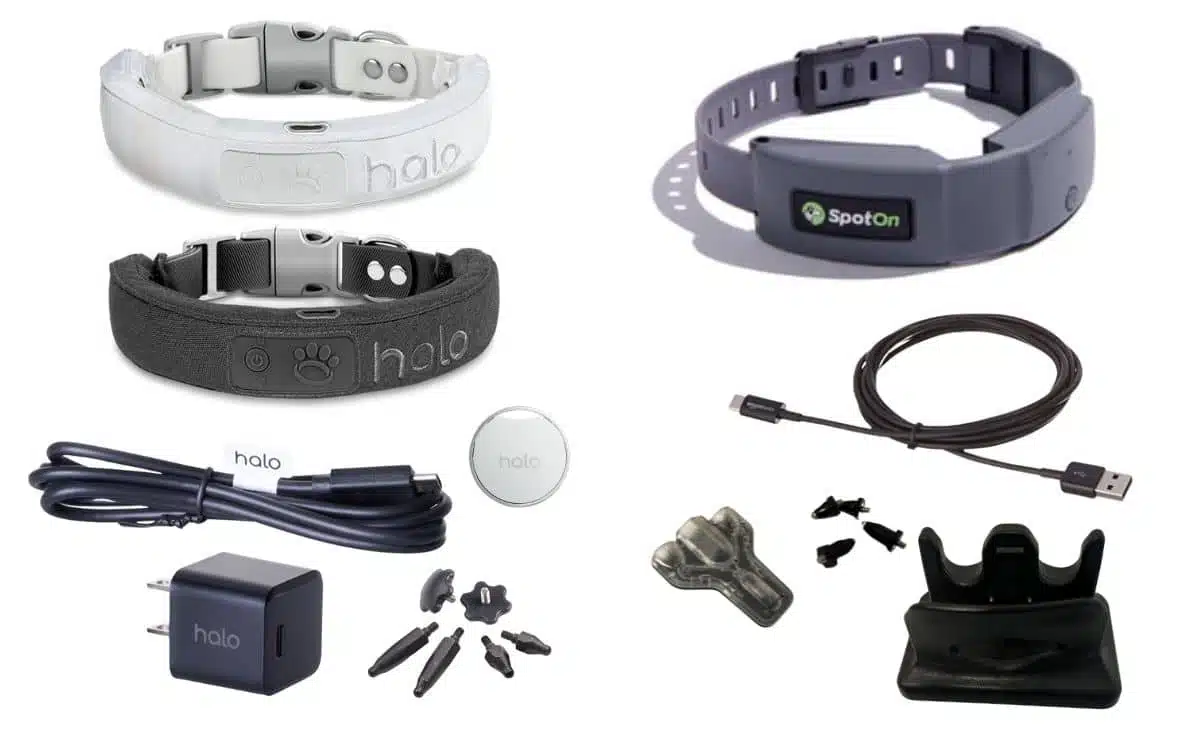 | | Halo 3 | SpotOn Gen 2 |
| --- | --- | --- |
| Collar Sizes | 11″ to 30.5″ (S, M, L) | 10″ to 26″ (S, M, L) |
| Battery Life | Up to 24 hours | Up to 22 hours |
| Time To Charge | 1-2 Hours | 1-2 Hours |
| Color Options | Black, White, Pink, Yellow | Grey |
| Waterproof | | |
| Prongs | 2 sets of contact points | 2 sets of contact points |
| Charge via | USB-C Magnetic | USB-C Cable & Base |
| Adjustable Strap | | |
| Hook for Leash | | |
Size & Colors
Both collars come in multiple sizes: small, medium, and large. Halo's collar can accommodate neck sizes between 11″ to 30.5." SpotOn recently added a small collar to its lineup, so it can accommodate 10″ to 26″ neck sizes. Both collars are waterproof and have convenient rechargeable batteries.
Halo comes in four colors (pink, yellow, black & white), while SpotOn only comes in grey. At the time of publication Halo also had a few special edition colored covers in yellow and pink.
Adjustments
When we tested sizing them, it was much easier to adjust the SpotOn collar. The Halo requires you to remove the fabric cover and the (optional) prongs before and after you fit the collar to the correct length for your dog.
Halo uses a sliding clasp to adjust, whereas the SpotOn collar has a pop-out clip that you put in the ring that you want it. With that said, the SpotOn is limited by the number of holes, whereas Halo allows you to get more fine-tuned.
Battery Life & Charging
The battery life of the Halo 3 Collar is up to 24 hours, while SpotOn's battery lasts 22 hours in containment mode and 14 hours in tracking mode. Unfortunately, both require daily charging.
In our road test, they both charged up rather quickly (an hour or so). They use the same cable (USB-C). The only major difference is the SpotOn requires a base to transmit power to the collar, so if you lose that, it's harder to replace compared to Halo's USB-C cord.
Durability & Comfort
Both companies redesigned their collars to be much more durable than the original ones, but the Halo 3 collar has a magnetic charger that can endure chewing and rough terrains. SpotOn's material is much more flexible and bends to the shape of your dog's neck. Halo's fabric case can be washed, but when it gets wet, could become uncomfortable since it retains water more than the SpotOn's rubber material.
SpotOn's collar is not as stylish as Halo, and it requires an additional charging base. It's a close race in this category, but we give SpotOn the edge because its collar has a wider range of sizes, longer battery life, better durability, and is more weatherproof than Halo.

Equipment Winner: SpotOn
Range & Coverage
Next, let's take a look at how much area each collar is capable of fencing off and what technology they use.
| | Halo 3 | SpotOn Gen 2 |
| --- | --- | --- |
| Min. Fence Size | 0.2 acres (250 ft) | 0.5 acres |
| Max Coverage | 1,200 acres | 1,000s of acres |
| GPS For Fence | GNSS (Shared GPS, GLONASS, Galileo, Beidou, etc.) | Dedicated GPS, GLONASS, Galileo, Beidou |
| Satellite Systems | 2 (50 Satellites) | 4 (128 Satellites) |
| Fence Drawing | Manually drop pins | Automatically drops pins as you walk (can adjust manually) |
| Fence Posts Set | Manually | Automatically or Manually |
| # Fence Posts | Up to 20 | Up to 1,500 |
| # Saved Fences | 20 | 20 |
| Overlapping Fences | | |
Range
SpotOn recommends a minimum of 1/2 acre to work properly, while you can use Halo in a smaller yard (0.2 acres). SpotOn also needs space between barriers, so fence lines can't be too close together. Based on this, SpotOn is designed for larger properties.
Accuracy
Both companies utilize multiple constellation satellites that transmit positioning and timing data to the collars' built-in antennas. The Global Navigation Satellite System (GNSS), including GPS, isn't 100% full-proof. So both companies get some negative reviews about their consistent performance. However, SpotOn has its own dedicated satellite and double the number, so it's more precise and reliable.
SpotOn gets fewer complaints about the accuracy of fencing boundaries and location tracking than Halo. In addition to having more dedicated satellites, one key difference that may contribute to the variance is also the positioning of each collar's antenna: SpotOn's is directly on the top of the collar, while Halo's is on the side.
Boundaries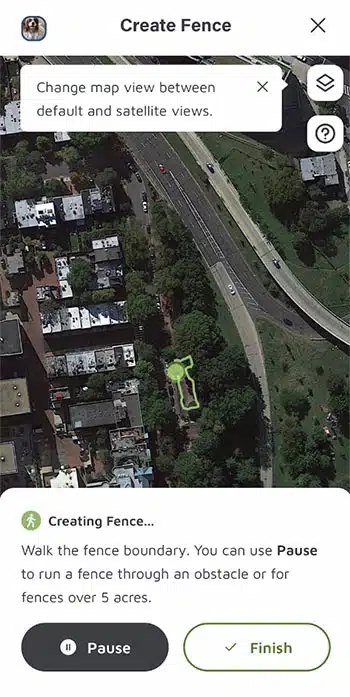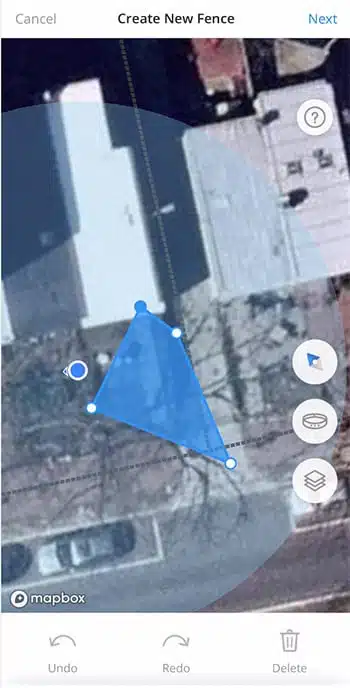 With SpotOn, you can create 1,500 fence posts, which can overlap each other. Halo only allows you to set up 20 fence posts, and you can't overlap them.
To draw the boundaries on Halo, you manually drop a fence post marker (think of them as a physical fence post), whereas SpotOn draws them for you automatically when you walk (and then you can manually adjust if needed).
When we tested out both, it was much easier to set up a fence boundary with SpotOn by simply walking the perimeter of the area I wished to contain. Halo was not as user-friendly and less accurate, so we found the setup process a bit frustrating. You could drop posts, but they weren't in the right spots, and then we had to figure out how to drag and drop them to the right location. Plus, Halo uses more linear fence lines, whereas SpotOn more easily contours to the shape of your space.
SpotOn is the hands-down winner when it comes to easily creating fence zones. It also allows for a larger number of zones and is more accurate than Halo.

Features Winner: SpotOn
Features & Training
| | Halo 3 | SpotOn Gen 2 |
| --- | --- | --- |
| Collar Automatically Updates | Every 15 seconds | Every 6 seconds |
| Training | | |
| Home Zones | via Bluetooth | |
| Keep Out Zones | via Bluetooth | |
| Correction Types | Sound, Vibration, Static | Sound, Vibration, Static |
| Correction Levels | 15 | 30 |
| App | Apple or Google Play | Apple or Google Play |
| Cellular Tracking (optional) | All Carriers | AT&T or Verizon 4G LTE-M |
| Forest Mode | | |
Alerts
Both systems give you multiple correction levels (including tone, vibration, and static modes), but SpotOn gives you 30 different options, while Halo only gives you 15.
The SpotOn beep alert sound is much louder than Halo's, which is faint but loud enough for a dog to hear it while wearing.
The vibrations are about even on both and allow you to adjust the intensity. For the Halo, the 3rd level shock is very intense but doesn't feel painful.
Zones
Both Halo and SpotOn save up to 20 custom fences at any time. But to create a non-safe or "keep out" zone, you must use a physical Bluetooth "beacon" device that comes with Halo (additional can be purchased). With SpotOn, you can create no-go or home zones within the app itself, and are not as limited.
Apps
You can use their apps to manage your fences and give feedback to your pup. Both offer video training to help you set up the collars and acclimate your pup to the fencing system. Both allow you to toggle on and off the fences and add multiple pets. Tracking comes with the Halo plans, but it's an add-on for SpotOn.
Training
Halo is backed by dog training experts, including Cesar Millan, and the app comes with plenty of tutorials and step-by-step videos, tips, and tricks to help train your dog. SpotOn has many videos and tutorials that teach you how to get your dog to respond to the alerts. Beyond that, SpotOn's app is more for containment and tracking, not training. So Halo is better for ongoing behavior modification.
Portability
Both systems have excellent portability and can be used over any terrain. But another plus for SpotOn, it has a special feature called Forest Mode for use if your yard has heavy tree cover. When activated, it makes GPS even more sensitive.
While the two collars' features are similar, the thing we noticed most is how much longer the lag time is for Halo compared to SpotOn, which is almost immediately responsive. While Halo has more training tools, we give SpotOn a slight edge in this category.

Performance Winner: SpotOn
Price
| | Halo 3 | SpotOn Gen 2 |
| --- | --- | --- |
| Price | $699 | $1,295 |
| Price after discount code* | $649 | $1,195 |
| Financing Terms | 3, 6, or 12 months | 12, 18, 24 months |
| Financing Cost | Starting at $64/mo | Starting at $59.35/mo |
| Shipping | $19.99** (3-5 days) | Free (2 business days) |
| Money-Back Guarantee | 60 days | 90 days |
| Warranty | 1 year | 1 year |
| Subscription Required | | No |
| Subscription Free Trial | 30 days | 30 days (with 1-2 year plans) |
| Subscription Plans | $4.99-$29.00/mo | $5.95-$9.95/mo |
| Return Fee | $25 fee | No fee |
**shipping fee is non-refundable if you return the product
When it comes to price, Halo is about half the price of SpotOn. But, as we learned in the last section, you get what you pay for in terms of quality and accuracy. SpotOn has significantly better performance and features that Halo doesn't.
A Halo subscription plan is required to enable data storage for fences, GPS location services, activity tracking, and training from Cesar Millan. SpotOn's fences work without a subscription, but you'll need a subscription for escape alerts and GPS tracking. Halo's basic plan is pretty, well, basic. This is why we recommend getting at least the Silver plan ($9.99) to take advantage of the collar's features.
*Coupon Code
Use this link to get $25 off your Halo Collar purchase and unlock a special discount.
Use coupon code CANINE to get $100 off your SpotOn purchase via this link.
Financing is available for both (subject to credit check and approval). The terms are shorter for Halo, but the monthly cost is lower for SpotOn since it stretches across a longer time period for repayment.
If we base the price winner on the lowest cost, then Halo is clearly the winner in this category. We're not saying that makes it the best value, though. Halo also requires a monthly fee. So technically SpotOn is the winner for costs over the long term.
While it's a close call, Halo wins this category based on its lower price point compared to SpotOn.

Price Winner: Halo
Support
| | Halo 3 | SpotOn Gen 2 |
| --- | --- | --- |
| Phone Support | | |
| Email Support | | |
| Chat Support | | |
| Video Support (via shared Zoom session) | 9am-6pm EST | |
| FAQs & Articles | | |
There are a number of ways to get in touch with customer service for both companies, which is helpful since it's such a technical and interactive type of product. Halo tech support is available for video chat sessions via Zoom, phone, and email support 7 days per week. (Although phone wait times can be long.) SpotOn tech support is available Mondays through Fridays via live chat, phone, and email, with email and phone appointments on the weekends. SpotOn also includes an optional 30-minute call with an expert if you need help.
We tested out support for both companies. For Halo's live video sessions (during business hours), we were able to join the shared "Dog Park" Zoom meeting within a few minutes. When we called the support phone number for SpotOn, we were put on hold but talked to someone within a minute.
When it comes to support, once you receive the product, we give the nod to Halo for offering live Zoom sessions and offering more options. However, keep in mind that customer service can only go so far if the product itself doesn't work well.

Support Winner: Halo
Overall Winner
Visit Halo Collar's Website | Visit SpotOn GPS Fence's Website
The choice between the two ultimately comes down to your needs. With arguably more accurate GPS tracking and fencing boundaries and more customizable fencing and correction levels, SpotOn is a much better fit for a wireless fence option. If you're looking for a lower-priced system and have a smaller yard, Halo could be a better choice.
But in terms of overall features and picking a winner apples to apples, SpotOn is our pick. While it might be an investment, it's well worth the price for the benefits you'll get from having a virtual fence wherever you go.

Overall Winner: SpotOn
If you'd like to learn more about either product, you can read our full Halo 3 or SpotOn review.
Tagged With: Containment