Let your dog run free without the expense and trouble of putting up a fence in your yard. Wireless dog fences are an excellent alternative, especially if you don't want the hassle of digging up your yard to bury in-ground wires.
| Winner | Runner-Up | Third Place |
| --- | --- | --- |
| Free To Roam | Stay+Play | |
| | | |
| | | |
Why Get A Wireless Dog Fence?
Here are a few reasons why you might be a good candidate for a wireless dog fence:
Strict neighborhood regulations don't allow fences
Don't want the eyesore of a wooden or metal fence surrounding your yard
Block other outdoor areas like the swimming pool or garden
Can easily move to a new location or possibly take with you on vacation
Easy to set up and more affordable than traditional fencing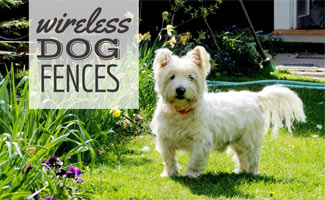 Many dog owners use both a wireless dog fence and a traditional fence to keep their dogs safe. For example, if you have a white picket fence around the outside of your property, but your dog loves to dig in your garden, then you can use a wireless dog fence to keep them from getting into your tomatoes.
The same goes for other things like the sandbox your kids play in. You probably don't want your pup going potty in it! Wireless dog fences can help maintain more boundaries to keep your dog where you want him to be.
Best Wireless Dog Fences
Now that you know how they work let's dig right into our top three picks for the best wireless pet fence.
Winner: PetSafe Free To Roam Wireless Pet Containment System Review
A top manufacturer of quality pet products, PetSafe takes our first place spot for the best wireless dog fence. The PetSafe Free To Roam Wireless Pet Containment System wins our top choice for its reliability, durability, and affordable cost.
Although yard coverage isn't as broad as other systems, you can expand your coverage with additional transmitters.
| Pros | Cons |
| --- | --- |
| Excellent quality for the price | Yard coverage isn't as large as other systems (half-acre or 180 feet in diameter) |
| The collar fits small, medium, and large dogs | Battery isn't rechargeable |
| Return within 30 days if not satisfied | |
| Waterproof collar | |
| Portable system – for when you travel with your dog or move | |
| 1-year warranty | |
| 6-volt battery included | |
Pricing
Runner-Up: PetSafe Stay+Play Wireless Fence Review
Another top product from PetSafe, this PetSafe Stay+Play Wireless Fence, takes second place. The PetSafe Stay+Play Wireless Dog Containment Fence is an upgrade to their Wireless Pet Containment System (our number one pick). The major differences? The collar is smaller and more lightweight and has a rechargeable battery.
The transmitter is 67% smaller than the original and covers an extra quarter of an acre. Both units have excellent signal reliability and are easy to set up. However, this collar is more expensive and doesn't have as many great reviews as the number one pick, so we've chosen it as our runner-up.
| Pros | Cons |
| --- | --- |
| The transmitter is smaller than comparable systems to fit in more places | Coverage is limited for the price (3/4 acres from the placement of the portable indoor transmitter) |
| Built-in rechargeable battery | More expensive than our #1 pick |
| Portable | |
| Accommodates very small dog weight (minimum 5 pounds) | |
| 1-year warranty | |
| Rechargeable battery included | |
Pricing
Third Place: SportDOG Brand In-Ground Fence Systems
Note: This is not technically a wireless fence but is invisible and covers a much larger area than the top two picks.
SportDOG's parent brand is INVISIBLE FENCE, so you can trust that their product comes backed with a solid reputation. Its range is massive compared to the other two fences, so this system is ideal for those who live on large plots of land or farms. It comes with 1-1/3 acres coverage out of the box but can expand to 100 acres with additional wire and flags. It comes with 100 flags and works for dogs 10 pounds and up.
| Pros | Cons |
| --- | --- |
| Huge coverage area (100 acres) | Not ideal for smaller dogs or properties |
| Waterproof collar lasts 6-12 months (rechargeable version slightly more expensive) | |
| U.S. based customer service | |
| 2-year warranty | |
Pricing
Wireless Pet Fence Reviews Compared Side-By-Side
To help you easily compare each of these wireless dog fence system's features side-by-side, we give you our best wireless dog fences comparison table.
What Are My Other Options?
Two newer wireless dog fences are making some waves in the industry. These systems differ from our top winners in that they use GPS rather than radio frequencies to set your dog's boundaries. They're better suited for large yards and properties with a lot of acreage.
Halo 2+ Collar Wireless Fence System Review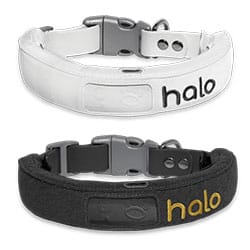 The Halo Collar Wireless Fence System, backed by dog-guru Cesar Millan, uses GPS satellite technology, along with cell service, to keep tabs on where your pup is in the boundaries you set up. Halo allows you to set up 20 different virtual fences and has 15 correction levels with your dog's collar, including tone, vibration, and static modes. You can get notifications on their mobile apps on your dog's location, and the system also includes a built-in activity tracker and Cesar Millan's 21-day training program.
The new and improved Halo 2+ collar has some excellent upgrades to specifically address customer feedback about the original Halo collar. These improvements include enhanced GPS coverage, better location accuracy, a 21-hour battery life, a much more rugged collar with a Pro-case that can withstand chewing and harsh terrain, as well as better cellular, WiFi, and Bluetooth performance.
| Pros | Cons |
| --- | --- |
| Large coverage area – up to 10 square miles | Expensive |
| Uses GPS/GNSS, Bluetooth, WiFi, and LTE technologies | Requires monthly subscription |
| Waterproof collar | Not for very small dogs (minimum neck size is 11″ and minimum weight is 20 lbs) |
| 21-hour battery life | |
| Apps get generally good reviews | |
| 1-year limited warranty | |
| 60-day return policy | |
| Customer service and tech support via live Zoom sessions | |
Pricing
The price of the Halo collar and system includes 30 days free on their Gold subscription plan (see below). The site often offers discounts on its system (we've seen $699 and $799).
Subscription Plans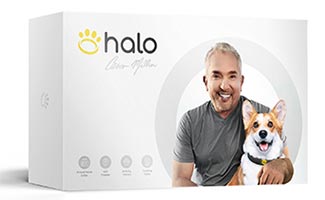 A Halo subscription plan is required to enable data storage for fences, GPS location services, activity tracking, and training from Cesar Millan.
The Basic plan gives you most of what you'll need for the system to work, including unlimited cellular data. The Silver plan's major benefit is advanced tracking, and the Gold plan gives you premium training content.
Basic: $4.49/month
Silver: $9.99/month
Gold: $29.99/month
Coupon Code
Use this link to get $350 off your Halo Collar purchase (must enter your mobile number to unlock the discount).
SpotOn Virtual Fence Review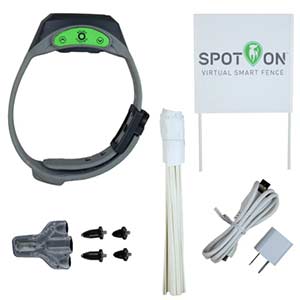 The SpotOn Virtual Fence works much the same way that Halo's does. But there are some noteworthy differences — the price being the most obvious. SpotOn is an extremely hefty $1,495 compared to $999 for Halo. However, SpotOn has 30 correction levels and allows you to set up 1,000 different virtual fences, which can overlap (you can't overlap fences with Halo).
You also get one-on-one training sessions with one of SpotOn's certified dog trainers. SpotOn gets spotty user reviews for the system's performance and customer support. Note: The minimum property size is 1/2 acre to use this system.
| Pros | Cons |
| --- | --- |
| Large coverage area – 1,000s of acres | Very expensive |
| Uses GPS/GLONASS, Bluetooth, WiFi, and LTE technologies | Not for very small or very large dogs – limited collar sizes (from 10″-26″) |
| Waterproof collar | Monthly subscription needed for tracking |
| Battery life from 18-24 hours | Many complaints that it's difficult to activate and won't hold a signal |
| Allows for overlapping fences | Users say mobile apps are prone to crashing |
| 1-year limited warranty | Several complaints about poor customer service |
| 45-day return policy | |
Pricing
Subscription Plan
The SpotOn Virtual Fence requires its AT&T and Verizon cellular coverage services for its tracking feature to work. You can get a 90-day free trial of their subscription plan but only if you sign up for the one or two-year plan.
$9.95/month (monthly)
$7.95/month (1-year plan)
$5.95/month (2-year plan)
How Do Wireless Dog Fences Work?
A wireless dog containment system has two parts: the transmitter and the receiver.
The transmitter plugs into an electrical outlet, and the wireless dog collar has the receiver. The transmitter sends out a radius of radio frequencies, and you can adjust the signal distance to your desired boundary space. If your dog goes beyond the perimeter you set, they'll receive an electric shock. The static shock is not painful or traumatic – it's similar to a splash of cold water in the face. Some receivers also have the option to make a noise when they cross over the set boundary.
However, shock collars can cause slight skin irritation. The Humane Society encourages owners to clean their dog's neck and contact points regularly and not leave the shock collar on for extended periods of time. But what's the best wireless dog containment system?
How Does A Wireless Dog Fence Work? (Infographic)
How do wireless fences work? Check out this infographic to see how it uses technology to keep your pup contained.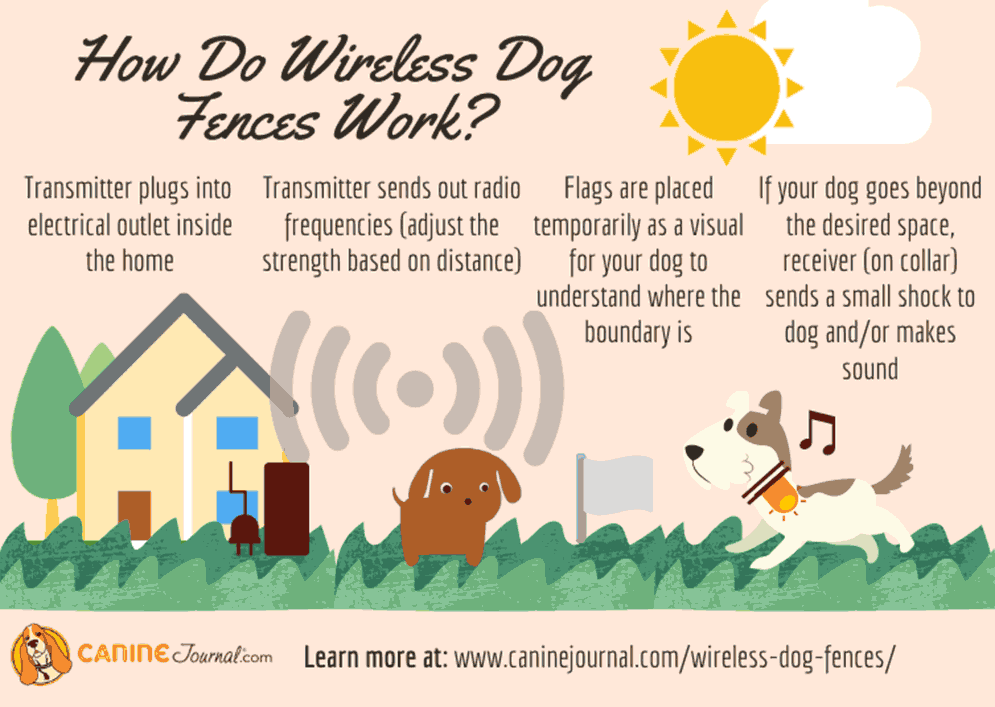 How To Install A Wireless Fence
This three-minute video from Lowe's walks you through the steps, including where to put the transmitter and other tips on easy setup (using one of our top recommended fences as an example).
On The Fence About Which Type To Choose?
Are you looking for a cheap wireless dog fence or something to cover your entire yard? A traditional fence is the safest option, but it also carries the largest price tag and commitment level. A less expensive option is an in-ground wired fence. These fences are typically cheaper than wireless fences, but they also take more time to install and aren't portable.
If you have a calm, small dog, you may not need a fully fenced yard. A doggy playpen might be able to corral your dog outdoors without the commitment. But, you should never leave a dog alone in a playpen because it is portable and, thus, relatively easy to escape from if the dog is determined to do so.
And, if you did opt for a fence, a doggy door is a helpful way to give your dog more control of when it enters and exits your home into its fenced domain.
For more information, check out this article covering invisible fences for dogs. But, if you want smaller boundaries within your yard, don't want the hassle of burying wires, or need something portable, wireless fences are an excellent option.
Tagged With: Comparison, Containment, Outdoors