Do you find yourself crating your puppy too much during the day? As puppy owners, we've all been there. You're in and out of the house running errands or trying to make meals and clean the house. You can't leave your pup unattended—oh, the trouble they can cause! But too much time cooped up in a crate isn't ideal for dogs of any age. Dog exercise is critical to a happy dog life, and they need time to play with their toys and move around. Puppy playpens are an excellent alternative to over-crating.
Why Do I Need A Puppy Playpen?
In many cases, crates aren't enough. But first, keep in mind, that a dog exercise pen isn't a replacement for the outdoor exercise your puppy needs on a daily basis. (An outdoor dog pen won't cut it.) Although puppies don't require nearly the exercise that adult dogs do, they still need to walk every day.
The U.K. Kennel Club recommends five minutes per your puppy's month of age (no more than twice daily). So, if your puppy is two months old, he should get 10 minutes. At three months old, he should get 15 minutes, and so on until he's fully grown.
But a puppy exercise pen still helps your pup's developing muscles and joints become stronger—much more so than lying around in a crate all day. A pen also encourages your pup to develop independence and confidence. It's important for him to learn that he doesn't need to be attached to your hip 24/7. Puppy pens give you and your dog peace of mind.
What's The Best Puppy Playpen?
There is an overwhelming number of excellent dog pens on the market. We've done our research and broken down our top choices by category in our puppy playpen reviews to help you find the best puppy playpen for your home and pet.
Best Premium Dog Pen: Richell Convertible Pet Playpen Review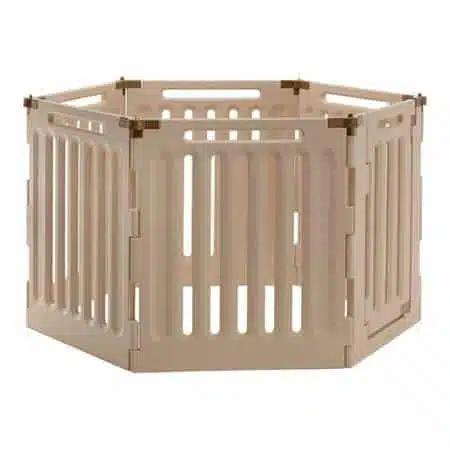 Richell's Convertible Pet Playpen is the "top dog" of puppy playpens. It's the most attractive and stylish of the pack and the sturdiest dog pen we've reviewed. This portable puppy playpen is made of thick, durable plastic and is effective for both indoor and outdoor use. It's also one of the most versatile, easily converting to a room divider or freestanding pet gate.
Richell also offers a couple of nice add-ons—a floor tray and a pet comfort mat that you can also use as a roof. The potential drawback for some owners? The best dog playpen has a pretty hefty price tag. But if your budget allows, we think it's the best pet exercise pen on the market, paws down.
| Pros | Cons |
| --- | --- |
| Simple to set up and break down | Heavier than other pens, so not as easily portable |
| Sturdiest model we've seen | Expensive |
| Large, lockable door | |
| Add-on washable floor mat doubles as a roof | |
| Folds up flat for easy storage | |
| Decent height at 36″ | |
Pricing & Sizing
Best Indoor Dog Pen (Small to Medium): Iris Plastic Pet Playpen Review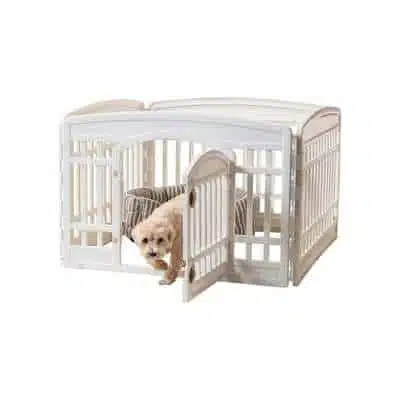 If you have a small- to medium-sized breed, the Iris is an excellent choice, especially if you don't have a lot of space in your home. It's a compact and attractive alternative to wire playpens, which is why it's an excellent choice for a small puppy playpen.
Don't let the plastic fool you—this is a sturdy pet pen and you can use it indoors or outside. This is an excellent playpen for tiny dogs or rambunctious puppies to keep them from chewing on things they shouldn't be chewing on.
| Pros | Cons |
| --- | --- |
| Easy assembly | May be too short for climbers/jumpers |
| Heavy-duty plastic | No playpen height choices (the only option is 24″H) |
| Sturdy dog door | |
| Folds up flat for easy transport | |
Pricing & Sizing
4-Panel Playpen with Door: $54.99
Dimensions: 35.13″W x 35.13″W x 23.75″H
If your dog is not yet housebroken, you could also get a potty training floor tray and pee pads (these would work in most of the recommended enclosures reviewed here).
Best Indoor Dog Pen (Large): Midwest Exercise Pen Review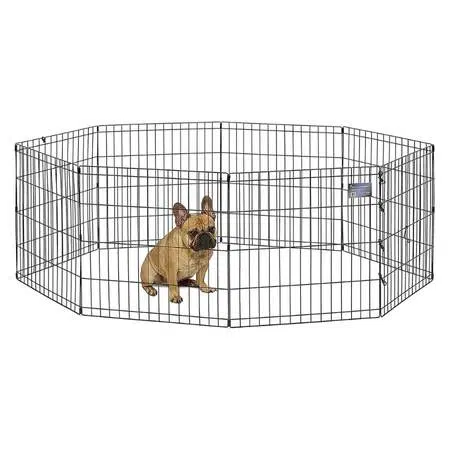 Looking for more of a puppy corral? The Midwest exercise pen is a nice choice for larger breed puppies who need a little more room to move around. It consists of eight 24″ wide panels with a black E-coat finish for protection against the elements (you can use it indoors or outdoors).
The Midwest includes corner stabilizers for indoor use and ground stakes for outdoors. We love that it's available in five different heights and that you can purchase an add-on sunscreen or wire mesh top for shade or security when outside.
| Pros | Cons |
| --- | --- |
| Simple set up | Can't purchase single add-on panels |
| 5 different height choices | May not be sturdy enough for full-grown dogs |
| Double latch dog door | |
| One-year manufacturer's warranty | |
| Easy to transport or fold down for storage | |
Pricing & Sizing
Best Outdoor Dog Pen: Paws & Pals Outdoor Playpen Review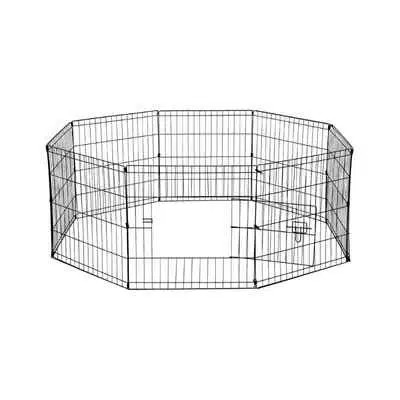 If you're looking for an escape-proof dog playpen, Paws & Pals Pet Playpen is a large, extremely sturdy area for your puppy to stay secure and have fun while outdoors. It comes with multiple panels and a latch door, and you can configure this playpen in different shapes. This outdoor playpen consists of half-inch heavy-duty steel with a rust-resistant coating that is coated so pets can't cut themselves on the wiring.
It folds down easily for storage, and it comes in multiple heights (24″, 30″, 36″, and 42″), so it fits dogs of all sizes. It's easy to assemble (no tools required).
| Pros | Cons |
| --- | --- |
| Easy to assemble | Can't purchase additional panels |
| Extremely sturdy and durable | Some panels are wider than average, so transport may be difficult |
| 4 different height options | |
| Sturdy latch door | |
| Folds down easily for storage | |
| Adjustable design | |
Pricing & Sizing
Best Portable Dog Pen: Zampa Foldable Portable Pet Playpen Review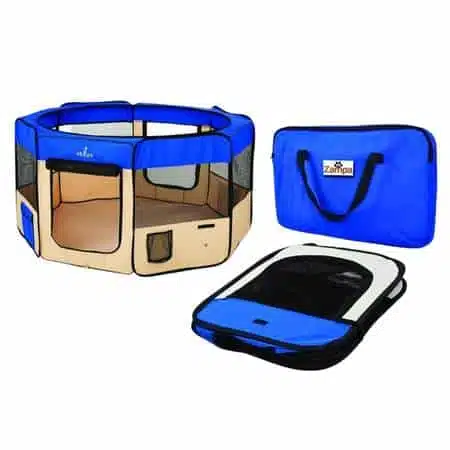 Do you travel a lot with your puppy? If so, the Zampa portable playpen for dogs is a must-have. This playpen is easy to set up and fold down and comes with a handy carrying case. Although not as sturdy as steel pens, the Zampa is pretty durable and has an attached floor mat and reinforced corners and seams to keep your puppy put. It's even water-resistant, and you can take it outdoors.
The largest size measures 30″ high and 61″ in diameter, so it may not be best for large breeds or older puppies once they grow bigger. But the portability is a breeze.
Learn more about traveling with your pets.
| Pros | Cons |
| --- | --- |
| No assembly required | May be too small/short for larger breeds |
| Folds down easily for transport | Not as sturdy as metal playpens |
| Comes with a carrying bag | |
| Zippered dog door | |
| One-year money-back guarantee | |
| Available in 4 colors: blue, brown, pink, and red | |
Pricing & Sizing
Frequently Asked Questions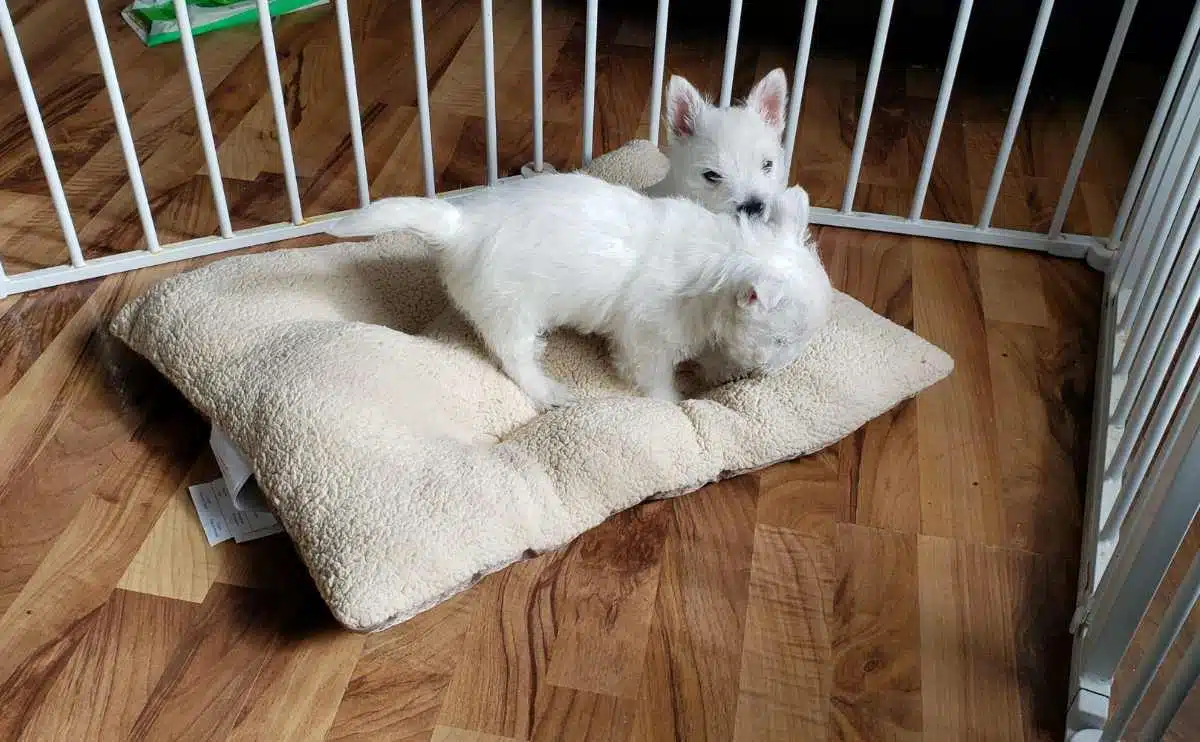 Here are some additional things you might be wondering as you are considering a playpen for your puppy.
Can I leave my puppy in the playpen while I'm at work?
Leaving your puppy in a playpen while you go back to the office is a nice alternative to keeping them in a crate. It gives them more room to play and move around. However, if you are working on crate training your puppy while gone, it can be confusing so commit to one or the other and keep it consistent.
How do I pen-train a puppy?
Training a puppy to use a playpen is similar to crate training. Start by introducing them to the space with treats, toys, and familiar things that will make them feel comfortable. Keep them in the playpen in the same room as you at first, and gradually work up to having them be alone (working up in small increments of time).
When should I stop using a puppy pen?
When you stop using a playpen for your puppy depends on your dog and situation. If they're small enough, you might consider using a pen indefinitely as their "den." However, if your dog is larger and they outgrow it, you might need to upgrade to something bigger.
What to put under a dog playpen?
Putting old bed sheets, blankets, or both down under the pen helps protect your floors and carpet while making your pet feel more comfortable. You might consider putting their dog's bed in the pen if it has enough space. If they're still potty training, having a pee pad in the pen is a good idea too.
What about closing off an existing space?
If you have an area in your home that's safe for your dog to spend limited time alone and can be closed off with one simple added boundary, you might want to consider a dog gate or a freestanding gate to close off a larger opening.
Sadly, it can be difficult to find spaces that are easy to close off (and puppy-proof) and not needed regularly by humans and are safe enough to leave your dog unattended for short periods. In these cases, you should consider one of our recommended playpens.
Playpen vs Crate For Puppy
The choice between a playpen and a crate for your puppy depends on your specific needs and goals for training and managing your puppy. They serve different purposes and have distinct advantages.
Crate:
Confinement: Typically smaller, enclosed spaces and they prevent destructive behavior by limiting your puppy's access to the house when you can't supervise them.
Safety: Provide a secure environment where your puppy won't have access to potentially dangerous household items or situations.
Housetraining: Aid in housetraining because dogs have a natural instinct to avoid soiling their living space.
Travel: Useful for safe travel with your puppy, such as in a car or on an airplane.
Playpen:
Larger Space: Offer more space than crates, allowing your puppy to move around, play, and exercise within a confined area.
Flexibility: Versatile and can be set up in various shapes and sizes. They can be used indoors or outdoors, and some are portable.
Socialization: Useful tool for socializing your puppy with other pets, children, and visitors.
Supervised Play: They allow you to interact with your puppy while keeping them in a controlled environment.
You can also use both a crate and a playpen in different situations. For example, you might use a crate for housetraining and overnight sleeping, while using a playpen during the day for supervised play and socialization. Additionally, it's essential to ensure that both the crate and playpen are of appropriate size for your puppy, safe, and comfortable.
What If My Puppy Is An Escape Artist? (Video)
And then there are those pups who are just too crafty for some types of playpens (see the video below). If you already know your puppy is prone to mischief, make sure you find the best escape-proof playpen you can.
Keeping Canines Contained Outdoors
A standard fence is the safest option for outdoors, but it comes at a higher price tag than the other two options, and you'll need to make sure that your neighborhood or landlord allows it.
Wireless fences give your dog more exercise space (find out how much exercise your dog needs), cost less than most fencing, and don't take up space in your yard. Maximize your puppy play yard with the gear that fits you and your dog's needs while also considering your budget.
Tagged With: Comparison, Containment