Is your dog getting into rooms he's not supposed to? Maybe your pup is stealing socks from the laundry room or destroying the downstairs area after you've cleaned it up. You're not alone! Lucky for you, dog gates can help. Dogs can be sneaky, and it's nearly impossible to keep your eyes on them at all times. That's why pet gates are a great idea for your home. A stairway gate for dogs also helps dogs with arthritis issues from going up and down stairs.
| Indoor Walk Through | With Small Door | Extra Tall | Outdoor |
| --- | --- | --- | --- |
| | | | |
| Regalo | Carlson | Regalo Extra Tall | Cardinal Gates |
| | | | |
| | | | |
4 Factors To Consider In A Dog Gate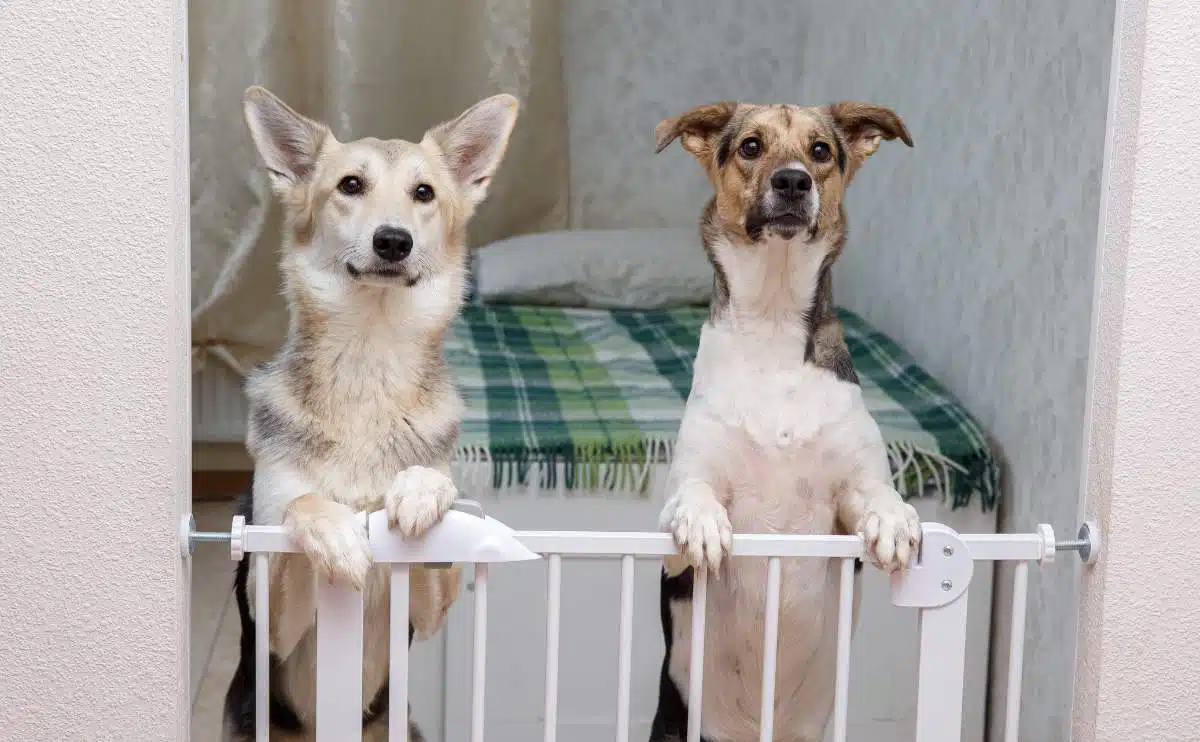 Which game is suitable for you depends on your situation. There are many things to consider while deciding which gate to purchase, including your:
Dog's Size – If you have a large dog, you need an extra-tall gate.
Home – How big is your home and door frame, and where do you plan to put the gate? If you wish to bar stair access, be sure to measure the opening.
Other Animals – If you also have a cat, you may want a pet gate with a smaller door for it to wander as it pleases.
Family Members – If you have children, is the mounted gate gate kid-friendly?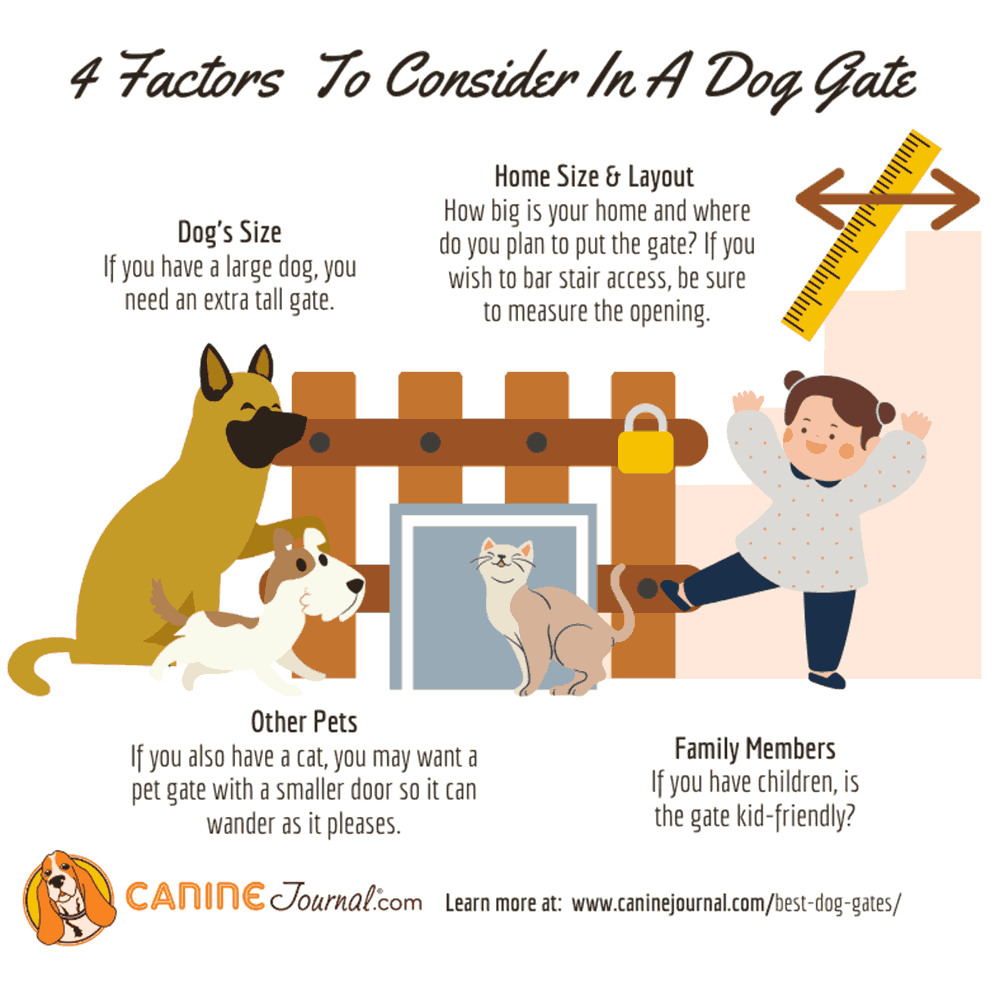 What Are The Best Dog Gates?
Read below to see which of these best dog gates is suitable for your home.
Best Indoor Dog Gate: Regalo Easy Step Walk Thru Gate Review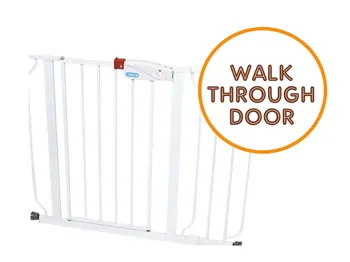 This gate is constructed of steel and keeps children away from stairways or other rooms. However, many pet parents use them for their kids as well as for dogs indoors.
It's one of the best gates available, and people love it.
If you decide to purchase it, please promise you'll read the instructions. Promise? 😉 This gate is a pressure mount gate and uses spring tension from the bottom rail to help it stay in place (explained more thoroughly in the instructions).
When you receive the gate, you'll notice it looks a bit warped, and the latch does not reach all the way. The shape is intentional, so you should not send it back. Read the instructions carefully to install it properly. Most people who have problems with this gate didn't read the instructions correctly.
| Pros | Cons |
| --- | --- |
| Easy to install | No small pet door |
| Walk-through door | |
| Excellent reviews | |
| Sturdy | |
| One hand open and close | |
Pricing & Tech Specs
Best Pet Gate With Door: Carlson Extra Wide Walk-Through Gate With Pet Door Review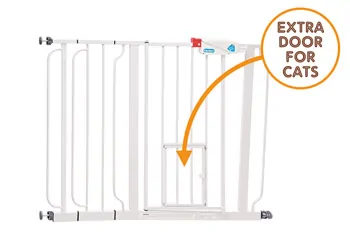 This expandable dog gate with a door is perfect for all breeds and ages. It also has a little door so that smaller animals can pass through. The pet door is ideal for homes with cats that you want to have full access to your home. It's also a great small dog gate.
Suppose you've got a large cat and are worried about him making it through the small door, no worries. Your cat can most likely jump over the top of this gate. The gate is made of metal and is very sturdy. It is easy for humans to open the latch and step through. And if you have multiple levels, this is probably the best dog gate for stairs.
| Pros | Cons |
| --- | --- |
| Sturdy and durable | Gate opening is narrow |
| Works great for the top or bottom of stairs | |
| Comfortable to step over | |
| Easy to install | |
| Nice latch | |
Pricing & Tech Specs
Best Extra Tall Pet Gate: Regalo Easy Step Extra Tall Walk-Thru Gate Review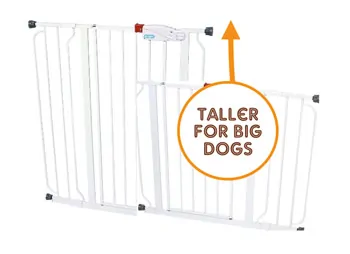 Are you looking for the best dog gates for large dogs? This tall dog gate is made for you and is made of steel. It also has a swinging door for you to walk through instead of having to step over. The latch for the swinging door is easy to use but difficult for dogs to unlatch unless they are escape artists.
Our pick for the best big dog gate expands from 29″ to 34″ but comes with a 6″ extension panel, allowing it to get up to 40″ wide.
| Pros | Cons |
| --- | --- |
| Great for smaller and larger pets | No small pet door |
| One-touch release handle allows you to walk through instead of stepping over | |
| Durable | |
| Child-proof safety handle | |
| Great for the top of stairs | |
| Easy to install | |
Pricing & Tech Specs
Best Outdoor Dog Gate: Cardinal Gates Stairway Special Outdoor Gate Review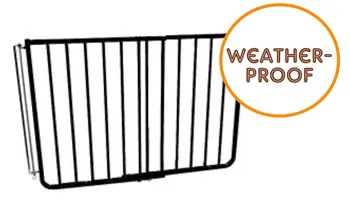 Our pick when it comes to the best outdoor pet gates is this Cardinal one. Made of aluminum, it's lighter than steel and also weatherproof. The Cardinal gate is meant to be used outdoors but can also work indoors. It comes in brown, making it perfect for decks and patios since it blends well with wood.
There are two optional width extensions available for an additional cost.
| Pros | Cons |
| --- | --- |
| Specially designed for the top of stairs | Complaints of the gate rusting over time |
| Mount at up to 30-degree angles | |
| Weatherproof | |
| Durable | |
| Easy to install | |
Pricing & Tech Specs
Best Freestanding Dog Gates: PETMAKER Pet Gate Review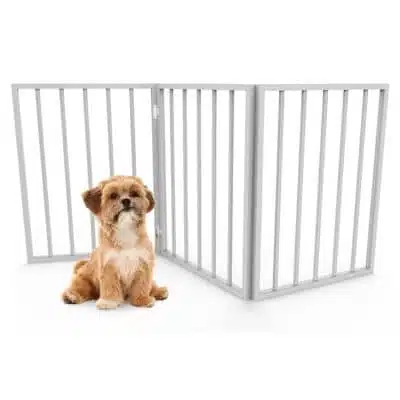 If you're looking for an installation free solution and don't have a big, aggressive dog, a fold-able freestanding dog gate might be a good fit for you. It's flexible design allows you to use in any door opening or stairway entrance of any size. And you can easily move from room to room. Then fold up and tuck away when not in use. This high-quality wooden dog gate is light weight and works with swinging doors.
The only downside with this dog gate is if your dog is a jumper or can easily push it over to get through it's probably not a good product for your home.
| Pros | Cons |
| --- | --- |
| Stylish, modern design | Not weather proof |
| Flexible for any room or door type | Not for big dogs that need a sturdier option. |
| No installation required | |
| Durable | |
| Easy to install | |
Pricing & Tech Specs
Always Lock Your Gates (Video)
This owner had the gate latched but not locked, and their pup was able to open it. It's kind of funny to watch. Heads up, though, turn your volume down some before playing this video.
Other Uses For Dog Gates & Containment Mechanisms
We hope our review of the best gates for dogs helped in your quest to contain your pup. You can also use a baby gate as a pet gates to keep your kids out of dangerous rooms like bathrooms or kitchens. Some parents use gates to allow their smaller pets to pass through the small doors but keep their children in more confined areas like the living room.
If you need to confine your pet to your yard, a wireless dog fence is an excellent option to consider. However, this won't keep your kids in the yard. Just be careful, no matter how you use these gates. We suggest that you never leave your children or pets unaccompanied.
Tagged With: Comparison, Containment