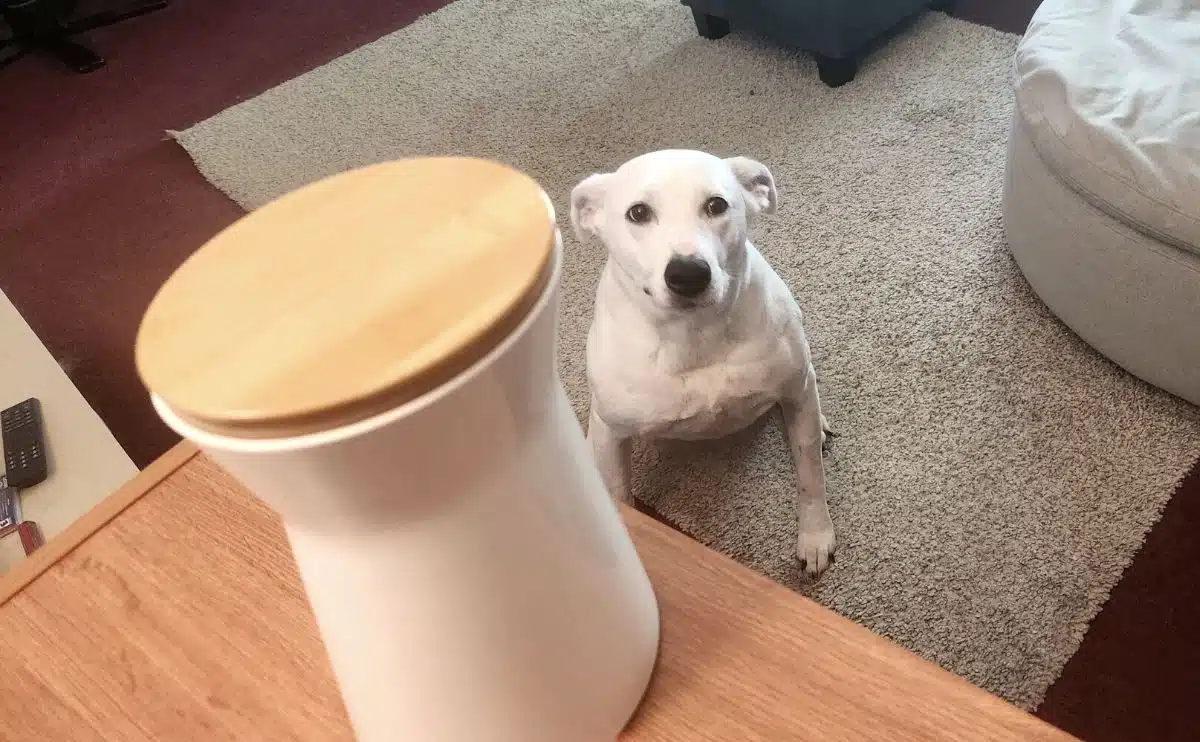 Many pet owners want to keep an eye on their furry companions when they must leave them alone. Whether stepping outside to do yard work, heading to work, or even at night, many owners need to keep an eye on what their four-legged family members do when they are unsupervised.
Fortunately, plenty of technology is available to help make this possible fairly easily. Furbo is a company that makes dog cameras. These cameras allow you to keep an eye on your pets from different locations and even give them treats and talk to them. We've reviewed the pros and cons and even tried Furbo out for ourselves.
Furbo Dog Camera Review

Product Name: Furbo 360 Dog Camera
Product Description: Furbo Dog Cameras allow owners to see and talk to their pets and include automatic treat dispensers.
Summary
Furbo Dog Cameras allow owners to talk to, observe, and dispense treats to their pets. The new and updated Furbo 360 has panning technology that gives owners an even better and more complete view.
Pros
Automatic treat dispenser.
Furbo 360 gives a rotating view.
Owners can pan camera to follow dog.
Auto track dogs.
Barking alert.
2-way audio.
Works with multiple kinds of treats.
Easy to set up and operate.
Connect through app for easy viewing.
Can connect to Alexa.
Cons
Need subscription to access premium features.
No back up power.
Connectivity issues- dropped WiFi.
No vertical tilt.
Key Features
Interactive dog cam
Treat dispensing
360-degree view
Auto tracking of pets
Records sound and video and can take still shots
Designed for dogs
Furbo Models & Pricing
Currently, Furbo makes two different pet cam options. Both can dispense treats, but there are some differences.
Furbo Dog Camera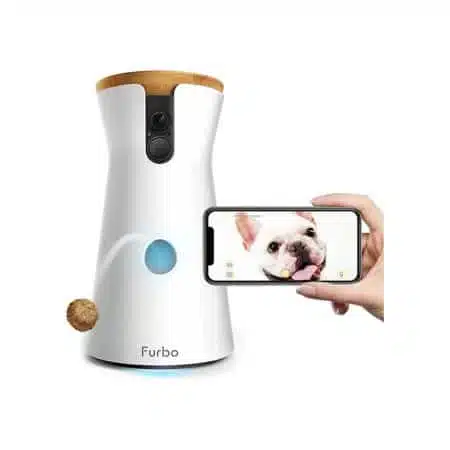 The Furbo Dog Cam is the brand's original and more basic pet cam. The camera includes two-way audio, a barking alert, phone and video tracking, a treat dispenser, a spill-proof design, smart alerts, cloud recording, and a doggie diary. This camera records in clear 1080p Full HD and offers four times zoom. It records at a 160-degree wide angle and offers night vision, including infrared.
Owners must download the Furbo app to control the camera and see pictures and recordings. A subscription is not required for basic functions. The Furbo Dog Nanny (FDN) system offers more options but does require a subscription.
Purchase of this camera, and any Furbo cam, comes with a 30-day FDN system trial. Cameras also provide a doggie diary, a highlight video of your dog's memorable moments throughout the day.
This camera can connect to Alexa, allowing owners to schedule treat tossing at certain times throughout the day. The camera has a sleek design and an attractive bamboo wood cover for the treat dispenser. One thing to keep in mind is that this device must connect to a 2.4 GHz frequency router. It will not connect to a 5 GHz Wi-Fi router. We suggest owners look at their routers before purchasing to see if your router is capable of both, as many are. A Wi-Fi upload speed of at least 2 Mbps is suggested to maintain the best video streaming quality.
The treat dispenser works with round-shaped treats that are firm in texture. It fits treats with a diameter of 0.4 inches. The product comes with a one-year limited warranty.
Price
$118.00
Furbo 360° Dog Camera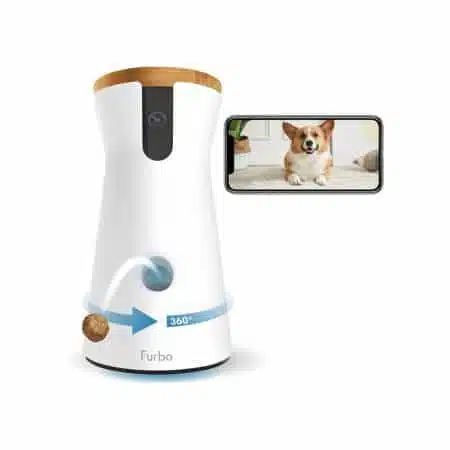 View on Furbo | View on Amazon
The Furbo 360° Dog Camera is the most recent model, and the company has added some new features. One of the most notable is that the camera now has 360-degree rotation capability. It can hold approximately 100 treats. As with its predecessor, the 360 features a 1080p camera with a 160-degree wide-angle lens.
This also features infrared night vision and four times digital zoom. Unlike its predecessor, this camera is not stationary. It can pan 270 degrees in each way. This allows the camera to cover an entire 360-degree span. Owners can activate dog tracking, and the device will automatically rotate to follow and track pets as they make their way around the room.
The treat dispenser in this one has been upgraded, and owners can choose between using small or large treats. The selection must be made via the Furbo app. The shape and appearance of the 360 model is very similar to the earlier version. It features a white hourglass shape, natural bamboo covering the treat storage at the top, a treat dispenser in the middle, the camera on top, and a status indicator light on the bottom. It also includes an internal microphone and speaker, which allows you to hear your dog and speak to them through two-way audio. There is also a barking sensor that alerts owners to activity.
Basic services do not require an extra subscription or cost. This includes viewing live video streams through the app, using night vision, two-way audio, panning capability, treat dispensing, taking photos and videos, and barking alerts. Event-based recordings require a subscription to FDN. As with all Furbo cams, this comes with a free 30-day trial which owners can test out. After that, the cost is $0.99 for three months or $69 per year. There are different subscription and payment options. This pet cam can also connect to Alexa to set up automatic treat dispensing.
Price
$210.00
Does Furbo require A Subscription
The primary functions of all Furbo cameras are always free: live feed review, treat tossing and barking alerts. Owners are also able to take photos and video through the app, as well as access two-way audio. These are always available directly out of the box and do not require a subscription.
The FDN subscription adds several other features. These include cloud recording, which includes a 24-hour event-based video, a doggy diary, a dog activity alert, a dog selfie alert, a person alert, a home emergency alert including a smoke alarm and carbon dioxide alarm, continuous barking alert, a dog crying alert, dog howling alert, connection alert, and a soon to be introduced new feature a dog emergency alert.
Subscription prices vary and can be added to your initial purchase or purchased upon activation. Subscriptions include a basic plan or a pro plan. All new customers are offered a special offer of $0.99 for the first three months after their trial subscription period ends. After that, monthly plans range between $6.99 and $7.99. Owners are also able to purchase a yearly or two-year plan.
Personal Experience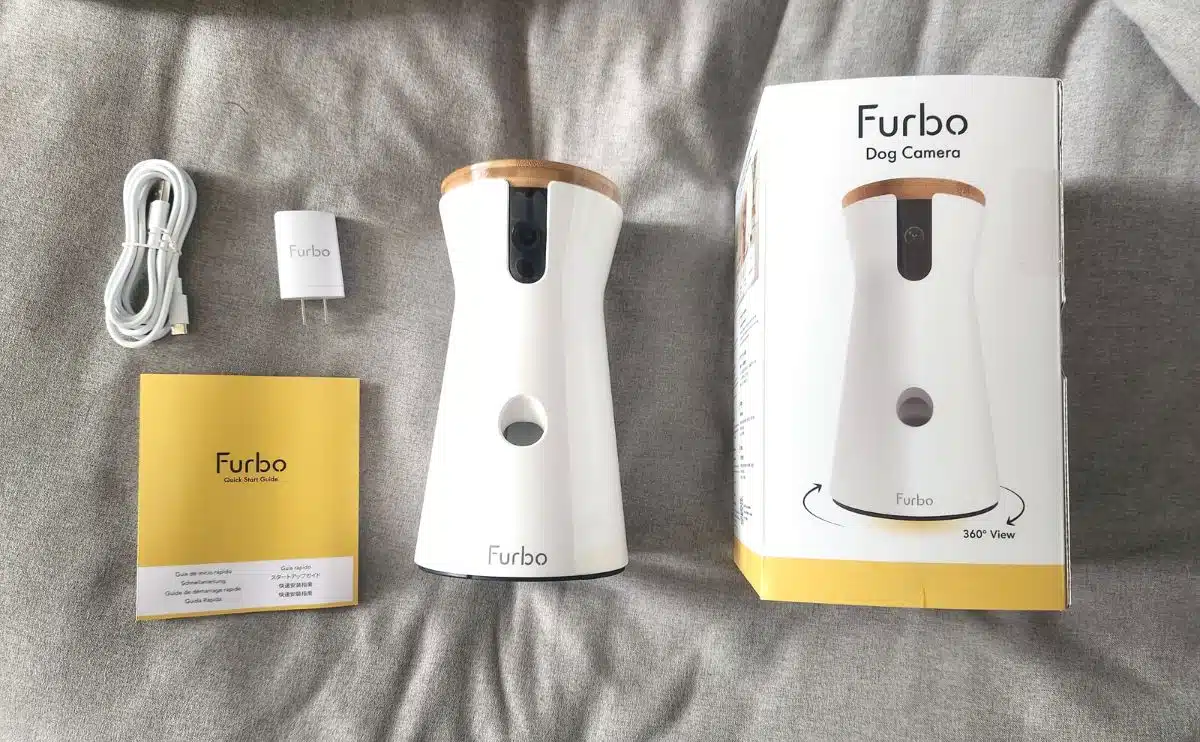 I am currently a dog mom to two adorable pups. One is an older, larger pup, and the other is smaller and about two years old. My older dog Daisy has started having more separation anxiety when left home alone. My other pup Falkor is a Poodle Beagle mix and tends to be very high-strung, especially when we are not home or even just go outside without him. When he gets worked up, he tends to get a little destructive and has even chewed through a couple of doors because he was unhappy he was home alone.
After this destructive behavior, I decided it might be a good idea to keep an eye on things when I had to be gone for long periods of time. So I am familiar with using a security cam to keep an eye on my pets, but this is the first time I have tried a specific pet cam.
Setup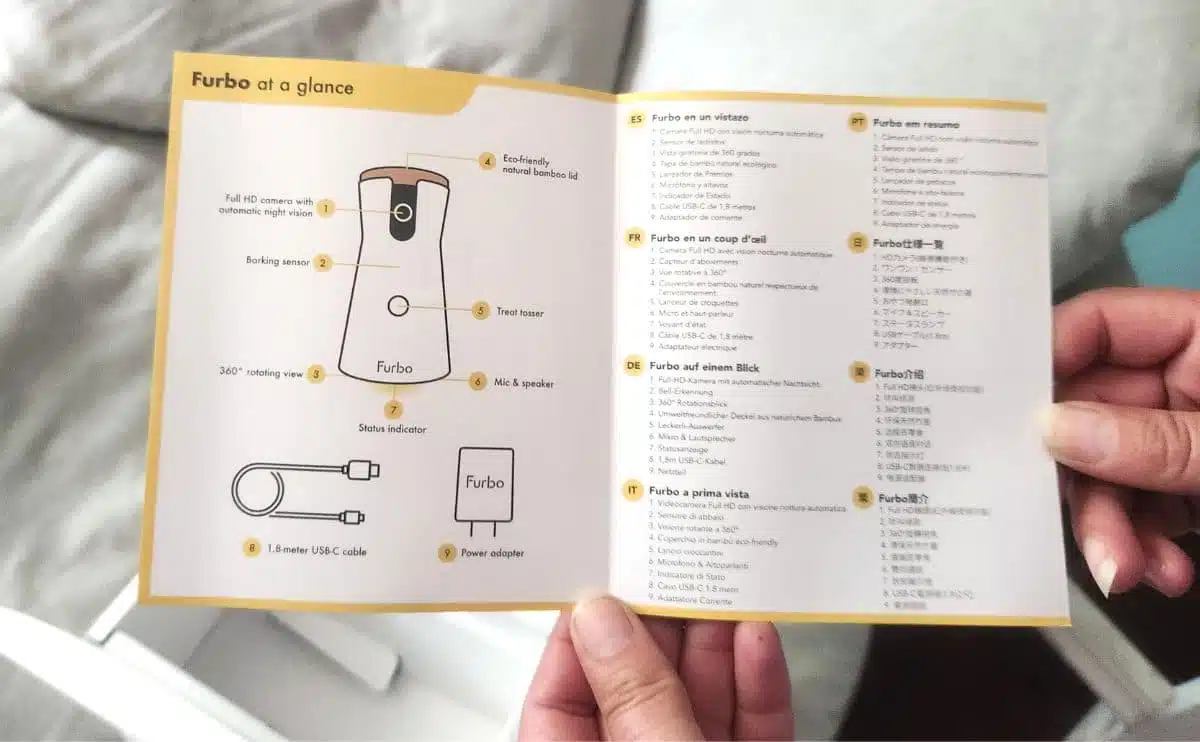 I was sent the Furbo 360 Dog Cam to try out. Overall, I was quite impressed with the product and the service. The packaging was very sturdy, and the product was ready to use right out of the box. The setup is very minimal. I had no trouble setting things up physically or connecting the app to the device. The app itself was a little confusing to navigate at first. However, once I learned how to navigate things, it was easier.
Use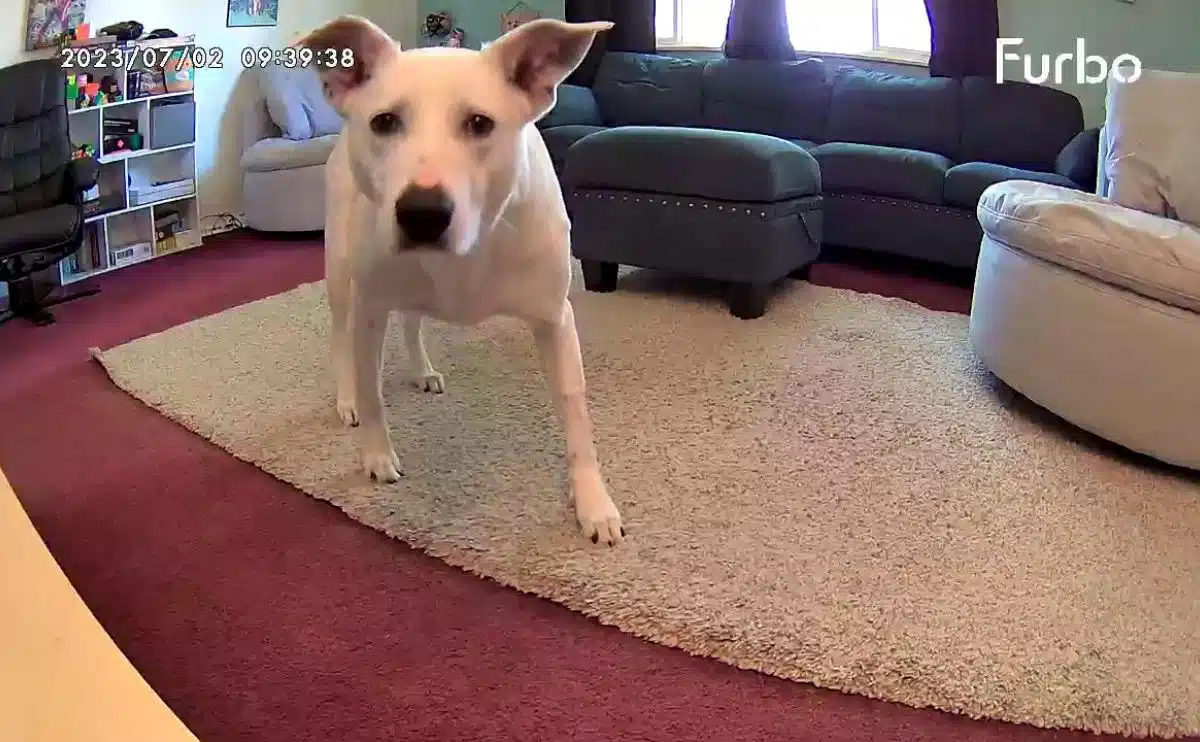 My dogs were a little hesitant at first when I set up the camera and were on alert when they heard the treat dispensing sound. However, as soon as the treats hit the floor, my older pup went right for them. She understood quickly that this device would give her a tasty snack. Falkor was a little more hesitant and, at first, looked at the device as though it were an alien invader. However, once he was able to get his paws on some treats, he knew exactly what to do. In fact, he caught on so quickly that he would stand in front of it waiting for treats to dispense.
After using the camera for a few days and in a few different situations, I definitely think it is very high quality and takes good-quality pictures and video. Night vision is very good. After the initial setup, the device, app, and two-way audio were relatively easy to use. I feel very secure with this camera watching my pets, and I like that I can talk to them and offer a distraction of treats if they get a little ornery.
There were a few times when the connection got a little fuzzy. However, for the most part, it takes clear pictures and captures excellent sound quality. I really appreciated being able to move the view to track my pet's movements. The camera does not pan up and down.
One issue I had several times during the test period was that it would lose the Wi-Fi connection occasionally. Moving the device very close to my wireless router helped reduce these issues, but it did happen several times. Additionally, the cord connection on the bottom was shaken loose at least three times, causing it to lose Wi-Fi connection and power. However, I was able to eliminate this problem by making sure I set the device up on a very smooth surface with plenty of room to wiggle if needed.
Treat Dispenser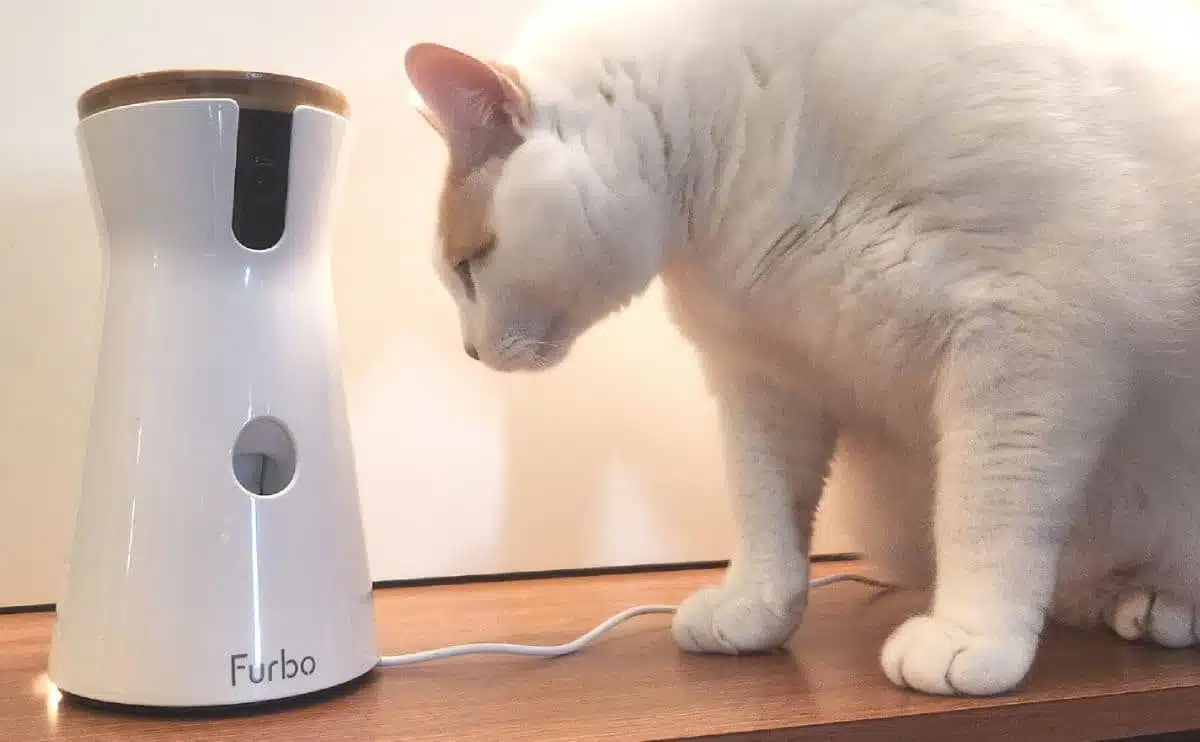 Both my pets and I really enjoyed the treat dispenser. In the past, I have been able to speak to my pets through two-way audio, but instead of being a comfort, this often led to angst or alarm. With the Furbo cam and the addition of the treat tosser, things went much differently. After initial hesitation, both dogs knew exactly what the treat dispenser sound meant. Both eagerly stepped up, looking for a treat.
In fact, they got excited when I spoke to them through the microphone because when I did so, I would also dispense a treat. The dispenser is easy to fill and use, and I really appreciate the auto troubleshooting feature.
Overall, I was very satisfied with this product and would absolutely recommend it. It is far more effective and enjoyable to use than the device I was using previously. Overall, it was straightforward to set up, and we have had no malfunctions or issues. We have had no major malfunction with it, and it has provided both myself and my dogs with comfort and hours of fun.
Like many other pet cams, this one does not have a power backup source like batteries. In my area, we experience power outages due to heavy storms. That would be a feature I would like to see added. Otherwise, this product was very well received.
Furbo vs. Petcube
Another well-known pet cam option is Petcube. You can learn more about this brand in our Petcube product review. These two products are similar but have some differences. Both are treat dispensing cameras with night vision and 2-way audio.
Both pet cams offer tabletop functions, but Petcube can also be mounted to the wall. Devices can both be compatible with Alexa.
One significant difference is that Petcube allows the scheduling of treat disbursement, and Furbo only allows this to be done through Alexa. Both offer a subscription service. Furbo is slightly less expensive, as the average price of a Petcube is about $200. Petcube was designed for all pets, while Furbo is designed for dogs. While it works with other pets like cats, some functions, like the barking alert, will not work.
Frequently Asked Questions
Can I connect more than one person to the Furbo cam?
Yes, both versions can be accessed from multiple electronic devices. All users must use the same family group login account. Additionally, there is a limit of two users being connected to the cam concurrently.
Do Furbo cameras hear my conversations?
The device does pick up on audio and conversations but is not always recording. It will record significant events if you have the nanny service. The two-way microphone allows you to both talk to and listen to your pup at the same time. If there are people in the room with your pups, you will likely hear their conversation as well.
Can I change the treat dispenser sound?
Yes. You can change the dispenser sound and record your own custom notification. Many owners report their pups love hearing their owner's voice right before a tree gets dispensed.
Can I use any kind of treats with Furbo?
Treats that are firm, not wet, not crumbly, and about half an inch or smaller work best. Furbo recommends treats that are close to 0.5 inches for the best treat-throwing results. You can make your own or purchase some that are the right size and texture. I used these from Crazy Dog and had great results, and my dogs love them.
What Pets Do When Home Alone?
There is really no way to know unless owners use a recording device. Pet cams like this one allow us to see what our precious four-legged family members do when they think we are not looking. Some pets clue in and realize that these cameras are watching them and may start to ham it up or play around once they realize they are being watched.
Some pets are pretty predictable, while others will surprise their owners with mischief and antics. Investing in a pet cam is one way to learn precisely what your pet's secret life is.
Pet-Friendly Technology
Though it may seem like pet care is an area where technology is not needed, many products out there help us be better pet owners. Technology offers many fantastic tools to help us be more responsible owners and keep our pets happy, healthy, and safe. Along with pet cams, smart dog collars are another fantastic technological advancement. Wireless fences, microchips, GPS collars, automatic food dispensers, water fountains, and automatic doggie doors are just a few more examples.
Pets can even get laser therapy treatment for conditions like pain and inflammation. Owners can make their lives much easier by investing in a robot vacuum or home security system or reaching out for assistance with a dog walking app.
There is no substitute for tender love and care, but technology like this can help make our pets' lives and our own more enjoyable and safer. Make sure you always read directions and use technology safely around your pets.
Tagged With: Cameras