The Petcube cameras have a lot to offer pet owners who want to keep an eye on their furry friends. With several Petcube cameras to choose from, you can buy a camera to meet your specific needs. If you want to make sure you can see your pup, play with him, or give him treats from a distance, Petcube has you covered. Our experts review the pros and cons, different models, app, and more to help see if Petcube is the pet cam for you.
Petcube Camera Review
Summary
With Petcube cameras, you can see your pup, play with him, or give him treats from a distance, 
Our experts determine the overall rating by considering many factors, including video and sound quality, customer service and reputation, integrations, pricing, ease of use and installation, and more.
Pros
1080p HD video
Two-way audio
Night vision
Motion and sound detection
Built-in vet chat
Built-in Alexa
Connect up to 6 cameras on one account
24/7 Customer Support
1-year warranty
Cons
Not all models supported on 5G connection
Added monthly fee for recording and video cloud storage
More expensive than other pet cam options
Only integrates with Alexa
Petcube Models & Pricing
The Petcube WiFi pet camera comes in a few different models. We explore their similarities and differences to help you decide what works best for you and your pup.
Petcube Cam
The Petcube cam is the most basic Petcube camera in the line. But basic isn't bad. It includes the 1080 HD resolution camera, connection to the app, built-in vet chat and Alexa, motion and sound detection, zoom, two-way audio, and night vision. It has almost all the features of the other Petcube cameras but less of the interaction. Also, this model isn't compatible with a 5GHz WiFi connection, just a 2.4GHz. There's no wide-angle view, but it does have 8X zoom versus other models that only have 4X zoom. If you just want a lower-cost camera to keep an eye on your pup, this might be the right choice for you.
Price
$34.99
Petcube Bites 2
The Petcube Bites 2 has the same camera as the Petcube cam, with added interaction and training features. This model has a built-in treat dispenser that can support various types of dry treats for cats and dogs. You can dispense treats remotely or schedule them for release from the app. Also, you can toss treats at a variety of distances. Some bonuses of this model are the 160° ultra-wide-angle view and its 5G compatibility.
You may want to consider that the zoom on this model is only 4X. Some users complain that treats of any size can get stuck, and it does require an iOS 11 and higher or Android 7.1.2 and higher device for compatibility.
Our Personal Experience With Petcube Bites 2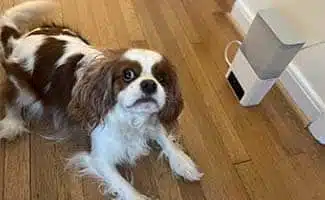 "We had the opportunity to try out the Petcube Bites 2 in exchange for an honest review. I'll preface this by saying that our dog suffers from major separation anxiety when left home alone. He usually whines and barks when we leave and then sits at the door waiting for us to come home.
After just the first time using the Petcube Bites, he was hooked. We already monitored him via a dog camera, allowing us to see him play and have fun instead of sitting sad and lonely. But this is even better. Georgie loves to chase the treats around the floor. I thought he'd be scared or uninterested (after trying other interactive dog toys), but since it involved treats (and is a game to sniff them out after you fling them via the app), he loved it. The device is a little noisy, but the sound doesn't seem to bother him."

– Sadie Cornelius, Cavalier King Charles Spaniel pet parent
Price
$199.00
Video: Petcube Bites 2 In Action
Check out Georgie trying out the Pet Cube in real-time, how he reacted to the treats, and see the quality of the video from the camera.
Petcube Play 2
The Petcube Play 2 offers a different type of interaction aimed at entertainment and exercise. With a built-in laser pointer, you can remotely interact with your pet or set the laser to autoplay while you are away. This model boasts extra features like the 160° ultra-wide-angle view and 5G compatibility. However, consider that the zoom on this model is only 4X, and it does require an iOS 11 and higher or Android 7.1.2 and higher device for compatibility.
Price
Petcube App
Petcube offers a free app for iOS and Android that will work with all of their cameras.
Does Petcube Require A Subscription?
While all Petcube cameras offer you live streaming, you'll have to pay for a subscription plan for video history. There are two options for you to consider, both available for a monthly or annual fee.
Both plans come with live video streaming, 30-second video clips, smart alerts, a web interface, 30+ pet care perks, and smart filters. But the premium plan comes with a few extra perks, like the option to extend the warranty.
Optimal Subscription
History: 3 Days
Downloads: 10
Price: $5.99/month or $47.88/year
Premium Subscription
History: 90 Days
Downloads: Unlimited
Price: $5.99/month or $47.88/year
Optional Vet Chat Subscription
Petcube has a partnership with Fuzzy Pet Health to offer a vet chat on the Petcube app. With this optional subscription, you'll be able to live chat and share pictures and videos with a certified veterinarian concerning non-emergency pet issues. While your first vet chat consultation is free, you'll have to subscribe for $4.99 per month to continue to use the service.
Furbo vs Petcube
Probably the biggest Petcube competitors are the folks over at Furbo. The Petcube Bites 2 has a very similar market to the Furbo, so you will want to know about the similarities and differences when trying to decide which one is right for you.
| | Furbo | Petcube Bites |
| --- | --- | --- |
| Live Streaming (via App) | | |
| Night Vision | | |
| 4x Zoom | | |
| 2-Way Audio | | |
| Treat Dispenser | | |
| Alexa | | |
| Sound & Motion Alerts | Bark Only | |
| # Of Simultaneous Cameras | 1 | 6 |
| Treats | Limited Capacity & Types | Larger Capacity & More Types |
| Treat Features | Release Multiple Treats | Release Treats To Different Distances |
Other Options
There are other options besides Petcube and Furbo when it comes to pet cameras. Our experts review the best dog cameras to help you pick the one that is right for you.
Frequently Asked Questions
Our experts put together a list of some frequently asked questions related to Petcube.
How Does Petcube Work?
This camera allows you to view your pet and, depending on the model, some interactive features are available to help you communicate with, train, and entertain your pet.
How Do I Set Up And Use Petcube?
Learning how to set up and how to use Petcube is simple. Petcube installation involves connecting your camera to power and logging in to the app. After that, you'll simply follow the instructions, and you'll be ready to go.
How Do I Talk To My Pet On Petcube?
You'll need to know how to talk to your pet on Petcube. There's a push to talk button in the app that will send your voice through the speaker.
Does Petcube Record?
Petcube only records if you have a subscription plan.
How Do I Connect To Petcube on WiFi?
If you are wondering how to connect Petcube to WiFi, it just takes a few steps.
Open settings on your phone.
Open WiFi settings and connect to Petcube and then go back to the app.
Wait for the app to connect with Petcube and scan for available WiFi networks.
Choose your home WiFi network from the list, put in your password, and hit join.
Why Is My Petcube Offline?
If you're having issues with your Petcube connection, try restarting, and if that doesn't work, the Petcube website offers lots of troubleshooting tips. Don't forget about the 365 24/7 customer service, which is there to help you figure things out.
Is Petcube Worth It?
Like with any device, Petcube is worth it if it works for you. Do your research to determine if the specs of this pet camera are what you need. If so, then it could be worth it.
Technology To Help You Care For Your Pet
As technology evolves, it allows for better tools to help us care for our pets. Pet cameras, like Petcube, have come a long way, but they aren't the only advancement that helps us keep our pets safe and happy. Automatic water fountains and food dispensers, and even doggie doors can help you simplify pet care, and activity monitors can help you keep up with the health of your pet.
Tagged With: Cameras