Technology has come a long way for both humans and pets over the years. Now there's a way to track your dog's daily activity (think Fitbit or Apple Watch for dogs). We reviewed the latest and greatest products in the "dog Fitbit" category, including key features and pricing for each. From GPS tracking and fitness monitoring to goal setting and comparing your dog to others of the same breed, you are going to be blown away by all the things you can do with a dog fitness tracker.
At-A-Glance: Our Top Picks For…
| Ease Of Use | Accuracy | Training |
| --- | --- | --- |
| | | |
| | | |
| | | |
What Are Dog Activity Monitors?
Dog activity monitors do just what they sound like they would do: they monitor the activity level — or lack thereof — of your dog. Use it to track when they play, nap, or walk over a day and to find your pup if it's lost. You can also use it to keep tabs on who's hanging out with your dog when you're not around.
Other common features include:
GPS to track your dog anywhere, anytime (dedicated GPS dog collars also work similarly) in case they get lost
Bluetooth capabilities to see who's with your dog at any given time
Progress trackers to monitor how often your pup is active (compared to similar dogs)
Messengers and to-do lists to keep all your dog's caretakers in the loop
Goal-setting capabilities to proactively help your furry friend live a healthier life
Best Dog Activity Monitor
Now that you know how "Fitbit for dogs" works, let's share our top picks for each category. Then we'll share some other popular dog activity trackers below and compare them side by side as well.
Easiest Dog Activity Monitor To Use: FitBark GPS Dog Tracker Review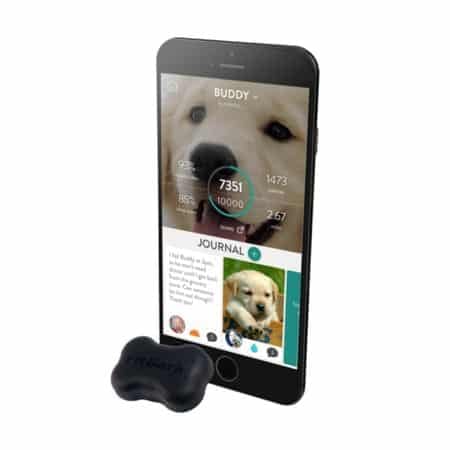 The bone design of FitBark's on-collar monitor is cute and smaller than most other monitors. The app performs well, and the pet activity tracker is easy to use. The monitor is strong and durable so it will survive your dog's adventures.
It has a long battery life (three and a half-dog years), has GPS to help you track your dog's activity more specifically, and can link to your fitness tracker (Fitbit, Apple, Google). FitBark uses GPS, Verizon LTE-M coverage, and WiFi to work — the subscription starts at $5.95 per month (for a three-year commitment).
Key Features
Tracks: Activity, sleep quality, distance traveled, GPS location, calories burned, overall health, behavior, licking, sleeping, scratching, and weekly wellness reports
Waterproof up to one meter for 30 minutes (IP67)
Compare your dog's activity to other dogs of the same breed
Share your dog's activity report with your vet
30-day money-back guarantee
Free iOS and Android apps
One-year limited warranty
Price
Video: FitBark Overview
Watch this two-minute video to see how this tiny, comfortable clip can provide endless insights into your furry friend.
Most Accurate Dog Activity Monitor: Whistle Go Explore Review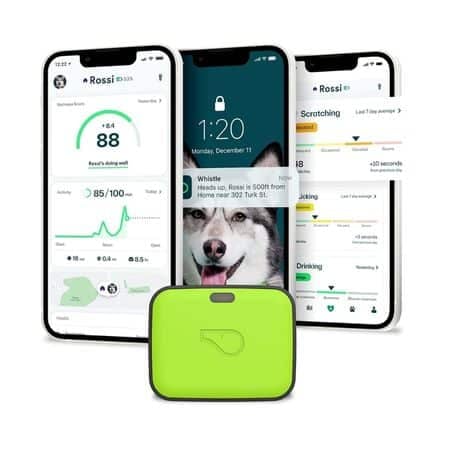 The Whistle Go Explore's sleek and attractive design does three things at once: tracks your dog (or cat)'s GPS location, activity, and pet care history. This clip-on-collar activity monitor tracks rest patterns, allows you to set fitness goals and gives you easy access from your smartphone at any time via the free app. It even gives you a map of your dog's steps down to the exact paw up to 3,000 miles away.
However, Whistle's accuracy and advanced features come at a price. There's a monthly subscription plan required (starting at $6.95 per month with a two-year commitment), which uses AT&T's cellular network and is only available in the U.S.
If you were a fan of Tagg, Whistle acquired this product a few years back and has brought much of its technology and data into its current products.
Key Features
Tracks: Activity, location, sleep quality, distance traveled, calories burned, overall health
Waterproof for splashes, rain/snow, showers (IPx7)
Keep track of medications, a food log, or make notes of things you noticed that day
Nightlight (in the Go Explore version)
90-day money-back guarantee
Free iOS and Android apps
One-year warranty
Price
Best Dog Activity Monitor For Training: Halo 2+ Collar Review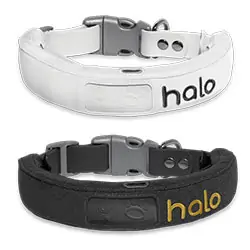 Halo 2+ Collar is an activity tracker and smart fence in one! Backed by the famous dog expert Cesar Millan, this wireless system uses GPS to keep your dog in any pre-defined area and also tracks daily, weekly, and monthly activity. That way, your dog can run freely and get exercise without running away from home.
It comes with a 21-day training program to teach your dog how to adapt to the system (and many other indoor and outdoor training tips) taught by the dog whisperer himself. Halo has a hefty price tag, but if you're considering upgrading your wireless fencing system, then it might be worth it to have a super high-tech dog collar that can keep track of your dog's activity.
The Halo 2+ collar has some excellent upgrades to specifically address customer feedback about the original Halo collar. These improvements include a 21-hour battery life, enhanced GPS coverage, better location accuracy, a much more rugged collar with a Pro-case that can withstand chewing and harsh terrain, as well as better cellular, WiFi, and Bluetooth performance.
A Halo subscription plan is required to enable data storage for fences, GPS location services, activity tracking, and premium training content from Cesar Millan, (depending on the plan you choose). The basic plan starts at $4.49 and gives you most of what you'll need for the system to work. But you may want to check out the higher-tiered plans for additional perks.
Key Features
Tracks: number of walks your dog takes, time spent active vs resting, etc.
Ability to set up to 20 virtual fences by walking the boundary or via the map in the Halo app
Customizable feedback to keep your dog in bounds: vibrations, sound, and static
GPS tracking keeps tabs on your dog's location, even if he goes beyond your set boundaries
Encouragement feedback feature to guide your dog back home
For use with dogs 5 months and older
Price
The price of the Cesar Millan collar and system includes 30 days free of their Gold subscription plan (see below).
Coupon Code
Use this link to get $300 off your Halo Collar purchase (must enter your mobile number to unlock the discount).
Best Dog Activity Tracker Comparison Table
As you can see below, there is a wide range of features to consider in an activity tracker for your dog. depending on what you are looking for there is something for every pup. Note that all the trackers in this review are waterproof.
Tracker
Activity
Sleep
Distance
GPS
Calories
Wireless Fence + Training
Plan*
Battery
Life
FitBark2
$5.95
3-5 weeks
Whistle
$6.95
20 days
Halo2
$4.49
21 hours
PETKIT2
Bluetooth
None
6 months
SpotOn
$5.95
18 hours
Tractive
$4.99
1-2 weeks
*starts at
What About PetKit, SpotOn & Tractive?
Below are other dog activity monitors that we've reviewed. Although they weren't winners in our three categories, one may be a good fit for your pup.
PETKIT P2 Smart Activity Monitoring Pet Tracker Review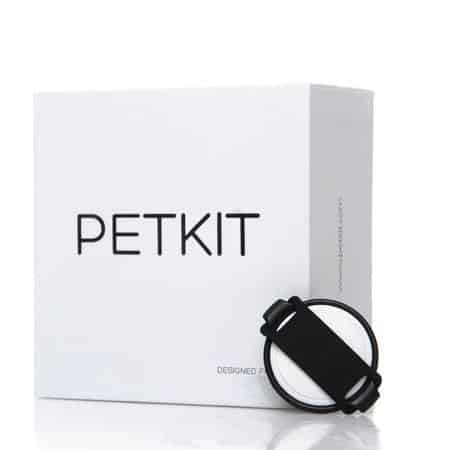 If you're looking for an entry-level pet activity tracker, the PETKIT P2 is an affordable option to try. This lightweight product (just one ounce) clips onto your pet's collar and tracks the basics like activity, sleep, and mood. You can use the smartphone app to see how your dog or cat compares to other similar breeds and share their stats with friends and family. The P2 comes in five colors (gold, grey, purple, red, or blue), and you can pair it with any PETKIT smart bowl to keep a record of calorie consumption.
Key Features
Tracks: Activity, sleep, moods, calories burned and consumed (with PETKIT bowl, sold separately)
Water-resistant
Bluetooth
6-month battery life
Compatible with iOS and Android
Price
SpotOn GPS Fence Review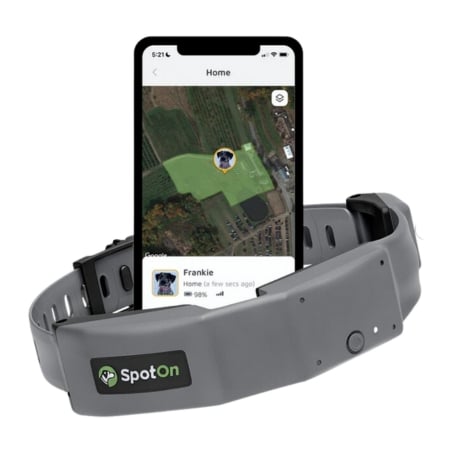 If you're looking for a virtual fence and have a bigger yard, SpotOn GPS Fence Gen 2 could be a good fit for you! SpotOn has advanced GPS features including the ability to set up overlapping virtual fences (it can store up to 20 fences at a time) by walking the boundary or via the map in the SpotOn app (iOS app | Android app). It also includes step-by-step training instructions plus a 30-minute training consultation with a certified SpotOn trainer.
Get instant alerts if your dog leaves the yard and real-time tracking, which automatically updates every 6 seconds (requires their cellular subscription). Subscription plans start at $5.95 with a 2-year commitment.
Key Features
Can create multiple, overlapping wireless fences over 100s of acres
Rechargeable battery lasts up to 18 hours in containment mode and 12 hours in tracking mode
SpotOn dog collar comes in 3 adjustable sizes, ranging from 10″ to 26″ neck circumference
IP-67 waterproof rating
1-year limited warranty
45-day money-back guarantee
15% discount on multi-collar purchases
Price
Tractive GPS Tracker For Dogs Review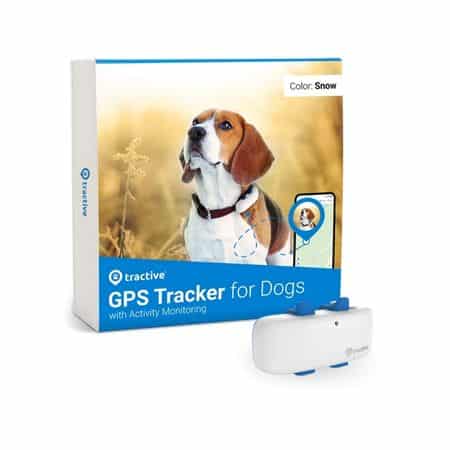 Attach the Tractive MOTION to your dog's collar and it sends data directly to your smartphone. The tracker collects data 24/7, so you know precisely what your pet is doing. Your dog gets points for its daily activities, and you get notified if your pet is lazy.
It tracks ambient temperature so you can see the correlation between the environment and your dog's behavior. The tracker is waterproof, so your dog can still play in the water.
A subscription plan is needed and starts at $4.99 per month for a premium plan with a five-year commitment. Unfortunately, it only works on pets who weigh at least nine pounds. The battery recharges in two hours and can last two to five days.
Key Features
Tracks: Activity, location, distance traveled
Immersive waterproof up to one meter (IPx8)
Free iOS and Android apps
One-year warranty
Price
Our Personal Experience
"We tried out Tractive for an honest review. Our dogs love to come hiking with us and Tractive is great at telling us where and how many minutes our dog Barley was active and even tracks his whereabouts on a map. The only downside is the GPS was unable to connect to the app on my phone when we didn't have a cell signal in the mountains. It told us how many minutes he was active however it's not as detailed with the activity data as other traditional activity trackers. This device was more helpful for his location."

– Sadie C., Canine Journal
An Active Dog Is A Happy Dog
Wondering how your dog's breed activity level compares to others? Check out our article with data from FitBark to see how your dog competes. If you want to pimp out your dog's collar, you can add even more bling, including a dog camera and smart ID tag. Then your dog will be the techy pup on the block.
Tagged With: Collars, Comparison, Exercise