How do we keep this site running? This post may contain affiliate links — the cost is the same to you, but we get a referral fee. Compensation does not affect rankings. Thanks!
| | |
| --- | --- |
| Easy To Use | |
| Most Accurate | |
| Track Health Closely | |
How cool would it be to track your dog's daily activity (think Fitbit for your pup!)? Your wish is now a reality, and we recently took a look at the leaders in this new and exciting dog Fitbit category to review the top players. From GPS tracking and fitness monitoring to goal setting and comparing your dog to others of the same breed, you are going to be blown away by all the cool features in these new high-tech devices.
What Are Dog Activity Monitors?
Dog activity monitors do just what they sound like they would: They monitor the activity level — or lack thereof — of your dog. It can be used to track when they play, nap, or walk over the course of a day and to find your pup if he's lost. You can even use it to keep tabs on who's hanging out with your dog when you're not around. So what are the features of these hi-tech doggy devices?
GPS to track your dog anywhere, anytime – there are also dedicated GPS dog collars.
Bluetooth capabilities to see who's with your dog at any given time.
Progress trackers to monitor how often your pup is active.
Messengers and to-do lists to keep all your dog's caretakers in the loop.
Goal-setting capabilities to proactively help your furry friend live a healthier life.
Whistle Acquired Tagg
Whistle announced in January 2015 their acquisition of Tagg. Whistle plans on integrating Tagg's GPS technology and battery life into their future dog trackers. Tagg's CEO, Scott Neuberger, is also joining Whistle's senior management team.
Best Dog Activity Monitor
Now that you know a little more about how they work, let's share our top picks for each category. Then we'll share some other popular dog activity trackers below that. Note for all we have a general overview, the pros, cons and pricing (at the time of writing). Read on to find the best FitBit for dogs for your active pup!
Easiest Dog Activity Monitor To Use: FitBark Review
The FitBark was one of the most highly wanted pet items for a Kickstarter campaign. In 27 hours they raised over $80,000 when their goal was only $35,000. The bone design of their on-collar monitor is cute and smaller than most other monitors and comes in a variety of colors. The app performs well and the pet activity tracker is easy to use.
Key Features
Understand your dog's health by tracking his/her progress and the kind of day he/she is having via an activity/time breakdown.
See your dog's progress to other dogs of the same breed, so you see what is normal and what is not.
Share your dog's activity report with your vet, so there's no doubt about how he/she is doing.
Compare your personal activity level with that of your dog by linking your fitness tracker to FitBark.
Waterproof and can recharge without removing from the collar.
Price
Fitbark offers several options for purchasing their dog activity monitors on their website. All include no monthly fees, free shipping, free iOS and Android apps, a 30-day return policy and 1-year limited warranty.
Click here to read our in-depth FitBark Review
Most Accurate Dog Activity Monitor: Tagg Review
The Tagg pet tracking system has two main features: It allows you to track your pet's location and your pet's activity from your computer or mobile device, 24/7. Set up a "Tagg Zone," where your pet spends most of his time, and you can monitor when they've left their designated area (or gotten out of it). Locate him easily on Tagg's mobile website or free app, or if you're really in a pinch, text "LOCATE" to 52366 and Tagg will send you your dog's exact, current address.
In addition to being a dog fitness tracker, Tagg also provides info on your pet's activity throughout the day. An activity snapshot allows you and your vet to see at a glance the overall activity level of your dog, while a timeline tracks every walk, run, snooze or sniff. A 90-day timeline allows you to compare your pet's activity level over the course of three months.
Key Features
GPS tracking systems knows where your dog is at all times and helps you locate his exact whereabouts in seconds.
Tagg will text your dog's location right to your mobile device.
Activity monitoring with timelines of one day to twelve months.
Ambient temperature sensor tells you when your dog is too hot or cold.
Price
Best Dog Activity Monitor For Closely Tracking Health: Whistle Review
The Whistle 3's sleek, attractive design makes it tempting to buy this monitor just based on its looks. But, it's more than just a pretty face. This on-collar activity monitor makes it easy to improve the lives of your pets as they do yours, by keeping track of their activity, rest patterns and fitness goals and allowing you easy access from your smartphone at any time. The app for previous Whistle dog tracker had a history of issues. With the new tracker comes a new Whistle 3 app as well, so hopefully, you won't have any issues receiving information about your dog. Continue learning about Whistle 3 by reading the key features in this Whistle GPS pet tracker review.
Key Features
Track activity and rest with a visual summary of your dog's daily activity. Set a daily goal and monitor your pet's progress.
Keep track of medications, a food log or make notes of things you noticed that day.
Continue to get updates on your pup's progress while you're away with Whistle's Wi-Fi capabilities. Just connect Whistle to the network where your pup is spending her day, and you'll be able to track her progress even if you're not around.
Whistle pet tracker uses Bluetooth to show with whom your pup is spending time. (Note: You'll need to sync the phones' of both parties with Whistle 3 via Bluetooth to receive this information.)
Share your adventures with other pet owners through photos.
Price
Whistle offers a 90-day money back guarantee, free shipping and unique accessories on their website. They are also offering $20 off this season with coupon code FALL20.
Best Dog Activity Monitors
Below are other dog activity monitors that we've reviewed. Although they weren't winners in our three categories, one may be a good fit for your pup.
Petkit | PetPace | Tractive Motion | Voyce
Petkit Review
Petkit's activity tracker is a cute little disk with a paw print on it. It's available in white or pink and is water-resistant. It's fairly new to the market, so there is very little feedback on this tracker. However, we think after it has some time on the shelves we will have better feedback to give you.
Key Features
Monitors activity, sleep, calories, overall health and even mood.
Use the app to see real-time statistics.
Must be within Bluetooth range. (If you're away from your pet you can't see the real-time stats.)

Water resistant.
Price
PetPace Review
PetPace is a smart collar system that tracks data including temperature, activity, pulse, respiration, calories (consumed and burned) and heart rate variations to detect health trends and potential concerns. The lightweight collar collects data throughout the day and communicates with the base station every 1-2 minutes (when within 1,000 feet) and alerts you and your vet at the moment it signals a problem. You can also log in to an online account or use the app to see your pet's dashboard to see trends, health history, daily progress and more.
Key Features
Uses sophisticated technology to analyze health data like temperature, heart rate, respiration and position (sitting, standing, lying down).
Proactively lets you know when there is a potential health problem, which is especially good for elderly pets or ones with chronic conditions.
Has undergone 10,000 hours of testing on thousands of cats and dogs.
LED indicator lights on both the collar and Gateway base station.
1.5 ounce collar is waterproof, adjustable and comes in 3 sizes: from cats up to larger dogs.
30-day Money Back Guarantee and 1-year Warranty.
Price
Health Monitoring Collar: $149.99
Health Monitoring Plan: $9.95/month (PetPlus $14.95/month)
Tractive Motion Review
Attach the Tractive MOTION to your dog's collar and data will be sent directly to your smartphone. The tracker collects data 24/7 so you know exactly what your pet is doing. Your dog gets points for the level of activity throughout the day and you get notified if your pet is being too lazy. It tracks ambient temperature so you can see the correlation between the environment and your dog's behavior. The tracker is waterproof so your dog can still play in the water. However, make sure you've always got your eyes on your dog. This tracker does not have a GPS installed into it.
Key Features
Sends real-time stats to your phone so you can see how active your pup has been up to that point.
Tracks your dog's motions, how much she moves and when.
Captures ambient temperature and light to see how it relates to your dog's activity.
Syncs data via Bluetooth, not WiFi, so if you're away from your pup you won't know what he's up to.
Charges via USB and has a decent battery life.

100% waterproof

.
Price
New $94.96
Used from $39.95 on Amazon
Voyce Review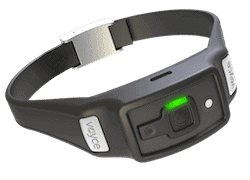 Voyce was previously available as an activity monitor for dogs but is no longer available.
What activity tracker does your dog use? Would you recommend it to others?
We are a participant in the Amazon Services LLC Associates Program, an affiliate advertising program designed to provide a means for us to earn fees by linking to Amazon.com and affiliated sites.