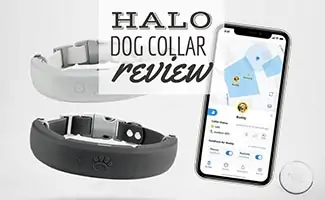 If you're in the market for a new fencing solution for your dog, you may want to consider the innovative Halo Collar smart fencing system backed by the popular dog expert Cesar Millan. This wireless system uses GPS to keep your dog in check and has some additional cool features you won't find in other wireless fencing products.
But is the Halo system easy to use and reliable? Is it worth the fairly hefty price? We've uncovered everything you need to know to decide if the Halo dog collar system is the best fit for you.
Article Overview
Halo Collar
Pros
No wires to install
Uses GPS/GNSS, Bluetooth, WiFi, and LTE technologies
IP-67 water-resistent rating
Battery life averages 12 hours
Covers up to 10 square miles
Apps get generally good reviews
1-year limited warranty
Cons
Expensive
Requires monthly subscription
Not for very small dogs (minimum neck size is 11" and minimum weight is 20 lbs)
Some users received collars that didn't work at all
Many complaints about unreliable GPS, lag time with alerts, and false positive alerts
Several complaints about poor customer service
Key Features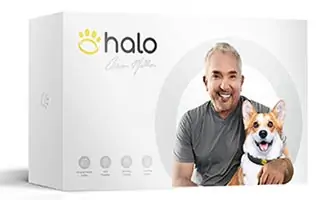 Ability to set up to 20 virtual fences by walking the boundary or via the map in the Halo app (iOS app | Android app)
Customizable feedback to keep your dog in bounds: vibrations, sound, and static
GPS tracking keeps tabs on your dog's location, even if he goes beyond your set boundaries
Encouragement feedback feature to guide your dog back home
Built-in activity tracker keeps track of the number of walks your dog takes, time spent active vs resting, etc.
Includes Cesar Millan's 21-day training program to teach your dog how to adapt to the system (and many other indoor and outdoor training tips)
For use with dogs 5 months and older
Price
The price of the Cesar Millan collar and system includes 6 months free of their Gold subscription plan (see below).
Subscription Plans
A Halo subscription plan is required to enable data storage for fences, GPS location services, activity tracking, and premium training content from Cesar Millan, (depending upon the plan you choose). The basic plan gives you most of what you'll need for the system to work. But you may want to check out the higher-tiered plans for additional perks.
Basic: $2.70/month
Silver: $9.99/month
Gold: $29.99/month
See The Halo Collar In Action (Video)
This video about the Halo Cesar Millan dog collar shows you snapshots of the app and gives some more detail about how the system works.
What's Our Final Verdict?
The Halo Collar GPS system is an impressive piece of technology; however, customer reviews are across the board. Many say it works great and is easy to use. But an equal number of users have had less-than-stellar experiences with the system. Several users called the collar a "prototype," saying the company needs to work out a lot of kinks — this includes everything from the collars not working at all to unreliable GPS not tracking their dog to many false positive alerts when the dog is in the set boundary.
If you're not sure you want to fork out the hefty price for this collar, you may want to check out our reviews of the best wireless dog fences to see if there's a better, more affordable fit for you. We also have reviews of the best GPS dog collars. However, keep in mind these collars don't incorporate a wireless fencing feature, so they're limited if you want an all-in-one system.
What features are you looking for with a wireless fencing system?