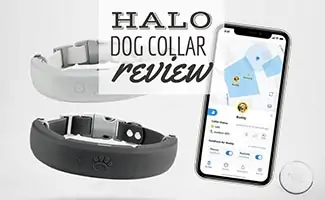 If you're in the market for a new fencing solution for your dog, you may want to consider the innovative Halo 2+ Collar smart fencing system backed by the popular dog expert Cesar Millan. This wireless system uses GPS to keep your dog in check and has some additional cool features you won't find in other wireless fencing products.
But is the Halo system easy to use and reliable? Is it worth the fairly hefty price? Our Halo Collar reviews uncover everything you need to know to decide if this collar system is the best fit for you.
Halo + Collar Overall Rating
4.35/5.00
We based our Halo 2+ Collar overall rating on this virtual fence's features, technology, recent upgrades, performance, pricing, and customer feedback.
Pros & Cons Comparison Table
| Pros | Cons |
| --- | --- |
| No wires to install | Expensive |
| Uses GPS/GNSS, Bluetooth, WiFi, and LTE technologies | Requires monthly subscription |
| IP-67 water-resistent rating | Not for very small dogs (minimum neck size is 11″ and minimum weight is 20 lbs) |
| Battery life averages 21 hours | |
| Covers up to 10 square miles | |
| Apps get generally good reviews | |
| 1-year limited warranty | |
| Customer service and tech support via live Zoom sessions | |
Key Features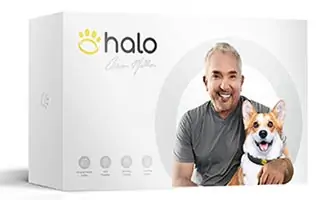 Ability to set up to 20 virtual fences by walking the boundary or via the map in the Halo app (iOS app | Android app)
Customizable feedback to keep your dog in bounds: vibrations, sound, and static
GPS tracking keeps tabs on your dog's location, even if he goes beyond your set boundaries
Encouragement feedback feature to guide your dog back home
Built-in activity tracker keeps track of the number of walks your dog takes, time spent active vs resting, etc.
Includes Cesar Millan's 21-day training program to teach your dog how to adapt to the system (and many other indoor and outdoor training tips)
For use with dogs 5 months and older
New & Improved Halo 2+ Collar
The new and improved Halo 2+ collar has some excellent upgrades to specifically address customer feedback about the original Halo collar. These improvement include:
Enhanced GPS: satellite communication increased by 50% for more coverage
Battery life: extended to 21 hours
More rugged collar with a Pro-case that can withstand chewing and harsh terrain
Better location accuracy
Improved cellular, WiFi, and Bluetooth performance
Price
The price of the Cesar Millan collar and system includes 30 days free of their Gold subscription plan (see below).
Coupon Code
Use this link to get $50 off your Halo Collar purchase and unlock a special discount.
Subscription Plans
A Halo subscription plan is required to enable data storage for fences, GPS location services, activity tracking, and premium training content from Cesar Millan, (depending upon the plan you choose). The basic plan gives you most of what you'll need for the system to work. But you may want to check out the higher-tiered plans for additional perks.
Basic: $4.49/month
Silver: $9.99/month
Gold: $29.99/month
See The Halo Collar In Action (Video)
This video about the Halo Cesar Millan dog collar shows you snapshots of the app and gives some more detail about how the system works.
Frequently Asked Questions
Below are some of the most common questions we get asked about Halo Collars.
Does Halo Collar Shock?
No, Halo uses optional static correction that feels similar to a tap on your dog's neck. With 15 levels of static feedback, you can customize this correction to suit your dog's sensitivity level.
How To Turn Off Halo Collar
Press and hold the power button for about 6 seconds. Then, release the button and note that the logo LED remains off.
What's Our Final Verdict?
The Halo Collar GPS system is an impressive piece of technology. Its original version had mixed customer reviews with complaints about collars breaking, unreliable GPS location, false positive alerts, etc. But the company listened to their customers and made a variety of improvements to address these issues, launching Halo 2 in late 2021 and Halo 2+ in mid 2022. We're keeping an eye on customer feedback with the new and improved collar.
If you're not sure you want to fork out the hefty price for this collar, you may want to check out our reviews of the best wireless dog fences to see if there's a better, more affordable fit for you, or see how Halo stacks up with SpotOn. We also have reviews of the best GPS dog collars and smart collars. However, keep in mind these collars don't incorporate a wireless fencing feature, so they're limited if you want an all-in-one system.
Tagged With: Review