Best…

High End

FieldTrainer

Value
Do your dogs stop obeying you when they're off-leash outdoors? Want to take them hiking or when exploring a remote wilderness but frightened they'll run too far astray?
Avid hikers, explorers and hunters alike swear by remote dog training collars. These wireless collars allow you to train your dog to obey you when they're off-leash, giving your pup room to roam — and you peace of mind that your dogs are safely exploring their world.
How do remote collars work? And what are some of the best collar choices for your active family's canine companion?
Article Overview
How Do Remote Dog Training Collars Work?
All remote dog training collars, sometimes referred to as remote shock collars or simply remote collars, include the same components: a handheld transmitter, a collar receiver and collar probes.
You set your transmitter to the type (tone, vibration or static shock) and intensity of stimuli, and the transmitter then sends a radio signal to your dog's receiver.
The receiver delivers the stimuli you've chosen via a set of two stainless steel collar probes that rest on your dog's neck. The probes must fit against your dog's skin rather than her fur, so a snug-fitting collar receiver is of utmost importance.
Best Dog Training Collars
Below are our picks for the best dog training collars. We based our rankings on range, collar fit, performance, pricing and other factors.
Best High-End: SportDOG FieldTrainer SD-425 Review
SportDOG is a well-respected manufacturer of high-quality dog training collars, and the FieldTrainer SD-425 is a high-performer with a ton of excellent features. Although it's a bit on the pricey side, it's extremely durable compared to many budget picks.
It has 3 easy-to-set training modes: tone, vibration and both momentary and consistent stimulation. The collar and remote are made with DryTek technology, making them waterproof and submersible up to 25 feet.
Pros

Cons

Excellent 500-yard range
7 adjustable static stimulation levels, as well as tone and vibration settings
Rechargeable batteries last 50-70 hours between charges
Remote can accommodate up to 3 dogs (must purchase extra collars)
Waterproof
1-year warranty

May not fit extremely large dogs (neck size up to 22″)
Not recommended for dogs under 8 pounds
Pricing
Best Value: PetSpy M686 Premium Training Collar Review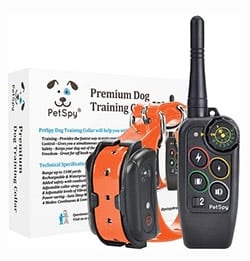 The PetSpy M686 Premium Training Collar is an excellent value and has a much longer range at 1,100 yards than the SportDog. It offers 4 training modes: vibration, sound, continuous and intermittent shock. It also has 8 adjustable levels of vibration and shock, so that you can fine-tune the correction level.
The adjustable collar fits most dogs (10-140 pounds), and the collar receiver is waterproof. The remote has a handy strap and belt clip for easy portability. We also like that this collar's contact points are made of conductive rubber to prevent skin irritation.
Pros

Cons

Excellent 1,100-yard range
4 training modes: vibration, sound, continuous and intermittent shock
8 adjustable levels of vibration and shock
Rechargeable batteries
Waterproof
Light on collar for nighttime training
1-year warranty

Not recommended for dogs under 10 pounds
Only expandable up to 2 dogs
Pricing
Other Dog Training Collars Reviewed
Although the following training collars didn't make our top picks, each stands out for certain needs you may have.
Dog Care | Dogtra | Educator | PetSafe | Petrainer
Dog Care Training Collar
The Dog Care training collar is a fantastic value for the features you get — especially if you need a budget-friendly waterproof collar.
Its most noteworthy features include 3 training modes, 0-99 shock level adjustments and the ability to add up to 9 dogs with one transmitter. This collar also has tons of rave reviews from its customers.
Pros

Cons

Beep, vibration and shock modes
Static level adjustable from 0-99
Security keypad lock prevents accidental shocks
Rechargeable batteries
Waterproof receiver
Expandable up to 9 dogs
1-year warranty

Signal range capped at 330 yards
Not intended for dogs under 15 pounds
Some consumer complaints about collar not taking a charge after getting wet
Pricing
Dogtra IQ-Plus Remote Trainer Review
Dogtra's collar is plastic and easily adjustable to fit many sized dogs, although the neck size won't accommodate huge dogs. Like our top two picks, Dogtra's collar has a good signal range and adjustable levels of low-to-medium stimulation output.
The good? Dogtra gives you 2-hour rapid charge rechargeable batteries, and the collar is waterproof. The downside? Dogtra's collar remote only accommodates two dogs.
Pros

Cons

Good 400-yard range
Rheostat/Volume Dial with Stimulation Levels 0-100
Vibration setting
2-hour rapid charge batteries
Waterproof
1-year warranty

Doesn't adequately fit dogs under 10 pounds
Not ideal for huge dogs (fits up to 24″ neck)
No tone setting
Only expandable up to 2 dogs
Pricing
Educator E-Collar Review
View on Amazon
The Educator E-Collar Dog Trainer is an excellent alternative to our top three picks if you need a longer range than 1/2 mile. The Educator ET-800 has reliable signal strength up to one mile, making it a solid choice if you are shock collar training a hunting dog or live on a large farm.
The receiver delivers a tapping sensation (similar to vibration, but more intense), in addition to static stimulation. The Educator comes loaded with many of the fantastic features you'll find in our top three collar winners. You can even activate a tracking light on your dog's collar receiver for locating your dog after dark.
The Micro Educator is excellent for dogs who weigh as little as 5 pounds. The range is up to 1/3 mile, is 20% lighter and has 20% less stimulation than the Educator. The contact points are closer to one another to accommodate breeds with smaller neck sizes.
Pros

Cons

One-mile range with excellent signal reliability (1/3 mile range for Micro)
Adjustable static stimulation levels 1-100 and boost stimulation 1-60
Micro works for dogs as small as 5 pounds
Rechargeable batteries
Waterproof
1-year warranty
Excellent customer reviews on Amazon

Educator not suited for small dogs (only 20 pounds or larger)
No tone or vibration settings (tapping sensation instead)
More expensive than our top 3 picks (but competitive for one-mile-range dog training collars)
Only expandable up to 2 dogs
Pricing
PetSafe Remote Trainer Review
View on Amazon
PetSafe is a leading manufacturer of all types of pet equipment, and their Remote Training Collar is a solid choice. It has 3 training modes: tone (beep), vibration and 15 levels of static stimulation. The battery life is 40 hours, and it only takes 2 hours to recharge. They even offer a Lite version with less intense stimulation for smaller and more timid dogs.
Pros

Cons

Available in several ranges: 100, 300, 600 or 900 yards
2-hour rapid charge batteries
Fits dogs 8 pounds and up
Waterproof
1-year warranty

Collar neck size is limited for giant dogs (up to 23″)
Only expandable up to 2 dogs
Some complaints that it doesn't hold a charge
Pricing
Petrainer 330 Dog Training Collar
View on Amazon
Dog training on a tight budget? There are dozens of budget-friendly dog training collars on the market for under $100. You're not going to get the best dog shock collar at this price range, but many are still effective for basic training purposes. The Petrainer PET998DRB model is one of our favorite budget dog training collars for its affordability and features.
Your range is limited compared to our other dog training collar reviews, but you have tone, vibration and static stimulation modes with plenty of adjustable levels. While the Petrainer is "water-resistant," it's not waterproof, so training your dog in water isn't possible with this collar. Still, Petrainer 330 has plenty of satisfied customers.
Pros

Cons

Very affordable
Beep, vibrate and static stimulation levels 1-100
Rechargeable batteries
1-year warranty

Signal range capped at 330 yards
Not recommended for dogs under 15 pounds
Collar neck size is limited for giant dogs (up to 23″)
Several consumer complaints about collar no longer recharging after a few months of use
Pricing
Are Shock Collars Harmful To Your Dog?
The idea of shock collar training turns many owners away, but today's shock collars are designed to deliver low to medium intensity — and you get to choose the level of intensity.
The shock is unpleasant (similar to the shock you feel with static in your bed sheets, for example), but the shock itself isn't harmful to your pup. The Humane Society, however, says that shock collars have the potential to irritate or inflame your dog's neck. Read our pros and cons discussion to better understand both sides of the argument.
Pro Tip:
We suggest NOT using these collars until your dog understands basic commands like sit and stay. That way you know that they are able to understand what you are asking them to do and are able to associate the shock with the negative behavior.
Tips To Avoid Potential Shock Collar Irritation
The Humane Society suggests the following tips to avoid these problems:
Don't leave the electronic collar on for an extended length of time
Clean the contact points that touch your dog's neck regularly
How Do You Transition From Leash Training To An E-Collar?
Check out the video below by SportDOG for an overview of remote collar training vs leash training.
Are Remote Dog Training Collars Effective?
As we mentioned earlier, people who work with hunting dogs rely on remote dog training collars to train their dogs to respond in long-range situations (often a mile or more). Family dogs don't need that level of training, but the concept is the same.
Remote training collars are effective in teaching your dog to obey you when she's off-leash, even within longer distances. We hope we've given you some good recommendations with our dog shock collar reviews to help you train your pup off-leash. Visit our dog training collar article to see other options and read the 8 things you need to know before buying a shock collar.
What are your thoughts about using a shock collar on dogs?