Are you looking for a smart collar for your dog? Smart collars have a variety of features, such as GPS tracking, health monitoring, and activity tracking. Some combine all these features in one collar, while others focus more on your dog's fitness (like a Fitbit for dogs). The collar's device connects to an app on your smartphone, where you can monitor your pup's activity. We've delved into the best on the market and give you our top picks in our smart dog collar reviews.
At A Glance: Our Top Picks
Best Smart Dog Collars
We've chosen our top picks and other collars based on the accuracy of each collar, tracking features for location and fitness, pricing, customer service, user feedback, and more.
Best Overall: Halo 2+ Collar Review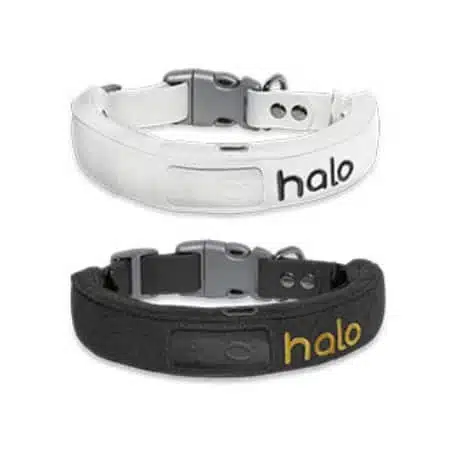 The Halo 2+ Collar, backed by the famous dog expert Cesar Millan, is our top pick for the best smart dog collar. This device is an all-in-one smart wireless dog fencing system, GPS activity tracker, and remote training collar. Halo uses GPS/GNSS, LTE, Bluetooth, and WiFi technologies to set boundaries, track your dog's activity, and send you escape alerts via the app.
You can customize Halo to keep your dog in-bounds via vibrations, sound, or static correction (a tapping sensation), effectively using it as a smart dog training collar. It includes Cesar Millan's 21-day training program to teach your dog how to adapt to the system (and many other indoor and outdoor training tips). And it also keeps track of the number of walks your dog takes and the time spent active vs resting.
The new and improved Halo 2+ collar has some excellent upgrades to specifically address customer feedback about the original Halo collar. These improvements include enhanced GPS coverage, better location accuracy, a 21-hour battery life, a much more rugged collar with a Pro-case that can withstand chewing and harsh terrain, as well as better cellular, WiFi, and Bluetooth performance.
The Halo geofence dog collar doesn't come cheap, but it could be a great solution if you need a smart wireless fence for a large yard or area of land.
| Pros | Cons |
| --- | --- |
| Ability to set up 20 customizable virtual wireless fences | Expensive |
| Covers up to 10 square miles | Requires a monthly subscription |
| Battery life averages 21 hours | Not for small dogs (minimum neck size is 11″ and minimum weight is 20 lbs) |
| IP-67 water-resistant rating | |
| Portable system that works with any terrain | |
| Apps get generally good reviews | |
| 60-day satisfaction guarantee | |
| 1-year limited warranty | |
| Customer service and tech support via live Zoom sessions | |
Price
Coupon Code
Use this link to get $300 off your Halo Collar purchase (must enter your mobile number to unlock the discount).
This brief video gives you a snapshot of how Halo Collar works.
Best Value: Tractive GPS Tracker For Dogs Review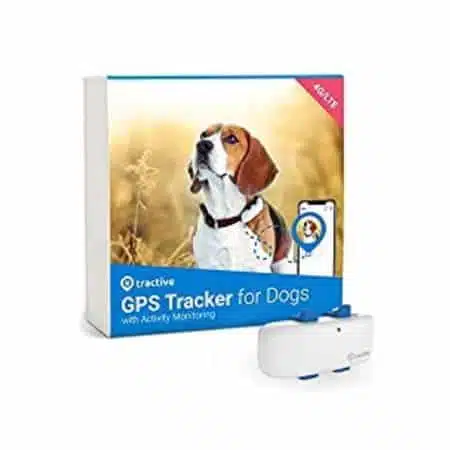 Tractive is a very affordable smart device that snaps easily and securely on most dog collars. It uses GPS and LTE technology to keep tabs on your pup (it connects to AT&T, Verizon, and T-Mobile). And its live-tracking mode updates every two to three seconds (more often than many other devices) — an excellent feature for finding your escape artist.
Once you set up a virtual fence in your yard via the app, you'll get a text alert if your dog leaves his safe zone. It also tracks your dog's active and rest times and calories burned. And it works in over 150 countries. Tractive is an excellent value considering the accuracy and reliability of this device. This makes it one of the best-selling GPS dog trackers on the market.
| Pros | Cons |
| --- | --- |
| Excellent value | Requires a monthly service fee |
| Easy to set up and activate | Some consumers complaints about short battery life |
| Lightweight device for dogs 9 pounds or more | |
| Unlimited range (as long as you have LTE connection) | |
| Receive text alerts if your dog leaves his safe zone | |
| Mobile apps get fantastic reviews | |
| Batteries last 4-7 days, and it fully recharges in 2 hours | |
| IPX7 waterproof rating | |
| Built-in LED light | |
| 30-day money-back guarantee | |
| 1-year limited warranty | |
| Users report excellent customer support | |
Price
Best For Health & Fitness: FitBark 2 Dog Activity Monitor Review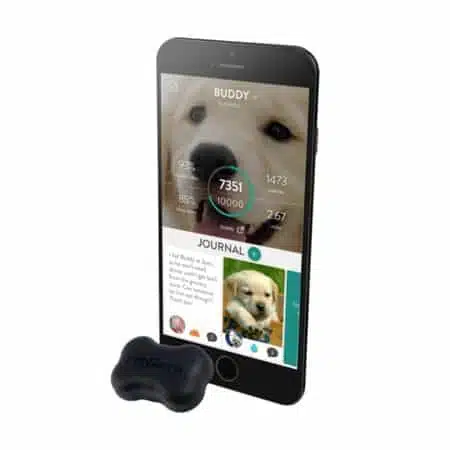 Want to keep track of your pup's overall wellness? FitBark 2 can turn nearly any collar into a smart collar with activity and health tracking. It fits most flat dog collars up to 1.5″ wide and is designed for dogs of all sizes. You can monitor your pup's activity, sleep quality, distance, calories burned, and more through the mobile app. And you can set activity goals and compare your pup's activity to dogs of a similar breed, age, and weight. You can also sync it with Fitbit, Apple Watch, Apple HealthKit, or Google Fit wearable devices.
Unlike our other top picks, this FitBark 2 device isn't a GPS location tracker, but they do offer a separate device, the FitBark GPS Dog Tracker 2nd Gen, which combines GPS tracking with all the features of this activity monitor, all for a competitive upfront price. Just keep in mind, the FitBark GPS Tracker requires a monthly subscription.
| Pros | Cons |
| --- | --- |
| Tracks changes in behavior (rest, active and play time) | Short battery life (for GPS) |
| Compares with similar dog breeds, age, and size | GPS requires monthly subscription |
| Lightweight and one size fits any dog | Some reports of the device breaking or falling off |
| Waterproof and can withstand rugged movements and play | |
| No monthly fees (for activity tracker) | |
| Rechargeable battery (life up to 6 months) | |
| Used by 100+ universities for research | |
| 30-day money-back guarantee | |
| Used by 100+ universities for research | |
| Excellent customer service reviews | |
Price
What About Whistle, Fi Collar & SpotOn GPS Fence?
These smart collars didn't make it into our top rankings, but they're still worth considering.
Fi Smart Dog Collar Series 2 Review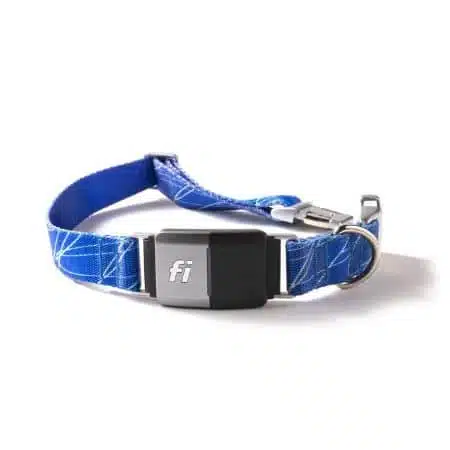 Fi uses GPS and the LTE-M cellular network to keep tabs on your pup in real time and has escape alerts. It requires a subscription for GPS, which is $99 per year (or you can get discounts for multiple years).
Fi also allows you to keep track of your dog's daily activity, from distance traveled to sleep patterns. You can set goals for daily steps to keep your pup in shape. You can even connect with and compete with fellow Fi users. The chew-proof and waterproof collar it comes in four colors and four sizes, ranging from 11.5″ to 34.5″, so it fits a wider variety of dogs.
To save battery life, the Fi Collar will dynamically connect to WiFi or local Bluetooth beacons, such as your phone or the Fi charging base. Many users, however, said this could be inconvenient. Users say the battery drains very quickly when not connected to WiFi or Bluetooth.
So, why didn't Fi make it into our top picks? We've seen several user reviews about the company's poor customer service and spotty GPS location accuracy.
| Pros | Cons |
| --- | --- |
| Fits dogs of many sizes (10+ pounds) | More user complaints about GPS accuracy than our top winners |
| Customizable geo-fencing | Several complaints about poor customer service (and no phone or live chat support) |
| Fast escape alerts | Requires a monthly subscription for GPS tracking |
| Health and fitness tracker | Apps generally get poor reviews |
| IP68 waterproof-rated collar | |
| Rechargeable battery life up to 3 months (but this can vary widely) | |
| Built-in LED light | |
| 1-year warranty | |
Price
SpotOn GPS Fence Review
Most similar to Halo Collar, SpotOn GPS Fence is another superb option if you want an easy-to-use virtual fencing system and GPS tracker, particularly if you have a large property. SpotOn uses a unique "True Location" GPS technology to keep your pup contained in the boundaries you set. Unlike with Halo, you can create unlimited overlapping fences that work on GPS without the monthly fee for cellular coverage.
However, SpotOn's cell service is necessary to receive alerts that your dog has left your yard and to track his whereabouts. (You can get a 90-day free trial if you sign up for the one or two-year plan.) SpotOn has 30 customizable correction modes, including vibrations, sound, or static feedback. And you get detailed training materials and one-on-one training sessions with one of SpotOn's certified dog trainers. Unfortunately, the major downside to SpotOn GPS Fence is its high cost.
| Pros | Cons |
| --- | --- |
| Can create multiple, overlapping wireless fences over 1,000s of acres | Very expensive |
| Easy to set up | Requires a minimum of 1/2 acre |
| Real-time alerts and accurate GPS tracking | Likely won't fit very small or very large dogs (10″-26″ neck sizes) |
| IP-67 waterproof rating | Must pay a monthly fee for alert and tracking feature to work |
| Battery life is 12-18 hours depending on the mode you're using | |
| Portable system that works with any terrain | |
| Mobile apps get good reviews | |
| 1-year limited warranty | |
| 45-day money-back guarantee | |
| 15% discount on multi-collar purchases | |
Price
Whistle GO Explore Review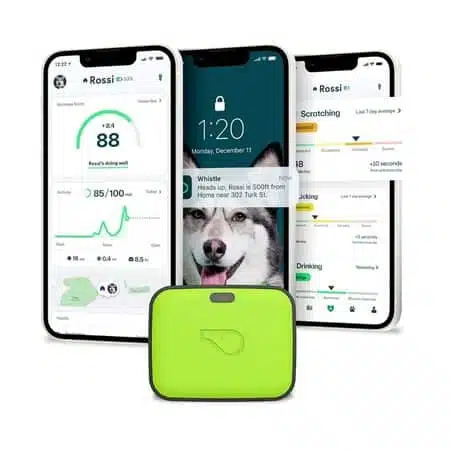 The Whistle GO Explore combines location and health tracking in one device. The real-time GPS location tracking uses the AT&T LTE network and Google Maps and sends you alerts via mobile app or text if your dog escapes the boundaries you've set. The live-tracking, however, only updates every 15 seconds, which is a bit slow comparied to other products.
The fitness and health features allow you to set alerts for over-scratching, over-sleeping, and more. You can also monitor and set activity goals for distance traveled and calories burned. Whistle also includes a free Televet feature (by the VETINSIGHT group), with chat, call, video, and email.
The device comes in three colors and fits most collars, but you can also purchase Whistle's durable nylon collar that comes in six colors and three sizes, ranging from 14″ to 26." Whistle also sells a similar GPS and Health device called Whistle Switch, which can fit smaller pets (5+ pounds). Or, if you just want a health and fitness tracker, you can opt for the Whistle Health. Whistle didn't make our top picks due to complaints about GPS reliability and tech support problems.
| Pros | Cons |
| --- | --- |
| Excellent health and fitness monitoring features | Not for dogs under 25 pounds |
| Includes free on-demand chat-with-a-vet service | Requires a monthly subscription |
| Ability to set a customizable safe zone | Several complaints about inaccurate location tracking and poor customer support |
| Escape alerts via text or app | |
| Apps get positive user reviews | |
| IPX8 waterproof rating | |
| Rechargeable battery life up to 20 days | |
| Built-in night light | |
| 30-day satisfaction guarantee | |
| 1-year warranty | |
Price
Looking For More Types Of Dog Collars?
If you want to take your dog hiking or camping or you live in a remote area, there are some excellent GPS dog tracking collars that don't require cell coverage like the ones in this article do. And while you can use the Halo collar for some training purposes, you may want to consider a more affordable remote dog training collar.
We also have reviews of light-up dog collars to keep your pup safe at night and personalized dog collars, which are an excellent alternative to flimsy ID tags that can fall off.
Tagged With: Comparison