Are you looking for a smart collar for your dog? Smart collars have a variety of features such as GPS tracking, health monitoring, and activity tracking. Some combine all these features in one collar, while others focus more on your dog's fitness (like a FitBit for dogs). The collar's device connects to an app on your smartphone, where you can monitor your pup's activity. We've delved into the best smart collars on the market and give you our top picks here in our smart dog collar reviews.
Best Smart Dog Collars
We've chosen our top picks and other collars based on the accuracy of each collar, tracking features for location and fitness, pricing, customer service, and more.
Winner: Whistle GO Explore Review
The Whistle GO Explore combines accurate location and health tracking in one device. The real-time GPS location tracking uses the AT&T network and Google Maps and sends you alerts via mobile app or text if your dog escapes the boundaries you've set. It requires a subscription starting at $6.18 per month (for the annual plan).
The fitness and health features allow you to set alerts for over-scratching, over-sleeping, and more. You can also monitor and set activity goals for distance traveled and calories burned. Whistle also includes a free Tele-vet feature (by the VETINSIGHT group), with chat, call, video, and email.
The device comes in three colors, and the durable nylon collar comes in six colors and three sizes, ranging from 14″ to 26″ (for dogs 25+ pounds). Whistle also sells a similar GPS and Health device, called Whistle Switch, which can fit smaller pets (5+ pounds). Or, if you just want a health and fitness tracker, you can opt for the Whistle FIT. Note: Whistle devices can fit other collars, so you don't have to purchase their collar.
| Pros | Cons |
| --- | --- |
| Among the most accurate GPS location trackers on the market | Collar (sold separately) isn't ideal for dogs under 25 or over 80 pounds |
| Ability to set a customizable safe zone | Requires a monthly subscription for GPS |
| Escape alerts via text or app | |
| Health and fitness tracker | |
| Android and iOS apps get positive user reviews | |
| IPX8 waterproof-rated collar | |
| Rechargeable battery life up to 20 days | |
| Built-in night light | |
| 1-year warranty | |
Price
See How To Use Whistle's Location Tracking
This four-minute gives you a helpful overview of how you can use Whistle Go Explore to find your dog when he goes exploring beyond your yard.
Runner-Up: Fi Smart Dog Collar Series 2 Review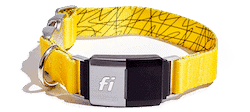 Coming in a close second place is the Fi Series 2 smart dog collar. Unlike Whistle, this sleekly designed collar has the GPS and health tracking device built-in. Fi uses GPS and the LTE-M cellular network to keep tabs on your pup in real-time and has escape alerts. It requires a subscription for GPS, which is $99 per year (or you can get discounts for multiple years).
Fi also allows you to keep track of your dog's daily activity, from distance traveled to sleep patterns. You can set goals for daily steps to keep your pup in shape. You can even connect with and compete with fellow Fi users. The chew-proof and waterproof collar comes in four colors and four sizes, ranging from 11.5″ to 34.5″, so it fits a wider variety of dogs.
To save battery life, the Fi Collar will dynamically connect to WiFi or local Bluetooth beacons, such as your phone or the Fi charging base. Some users, however, said this can be inconvenient. Users say the battery drains very quickly when not connected to WiFi or Bluetooth.
So, why didn't Fi win our top spot? We've seen several user reviews about the company's poor customer service and spotty GPS location accuracy.
| Pros | Cons |
| --- | --- |
| Fits dogs of many sizes (10+ pounds) | More user complaints about GPS accuracy than with Whistle GO Explore |
| Customizable geo-fencing | Several complaints about poor customer service (and no phone or live chat support) |
| Fast escape alerts | Requires a monthly subscription for GPS |
| Health and fitness tracker | |
| Android and iOS apps get generally positive user reviews | |
| IP68 waterproof-rated collar | |
| Rechargeable battery life up to 3 months (but this can vary widely) | |
| Built-in LED light | |
| 30-day free trial for GPS subscription | |
| 1-year warranty | |
Price
Third Place: Halo 2+ Collar Review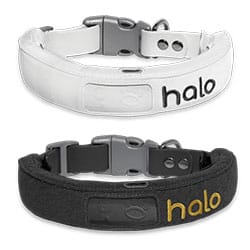 The Halo 2+ collar, backed by the famous dog expert Cesar Millan, is much more than an activity tracker — it also serves as a smart wireless dog fencing system. Halo uses GPS/GNSS, LTE, Bluetooth, and WiFi technologies to set boundaries, track your dog's activity, and send you escape alerts via the app.
You can customize Halo to keep your dog in-bounds via vibrations, sound, or static shock, effectively using it as a smart dog training collar. It includes Cesar Millan's 21-day training program to teach your dog how to adapt to the system (and many other indoor and outdoor training tips). And it also keeps track of the number of walks your dog takes and the time spent active vs resting.
The new and improved Halo 2+ collar has some excellent upgrades to specifically address customer feedback about the original Halo collar. These improvements include enhanced GPS coverage, better location accuracy, a 21-hour battery life, a much more rugged collar with a Pro-case that can withstand chewing and harsh terrain, as well as better cellular, WiFi, and Bluetooth performance.
The Halo geofence dog collar doesn't come cheap, but it could be a great solution if you need a smart wireless fence for a large yard or area of land.
| Pros | Cons |
| --- | --- |
| Ability to set up 20 customizable virtual wireless fences | Expensive |
| Covers up to 10 square miles | Minimum weight is 20 lbs |
| Battery life averages 12 hours | Requires a monthly subscription for GPS |
| Apps get generally good reviews | |
| Includes 6 months free subscription plan | |
| 1-year limited warranty | |
| Customer service and tech support via live Zoom sessions | |
Price
The Cesar Millan collar and system price includes 30 days free of their Gold subscription plan (see below).
Subscription Plans
A Halo subscription plan is required to enable data storage for fences, GPS location services, activity tracking, and premium training content from Cesar Millan (depending upon the plan you choose). The basic plan gives you most of what you'll need for the system to work. But you may want to check out the higher-tiered plans for additional perks.
Basic: $4.49/month
Silver: $9.99/month
Gold: $29.99/month
Coupon Code
Use this link to get $350 off your Halo Collar purchase (must enter your mobile number to unlock the discount).
What Are My Other Options?
These smart collar devices didn't make it into our top rankings, but they're still worth considering if you're on a budget or have a smaller dog.
FitBark GPS Dog Tracker Review
FitBark is a bone-shaped device that can turn nearly any collar into a smart collar with location, activity, and health tracking. It fits most flat dog collars up to 1.5″ wide and could be a good option for smaller dogs that other collars/devices won't accommodate. FitBark uses GPS, Verizon LTE-M coverage, and WiFi to work — the subscription starts at $5.95 per month (for a three-year commitment).
You can monitor your pup's activity, sleep quality, distance, calories burned, and more through the mobile app. You can also sync it with Fitbit, Apple Watch, Apple HealthKit, or Google Fit wearable devices. If you don't need location tracking, you can opt for the FitBark 2 Dog Activity Monitor.
Pros

Cons

Lightweight device for dogs 5 pounds or more
Set customizable safe zones
Escape alerts via mobile app
Health and fitness tracker
Rechargeable battery life up to 20 days
Waterproof
iOS app gets generally good reviews
30-day money-back guarantee
1-year warranty

Several complaints about unreliable GPS and lag time with alerts
Some user complaints about short battery life
Android app is prone to crashing, according to some users
Price
Tractive GPS Tracker For Dogs Review
Tractive is a very affordable smart device that snaps easily and securely on most dog collars. It uses GPS and LTE to keep tabs on your pup (it connects to AT&T, Verizon, T-Mobile, and Viaero Wireless USA). The required subscription for GPS is available monthly or plans every one, two, or five years (starting at $4.99 per month). Tractive also tracks your dog's active and rest times and calories burned.
Pros

Cons

Affordable pricing
Easy to set up and activate
Lightweight device for dogs 9 pounds or more
Receive text alerts if your dog leaves the safe zone
Health and fitness tracker
Apps get generally good reviews
Waterproof and shock-resistant
1-year limited warranty

Several complaints about unreliable GPS and lag time with alerts
Some user complaints about short battery life
Price
Looking For More Types Of Dog Collars?
If you want to take your dog hiking or camping or you live in a remote area, there are some excellent GPS dog tracking collars that don't require cell coverage like the ones in this article do. And while you can use the Halo collar for some training purposes, you may want to consider a more affordable remote dog training collar.
Tagged With: Comparison