Attaching an ID tag to your dog's collar is a must in case your beloved family member gets lost. But we know from personal experience that these tags can detach from our pup's collar pretty easily. What's a better solution? A personalized dog collar with your contact information and your pup's name embroidered or engraved directly on the collar. No more annoying tag jingles!
Another benefit is that some of these collars have large embroidery so they're easier for people to see your contact information from farther away in case your lost dog is hesitant to come close to a stranger. We've found the best personalized dog collars for pups of all sizes and some with added features you may want.
At A Glance: Our Top 5 Overall Picks For Best Dog Collars With Name
Best Personalized Dog Collars: Our Overall Top Picks
We chose our best custom dog collars based on the quality of collar material, comfort, pricing, customer feedback, and more. We also broke down our recommendations into categories to help you decide on the best collar for your dog and the features you want.
Most Durable: GoTags Nylon Personalized Dog Collar Review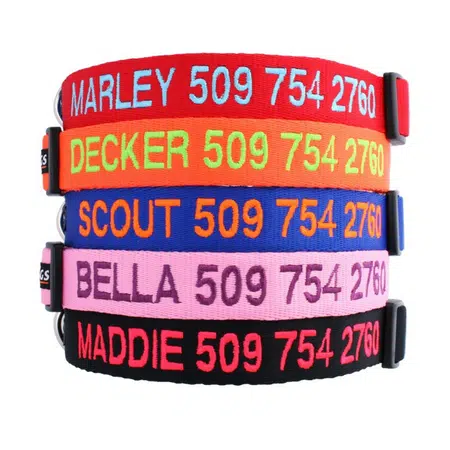 Is your furry friend a strong leash puller or a heavy chewer? This GoTags collar could be your ideal solution. It's made with durable but comfortable nylon webbing and has a non-corrosive D-ring to attach your dog's leash. The sturdy side buckle is easy to release with one hand. This collar comes in four adjustable sizes and five colors and fits neck sizes ranging from 8-26 inches. You can have up to 25 characters embroidered on your pup's collar with 15 thread color options. And the lettering is large enough to be seen at a distance.
One important thing to note is that the GoTags brand name takes up space on the collar, and several customers complained that if you adjust the collar toward the minimum size fit, the phone number gets partly obscured. So you may want to size down if you think you'll have to adjust the collar close to the minimum size.
| Pros | Cons |
| --- | --- |
| Made of durable nylon webbing | Brand name takes up space on collar |
| Sturdy quick-release clasp | |
| Very large lettering | |
| Many color combinations | |
| Machine-washable | |
Price
Best For Small Dogs & Puppies: LovelyDog Personalized Dog ID Collar Review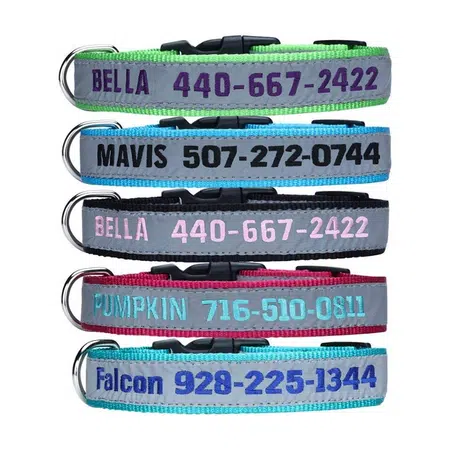 If you have a very small or miniature dog, you know how hard it can be to find a good collar fit. And when it comes to personalized collar options, the pickings are slim for itty bitty pups. But the LovelyDog collar in XS can accommodate a neck size as small as six inches (most minimums are eight inches). They also offer three other adjustable collar sizes fitting dogs up to 24-inch neck size.
This collar is made of soft but durable nylon and has a large reflective strip to help keep your pets safe in the dark. It comes in five colors with 11 embroidery thread color options. You can choose up to 25 characters, but if you're going small, you may want to only include your contact information.
| Pros | Cons |
| --- | --- |
| High-quality at a good value | May not fit very large dogs |
| Sturdy clasp | Some complaints of the collar fraying |
| Large reflective strip | |
| Machine-washable | |
Price
Best For Large Dogs: Joytale Personalized Dog Collar Review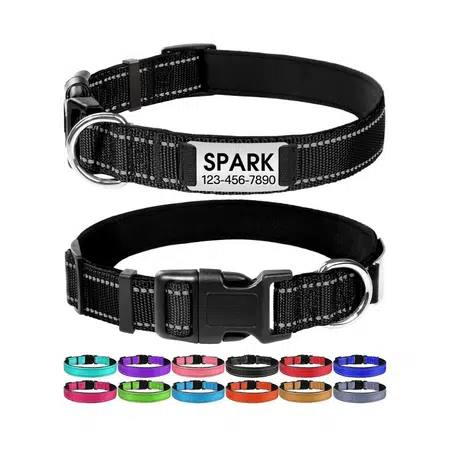 This Joytale collar is a major contender for the most durable personalized collar, but we chose it as our top pick for large dogs because its XL size can accommodate neck sizes up to 28 inches (larger than the GoTags collar). Four other adjustable collar sizes are available, with a minimum neck size of 10 inches.
Instead of embroidery, this collar has a slide-on stainless steel nameplate with up to four lines for your engraved personalized information (up to 20 characters each). It's made with strong nylon webbing and lined with soft neoprene padding to help prevent irritation. It also has reflective stitching and comes in 12 colors. And you can get a matching leash to hit the town in style.
| Pros | Cons |
| --- | --- |
| Excellent value | May not fit very small dogs |
| Durable nylon padded with soft neoprene | A few complaints that the tag fell off |
| Strong, quick-release clasp | |
| Reflective stitching | |
| Many color options | |
| Offers a free nameplate replacement if your contact info changes | |
Price
Most Stylish Leather: Custom Catch Personalized Dog Collar Review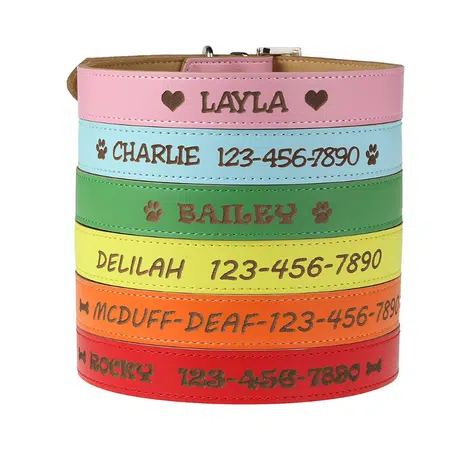 Unlike the other collars we review here, this Custom Catch personalized dog collar is made with attractive soft leather and stylish engraving rather than embroidery. You have six color options and can even choose from three different fonts and optional cute designs (paws, bones, or hearts).
It comes in four adjustable sizes and fits neck sizes ranging from 8.5-22 inches. The traditional metal buckle closure may not be ideal for people who want a quick-release clip, but it's more secure than many plastic clips that can come open. This collar gets overall excellent customer reviews for its quality and look.
| Pros | Cons |
| --- | --- |
| Stylish soft leather | Largest neck size is 22 inches |
| Secure metal buckle closure | A few complaints that the leather broke |
| Can customize font and add designs | |
| Satisfaction guarantee | |
Price
Fun Patterns: Moonpet Personalized Custom Dog Collar Review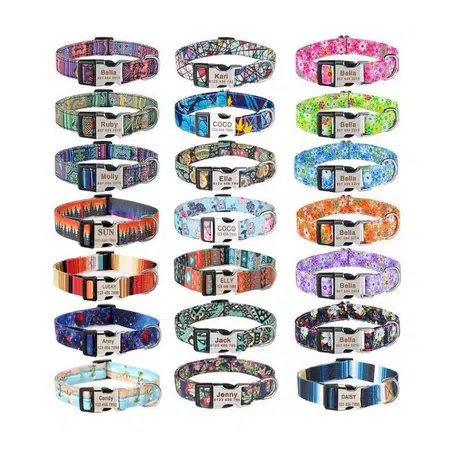 With 21 different collar patterns to choose from, Moonpet's personalized collars give your pup a stand-out-from-the-crowd look. The band is made from eco-friendly microfiber, and the stainless steel nameplate is laser engraved with your dog's name and your phone number. You can also add a matching leash for $13.99 when you're customizing the nameplate. It comes in five sizes that fit neck sizes ranging from 7.5-28 inches.
| Pros | Cons |
| --- | --- |
| Fits a wide range of neck sizes | Some complaints that the collar frays and fades |
| Made with eco-friendly material | |
| Soft and comfortable fit | |
| Sturdy quick-release clip | |
| 21 pattern options | |
Price
What About Waterproof, Reflective, Martingale & GPS Tracking?
We've found some other top picks if you're looking for specific features in a personalized dog collar.
Best Reflective: GoTags Reflective Personalized Dog Collar Review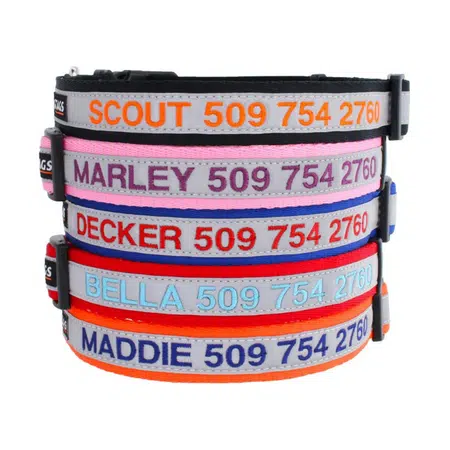 Another quality collar from GoTags is their reflective collar, which features a wide and bright reflective strip that's perfect for nighttime. The personalized information is embroidered in large lettering directly onto the reflective strip, and you can choose from 14 different thread colors. The collar itself comes in five colors and three adjustable sizes, ranging from 11-26 inches in length. Like other GoTags collars, it's made of durable nylon webbing and a quick-release clasp.
| Pros | Cons |
| --- | --- |
| Excellent nighttime visibility | Not ideal for very small dogs |
| Made of durable nylon webbing | Some complaints that the reflective strip starts peeling away after time |
| Secure side-release clip | |
| Very large lettering | |
Price
Best Waterproof: Yellow Dog Design Personalized Waterproof Review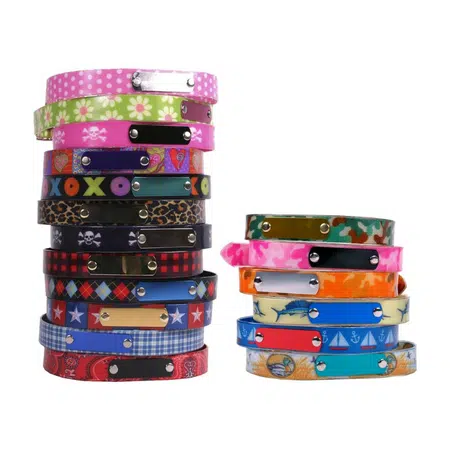 Looking for the best dog collar with name plate that's also stylish and functional. If your dog spends a lot of time in the water or you're sick of having to clean a stinky collar, this Yellow Dog Design personalized collar may be just the ticket. Waterproof, odor-free, and extremely durable, this collar features a laser-engraved, anodized-aluminum nameplate that's riveted to the collar. It has a traditional buckle instead of a plastic clip, so it's fantastic for strong pups.
Four adjustable collar sizes fit necks ranging from 10.5-24 inches. And you can cut the collar down or add an extra buckle hole for a perfect fit. It's available in several collar patterns and nameplate colors. One bummer, however, was that only a handful of patterns were available when we went to customize the collar.
| Pros | Cons |
| --- | --- |
| Extremely durable material | May not fit very small dogs |
| Waterproof and odor-free | Some owners said it's too stiff and gets hot |
| Sturdy traditional buckle | No reflective striping |
| Easy to clean | |
| Made in the USA | |
Price
Best Martingale: Blueberry Pet Essentials Personalized Martingale Collar Review
Pickings are pretty slim for personalized martingale collars, but we found this high-quality collar that's a fantastic value. It's made with high-density nylon webbing and embroidered with large lettering. You can choose from 20 collar colors and over 10 thread choices. This slip-on collar comes in three sizes ranging from 12-26 inch neck sizes. Just be sure to choose a size large enough to slip over your pup's head. Learn more about martingale collars here.
| Pros | Cons |
| --- | --- |
| Great value | Part of the name gets obstructed if you adjust the collar |
| Heavy-duty material | No reflective striping |
| Large lettering | |
| Large color selection with matching leashes available | |
Price
Best For GPS Tracking: GoTags Engraved Airtag Dog Collar Holder Review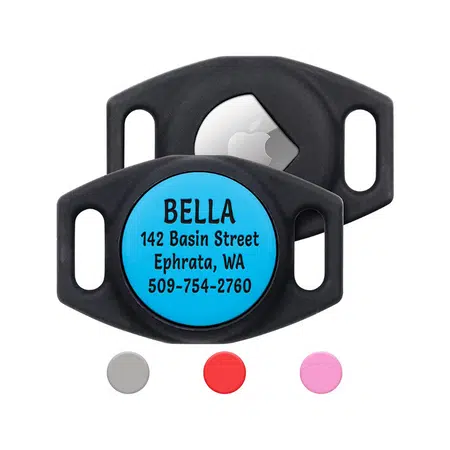 Do you want to maximize your chance of finding your furry friend if he gets lost? This cool gizmo is an Apple AirTag collar holder that you can also personalize. This gives you super safe GPS tracking of your pup's location with real-time alerts if he wanders away on your iPhone or iPad (requires an iPhone with a U1 chip). The holder is made of comfortable silicone, comes in four colors, and you can have up to four lines of information deeply engraved into the silicone.
It slips on most standard collars and is compatible with collars 3/4-inch to 1-inch wide (large) or 5/8-inch wide (small). If you love this concept but don't see the need for personalization since you can track your pup, check out the Pup Culture Airtag Dog Collar Holder for a less expensive option.
| Pros | Cons |
| --- | --- |
| Compatible with a wide variety of collars | On the pricey side |
| Secure holder for AirTag | |
| Made of comfortable silicone | |
Price
How To Measure For Your Dog's Collar Size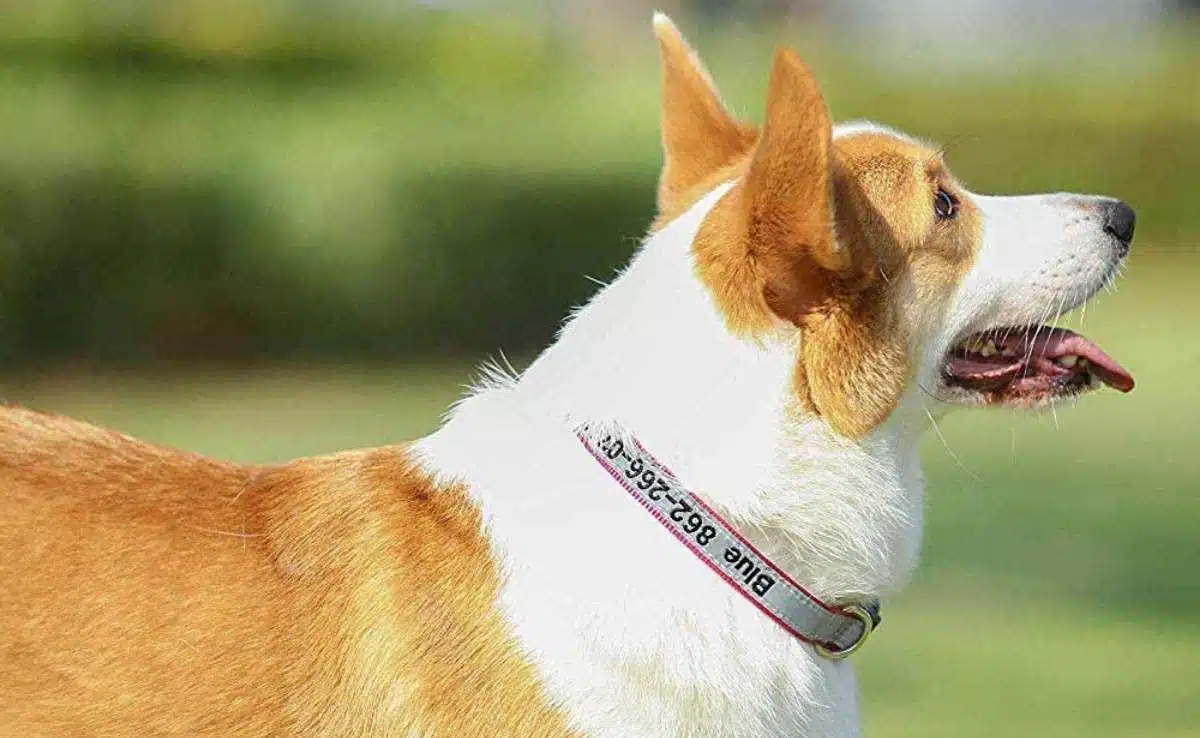 Each company has its own guidelines, but the general rule is to use a soft measuring tape (if you have one) or a piece of string or a phone charging cable (then run that along a regular tape measure). You measure around the center of their neck where a collar would normally sit and pull the tape/string/cord snug enough to fit two fingers in between it and your dog's neck.
Consider Microchipping Your Dog As A Backup
In addition to having a personalized collar or an ID tag, you should seriously consider microchipping your fuzzy family member if he isn't already.
A study of over 7,700 stray animals at animal shelters found that microchipped dogs were reunited with their owners 52.2% of the time, but dogs without microchips were returned to their owners only 21.9% of the time.
Many professional pet welfare organizations, including the Animal Humane Society, recommend having your pet microchipped as a backup in case your dog's ID tag or collar falls off. And a 2018 survey of 3,000 pet parents by Embrace Pet Insurance found that 57% of respondents ID their pets with both a dog tag and microchip. With both identifying markers in place, it's more likely that you can find your furry friend.
Tips On How To Find A Lost Dog
Even if you've covered all your dog ID bases, it's important to know what steps to take if your dog runs away or goes missing. Read our ultimate guide on how to find a lost dog, which also includes tips on prevention tips. And if your pup makes a jailbreak frequently, you may want to consider getting a smart collar with GPS tracking ability so you can be alerted the moment he strays.
Tagged With: Collars, Comparison, Gifts