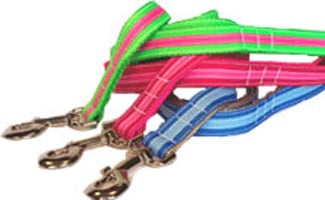 Personalized dog collars helps your dogs stand out from the crowd.
Typically personalized dog collars consist of embroidery that is sewn onto the collar. You can choose what it says (maybe your dog's name and your phone number?), or you can come up with a silly (or serious) saying.
Another way to customize dog collars is to pick custom patterns, ribbons, colors, etc. Many people like to dress their pups in their school or local sporting team's colors. College colors and licensed team designs are very with many fans of personalized dog collars as well!
Why Are Personalized Dog Collars All The Rage?
The masses love putting their personal stamp on everything, including their dog collars, sweater and other accessories.
Custom products attract a slightly bolder, more individualistic audience than the average joe. Your dog is a fashion hound so why should she dress like anyone other than her unique self? Custom designed apparel and accessories have never been more popular. More and more people are getting the message that custom products can make your dog a walking fashion plate and canvas for your personal identity.
Custom designed collars and leashes can make you and your dog feel stylish, hip and happening. They protect your dogs from street hazards, maintain identity at all times and make a statement about who you are and what you like.
Personalized dog collars and other accessories create the ultimate custom experience and product for the designer and the pup. What is your dog's style this month? And who will she be next week? Design a style for every month to be sure your pup is dressed to the nines for every occasion.
Why Are Personalized Gifts Important Too?
Custom, personalized gifts are an inexpensive way to personalize your furry friend's fashion. And creating a customized gift for your favorite pup is the perfect way to express your love and appreciation. And with all the technology available today, it's never been easier, faster or less expensive.
Plus, that special pup will have a new fashion accessory that no other dog in town has – specific to his or her unique personality. Within days, your pup will no doubt be the talk of the town – or at least your favorite dog park or walking path! 😉
So why wait another day? You know your dog deserves it! A new color, a new style and a new bragging right for you – there is no better way to show others how much you adore your faithful friend than a new, personalized dog collar and leash.
What Are Custom Gifts?
Custom gifts have been personalized for the recipient. They require some input from the customer before they are created and sold. Unlike retail gifts that are manufactured by the hundreds, the charm in custom gifts is the fact that they are one of a kind – and often handmade especially for you. In addition, custom gifts flatter the recipient because they are inspired by the dog's (or the dog's owner's) unique personality
Why Give Custom Gifts?
Custom gifts are highly valued for the caring they depict. Most individuals feel flattered when they see a gift that has their name or initials engraved on it or their photograph printed on it. Additionally, custom gifts show that the giver has obviously gone through some effort to buy the gift. Unlike retail gifts that can be purchased, stored and used as and when needed, custom gifts by their very nature demand that the giver know the recipient intimately or make an effort to find out the required information.
Can I Give Custom Gifts To Anyone?
Yes, you can. However, the level of personalization differs depending on your relationship with the recipient.
For very intimate relationships like your immediate family, you can choose any kind of custom gifts that you like. With close family there really is little that you need to worry about. The same is true for your spouse.
However, with friends and acquaintances you generally need to be a little more cautious. However, with custom dog collars and leashes you cannot go wrong as they offer a customized product without any risk of offending anyone with the use of potentially offensive photos, nicknames, etc.
Here's a quick list of some available custom gifts options for the humans in your life as well.
• Customized gifts for men & dads: Golf balls, t-shirts, hats, key chains, calendars, wallets, paperweights, photographs, photo frames, placemats, mouse pads, tablet covers, mugs and magnets all make unique personalized gift ideas for men of all ages.
• Customized gifts for women & moms: Tote bags, t-shirts, photo frames, magnets, make-up bags, mouse pads, stickers, iphone cases, scarves, jewelry, monogrammed robes and pretty much anything that comes from the heart.
• Customized gifts for kids: Toys, furniture, backpacks, sleeping bags, ornaments, luggage, dolls, sports bags, book covers, sports balls, stickers, tablet and smartphone cases are popular with children of all ages.
The trick with custom gifts lies in the unique personality identifiers, colors, message, graphics or photograph you choose to personalize the gift. While choosing the gift and the level of customization, you must keep in mind the personality of the recipient. In the end, it's all about letting your custom gift express your feelings.
What Would Your Personalized Dog Collars Look Like?
If an embroidered or team colors dog collar isn't the kind of personalized dog collar you visualized, let us know what you have dreamed up. Maybe a personalized tag or charm? We'd love to share the ideas of our Canine Journal fans with vendors to see if they could maybe make your dreams come true!
Tagged With: Collars, Gifts