To sustain this free service, we receive affiliate commissions via some of our links. This doesn't affect rankings. Our review process.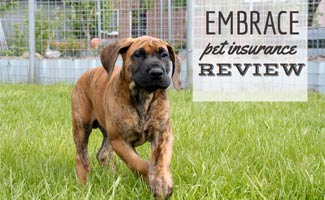 Just like health insurance, there are many companies and policies to choose from to insure your pet. How does Embrace stack up to its pet insurance competition? We dive deep with coverage details, actual pricing quotes and real customer reviews.
Embrace
Pros
No per incident limits on their claims as they use an annual deductible
No lifetime limit
Offers optional Wellness Rewards
BBB rating is A+
Pays claims between 10-15 business days
Up to a 10% max discount for multiple pets (5% in NY)
Cons
$1.00 monthly transaction fee and $25 enrollment fee
Only covers enrolled pets age 14 and younger for accident and illness (accident only may be available for ages 15+)
If one leg has a CCL (ACL) injury prior to enrollment, the other leg will not be covered even if there are no prior issues. It's considered a pre-existing condition.
New customer must call to access unlimited claim option
Does not cover your pet if they travel outside the U.S. with you
Alternatives To Embrace
While Embrace has a lot to offer, it did not make it into our top 3 picks for best pet insurance providers. Our experts have analyzed over a dozen pet insurance providers. Check out our pet insurance reviews to learn more about this year's top-ranked companies.
Key Features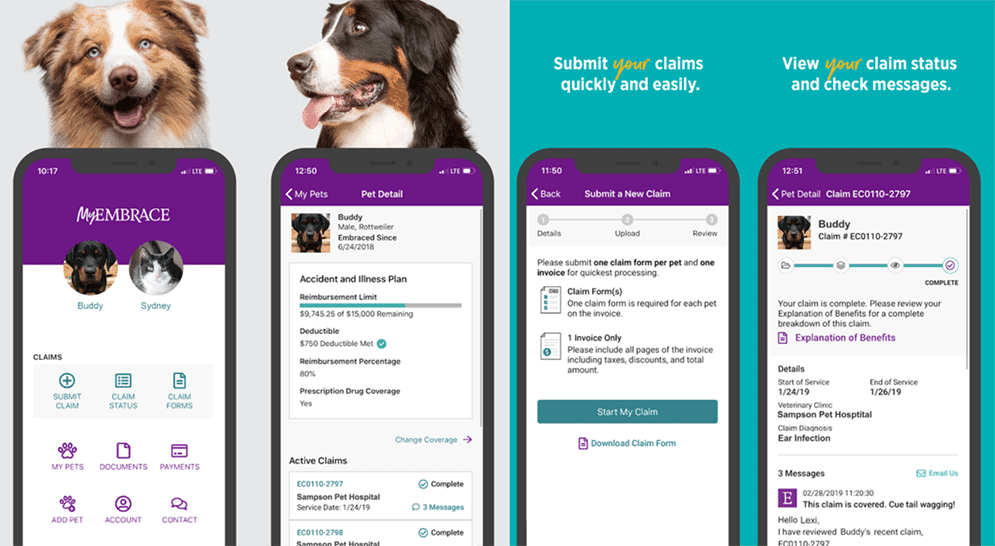 Underwriter: American Modern Insurance Group
Medical history review: Embrace offers a Medical History Review during enrollment. Essentially, this is a full insurance assessment of health history so you can feel confident in your pet's coverage, limiting coverage uncertainty.
Bilateral condition (a condition or disease that affects both sides of the body): If your pet has a pre-existing bilateral condition (e.g., ACL tear), they are at a higher risk of the same situation on the other side of the body, and future occurrences of the same condition won't be covered
Must submit claims within 60 days of renewal to the next term
Claim repayment promise of 10 to 15 business days (but often processes faster)
Prescription drug coverage for take-home medications available with any policy (in some states, this is an optional add-on)
Fax, email, upload to MyEmbrace, use the app or mail in your claim forms and get paid via check or direct deposit
30-day free look period (similar to a money-back guarantee)
Allstate, American Family, Geico, and USAA sell Embrace
Healthy Pet Deductible: Your pet's annual deductible goes down $50 each year you don't receive an accident or illness claim reimbursement
24/7 PawSupport Pet Health Line allows you to speak with a pet professional day or night via live chat, video and phone
Other discounts available: 5% military discount, 10% multiple pet discount, and 15% USAA discount available in most states
Exam Period
Requires a vet exam within the last 12 months before the policy start date or 14 days after the start date
Pre-Existing Conditions
Defined by Embrace as:
a. Chronic Condition observed by you or your Veterinary Provider prior to the end of the Waiting Period for your Pet(s) and any related conditions; or
b. An Illness or Injury that first occurred or showed Clinical Signs prior to the end of the Waiting Period for your Pet and any related conditions.
Undiagnosed conditions with the same Clinical Signs as those in a. or b. above are also considered pre-existing.
Customer Service Hours
Contact center: Monday – Friday 8:30am – 8pm ET and Saturday 9am – 1pm ET
Waiting Periods
14 days: Illnesses
2 days: Accidents
6 months (or 14 days with an orthopedic report card submitted, not applicable to cats): Orthopedic conditions in dogs (including cruciate ligament events)
If you're unfamiliar with cruciate ligament tears and what they can entail, watch Heidi's story below.
What Does Embrace Cover?
Services included are not limited to this list and are subject to change.
| Covered by Embrace | Not Covered by Embrace |
| --- | --- |
| Breed-specific and genetic conditions | Avian flu or nuclear war |
| Congenital conditions | Pre-existing conditions |
| Chronic conditions | Breeding, whelping and pregnancy |
| Cancer | Injury caused deliberately by you or any other person residing in your home |
| Exam fees | Injury or illness resulting from fighting, racing, cruelty or neglect |
| Alternative therapies and rehabilitation | Cosmetic procedures such as tail docking, ear cropping or dew claw removal unless medically necessary |
| Behavioral therapy | DNA testing or cloning |
| ER and specialist care | Stem cell therapy not deemed medically necessary |
| Diagnostic testing | |
| Hospitalization and surgery | |
| Prosthetic limbs and devices including mobility aids | |
| Accidents | |
| Illnesses | |
| Dental illness up to $1,000/year | |
| Prescription drugs | |
Is Hip Dysplasia Covered?
A bilateral hip replacement for your dog could cost $7,000 to $12,000 for surgery alone. For other types of surgeries, $1,500 to $3,000 per hip is the average. Aside from surgery, your dog will need pain medication for life and possibly supplements, which can add up in costs.
Fortunately, Embrace provides coverage if your dog develops hip dysplasia, as long as the 6-month waiting period is over. The waiting period is lowered to 14 days if an orthopedic report card is filled out.
Pricing Quotes
Embrace offers the following options for your pet insurance plan.
Annual maximum: $5,000, $8,000, $10,000, $15,000 or $30,000 (unlimited is available via phone)
Annual deductible: $200, $300, $500, $750 or $1,000
Reimbursement: 70%, 80% or 90%
The cost of each policy is unique to your pet and depends on many variables, including your pet's age, breed, location, health conditions and more. To give you a general idea, we gathered the following sample quotes in December 2019 (these don't include Wellness Rewards).
| Breed | Labrador Retriever | Golden Retriever | German Shepherd | Yorkshire Terrier | Yorkshire Terrier | Yorkshire Terrier | Mixed Breed Cat |
| --- | --- | --- | --- | --- | --- | --- | --- |
| Gender | Male | Female | Male | Female | Male | Female | Male |
| Spayed/Neutered | | | | | | | |
| Age | 2 | 8 | 4 | 6 | 4 months | 7 months | 2 |
| Location | Iowa (zip code 50125) | Illinois (zip code 60631) | California (zip code 92027) | New York (zip code 10012) | New York (zip code 10012) | Iowa (zip code 50125) | Ohio (zip code 44108) |
| Price Per Month | $40.70 | $60.28 | $39.61 | $84.36 | $75.84 | $12.50 | $22.93 |
| Annual Maximum | $10,000 | $5,000 | $8,000 | $5,000 | $5,000 | $30,000 | $10,000 |
| Annual Deductible | $200 | $500 | $500 | $200 | $200 | $1,000 | $200 |
| Reimbursement Level | 80% | 70% | 80% | 90% | 90% | 70% | 80% |
| Prescription Drug Coverage | | | | | | | |
You can get personalized price quotes for your pet(s) from some of the best companies when you fill out just 1 short form. Also visit our Pet Insurance Quotes page to see how the cost of Embrace stacks up against the competition.
Embrace Wellness Plans & Pricing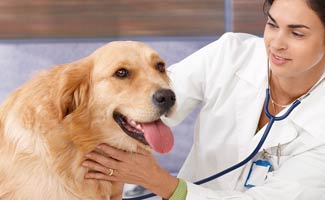 Embrace also offers an optional Wellness Rewards program for an additional fee. Embrace will reimburse 100% of your pet's routine care costs up to the selected amount of coverage you choose. You can select $250, $450 or $650 for this program. This money can go towards the following but not limited to:
Flea, tick, and heartworm preventative
Vaccinations and titers (amount of antibodies in blood)
Wellness exams
Routine blood and fecal parasite exams
Microchip implant and registration
Prescription diet food
Teeth cleaning
Nutritional supplements
Medicated shampoos
Behavioral training
Coupon Code
Embrace offers a few different discount options. If you have multiple pets, each one gets 10% off (5% in NY). You can also pay annually and get 5% off in NY. No discount code needed -
click here
to take advantage of these offers.
Reimbursement Story
Dog: Mila, 6-month-old Husky
Accident: Jumped out of the car window while moving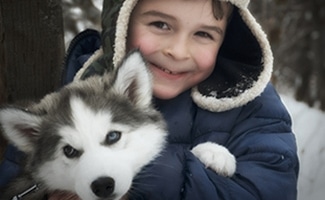 Mila jumped out of the car window when the car was going 5 mph and was taken to the emergency room immediately. X-rays showed that she broke her pelvis in 6 different locations. They were not sure they could repair her pelvis, so they ordered a CT scan.
Nici, Mila's pet parent, told them to do whatever they needed because she had pet insurance. Nici's Embrace plan had a $500 deductible and a 80% reimbursement. After a 5-hour surgery, 8 weeks of restricted activity and 12 weeks of massage, laser and hydrotherapy, she is fully recovered and back to her crazy puppy self.
Treatment Cost: $7,748.04
Embrace Reimbursed: $5,798.43
Final Cost For Pet Parents: $1,949.61($500 deductible and $1,449.61 copay)
Customer Reviews
Read about how Embrace has treated these real-life customers. We've got good and bad feedback to share with you.
Positive Reviews
I have to believe that many (if not all) of these negative reviews are from people who are just unhappy that something they expected to be covered, ended up not covered. It's the insurance industry, no different than your personal or house insurance, certain things will not be covered. You can't get a homeowners insurance claim after your house burns down just like you can't get insurance on your pet after it breaks its leg. As for my experience, I have not had any problems whatsoever with Embrace and have a 5yr old pup with a variety of random issues. I understood my policy (for the most part) and asked questions for things I didn't. The people I've worked with over the past 4yrs have been very helpful and courteous, so I'm more than confused by some of these reviews. Based on my experiences, I will remain a customer for as long as I'm a pet owner. – Dave R., Yelp 9/20/2019
Our little girl had many medical issues in her last 2 years. Embrace covered everything. We got our claims covered very quickly, sometimes before our credit card bill came due. We were able to give her specialty care and make her last two years as comfortable as possible with a great quality of life. When we lost her, we received a lovely card from Embrace with no fewer than 8 personalized, hand-written notes of condolence. We feel like part of the Embrace family. – Shelley R., Trust Pilot 12/3/2019
Negative Reviews
Shitty company. Both of my dog and my cat were in ER in July, and it is now October and this company is finding every reason to not to cover the claim and not responding by not having full medical history. My policy started in June, and my dog got kennel cough in July, it was obviously unexpected and this company just keeps asking notes about my dogs bone fracture back in April. Not to mention I have provided every single documents from my vet. My cat was also being told that it's missing full medical history. My cat was four months when admitted into er, we submitted every freaking documents from vet visits before which was just vaccinations and exams. And this company is saying missing full medical history, what do you expect a four months kittens to have like hundreds of vet visits??? Shitty company, do not enroll – Tiffany R., Yelp 10/21/2019
They denied my dog's claim regarding diarrhea:( Useless company..
I'm going to cancel my 2 dog's policy soon… thinking to go back healthypaw or Pets Best….Not happy with claim process or benefit coverage…Super slow…i feel like i got scammed.. They gave me 0 from over $500 vet's bill.
They were asking too much paperwork as well… OMG.. nightmare.. – Yuri, TrustPilot 11/16/2019
Embrace vs Other Companies
See what the key differences are between Embrace and a leading pet insurance company.
Embrace vs Healthy Paws
All Healthy Paws plans include unlimited claim limits. The maximum claim limit you can get online from Embrace is $30,000, you must call in for unlimited claim limits.
Healthy Paws averages a 2-day claim repayment, while Embrace promises 10 to 15 business days (but typically processes quicker).
Embrace has a 2-day waiting period for accidents, while Healthy Paws has a 15-day waiting period for accidents.
Compare Embrace and Healthy Paws
Embrace vs Trupanion
Embrace has shorter waiting periods than Trupanion for illnesses and accidents, but Trupanion has shorter waiting periods for hip dysplasia and ACL surgery.
Embrace offers $5,000 and unlimited claim limits while Trupanion only offers unlimited.
Trupanion's underwriter is unrated while Embrace's has an A+ rating from A.M. Best.
Our Final Verdict On Embrace
Embrace has an overall positive reputation and fantastic customer support options, but its waiting periods for coverage are more restrictive than other companies. Monthly premiums vary widely, so we recommend getting an individual quote for your pet.
Doing your research before buying a pet insurance plan is not only smart, but it also demonstrates your love and responsibility as a pet parent. We invite you to read through our best pet insurance article, so you feel 100% positive about making the best decision for your furry friend.
What questions do you have about pet insurance before you buy?
Disclaimer: Pet health insurance is administered by Embrace Pet Insurance Agency, LLC and underwritten by one of the licensed insurers of American Modern Insurance Group, Inc., including American Modern Home Insurance Company d/b/a in CA as American Modern Insurance Company (Lic. No 2222-8), and American Southern Home Insurance Company. Coverage is subject to policy terms, conditions, limitations, exclusions, underwriting review, and approval, and may not be available for all risks or in all states. Rates and discounts vary, are determined by many factors, and are subject to change. Wellness Rewards is offered as a supplementary, non-insurance benefit administered by Embrace Pet Insurance Agency in the United States. © 2020 American Modern Insurance Group, Inc. + Wellness Rewards not available in Rhode Island.
Disclaimer: Information regarding insurance company offerings, pricing and other contract details are subject to change by the insurance company at any time and are not under the control of this website. Information published on this website is intended for reference use only. Please review your policy carefully before signing up for a new pet health insurance contract or any other contract as your unique circumstances will differ from those of others who may be used for example purposes in this article.
Disclaimer: The information provided through this website should not be used for diagnosing or treating a health problem or a disease. It is not a substitute for professional care. If you have or suspect you may have a health problem, you should consult your health care provider.
Disclaimer: This website contains reviews, opinions and information regarding products and services manufactured or provided by third parties. We are not responsible in any way for such products and services, and nothing contained here should be construed as a guarantee of the functionality, utility, safety or reliability of any product or services reviewed or discussed. Please follow the directions provided by the manufacturer or service provider when using any product or service reviewed or discussed on this website.