To sustain this free service, we receive affiliate commissions via some of our links. This doesn't affect rankings. Our review process.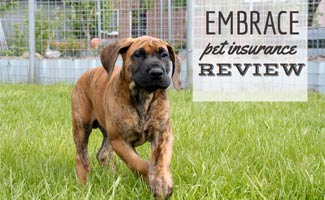 Just like health insurance, there are many companies and policies to choose from to insure your pet. How does Embrace stack up to the competition? We dive deep with coverage details, actual pricing quotes, and real customer reviews.
Article Overview
Embrace
Pros
No per incident limits on their claims as they use an annual deductible method of accounting
No lifetime limit
Offers optional Wellness Rewards
BBB rating is A+
Claims are paid between 5-15 days
Up to a 10% max discount for multiple pets
Cons
$1.00 monthly transaction fee and $25 enrollment fee
Requires a 2-day waiting period for accidents (14 days in some states), 14-day waiting period for illness coverage and a 6-month waiting period for orthopedic conditions, but can be reduced to 14 days through their Orthopedic Exam and Waiver Process
Only covers pets age 14 and younger for accident and illness (accident only may be available for ages 15+)
If one leg has a CCL (ACL) injury prior to enrollment, the other leg will not be covered even if there are no prior issues. It's considered a pre-existing condition.
No unlimited claims options
Key Features
Underwriter: American Modern Insurance Group
Exam period: Requires a vet exam within the last 12 months before the policy start date or 14 days after the start date
Medical History Review: Embrace offers a Medical History Review during enrollment. Essentially, this is a full insurance assessment of health history so you can feel confident in your pet's coverage, limiting coverage uncertainty.
Pre-existing conditions defined by Embrace:

a. Chronic Condition observed by you or your Veterinary Provider prior to the end of the Waiting Period for your Pet(s) and any related conditions; or
b. An Illness or Injury that first occurred or showed Clinical Signs prior to the end of the Waiting Period for your Pet and any related conditions.
Undiagnosed conditions with the same Clinical Signs as those in a. or b. above are also considered pre-existing.
Bilateral condition (a condition or disease that affects both sides of the body): If your pet has a pre-existing bilateral condition (e.g., ACL tear), they are at a higher risk of the same situation on the other side of the body, and future occurrences of the same condition won't be covered
Must submit claims within 60 days of renewal to the next term.
Reimbursement: Pays claims within 24 hours of processing. It processes 95% of claims within 5 business days and 40% within 2 business days. Embrace also follows a "deductible then copay" reimbursement model (vs most other companies that use "copay then deductible") which could put more money back in your pocket.
Prescription drug coverage for take-home medications available with any policy (in some states, this is an optional add-on)
Fax, email, upload to MyEmbrace or mail in your claim forms and get paid via check or direct deposit
30-day free look period (similar to a money-back guarantee)
Allstate, American Family, Geico, and USAA sell Embrace
Healthy Pet Deductible: Your pet's annual deductible goes down $50 each year you don't receive a claim reimbursement
24/7 PawSupport Pet Health Line allows you to speak with a pet professional day or night via live chat, video and phone
Customer Service Hours:

Live chat: Monday – Friday 8:30am – 5pm ET
Contact center: Monday – Friday 8:30am – 8pm ET and Saturday 9am – 1pm ET

What Does Embrace Cover?
Below are items covered (and not covered) by Embrace as of December 2018.
| Covered by Embrace | Not Covered by Embrace |
| --- | --- |
| Breed-specific and genetic conditions | Avian flu or nuclear war |
| Congenital conditions | Pre-existing conditions |
| Chronic conditions | Breeding, whelping and pregnancy |
| Cancer | Injury caused deliberately by you or any other person residing in your home |
| Exam fees | Injury or illness resulting from fighting, racing, cruelty or neglect |
| Alternative therapies and rehabilitation | Cosmetic procedures such as tail docking, ear cropping or dew claw removal unless medically necessary |
| Behavioral therapy | DNA testing or cloning |
| ER and specialist care | Stem cell therapy not deemed medically necessary |
| Diagnostic testing | |
| Hospitalization and surgery | |
| Prosthetic limbs and devices including mobility aids | |
| Accidents | |
| Illnesses | |
| Dental illness up to $1,000/year | |
| Prescription drugs | |
Is Hip Dysplasia Covered?
A bilateral hip replacement for your dog could cost $7,000 to $12,000 for surgery alone. For other types of surgeries, $1,500 to $3,000 per hip is the average. Aside from surgery, your dog will need pain medication for life and possibly supplements, which can add up in costs.
Fortunately, Embrace provides coverage if your dog develops hip dysplasia, as long as the 6-month waiting period is over.
Pricing Quotes
Embrace offers the following options for your pet insurance plan.
Annual maximum: $5,000, $8,000, $10,000, $15,000 or $30,000
Annual deductible: $200, $300, $500, $750 or $1,000
Reimbursement: 70%, 80% or 90%
The cost of each policy is unique to your pet and depends on many variables, including your pet's age, breed, location, health conditions and more. To give you a general idea, we gathered the following sample quotes in December 2018 (these don't include Wellness Rewards).
| Breed | Labrador Retriever | Golden Retriever | German Shepherd | Yorkshire Terrier | Yorkshire Terrier | Yorkshire Terrier | Mixed Breed Cat |
| --- | --- | --- | --- | --- | --- | --- | --- |
| Gender | Male | Female | Male | Female | Male | Female | Male |
| Spayed/Neutered | | | | | | | |
| Age | 2 | 8 | 4 | 6 | 4 months | 7 months | 2 |
| Location | Iowa (zip code 50125) | Illinois (zip code 60631) | California (zip code 92027) | New York (zip code 10012) | New York (zip code 10012) | Iowa (zip code 50125) | Ohio (zip code 44108) |
| Price Per Month | $40.70 | $60.28 | $39.61 | $84.36 | $75.84 | $12.50 | $22.93 |
| Annual Maximum | $10,000 | $5,000 | $8,000 | $5,000 | $5,000 | $30,000 | $10,000 |
| Annual Deductible | $200 | $500 | $500 | $200 | $200 | $1,000 | $200 |
| Reimbursement Level | 80% | 70% | 80% | 90% | 90% | 70% | 80% |
| Prescription Drug Coverage | | | | | | | |
You can get personalized price quotes for your pet(s) from some of the best companies when you fill out just 1 short form. Also visit our Pet Insurance Quotes page to see how the cost of Embrace stacks up against the competition.
Embrace Wellness Plans & Pricing
Embrace also offers an optional Wellness Rewards program for an additional fee. Embrace will reimburse 100% of your pet's routine care costs up to the selected amount of coverage you choose. You can select $250, $450 or $650 for this program. This money can go towards the following:
Spay/neuter surgery
Flea, tick, and heartworm preventative
Vaccinations and titers
Wellness exams
Routine blood and fecal parasite exams
Microchip implant and registration
Prescription diet food
Teeth cleaning
Dental x-rays, crowns and fillings
Nutritional supplements
Medicated shampoos
Behavioral training
Coupon Code
Embrace offers a few different discount options. Spayed or neutered pets in NY get a 5% discount. If you have multiple pets, each one gets 10% off (5% in NY). You can also pay annually and get 5% off in NY. Click here to access any of these discounts.
Waiting Periods
If you're unfamiliar with cruciate ligament tears and what they can entail, watch Heidi's story below.
Embrace Customer Reviews
Read about how Embrace has treated these real-life customers. We've got good and bad feedback to share with you.
Positive Reviews
I hate to read other people's poor experiences with Embrace. My Labrador has been "Embraced" for her whole life–7 years now–with both the wellness policy and the accident/illness policy. EVERY SINGLE YEAR, the insurance pays for itself. Most recently, my dog suffered from pancreatitis with causes unknown. We've racked up over $4,000 in medical bills since this time, and Embrace has covered all of it. They decide claims quickly and auto-deposit into your checking account. I'll continue on with Embrace! – Ashton P., Yelp 4/15/2018
I am obsessed with this company! We have three dogs insured with Embrace, ranging between 4 years old and under a year. They are so great to work with. The Embracers in the customer service call center are so friendly and prepared with knowledge and willingness to help solve your issues. We just had a hiccup regarding a claim for our oldest dog, Jerry Lee and I called their customer service line. Embracer Courtney answered and she quickly pulled up the claim in question, did a little investigating and figured out what went wrong in processing. She took ownership of the issue and assured me that she would personally see to the resolution of my problem. It's so comforting to know that when my pups have health problems – or even just need vaccinations or grooming – I can rely on the people at Embrace to make sure we're always able to give them the best care we can find. Thank you, Embracers! – Kirsten R., Facebook 4/23/2018
Negative Reviews
Two words: Claim Denied. Embrace Pet Insurance I don't think ever covered my dog and she was insured since she was a puppy and has no health issues. Guess what, they will find health issues. They fill find ways not to cover you. What I got was a head ache. My dog has a bug, I brought her to the vet. This adjuster, Christine W., came up with most insane and obscure reasons why my dog was not covered. Pleasant as could be, she would protect her company from payouts like an Olympic champion! Mine was only $300! Honestly, at one point they told me my puppy had a degenerative back disease because they did not process the orthopedic report. When that was cleared up she came up with a laundry list a mile long of illness my dogs must have that they can not cover! This is when I cancelled the policy. ENJOY YOUR TIME WITH YOUR DOG, it's PRECIOUS. Save you money, put it in a Health Savings Account for your beloved BEST FRIEND! Don't give your money to this scam. Guess what, my dog is bred for health! She and all her relatives are very very healthy! What they say couldn't be further from the truth. The people who respond to to these Yelp reviews are just trying to do damage control for those who haven't yet had the rude awakening that you are being taken for a ride. Shame on them for marketing themselves as animal lover. It takes a real heartless person to do what these claims adjustors do. – Luna M., Yelp 2/12/2018
I am more than disappointed. Unprofessional staff that do not answer and call you back. When asked for a refund the charged me additionally. They do not cover claims and it takes them weeks to process a claim if there is one. I would highly recommend not using this pet insurance company. – KyleG, BBB 11/7/2018
Our Final Verdict On Embrace
Embrace has an overall positive reputation and fantastic customer support options, but its waiting periods for coverage are more restrictive than other companies. Monthly premiums vary widely, so we recommend getting an individual quote for your pet.
Doing your research before buying a pet insurance plan is not only smart, but it also demonstrates your love and responsibility as a pet parent. We invite you to read through our best pet insurance article, so you feel 100% positive about making the best decision for your furry friend.
What questions do you have about pet insurance before you buy?
Disclaimer: Information regarding insurance company offerings, pricing and other contract details are subject to change by the insurance company at any time and are not under the control of this website. Information published on this website is intended for reference use only. Please review your policy carefully before signing up for a new pet health insurance contract or any other contract as your unique circumstances will differ from those of others who may be used for example purposes in this article.
Disclaimer: The information provided through this website should not be used for diagnosing or treating a health problem or a disease. It is not a substitute for professional care. If you have or suspect you may have a health problem, you should consult your health care provider.
Disclaimer: This website contains reviews, opinions and information regarding products and services manufactured or provided by third parties. We are not responsible in any way for such products and services, and nothing contained here should be construed as a guarantee of the functionality, utility, safety or reliability of any product or services reviewed or discussed. Please follow the directions provided by the manufacturer or service provider when using any product or service reviewed or discussed on this website.