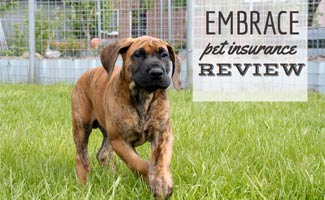 Just like health insurance, there are many companies and policies to choose from to insure your pet. How does Embrace stack up to its pet insurance competition? We dive deep with coverage details, actual pricing quotes, and real customer reviews.
Embrace
Pros
No per-incident limits on their claims as they use an annual deductible
No lifetime limit
Offers optional Wellness Rewards (not available in RI; must purchase in conjunction with pet insurance)
BBB rating is A+
Pays claims between 8-9 days on average
Up to a 10% max discount for multiple pets (5% in NY)
Covers your pet if they travel outside the U.S. with you
Cons
$1.00 monthly transaction fee and $25 enrollment fee
Only covers enrolled pets age 14 and younger for accidents and illnesses (accident only may be available for ages 15+)
If one leg has a CCL (ACL) injury prior to enrollment, the other leg will not be covered even if there are no prior issues; it's considered a pre-existing condition
New customer must call to access unlimited payout option
Alternatives To Embrace
While Embrace has a lot to offer, it didn't make it into our top three picks for best pet insurance providers. Our experts have analyzed over a dozen pet insurance providers. Check out our pet insurance reviews to learn more about this year's top-ranked companies.
Key Features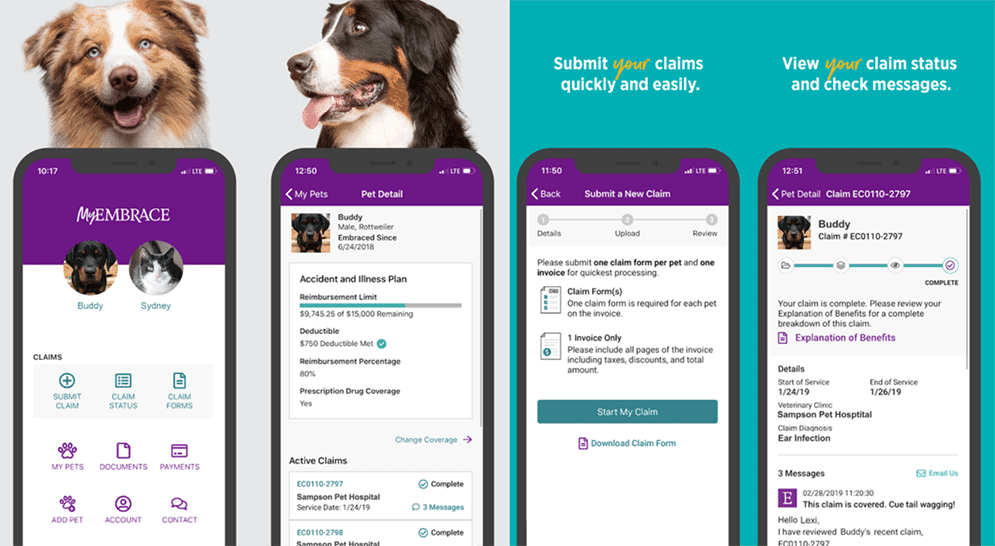 Underwriter: American Modern Property and Casualty Insurance Group

A.M. Best rating: A+ (Munich Reinsurance, Inc., which owns American Modern Property and Casualty Insurance Group)

Medical history review: Embrace offers a Medical History Review during enrollment. Essentially, this is a full insurance assessment of health history so you can feel confident in your pet's coverage, limiting coverage uncertainty.
Bilateral condition (a condition or disease that affects both sides of the body): If your pet has a pre-existing bilateral condition (e.g., ACL tear), they're at a higher risk of the same situation on the other side of the body, and future occurrences of the same condition won't be covered.
Claims process:

Must submit accident and illness claims within 60 days of renewal to the next term (no deadline for wellness claims)
Fax, email, upload to MyEmbrace, use the app (Android | iOS), or mail in your claim forms and get paid via check or direct deposit
Claim repayment averages 8-9 days for accident and illness and 5 days for wellness

30-day free look period (similar to a money-back guarantee)
Allstate, American Family, Geico, and USAA sell Embrace
Healthy Pet Deductible: Your pet's annual deductible goes down $50 each year you don't receive an accident or illness claim reimbursement. This is the best "diminishing deductible" feature in the pet insurance industry since it can bring your deductible down to $0. This feature is the reason Embrace was awarded the best for healthy pet discount award in our best pet insurance article.
24/7 PawSupport Pet Health Line allows you to speak with a pet professional day or night via live chat, video, and phone
Other discounts available: 5% military discount (not available in NY and TN), 10% multiple pet discount, and 15% USAA discount available in most states
The three most common claims paid out by Embrace Pet Insurance are:

Otitis (ear infection)

Vet bill averages $190
Reimbursement averages $150

Allergies

Vet bill averages $529
Reimbursement averages $474

Offers pre-approval of estimates/procedures in advance of treatment
Pets enrolled after their 15th birthday are solely eligible for the accident-only policy
Among our top picks for best pet dental insurance and best for multiple pets
Exam Period
Embrace requires a vet exam within the last 12 months before the policy start date or 14 days after the start date.
Pre-Existing Conditions
Defined by Embrace as:
a. Chronic Condition observed by you or your Veterinary Provider prior to the end of the Waiting Period for your Pet(s) and any related conditions; or
b. An Illness or Injury that first occurred or showed Clinical Signs prior to the end of the Waiting Period for your Pet and any related conditions.
Undiagnosed conditions with the same Clinical Signs as those in a. or b. above are also considered pre-existing.
Customer Service Hours
Email and phone: Monday – Friday 8:30am – 8pm ET and Saturday 9am – 1pm ET
Waiting Periods
14 days: Illnesses
2 days: Accidents
6 months (or 14 days with an orthopedic report card* submitted; not applicable to cats): Orthopedic conditions in dogs (including cruciate ligament events)
*An orthopedic report card is a veterinary exam and waiver process designed to assess any bone or muscle deformities in your dog. To reduce the six-month waiting period for orthopedic conditions, take your dog to the vet and have an orthopedic exam conducted after your policy is purchased. Your vet will record any health findings for your dog's hips, legs, shoulders, forelimbs, spine, joints, and bones. You can learn more about Embrace's orthopedic exam and waiver process for dogs.
If you're unfamiliar with cruciate ligament tears and what they can entail, watch Heidi's story below.
What Does Embrace Cover?
Please know that none of the pet insurance providers in our comparison cover pre-existing conditions or cremation and burial costs. All of them cover the following items when deemed medically necessary: x-rays, blood tests, ultrasounds, cat scans, MRIs, rehabilitation, specialized exams, surgery, hospitalization, emergency care, specialty care, hydrotherapy, chronic conditions, cancer, diagnostic treatment, alternative/holistic therapy, and euthanasia. However, there may be limitations to this coverage, so please check your policy.
| Condition | Covered By Embrace |
| --- | --- |
| Exam Required To Set Health Baseline | |
| Behavioral Therapies | |
| Exam Fees | |
| Wellness Care Available For An Extra Fee | |
| Non-Routine Dental Treatment | |
| Hereditary Conditions | |
| Congenital Conditions | |
| Dental Illness | Up To $1,000/Year |
| Prescription Medication | |
| Breed, Whelping, Pregnancy | |
| Cosmetic Procedures (e.g., Tail Docking, Ear Cropping, Dew Claw Removal) Unless Medically Necessary | |
Is Hip Dysplasia Covered?
A bilateral hip replacement for your dog could cost $7,000 to $12,000 for surgery alone. For other types of surgeries, $1,500 to $3,000 per hip is the average. Aside from surgery, your dog will need pain medication for life and possibly supplements, which can add up in costs.
Fortunately, Embrace provides coverage if your dog develops hip dysplasia, as long as the six-month waiting period is over. The waiting period is lowered to 14 days if an orthopedic report card is filled out.
Pricing Quotes
Embrace offers the following options for your pet insurance plan.
Annual payout: $5,000, $8,000, $10,000, $15,000, or $30,000 (unlimited is available via phone)
Annual deductible: $200, $300, $500, $750, or $1,000
Reimbursement: 70%, 80%, or 90%
The cost of each policy is unique to your pet and depends on many variables, including your pet's age, breed, location, health conditions, and more. To give you a general idea, we gathered the following sample quotes in June 2021 (these don't include Wellness Rewards).
| Breed | Labrador Retriever | Golden Retriever | German Shepherd | Yorkshire Terrier | Yorkshire Terrier | Mixed Breed Cat |
| --- | --- | --- | --- | --- | --- | --- |
| Gender | Male | Female | Male | Female | Female | Male |
| Age | 2 years | 8 years | 4 years | 6 years | 7 months | 2 years |
| Location | Iowa (zip code 50125) | Illinois (zip code 60631) | California (zip code 92027) | New York (zip code 10012) | Iowa (zip code 50125) | Ohio (zip code 44108) |
| Annual Payout Limit | $10,000 | $5,000 | $8,000 | $5,000 | $30,000 | $10,000 |
| Annual Deductible | $200 | $500 | $500 | $200 | $1,000 | $200 |
| Reimbursement Level | 80% | 70% | 80% | 90% | 70% | 80% |
| Price Per Month | $48.10 | $67.10 | $46.17 | $80.60 | $14.77 | $22.77 |
You can get personalized price quotes for your pet(s) from some of the best companies when you fill out just one short form. Also, visit our pet insurance quotes page to see how the cost of Embrace stacks up against the competition.
Embrace Wellness Plans & Pricing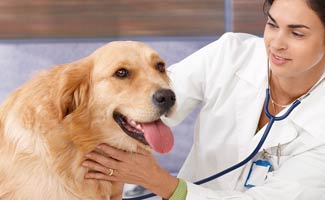 Embrace also offers an optional Wellness Rewards* program for an additional fee. Embrace will reimburse 100% of your pet's routine care costs up to the selected amount of coverage you choose. You can select from the following amounts per year, which also lists their monthly cost:
$250 Wellness Rewards per year: an additional $18.75 per month
$450 Wellness Rewards per year: an additional $35.42 per month
$650 Wellness Rewards per year: an additional $52.09 per month
This money can go toward the following but not limited to:
Flea, tick, and heartworm preventative
Vaccinations and titers (amount of antibodies in blood)
Wellness exams
Routine blood and fecal parasite exams
Microchip implant and registration
Prescription diet food
Teeth cleaning
Nutritional supplements
Medicated shampoos
Behavioral training
*Not available in RI.
Embrace Promo Code
Embrace offers a few different discounts:
If you have multiple pets, each one gets 10% off (5% in NY).
Pay annually and get 5% off in NY.
USAA customers are eligible for a discount of up to 15% off.
No discount code needed -
click here
to take advantage of these offers. You can also visit our
dedicated Embrace promotions page
.
Reimbursement Story
Dog: Mila, 6-month-old Husky
Accident: Jumped out of the car window while moving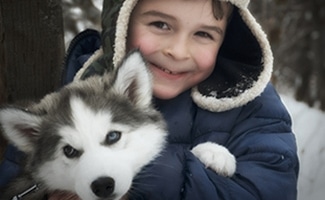 Mila jumped out of the car window when the car was going five mph and was taken to the emergency room immediately. X-rays showed that she broke her pelvis in six different locations. They were not sure they could repair her pelvis, so they ordered a CT scan.
Nici, Mila's pet parent, told them to do whatever they needed because she had pet insurance. Nici's Embrace plan had a $500 deductible and an 80% reimbursement. After a five-hour surgery, eight weeks of restricted activity, and 12 weeks of massage, laser, and hydrotherapy, she is fully recovered and back to her crazy puppy self.
Treatment Cost: $7,748.04
Embrace Reimbursed: $5,798.43
Final Cost For Pet Parents: $1,949.61 ($500 deductible and $1,449.61 copay)
Embrace uses a "deductible then copay" reimbursement method. This is calculated in the following way:
Actual vet bill amount – Remaining annual deductible – Copay = Reimbursement amount
So in the example above, the reimbursement is calculated the following way:
$7,748.04 (vet bill) – $500 (remaining deductible) – $1,449.61 (copay) = $5,798.43 (reimbursed amount)
Customer Reviews
Below are some Embrace pet insurance reviews from real customers.
Positive Reviews
It blows my mind to read so many negative reviews, particularly about Embrace's responsiveness. I have had the exact opposite experience.
When a claim was declined, and I was pissed, I spoke to/exchanged emails with six people. I was definitely not pleasant; the Embrace staff always was. The claims I was upset about were declined, but after all of the back-and-forth I completely understood why. In addition, a permanent exclusion (pre-existing condition) became temporary after I provided documentation. Since then, a dental procedure was pre-approved and a claim I submitted was processed and paid within a week.
The best thing about Embrace, though, is the 24-hour helpline. I called very late on a Sunday night and spoke to someone within three minutes. I was given advice that was a) correct and b) soothing. That alone is worth the premium. – Julie F., Yelp 3/1/2021
We got a new puppy a year ago. He is very athletic. We researched pet insurance (this was our first time). I have USAA insurance and they partner with Embrace. We selected the right coverage for us and have had great insurance for our dog, Finnigan. Finnigan has had three issues in the last year. The claims were turned around in 48 hours (2nd and 3rd). On line submission was seamless! We would recommend Embrace whole heartedly! – MBG, Trustpilot 6/8/2021
Complaints
Truly the worst experience I've ever had with an insurance company, which says a lot. If your dog gets sick and you haven't paid enough into the plan, you can expect your claim to get denied, by saying that everything is a pre-existing condition.
I regret every dollar spent with them and not choosing a different provider. I cannot recommend them at all. – Brian D., Yelp 6/7/2021
Seemed good the first month but the customer service stinks, was on hold for an hour. The claims wait periods take forever. Always need documents. They seem more into not covering then covering. They tell you dental is covered then tell you cleaning goes into wellness after your dental appointment. Rigged. I'm canceling and moving on. – Rudy, Trustpilot 6/5/2021
Frequently Asked Questions
Here are responses to frequently asked questions regarding Embrace pet insurance from our readers.
Does Embrace Pet Insurance Cover Euthanasia?
Yes, it does. You can read more about what Embrace covers here.
Does Embrace Pet Insurance Cover Neutering Or Spaying?
It only covers neutering (and spaying) if you purchase a wellness plan.
How Can I Cancel Embrace Pet Insurance?
You can cancel your Embrace pet insurance policy by calling 800-511-9172 or emailing hello@embracepetinsurance.com.
If you'd like a replacement for your Embrace insurance policy, take a look at our pet insurance reviews to see which pet insurance companies we've selected in our top three.
Will I Receive A Refund?
If you cancel within 30 days of your policy start date and have not submitted any claims, you will receive a full refund. If you cancel after 30 days of the start of your policy, or if you have submitted claims in the first 30 days, you may be eligible for a prorated refund. Prorated refunds are calculated from the day after you cancel to the end of the current billing cycle.
Click here to learn more about Embrace's cancellation policy.
Embrace vs Other Companies
Interested in seeing how Embrace stacks up against other popular pet insurance companies? We've written comparison articles for you to see how Embrace and other leading pet insurance companies compare in coverage, customer service and reputation, claim repayment timeline, plan customization, and price.
Our Final Verdict On Embrace
Embrace has an overall positive reputation and fantastic customer support options, but its waiting periods for coverage are more restrictive than other companies. Monthly premiums vary widely, so we recommend getting an individual quote for your pet.
Doing your research before buying a pet insurance plan is not only smart, but it also demonstrates your love and responsibility as a pet parent. We invite you to read through our best pet insurance article, so you feel 100% positive about making the best decision for your furry friend.
What questions do you have about pet insurance before you buy?
Disclaimer: Pet health insurance is administered by Embrace Pet Insurance Agency, LLC and underwritten by one of the licensed insurers of American Modern Insurance Group, Inc., including American Modern Home Insurance Company d/b/a in CA as American Modern Insurance Company (Lic. No 2222-8), and American Southern Home Insurance Company. Coverage is subject to policy terms, conditions, limitations, exclusions, underwriting review, and approval, and may not be available for all risks or in all states. Rates and discounts vary, are determined by many factors, and are subject to change. Wellness Rewards is offered as a supplementary, non-insurance benefit administered by Embrace Pet Insurance Agency in the United States. © 2020 American Modern Insurance Group, Inc. + Wellness Rewards not available in Rhode Island.