To keep the lights on, we receive affiliate commissions via some of our links. Our review process.
Just like health insurance, there are many companies and policies to choose from to insure your pet. How does Embrace stack up to its pet insurance competition? We dive deep into coverage details, plan options, claim processing information, and more.

Embrace Pet Insurance Review

Product Name: Embrace Pet Insurance
Product Description: Embrace offers pet insurance for dogs and cats
Summary
Embrace plans have few exclusions and more comprehensive dental coverage than competitors. Pricing is often higher than competitors, but customers report a speedy claim reimbursement process.
Our pet insurance experts read through each pet insurance company's policy to provide detailed comparisons and information regarding how a provider fares against others in the industry. We also speak with customers, read online feedback, and communicate one-on-one with pet insurance companies to obtain a well-rounded, unbiased analysis of a company's standings.
Our team rates pet insurance companies based on several factors, including A.M. Best ratings (an indicator of financial stability), claim processing reputations, contract coverage, customer service, pricing, plan customizations, and more.
Pros
No per-incident limits on their claims as they use an annual deductible
No lifetime limit
Offers optional Wellness Rewards (not available in RI; must purchase in conjunction with pet insurance)
Pays claims within 5 days on average Up to a 10% max discount for multiple pets (5% in NY)
Covers your pet if they travel outside the U.S. with you
30-day money-back guarantee
Cons
$1.00 transaction fee (waived if you pay annually) and $25 enrollment fee
Only covers enrolled pets age 14 and younger for accidents and illnesses (accident only may be available for ages 15+)
If one leg has a CCL (ACL) injury prior to enrollment, the other leg will not be covered even if there are no prior issues; it's considered a pre-existing condition
Key Features
Underwriter: American Modern Property and Casualty Insurance Group

A.M. Best rating: A+ (Munich Reinsurance, Inc., which owns American Modern Property and Casualty Insurance Group)

Medical history review: Embrace offers a Medical History Review during enrollment. Essentially, this is a full insurance assessment of health history so you can feel confident in your pet's coverage, limiting coverage uncertainty.
Bilateral condition (a condition or disease that affects both sides of the body): If your pet has a pre-existing bilateral condition (e.g., ACL tear), they're at a higher risk of the same situation on the other side of the body and any future occurrences of the same condition won't be covered.
Claims process:

Must submit accident and illness claims within 60 days of renewal to the next term (no deadline for wellness claims)
Submit claims via MyEmbrace portal, app, mail, email, or fax and get paid via check or direct deposit
More than 50% of claims are processed within 5 days

Allstate, American Family, Geico, and USAA sell Embrace
Offers pre-approval of estimates/procedures in advance of treatment
Pets enrolled after their 15th birthday are solely eligible for the accident-only policy
Covers curable pre-existing conditions as long as the pet goes symptom or treatment free for 1 year or more
Embrace requires a vet exam within the last 12 months before the policy start date or 14 days after the start date.
Customer Service Options & Hours
Live chat, fax, phone: Monday – Friday 9am – 8pm EST and Saturday 10am – 2pm EST
24/7 PawSupport Pet Health Line allows you to speak with a pet professional day or night via live chat, video, and phone
Waiting Periods*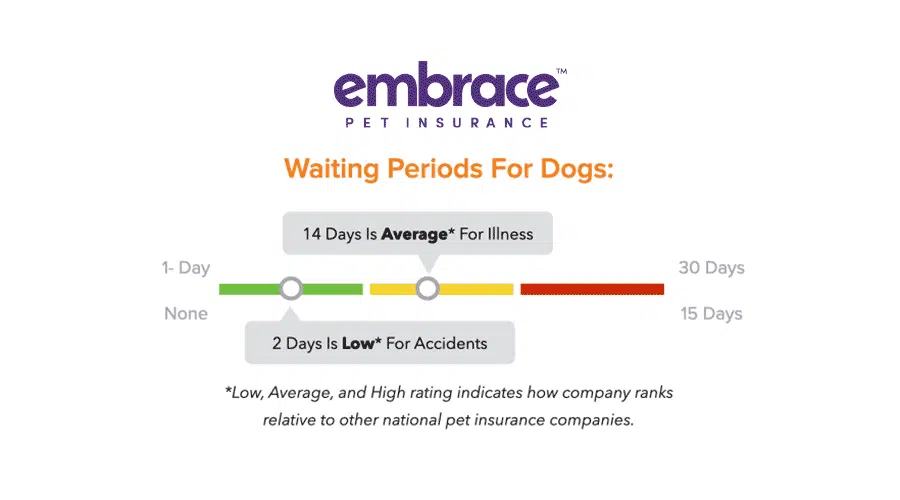 Illnesses: 14 days
Accidents: 2 days
Orthopedic conditions (e.g., cruciate ligament, hip dysplasia, etc.): 6 months or 14 days with an orthopedic report card† submitted; not applicable to cats)
Wellness: 0 days
*Waiting periods for California, Maine, and Mississippi are as follows:
Accidents - 0 days
Illnesses - 14 days
Cruciate Ligament Conditions - 30 days
Routine Care - 0 days
†An orthopedic report card is a veterinary exam and waiver process designed to assess any bone or muscle deformities in your dog. To reduce the six-month waiting period for orthopedic conditions, take your dog to the vet and have an orthopedic exam conducted after your policy is purchased. Your vet will record any health findings for your dog's hips, legs, shoulders, forelimbs, spine, joints, and bones. You can learn more about Embrace's orthopedic exam and waiver process for dogs.
Watch Heidi's story below if you're unfamiliar with cruciate ligament tears and what they can entail.
What Does Embrace Cover?
Please know that none of the providers in our pet insurance comparison charts cover pre-existing conditions, cremation and burial costs, pregnancy and breeding, or unnecessary cosmetic procedures.
All of them cover the following items when deemed medically necessary: emergency care, surgery and hospitalization, specialized exams and specialty care, X-rays, blood tests, ultrasounds, cat scans, MRIs, rehabilitation, cancer, chronic conditions, euthanasia, hereditary conditions, congenital conditions, non-routine dental treatment, and prescription medications. However, this coverage may have limitations, so please check your policy.
| Condition | Covered By Embrace |
| --- | --- |
| Behavioral Therapies | |
| Alternative/Holistic Therapies | |
| Exam Fees | |
| Wellness Care | Extra Fee |
What's Embrace's Accident-Only Plan?
Embrace is one of the few pet insurance companies that offer an accident-only plan; however, it's only available for dogs enrolled at 15 years old or older. Dogs enrolled after their 15th birthday are not eligible for Embrace's accident and illness plan. The accident-only plan includes a $5,000 annual payout limit, $100 deductible, and 90% reimbursement. It only covers accidents (as its name suggests), so things like broken bones are covered.
It doesn't cover any illnesses, routine care, acupuncture, or chiropractic treatment. There is a two-day waiting period for Embrace's Accident Only plan before coverage kicks in and an additional six-month waiting period for torn ligaments.
What Are Embrace's Wellness Plans & Pricing?
Embrace also offers an optional Wellness Rewards (not available in Rhode Island) program for an additional fee. Embrace will reimburse 100% of your pet's routine care costs up to the selected amount of coverage you choose. You can select from the following amounts per year, which also lists their monthly cost:
$250 Wellness Rewards per year: an additional $18.75 per month
$450 Wellness Rewards per year: an additional $35.42 per month
$650 Wellness Rewards per year: an additional $52.09 per month
This money can go toward the following but not limited to:
Routine vet visits
Flea, tick, and heartworm medications
Microchipping
Spay/neuter surgery
Massage and acupuncture
Prescription diet food
Vaccinations
Anal gland expression
Cremation or burial
Grooming
Fecal and routine blood tests
Medicated shampoos
Routine chiropractic care
Teeth cleaning
Training classes
Toenail trimming
Pet activity monitors
How Is Embrace's Pricing Determined?
Embrace has a $25 enrollment fee and a $1 transaction fee (waived if you pay annually). Your monthly premium is based on the deductible, reimbursement percentage, and annual payout options that you choose from the table below.
Deductible Options
Payout Options
Reimbursement Options
$100
$250
$500
$750
$1,000
$5,000
$8,000
$10,000
$15,000
Unlimited
70%
80%
90%
Pricing is also based on your pet's details (age, breed, location, pre-existing conditions, etc.). We recommend obtaining quotes from Embrace for your specific pet to get an idea of how much a policy would cost you.
Does Embrace Have Discounts?
Embrace offers the following discounts:
10% off (5% off in NY) for multiple pets
5% off for military and veterans (NY and TN excluded)
10% off if your company or clinic offers Embrace as an employee benefit (FL, ND, NY, and TN excluded)
5% off in NY if you pay annually
Up to 25% off for eligible USAA customers
Your deductible automatically goes down $50 each year you don't receive a claim payment
No promo code is needed. Use this link to take advantage of the best possible price. You can also visit our dedicated Embrace promotions page to learn more.
How Does The Claim & Reimbursement Process Work?
Embrace uses a "deductible then copay" reimbursement method. This is calculated in the following way:
Actual vet bill amount – Remaining annual deductible – Copay = Reimbursement amount
So in the example below, the reimbursement is calculated the following way:
$7,748.04 (vet bill) – $500 (remaining deductible) – $1,449.61 (copay) = $5,798.43 (reimbursed amount)
Reimbursement Story
Dog: Mila, 6-month-old Husky
Accident: Jumped out of the car window while moving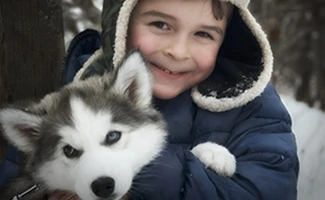 Mila jumped out of the car window when the car was going five mph and was immediately taken to the emergency room. X-rays showed that she broke her pelvis in six different locations. They were not sure they could repair her pelvis, so they ordered a CT scan. Nici, Mila's pet parent, told them to do whatever they needed because she had pet insurance. Nici's Embrace plan had a $500 deductible and an 80% reimbursement. After a five-hour surgery, eight weeks of restricted activity, and 12 weeks of massage, laser, and hydrotherapy, she is fully recovered and back to her crazy puppy self.
Treatment Cost: $7,748.04
Embrace Reimbursed: $5,798.43
Final Cost For Pet Parents: $1,949.61 ($500 deductible and $1,449.61 copay)
What Are The Most Common Claims Submitted To Embrace?
Gastro issues (vomiting/diarrhea)

Vet bill averages $350
Reimbursement averages $310

Otitis (ear infection)

Vet bill averages $190
Reimbursement averages $150

Allergies

Vet bill averages $529
Reimbursement averages $474
Frequently Asked Questions
Here are responses to frequently asked questions regarding Embrace pet insurance from our readers.
How Long Does It Take Embrace To Reimburse?
Embrace pays claims within five days on average.
Does Embrace Pet Insurance Cover Euthanasia?
Yes, it does. You can read more about what Embrace covers here.
Does Embrace Cover Ear Infections?
Yes, as long as it's not a pre-existing condition or if the last ear infection has been completely cleared up and symptom-free for 12 months.
Does Embrace Cover Breeding?
No, Embrace doesn't cover costs for any treatment resulting from breeding, pregnancy, whelping, or queening.
Does Embrace Pet Insurance Cover Neutering Or Spaying?
It only covers neutering (and spaying) if you purchase a wellness plan.
How Can I Cancel Embrace Pet Insurance?
You can cancel your Embrace pet insurance policy by calling 800-511-9172 or emailing [email protected].
If you'd like a replacement for your Embrace insurance policy, take a look at our pet insurance reviews to see which pet insurance companies we recommend.
Will I Receive A Refund?
If you cancel within 30 days of your policy start date and have not submitted any claims, you will receive a full refund. If you cancel after 30 days of the start of your policy or if you have submitted claims in the first 30 days, you may be eligible for a prorated refund. Prorated refunds are calculated from the day after you cancel to the end of the current billing cycle.
Click here to learn more about Embrace's cancellation policy.
Embrace vs Other Companies
Interested in seeing how Embrace stacks up against other popular pet insurance companies? We've written comparison articles for you to see how Embrace and other leading pet insurance companies compare in coverage, customer service and reputation, claim processing, plan customization, and price.
Our Final Verdict On Embrace

Embrace has an overall positive reputation and fantastic customer support options, but its waiting periods for coverage are more restrictive than other companies. Monthly premiums vary widely, so we recommend getting an individual quote for your pet.
Doing your research before buying a pet insurance plan is not only smart, but it also demonstrates your love and responsibility as a pet parent. We invite you to read through our best pet insurance guide so you feel 100% positive about making the best decision for your furry friend.
Disclaimer: Pet health insurance is administered by Embrace Pet Insurance Agency, LLC and underwritten by one of the licensed insurers of American Modern Insurance Group, Inc., including American Modern Home Insurance Company d/b/a in CA as American Modern Insurance Company (Lic. No 2222-8), and American Southern Home Insurance Company. Coverage is subject to policy terms, conditions, limitations, exclusions, underwriting review, and approval, and may not be available for all risks or in all states. Rates and discounts vary, are determined by many factors, and are subject to change. Wellness Rewards is offered as a supplementary, non-insurance benefit administered by Embrace Pet Insurance Agency in the United States. © 2020 American Modern Insurance Group, Inc. + Wellness Rewards not available in Rhode Island.
Tagged With: Reviewed By Insurance Agent