How do we keep this site running? This post may contain affiliate links — the cost is the same to you, but we get a referral fee. Compensation does not affect rankings. Thanks!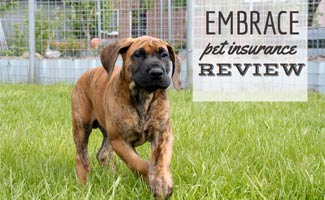 When it comes to choosing insurance for your pet there are a number of companies and policy types to consider. Embrace Pet Insurance is just one of the available insurance companies for pet owners to choose from. In this comprehensive review, we will take a look at Embrace Pet Insurance including who they are, what they offer, pricing information, pros and cons, and how to take advantage of discounts and savings on your policy.
Who is Embrace Pet Insurance?
Embrace took home 5th place in our pet insurance comparison due to their great customer service and high reimbursement rates. Embrace Pet Insurance was founded in July of 2003 when Wharton MBA graduates Laura Bennett and Alex Krooglik decided that they wanted to make a difference in the pet insurance industry. It took a few years to get Embrace Pet Insurance established and off the ground but in October of 2006 the first policy was sold. The journey of establishing Embrace was a long one punctuated by many highs and a few obstacles, but by June 2011 the Ohio-based company was beginning to show positive cash flow.
Who is the Underwriter for Embrace Pet Insurance?
An underwriter in insurance is someone who assesses the level of risk that is associated with a person, an asset or an activity. This assessment is used to determine premium pricing (your premium is the amount of money you pay out-of-pocket for your insurance policy) for the insurance company. Embrace Pet Insurance is underwritten by American Modern Insurance Group for all states and the District of Columbia except for Florida, which is underwritten by American Southern Home Insurance Company.
Review Overview
Customer Service & Reputation
Timeliness of Claim Payment
Embrace pays claims within 15 days and has good customer service. However, their prices could decrease and they do have more exclusions than other pet insurance providers.
What is Covered by Embrace?
Covered by Embrace
Not Covered by Embrace
Exam Fees
Treatment for an illness related to teeth and/or gums
Laboratory Tests and Biopsies
Breeding, whelping or pregnancy
Hospitalization and Surgery
Pre-existing Conditions
MRI and CT scans, X-rays, Ultrasound
Injury caused deliberately by you or any other person residing in your home
General, Specialist and Emergency Care
Injury or illness resulting from fighting, racing, cruelty or neglect
Allergy Testing
Cosmetic procedures such as tail docking, ear cropping or dew claw removal unless medically necessary
Acupuncture, Chiropractor, Holistic Medicine
DNA testing or cloning
Physical Therapy including Hydrotherapy
Organ transplants
RX Medications (unless you opt out)
Avian flu
Laparoscopies, Laser Surgery
Nuclear war (yes, really!)
Accidents
Illnesses
Genetic Conditions (such as hip dysplasia)
Chronic Conditions (such as asthma)
Dental Trauma
Cancer Treatment including Chemotherapy
Cremation or burial
Additional fee
Optional Coverage Under Embrace Pet Insurance
In addition to the services that come standard under the Embrace Pet Insurance plan, there are additional services that pet owners can purchase.
Prescription Drug Coverage
For pet parents with healthy animals, prescription drug coverage may not be needed. However, if your pet has chronic health conditions and requires monthly medications, then prescription drug coverage may make a lot more sense. This coverage offers reimbursement for drugs prescribed by a veterinarian for at home administration including pharmaceuticals given for pain relief, allergies, ear conditions and/or topical ointments.
Wellness Rewards
Wellness Rewards is another optional program offered by Embrace to maintain your pet's health via preventative measures. This program is rather unique in the pet insurance category. There are three allowance levels offered for this program: $250, $450 and $650. This program gives an allowance with "bonus cash" that can be applied towards:
Wellness exams
Vaccinations and titers
Flea, tick, and heartworm medication
Spay/neuter surgery
Fecal exams
Routine blood tests
Microchipping
Behavioral training
Umbilical hernia repair
Gastropexy
Toe nail trimming
Routine anal gland expression
Routine chiropractic care, reiki, massage therapy, acupuncture
Anesthetic teeth cleaning and dental illness
Prescription diet food from Hill's, Purina, Wysong, or Royal Canin
OFA & PennHIP exams and X-rays
Nutritional supplements
Medicated shampoos
Pet training/behavior sessions
Pet activity monitors
Grooming
Cremation/Burial
What is a Pre-Existing Condition?
Most pet insurance policies offer their own definition of a pre-existing condition. This can be confusing for pet parents to understand. Under the Embrace Pet Insurance plan pre-existing conditions are defined as conditions that an animal has experienced prior to policy coverage, whether this condition was diagnosed by a vet or not. Embrace distinguishes between curable and incurable pre-existing conditions. A curable pre-existing condition may be a bladder infection or an upper respiratory infection. These types of illnesses can be treated and completely eliminated. An incurable condition may be hip dysplasia, cancer, orthopedic illness or injury on the opposite side of a prior injury, allergies and hyperthyroidism.
Pros

Cons

No per incident limits on their claims as they use an annual deductible method of accounting
No lifetime limit
Covers genetic conditions
Offers optional wellness rewards (Pay a monthly fee to cover up to $250, $450 or $650 of your pet's annual wellness exam. Call before you assume if you have questions). This is one of the few companies that offers wellness coverage.
Embrace is affordable on a monthly cost basis with an accident only policy premium starting around $20 a month for a 10-year-old Labrador Retriever
5% discount for payments made directly from bank account
Covers alternative and complementary therapies performed by all veterinarians, not just ones who are members of specific associations
BBB rating is A+
Claims are paid between 5-15 days
Prescription medications are covered

Requires a 2 day waiting period for accidents (14 days in some states), 14 day waiting period for illness coverage and a 6 month waiting period for orthopedic conditions, but can be reduced to 14 days through their Orthopedic Exam and Waiver Process
Only covers pets age 14 and younger for accident and illness
If one leg has a CCL (ACL) injury prior to enrollment the other leg will not be covered even if there are no prior issues. It is considered a pre-existing condition.
No live chat and limited phone hours
Embrace Pet Insurance Pricing Quotes
Pet owners have full control over the cost of their pet's coverage plan. Embrace offers pet owners a variety of customization options including varied levels of reimbursement percentage, varied deductible amounts and optional coverage programs. In addition, pet owners can set an annual maximum coverage amount, choosing from $5,000, $8,000, $10,000 and $15,000. Annual deductibles can be set at $200, $300, $500, $750 or $1,000 per year. Reimbursement percentages can be set at 70%, 80% or 90% per visit.
| Breed | Labrador Retriever | Golden Retriever | German Shepherd | Yorkshire Terrier | Yorkshire Terrier | Yorkshire Terrier | Mixed Breed Cat |
| --- | --- | --- | --- | --- | --- | --- | --- |
| Sex | Male | Female | Male | Female | Male | Female | Male |
| Spayed/Neutered | Yes | Yes | Yes | Yes | No | No | Yes |
| Age | 2 | 8 | 4 | 6 | Less than 1 | Less than 1 | 2 |
| Location | Iowa | Illinois | California | New York | New York | Iowa | Ohio |
| Price Per Month | $33.34 | $32.73 | $43.65 | $53.75 | $50.73 | $25.79 | $25.26 |
| Reimbursement Level | 80% | 70% | 80% | 90% | 90% | 80% | 80% |
| Annual Deductible | $200 | $500 | $500 | $200 | $200 | $200 | $200 |
| Annual Maximum | $10,000 | $5,000 | $8,000 | $5,000 | $5,000 | $10,000 | $10,000 |
Embrace Pet Insurance Reviews
Read about how Embrace has treated these real life customers. We've got the good and the bad to share with you.
Positive Reviews
I'm a huge fan of Embrace. I'm surprised at the negative reviews. I've had Embrace for 4 years now for both of my dogs and this past year our boy had to have emergency surgery for a lump in his neck. The bill neared $4,000 and getting the best treatment was made easier by the confidence of having our insurance plan. Pay outs are FAST and customer service is excellent. I did a lengthy review before choosing Embrace and I feel that I made the best decision for my dogs. Only the best! – Eric B., Yelp 8/22/2015
AMAZING EXPERIENCE! Super affordable, easy to get in contact with, and the employees actually care! I file wellness claims all of the time and I get my reimbursement very fast! if you take the wellness package they offer it is totally worth it! It covers your flea/tick meds, heartworm, any checkups, vaccines, spaying/neutering, micro chipping and lots more! (all until you meet your yearly coverage amount though — which is still a reasonable amount of coverage!) I have a one year old German shepherd male and I am very confident if anything goes wrong with him, he is covered through Embrace. I went through a lot of research about pet insurance companies to see what was the most affordable and what sells the best products and Embrace is who I stuck with. 🙂 If you have the orthopedic check and they pass, they even cover hip dysplasia problems! AMAZING! This is a huge one for me because German Shepherds are prone to this sad disease. I would highly recommend this company to anyone for their pet! – Kacie C., BBB 4/30/2015
Negative Reviews
I found that after having several experiences with this company that they look for ways to NOT pay their claims. I let go of ASPCA Insurance for this company and wish I had not. Yes, their wellness policies look good, but then if the vets wording is off just a hair they do not call it wellness, they call it a regular policy and do not pay for a wellness visit. This company is a scam, beware. -Pamela L., Yelp 8/21/2015
This pet insurance covers nothing and never communicates with the vet you are going to. Forms get mixed up between accounts. We have 2 dogs under different policies and forms for 1 dog got put under the other. Also forms are not put under correctly and get denied always. It is been such a pain calling them to fix things they have made mistakes on. We are very dissatisfied and this company is not recommended. – Katie, Consumer Affairs 12/18/2016
Why Should I Consider Embrace Pet Insurance for my Dog?
Embrace clients are free to use any vet and do not have to stick with "in network" veterinary clinics.
Embrace policies cover genetic health conditions – something not found in the majority of pet insurance policies.
Good customer service quality reputation.
Claim refunds are made based on vet bills that are submitted rather than set amounts.
Clients can customize their pet's policy to fit their pet's needs and their financial budget.
Pets are protected for a lifetime with coverage of chronic health conditions.
Premiums don't increase once claims are made.
30 day money back guarantee.
Embrace is an environmentally friendly company.
Why You Need Pet Insurance
Wondering why pet insurance is important? See what this Embrace Pet Insurance rep has to say about pet insurance.
Not Sold on Embrace?
Did you know that 50% of dogs over the age of 10 develop cancer at some point in their life? Unfortunately, those odds may not be in your dog's favor. That's why doing your research before buying a pet insurance plan is not only smart but it demonstrates your love and responsibility as a pet parent. We invite you to read through our other pet insurance articles so you feel 100% positive about making the best decision for your furry friend.
What questions do you have about pet insurance before you buy?
Disclaimer: Information regarding insurance company offerings, pricing and other contract details are subject to change by the insurance company at any time and are not under the control of this website. Information published on this website is intended for reference use only. Please review your policy carefully before signing up for a new pet health insurance contract or any other contract as your unique circumstances will differ from those of others who may be used for example purposes in this article.