To keep the lights on, we receive affiliate commissions via some of our links. Our review process.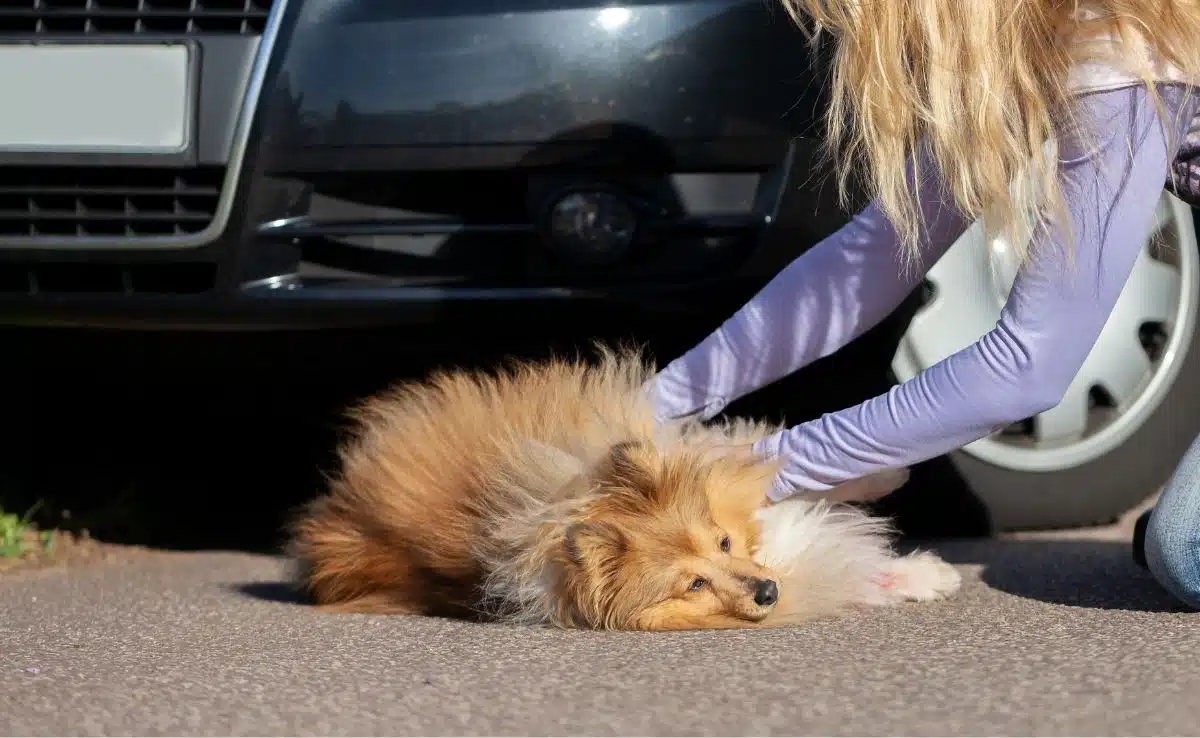 Dogs are prone to accidents just like we are. It's hard to think about, but no one's time is guaranteed. What if your dog gets hit by a car and needs expensive surgery to save their life? Would you choose to go forward with treatment, or would you struggle to choose between their life or your wallet? Sadly, economic euthanasia is more common than you might think. Accident-only pet insurance covers accident-related injuries (without investing in an entire accident and illness plan). It can help you get treatment for your dog and avoid these unimaginable situations to have many more years with them.
Does Pet Insurance Cover Accidents?
Accidents are included in coverage for accident-only pet insurance policies as well as accident and illness policies. Wellness plans do not cover accidents. No company currently offers illness-only pet insurance.
What Is Accident-Only Pet Insurance?
Accident-only pet insurance includes coverage for injury-related vet visits, including broken bones, foreign body ingestion, poisoning, torn ligaments, and other related emergencies. An accident-only plan typically covers anything related to a sudden trauma or physical injury. This is truly catastrophic pet insurance because these plans offer coverage for unforeseen causes beyond your control and outside of "normal" health concerns.
Dog accident insurance plans are generally less expensive than accident and illness pet insurance plans. This makes them a worthwhile option for pet parents on a tight budget or pets with pre-existing illnesses that can't be covered through an accident and illness policy.
Accident-Only vs Accident & Illness Pet Insurance
Accident and illness pet insurance policies include coverage for accidents like those listed above and illness-related health conditions. These plans are the most common and extensive pet insurance plans available. Examples of illnesses included in accident and illness pet insurance policies include cancer, allergies, arthritis, urinary tract infections, ear infections, and more (assuming they were not pre-existing conditions prior to enrollment and waiting periods).
It's best to sign up for an accident and illness pet insurance policy when your dog is young to reduce pre-existing condition exemptions. Neither accident-only nor accident and illness policies includes coverage for wellness-related items (like vaccines, preventive medications, spay/neuter procedures, etc.).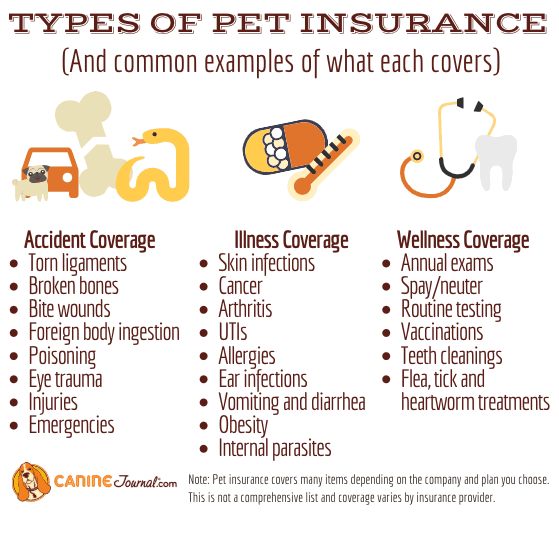 Can I Get Pet Insurance After An Accident?
Yes, you can get pet insurance after an accident. However, the recent accident that your dog was diagnosed with is excluded from coverage. This is because most pet insurance doesn't cover pre-existing conditions and has waiting periods.
Most companies require 1-15 days before accidents are eligible for coverage. So if you purchase pet insurance after an accident, it won't cover that specific accident, but it will offer coverage for future accidents after the waiting period has passed.
Accident-Only Pet Insurance Comparison
Only four of the companies in our pet insurance reviews offer accident-only policies at the current time. But, the number of providers offering this type of plan is regularly increasing. So, we encourage you to check back to find what additional options may be available.
The nice thing about accident-only plans is that you can more easily change to another company if you become dissatisfied with your current policy for whatever reason (premium increases, coverage restrictions, etc.). However, keep in mind that no pet insurance company (besides AKC Pet Insurance) covers pre-existing conditions unless they have curable pre-existing conditions included in the coverage.
An accident could result in an ACL tear, but treatment may not be covered if your pet previously had ACL issues. However, it may be covered if the company offers coverage for curable pre-existing conditions. So be sure to read the fine print.
The table below compares the only major U.S. pet insurance companies currently offering accident-only pet insurance plans.
ASPCA Pet Insurance
Embrace
Pets Best
Spot
Accident Waiting Period*
14 Days
2 Days
3 Days
14 Days
Torn Ligament Waiting Period*
14 Days
6 Months
Not Covered
14 Days
Exam Fees Covered
Curable Pre-Existing Conditions
After 6 months free from treatment and symptoms
After 1 year free from treatment and symptoms
Once healed or cured
After 6 months free from treatment and symptoms
Minimum Age At Enrollment
8 Weeks Old
15 Years Old
7 Weeks Old
8 Weeks Old
Maximum Age At Enrollment
Annual Limit Options
$3,000
$4,000
$5,000
$7,000
$10,000
$5,000
$10,000
$2,500
$3,000
$4,000
$5,000
$7,000
$10,000
Unlimited
Reimbursement Options
70%
80%
90%
90%
90%
70%
80%
90%
Annual Deductible Options
$100
$250
$500
$100
$250
$100
$250
$500
$750
$1,000
*Waiting periods for California, Maine, and Mississippi are as follows:
Accidents - 0 days
Illnesses - 14 days
Cruciate Ligament Conditions - 30 days
Routine Care - 0 days
What's The Best Accident-Only Pet Insurance?
The best pet accident insurance is based on your dog's specific needs. We cover the highlights for each company below.
ASPCA Pet Insurance Review

ASPCA Pet Insurance has several customization options for its accident-only plans, many of which other providers don't offer. This allows you to find a plan that more easily fits your needs and budget. And with a 14-day waiting period for torn ligaments, this is one of the shortest in the industry.
Learn More In Our Complete ASPCA Review
Embrace Review

The biggest thing to be aware of with Embrace's accident-only plan is that it's only available for pets enrolled after their 15th birthday. So if your pet is younger than 15, you'll need to consider another company for coverage.
It also has the longest waiting period for torn ligaments at six months, so if you have a breed predisposed to cranial cruciate tears, you may want to consider other options. However, it has the shortest waiting period for accidents at only two days, so if you're looking for quick coverage, then Embrace may be an excellent choice for your 15+ year-old dog.
Learn More In Our Complete Embrace Review
Pets Best Review

If you're looking for an extremely affordable option, Pets Best is your best bet. Its accident-only plan has a flat rate of $9 per month for dogs ($6 per month for cats). It covers many of the same items as other providers except for torn ligaments, so if this is a concern for your dog's breed, you may want to consider other options.
Pets Best was one of the first companies to offer an accident-only plan to pet parents, so it's been around for a while and had time to offer a stable product. It also allows enrollment for pets at the youngest age, starting at just seven weeks old.
Learn More In Our Complete Pets Best Review
Spot Review

Spot offers the most plan customizations compared to other providers listed here, so if you're looking for specific policy options, this is an excellent pick. It also provides a short waiting period for torn ligaments at just 14 days. Its accident waiting period is the same at 14 days, but if you're okay with waiting two weeks for coverage to kick in, this may be a good fit for your dog.
Learn More In Our Complete Spot Review
Pet Insurance Could Extend Your Dog's Life
Having access to accident-only pet insurance policies can be lifesaving for some pets. Many pet insurance providers have age restrictions on their illness and accident policies, restricting access to dogs outside those age limits. Signing your dog up for at least accident coverage could extend your dog's life if they get into a serious accident, and you can focus on their health care versus the expensive vet bill.
If you're interested in learning more about accident and illness pet insurance policies, we recommend reading our is pet insurance worth it article. Then if you'd like to compare top providers, read our pet insurance comparison.
Tagged With: Comparison, Reviewed By Insurance Agent