To sustain this free service, we receive affiliate commissions via some of our links. This doesn't affect rankings. Our review process.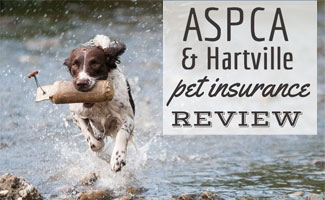 You may have come across ASPCA Pet Insurance and wonder if it's an excellent option since it has a prominent and trustworthy brand name.
Or maybe you're curious about Hartville Pet Insurance? While this brand may look different from ASPCA Pet Insurance, it is actually the same exact product sold under a different brand name.
Confused? So were we before we took a closer look.
Visit ASPCA Pet Insurance | Visit Hartville Pet Insurance
Article Overview
How Are ASPCA Pet Insurance & Hartville Related?
ASPCA Pet Health Insurance isn't affiliated with the ASPCA (Crum & Forster (C&F) pays a royalty fee for the use of the ASPCA name). Both Hartville and ASPCA pet insurance is administered by C&F Insurance Agency, Inc., which has been in the insurance business since 1997. ASPCA is serviced under a licensing agreement by C&F Pet Insurance Group along with a few other branded products.
To further clarify, ASPCA and Hartville Pet Insurance offer an identical product and policy sold under two different brand names. ASPCA is the more well-known product thanks to the prominent ASPCA reputation, which may be why Hartville is selling a portion of its insurance under the ASPCA name.
The fact that the ASPCA is putting its name on this Hartville product says a lot about their trust in this pet insurance. Both ASPCA Pet Health Insurance and Hartville Pet Insurance are available to the all consumers, as well as to groups and employers.
ASPCA and Hartville have the same policy details so all info shared in this review applies to both unless stated otherwise.
ASPCA Pet Insurance
Pros
Offers optional wellness coverage
Conditions that are free of symptoms and treatment for 180 days are not considered pre-existing conditions
BBB rating: A+ (C&F Insurance Agency, Inc.)
30-day money back guarantee
Cons
$2 transaction fee, if not paying annually
14-day waiting period for illnesses and accidents, including knee and ligament injuries
Can't change/add some items to plan until the next 12 month period begins
Low reimbursements reported by customers
Key Features
Underwriter: United States Fire Insurance Company
No exam period
Pre-existing conditions defined by ASPCA/Hartville:

Illness, disease, injury, or change to your pet's health that first occurs or shows symptoms before coverage is effective or during a waiting period. This includes conditions that are related to, secondary, or resultant from a pre-existing condition. A condition will no longer be considered pre-existing if your pet's condition has been cured and free from treatment and symptoms for a period of 180 days.

Claim repayment averages 14-16 days, and direct deposit is an option
Must submit your claim within 270 days from the date of service via the mobile app, mail, email, fax or online
Option to pay vets directly, so you don't have to pay a hefty vet bill in advance and wait for reimbursement (not available everywhere)
One bilateral exclusion (a condition or disease that affects both sides of the body)

From ASPCA: If your pet exhibited symptoms of a knee and ligament condition at any time, prior to enrollment or during a waiting period, all ligament and knee conditions will be excluded. Ligament and Knee are conditions involving a ligament, patella, meniscus or soft tissue disorder of the knee.

30-day free look period (similar to a money-back guarantee)
Customer service hours:

Email and phone: Monday – Friday 8am – 9pm EST, Saturday 9am – 5pm EST and Sunday 11am – 3pm EST

Emergency hotline available for you to find out how much of your pet's treatment will be covered and get an estimate on the payout
What Do ASPCA & Hartville Cover?
Below is a list of services covered (and not covered) by ASPCA Pet Insurance/Hartville (as of December 2018).
| Covered | Not Covered |
| --- | --- |
| Surgeries | Pre-existing conditions |
| Hospitalization | Cosmetic procedures |
| Cancer | Breeding costs |
| Prescription medications | |
| Diagnostic treatment and testing (x-rays, blood tests, etc.) | |
| Injuries & accidents | |
| Illness | |
| Non-routine veterinary exams & visits, including consults with specialists and emergency hospital office visits. | |
| Hereditary conditions | |
| Chronic conditions | |
| Congenital conditions | |
| Emergency care | |
| Alternative treatment | |
| Behavioral therapies | |
| Preventative coverage (additional cost) | |
Is Hip Dysplasia Covered?
Hip dysplasia coverage is under the Complete Coverage plan subject to the annual deductible, reimbursement percentage and annual limit selected by the customer. There's a 14-day waiting period.
Pricing Quotes
ASPCA Pet Health Insurance and Hartville offer customization options that allow you to choose your deductible ($100, $250 or $500) and reimbursement percentage (70%, 80% or 90%). The companies also offer five annual limit options: $5,000, $10,000, $15,000, $20,000 or unlimited.
The cost of each policy is unique to your pet and depends on many variables, including your pet's age, breed, location, health conditions and more. To give you a general idea, we gathered the following sample quotes in December 2018.
| Breed | Labrador Retriever | Golden Retriever | German Shepherd | Yorkshire Terrier | Mixed Breed Cat |
| --- | --- | --- | --- | --- | --- |
| Gender | Male | Female | Male | Female | Male |
| Age | 2 | 8 | 4 | 6 | 2 |
| Location | Iowa (50125) | Illinois (60631) | California (92027) | New York (10012) | Ohio (44108) |
| Price Per Month | $58.15 | $81.14 | $42.60 | $57.04 | $25.11 |
| Reimbursement Level | 80% | 70% | 80% | 90% | 80% |
| Annual Deductible | $250 | $500 | $500 | $250 | $250 |
| Annual Maximum | $10,000 | $5,000 | $10,000 | $5,000 | $10,000 |
You can get personalized price quotes for your pet(s) from reputable companies when you fill out just 1 short form. You can also visit our Pet Insurance Quotes page to see how ASPCA/Hartville's costs stacks up against the competition.
Coupon Code
Use this link to get the best deal we can offer from ASPCA Pet Health Insurance, Hartville and PetPremium.
Waiting Periods
ASPCA Pet Health Insurance Customer Reviews
Positive Reviews
We got this insurance a few years ago after our dog spent almost a week in doggy intensive care after a bout of leptospirosis. It was apparent that she was prone to illness and we wanted to avoid another $5000 plus vet bill. She is an older dog with a pre-existing condition so it wasn't cheap over $1000 per year. In the last six months she's ended up back in the MSPCA hospital twice, the most recent time several days for severe pancreatitis.Both visits combined racked up a bill of about $6000 of which over $5000 was paid back by ASPCA insurance after deductibles etc. Not perfect but we have been happy with their coverage and response time. – Kevin B., Yelp 4/9/2018
So far, I have been very happy with the service provided through ASPCA. The only mild complaint I do have, is that the turnaround time for claims, is a little long, in comparison to other insurance companies. But, I understand that you guys have a lot to evaluate. The other thing I have had very mild issue with is the fact that prescription diets are not covered unless they are treating a medical condition. I feel like that was not clearly explained when the company advertised that they cover the prescription diets. But those two things are very minor. I really have been super happy with my experiences from the start. The customer service has been very professional and helpful. The online website also is very easy to navigate and understand. I am overall satisfied with my choice for ASPCA insurance. – Danielle, Consumer Affairs 12/18/2018
Negative Reviews
ASPCA acting as a cheap spamming emails company. After I got a quote for my dog – the ASPCA company got crazy with their promo emails! After some time I started getting emails from other companies with their promo insurance offers for my dog. Obviously ASPCA company was trading my emailing address to other companies. Just no need such annoying company which as I can see irresponsible and has negative impressions by the ASPCA company clients. – John, Consumer Affairs 3/27/2018
I added a policy with the ASPCA and thought with their new policies that it was a good choice. That couldn't be further from the truth, and I have already cancelled after less than 24 hours. They called to "welcome" me to the ASPCA and I proceeded to ask them questions regarding pre-existing conditions. The representative told me that anything even not diagnosed would be considered pre-existing. I asked then, since I had a situation where a dog was diagnosed with hip dysplasia after being x-rayed for a knee problem, how I could know all of the issues my dogs had when that dog didn't have symptoms. Keep in mind that I was clear during the conversation that the dog I asked about had an accident only policy and wouldn't qualify for illness coverage. The rep then tells me they record these calls and they would refer back to this call AND review the medical records to determine if my dogs had pre-existing conditions. Her tone was accusatory and it certainly seemed like a threat to me. They refuse to review medical records and tell me what was considered pre-existing, and she just told me I could get a quote from the vet and submit it to see if I was covered. I told her I wouldn't even have anything to submit when my two dogs covered by illness and hereditary conditions didn't have issues. They indicate these calls are recorded for quality assurance when they call you or you call them. Quality is not the reason for the recording, it is to try to get out of paying in the future Which by the way makes no sense, because my dogs I was going to insure were fairly healthy. They lost out on insuring three pets that are fairly young for life. and you should be VERY careful dealing with this business. Don't let the nice reps fool you, this lady was sickeningly nice before her threat during the call. – Samantha S., Yelp 1/25/2018
Why Do I Need Pet Insurance?
If your dog experiences any accidents or illnesses, the vet bills can quickly add up. Not insuring your pup can result in hundreds or even thousands of dollars in bills.
What's Our Verdict On Hartville/ASPCA Pet Insurance?
Visit ASPCA Pet Insurance | Visit Hartville Pet Insurance
When it comes to coverage, customer service and other features, there's not much that stands out about Hartville/ASPCA Pet Insurance compared to the competition. However, the plan choices are relatively flexible, so you may be able to find the right fit for you and your pup. Find out how Hartville/ASPCA Insurance compares to other top companies in our pet insurance show-down. Learn more about ASPCA insurance in our interview with Liz Watson.
Are you considering ASPCA or Hartville Pet Insurance?
Disclaimer: Information regarding insurance company offerings, pricing and other contract details are subject to change by the insurance company at any time and are not under the control of this website. Information published on this website is intended for reference use only. Please review your policy carefully before signing up for a new pet health insurance contract or any other contract as your unique circumstances will differ from those of others who may be used for example purposes in this article.
Disclaimer: The information provided through this website should not be used for diagnosing or treating a health problem or a disease. It is not a substitute for professional care. If you have or suspect you may have a health problem, you should consult your health care provider.
Disclaimer: This website contains reviews, opinions and information regarding products and services manufactured or provided by third parties. We are not responsible in any way for such products and services, and nothing contained here should be construed as a guarantee of the functionality, utility, safety or reliability of any product or services reviewed or discussed. Please follow the directions provided by the manufacturer or service provider when using any product or service reviewed or discussed on this website.