To sustain this free service, we receive affiliate commissions via some of our links. This doesn't affect rankings. Our review process.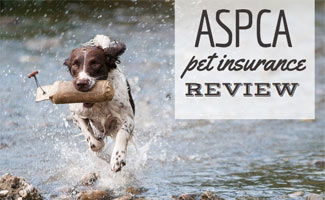 Is your search for affordable yet quality pet insurance taking a bite out of your time and patience? There are many great plans out there, but it's hard to know which is the best one for you and your pup. You may have come across ASPCA Pet Insurance and think it could be an excellent option since it has a prominent and trustworthy brand name. What you probably don't know? This pet insurance company (Crum & Forster or Hartville) pays a licensing fee to use the ASPCA name, but is not affiliated in any other way with the ASPCA. Are their plans still worth it? Check out our ASPCA insurance reviews below to learn more about pricing, coverage, customer reputation and more. We suggest you also read through our comprehensive pet insurance rankings to find other companies to consider before you buy.
Visit the ASPCA Pet Insurance Website
ASPCA Pet Insurance Review
Pros
Offers wellness coverage
Wide variety of plan costs, with their cheapest plan starting at less than $15 per month for accident only coverage and a $100 annual deductible (for female 10-year-old labrador)
Healed illnesses or ligament and knee injuries that are free of symptoms and treatment for 180 days are not considered pre-existing conditions
No waiting period for accidents
BBB rating A+ (Fairmont Specialty Insurance Agency, Inc.)
30-day money back guarantee
Cons
$2 transaction fee
Coverage for hereditary and genetic conditions only available with two highest cost plans
14-day waiting period for illnesses, including knee and ligament injuries
Can't change/add plan until the next 12 month period begins
Longer waiting period for claims payment than other companies (averaging 14-16 business days)
Low reimbursements reported by customers
12 month waiting period for foreign object ingestion
Does Your Pup Really Need Pet Insurance?
When your pup is young and healthy, dog insurance might not seem like a smart financial decision, but accidents or sudden illnesses can happen when you least expect them. The costs for those vet bills can add up quickly. And once your dog gets a bit older, pet insurance makes even more sense — not just for emergency care but for surgery, joint problems and chronic conditions that many dogs develop later in life.
Services Covered by ASPCA Insurance
Below is a list of services covered (and not covered) by ASPCA Pet Insurance (as of April 2017).
| Covered | Not Covered |
| --- | --- |
| Surgeries | Pre-existing conditions |
| Hospitalization | Cosmetic procedures |
| Cancer | Breeding costs |
| Prescription medications | |
| Diagnostic treatment and testing (x-rays, blood tests, etc.) | |
| Injuries & accidents | |
| Illness | |
| Non-routine veterinary exams & visits, including consults with specialists and emergency hospital office visits. | |
| Hereditary conditions | |
| Chronic conditions | |
| Congenital conditions | |
| Emergency care | |
| Alternative treatment | |
| Behavioral therapies | |
| Preventative coverage (additional cost) | |
What Are Some Key Features of ASPCA Pet Insurance?
As we stated above, ASPCA Pet Health Insurance isn't affiliated with the ASPCA (they only license the use of the ASPCA name). This pet insurance is underwritten by the United States Fire Insurance Company and administered by Fairmont Specialty Insurance Agency, Inc., which has been in the insurance business since 1997. ASPCA is serviced under a licensing agreement by Crum & Forster along with a few other branded products from Hartville Pet Insurance Group.
In fall 2016, ASPCA Insurance introduced a more comprehensive "Complete Coverage" plan to make coverage a little clearer. They offer customization options that allow you to choose your deductible ($100, $250 or $500) and reimbursement rate (70%, 80% or 90%). They also offer five dog insurance plan levels that range in per incident limits: $5,000, $10,000, $15,000, $20,000 or unlimited.
How Much Does ASPCA Pet Insurance Cost?
ASPCA Pet Insurance is similar to most pet insurance companies, basing their policy pricing on breed, age and other factors. You can find specific pricing examples in our Pet Insurance Quotes article, which compares pricing with seven different pet insurance companies. As you'll notice in our quotes, ASPCA Insurance has higher than average monthly pricing and higher than average deductibles, so you end up paying more each month and per incident compared to many other companies. And unlike some of our top pet insurance winners that offer unlimited caps, ASPCA Insurance has per incident limits with every plan they offer.
Coupon Code
There are not any active ASPCA Pet Health Insurance coupon codes at this time.
What's the Buzz About ASPCA Pet Health Insurance?
ASPCA Pet Insurance customer reviews are pretty varied across multiple web forums. Here's a sampling of reviews we found, both positive and negative, about ASPCA insurance.
Positive ASPCA Pet Insurance Reviews
After my claim was completed they called to check up on my puppy and see how he was recovering. ASPCA truly cares about their customers and I cannot express how much that meant to me to receive that call. With ASPCA you really get the care you and your family deserve!!! 🙂 – Scott D., Yelp 6/6/2016
I received a call from Jeff, a supervisor at ASPCA Insurance Claims department. He mentioned that the department has re-opened the claim and found out I had the coverage and they will pay for some of the services. I have not received the check, but whatever the amount, I consider it a positive step and a resolution. – Obaid, Consumers Affairs 9/7/2016
Negative ASPCA Pet Insurance Reviews
I had pet insurance for my beloved cat who passed away a few months ago. I called them to discontinue our service. The next day I get a long voicemail from someone at ASPCA expressing their condolences for me losing my cat and going on and on as to how difficult it must be. They don't know me or my cat. I also lost a dear family member last year so this call just sounded fake and like an attempt to retain my business for the future. I was also dissatisfied with the last year of coverage. I paid a lot into it and they were always denying claims or reimbursing very little. – Kristina, Consumer Affairs 3/10/2017
All these years I have been paying for this insurance has been for nothing. My sweet Himalayan died from cancer and they do to a shyster tactic to get out of paying most of her bills, they are only going to pay a tiny token amount. Such a ripoff. As if I haven't had enough grief losing my 14 1/2 year old cat that I adored (we hand fed her the last 18 months of her life, gave her IV's and anything else to prolong her life)…this is a slap on the face. Pure evil…they should be ashamed…animal lovers? I think not… Scam artists? Definitely… – C.M.L., Yelp 2/28/2017
When Is Funny Dog Behavior Not a Joking Matter?
Check out this fascinating video by SciShow that sheds light on seemingly amusing dog behaviors that could indicate some pretty serious problems. Pet insurance would cover conditions such as these!
What's Our Verdict on ASPCA Pet Insurance?
Visit the ASPCA Pet Insurance Website
ASPCA Insurance isn't in our top three in our pet insurance reviews so be sure to check out the other carriers too. When it comes to coverage, customer service, and other features, there's not much that stands out about ASPCA Pet Insurance compared to the competition. Their plan choices are relatively flexible, so you may be able to find the right fit for you and your pup. Be sure to check out our overall reviews article for to learn more about our other best pet insurance picks before making your final decision.
If you've had ASPCA Pet Insurance, would you recommend them, or not? 
Disclaimer: Information regarding insurance company offerings, pricing and other contract details are subject to change by the insurance company at any time and are not under the control of this website. Information published on this website is intended for reference use only. Please review your policy carefully before signing up for a new pet health insurance contract or any other contract as your unique circumstances will differ from those of others who may be used for example purposes in this article.