To keep the lights on, we receive affiliate commissions via some of our links. Our review process.
You may have come across ASPCA Pet Insurance and wonder if it's an excellent option since it has a prominent and trustworthy brand name. ASPCA Pet Insurance offers detailed coverage and short waiting periods. But is its pricing in line with the competition? We cover all the details about this provider here.
How Are ASPCA Pet Insurance, Hartville & Waffle Related?
Both ASPCA and Hartville pet insurance are administered by C&F Insurance Agency, Inc., which has been in the insurance business since 1997. ASPCA Pet Health Insurance isn't directly affiliated with the ASPCA, but Crum & Forster (C&F) pays a royalty fee for using the ASPCA name. More specifically, ASPCA is serviced under a licensing agreement by C&F Pet Insurance Group along with a few other branded products.
To further clarify, ASPCA and Hartville Pet Insurance offer very similar products, sold under two different brand names. Thanks to the prominent ASPCA reputation, ASPCA Pet Insurance is the more well-known consumer product.
The fact that the ASPCA is putting its name on this Hartville product says a lot about their trust in this pet insurance. Both ASPCA Pet Health Insurance and Hartville Pet Insurance are available to all consumers, as well as groups and employers.
How does the new company Waffle tie into this? ASPCA Pet Health Insurance is sold through Waffle to provide a one-stop shop for insurance needs.
ASPCA Pet Insurance Review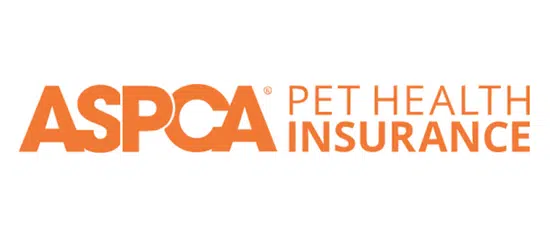 Product Name: ASPCA Pet Insurance
Product Description: ASPCA pet insurance offers health care plans for dogs and cats.
Summary
ASPCA Pet Insurance packs a big name with standard coverage. Nothing major stands out, but the plans are flexible, so it may be a good choice for your pet.
Our pet insurance experts read through each pet insurance company's policy to provide detailed comparisons and information regarding how a provider fares against others in the industry. We also speak with customers, read online feedback, and communicate one-on-one with pet insurance companies to obtain a well-rounded, unbiased analysis of a company's standings.
Our team rates pet insurance companies based on several factors, including A.M. Best ratings (an indicator of financial stability), claim processing reputations, contract coverage, customer service, pricing, plan customizations, and more.
Pros
Optional wellness plan
Conditions that are free of symptoms and treatment for 180 days are not considered pre-existing conditions
Offers a 10% discount for each additional pet 30-day money-back guarantee
Your pet is covered when they travel with you in the U.S., Guam, Puerto Rico, U.S. Virgin Islands, and Canada
No upper age limits for coverage
Cons
$2 transaction fee, if not paying annually
Can't change/add some items to plan until the next 12 month period begins
Low reimbursements reported by customers
No unlimited payout option
14-day waiting period for accidents is longer than competitors
Claim processing is longer
Alternatives To ASPCA: Don't like the score you're seeing? Our experts have analyzed over a dozen pet insurance providers. Check out our pet insurance reviews to learn more about this year's top-ranked companies.
Key Features
Underwriter: United States Fire Insurance Company
Claims process:

Must submit your claim within 270 days from the date of service via the mobile app, online via the member center, mail, email, or fax
Claim processing averages 15-30 days, and direct deposit and check are both options
Option to pay vets directly, so you don't have to pay a hefty vet bill in advance and wait for reimbursement (not available everywhere)

Bilateral exclusions (a condition or disease that affects both sides of the body): includes, but is not limited to, conditions involving a ligament, patella, meniscus, or soft tissue disorder of the knee
Offers pre-approval of estimates/procedures in advance of treatment
Covers curable pre-existing conditions that are free from treatment and symptoms for 180 days (ligament and knee conditions are excluded)
Customer Service Options & Hours
Email and phone:

Monday – Friday: 9am – 6pm EST
What Are ASPCA's Waiting Periods*?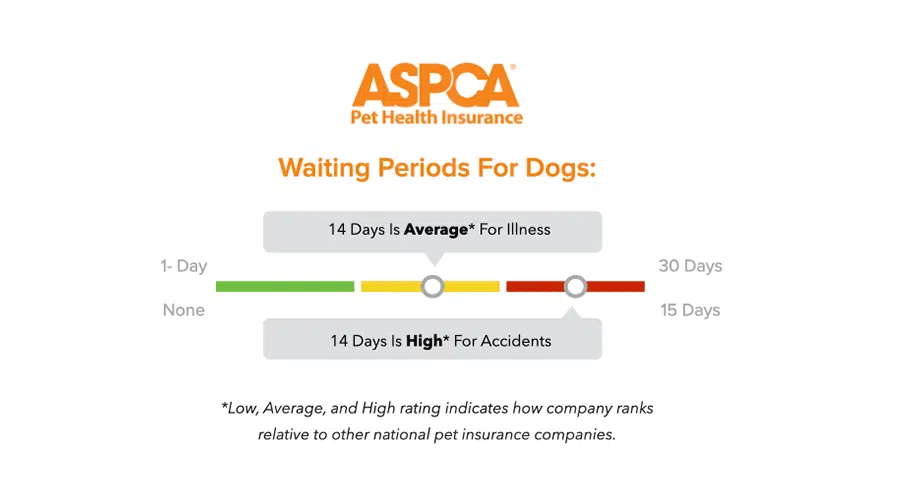 Illnesses: 14 days
Accidents: 14 days
Cruciate Ligament: 14 days
Hip Dysplasia: 14 days
Wellness: 0 days
*Waiting periods for Maine are as follows:
Accidents - 0 days
Illnesses - 14 days
Cruciate Ligament Conditions - 30 days
Routine Care - 0 days
What Does ASPCA Cover?
Please know that none of the providers in our pet insurance comparison charts cover pre-existing conditions, cremation and burial costs, pregnancy and breeding, or unnecessary cosmetic procedures.
All of them cover the following items when deemed medically necessary: emergency care, surgery and hospitalization, specialized exams and specialty care, X-rays, blood tests, ultrasounds, cat scans, MRIs, rehabilitation, cancer, chronic conditions, euthanasia, hereditary conditions, congenital conditions, non-routine dental treatment, and prescription medications. However, this coverage may have limitations, so please check your policy.
| Condition | Covered By ASPCA Pet Insurance |
| --- | --- |
| Behavioral Therapies | |
| Alternative/Holistic Therapies | |
| Exam Fees | |
| Wellness Care | Extra Fee |
What's ASPCA Pet Insurance's Accident Only Plan?
ASPCA Pet Insurance offers an Accident Only plan that covers accidents (as its name suggests), so things like broken bones are covered. It doesn't cover any illnesses, routine care, acupuncture, or chiropractic treatment. You can choose your annual deductible, reimbursement amount, and annual payout as with a more comprehensive plan.
What's Covered?
Torn ligaments
Bite wounds
Cuts
Broken bones
Lodged foreign objects
Toxic Ingestions
Does ASPCA Pet Insurance Offer Wellness Plans?
ASPCA Pet Insurance offers two wellness plans shown below in the table. Included are the maximum amounts that ASPCA Pet Insurance will pay each year for that specific routine care per year.
| | Basic | Prime |
| --- | --- | --- |
| Price Per Month | $9.95 | $24.95 |
| Dental Cleaning | $100 | $0 |
| Dental Cleaning Or Neuter | $0 | $150 |
| Wellness Exam | $50 | $50 |
| Deworming | $20 | $25 |
| Health Certificate | $0 | $25 |
| Flea/Heartworm Prevention | $0 | $25 |
| DHLPP Vaccine/Titer | $20 | $25 |
| Rabies Or Lyme Vaccine/Titer | $20 | $25 |
| Bordetella Vaccine/Titer | $0 | $25 |
| Fecal Test | $20 | $25 |
| Heartworm Test | $20 | $25 |
| Blood Test | $0 | $25 |
| Urinalysis | $0 | $25 |
| Total Annual Benefit | $250 | $450 |
How Is ASPCA Pet Insurance Pricing Determined?
ASPCA Pet Insurance has no one-time fees and a $2 transaction fee for every payment (waived if you pay annually). Your monthly premium is based on the deductible, reimbursement percentage, and annual payout options that you choose from the table below.
Deductible Options
Payout Options
Reimbursement Options
$100
$250
$500
$3,000
$4,000
$5,000
$7,000
$10,000
70%
80%
90%
Pricing is also based on your pet's details (age, breed, location, pre-existing conditions, etc.). We recommend obtaining quotes from ASPCA Pet Insurance for your specific pet to get an idea of how much a policy would cost you.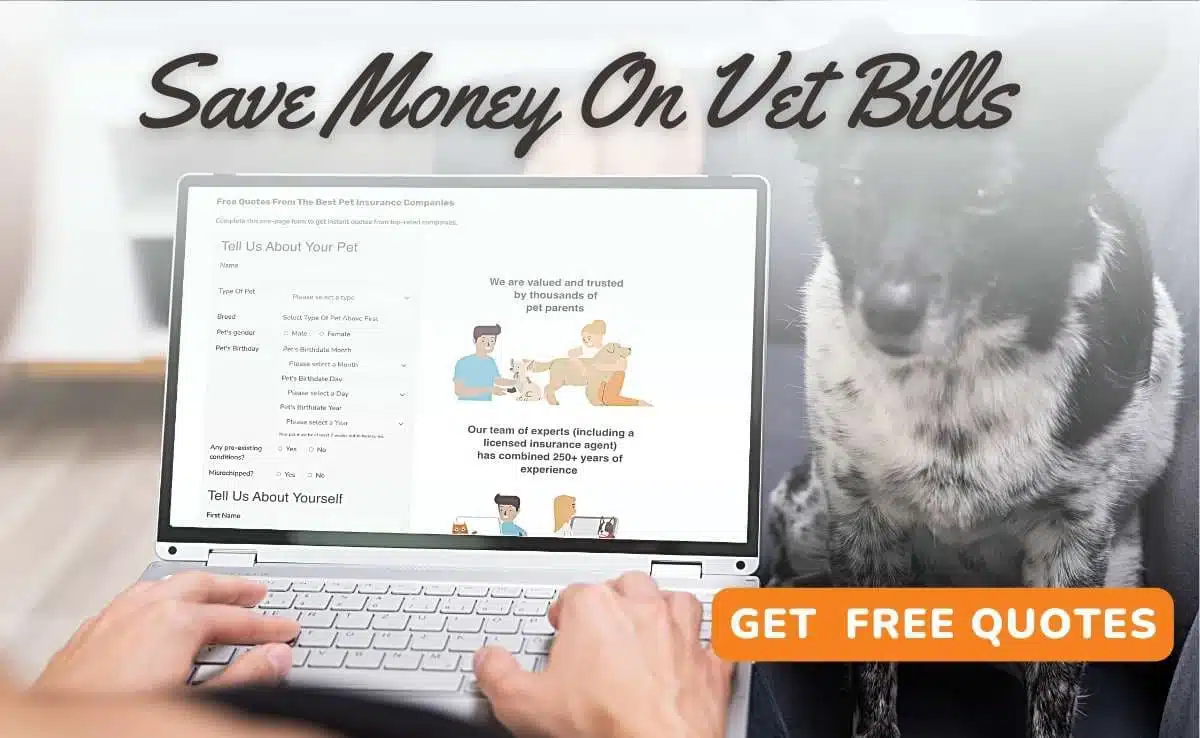 You can also use our pet insurance quote form to see how top providers compare for your actual pet.
Does ASPCA Pet Insurance Have Any Coupon Codes?
ASPCA Pet Insurance offers a 10% multi-pet discount when you use this link.
Frequently Asked Questions
Here are some frequently asked questions regarding ASPCA Pet Insurance from our readers.
Does ASPCA Insurance Increase With Age?
It's customary for pet insurance providers to increase their premiums throughout your pet's life. The increase in cost can be based on rising vet care expenses, your pet's age, location, and more factors.
How To Cancel ASPCA Pet Insurance?
Contact ASPCA Pet Insurance via email, fax, mail, or phone to cancel your ASPCA Pet Insurance policy. ASPCA Pet Insurance will refund any premium you paid for any period after your last date of coverage.
If cancellation occurs within the first 30 days of the first effective date, ASPCA Pet Insurance will refund the premium paid if no covered expenses have been applied to your deductible or reimbursed.
If you'd like a replacement for your ASPCA Pet Insurance policy, take a look at our pet insurance reviews to see which pet insurance companies we recommend.
Why Do I Need Pet Insurance?
If your dog experiences accidents or illnesses, the vet bills can quickly add up. Not insuring your pup can result in hundreds or even thousands of dollars in bills.
How Is Reimbursement Determined?
ASPCA Pet Insurance uses a "deductible then copay" reimbursement method. This is calculated in the following way:
Actual vet bill amount – Remaining annual deductible – Copay = Reimbursement amount
What Are The Most Common Claims Processed By ASPCA Pet Insurance?
Growth/cancer & therapy
Ear-related claims (e.g., ear infections)
Gastrointestinal issues (e.g., vomiting and diarrhea)
ASPCA vs Other Companies
Interested in seeing how ASPCA stacks up against other popular pet insurance companies? We've written comparison articles for you to see how ASPCA and other leading pet insurance companies compare in coverage, customer service and reputation, claim processing, plan customization, and price.
What's Our Verdict On ASPCA Pet Insurance?
When it comes to coverage, customer service, and other features, there's not much that stands out about ASPCA Pet Insurance compared to the competition. However, the plan choices are relatively flexible, so you may be able to find the right fit for you and your pup.
Find out how ASPCA Pet Insurance compares to other top companies in our pet insurance showdown. Learn more about ASPCA pet insurance direct from the source in our interview with Liz Watson.
Tagged With: Reviewed By Insurance Agent