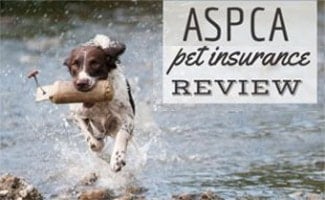 You may have come across ASPCA Pet Insurance and wonder if it's an excellent option since it has a prominent and trustworthy brand name. ASPCA Pet Insurance offers detailed coverage and short waiting periods. But is its pricing in line with the competition? We cover all the details about this provider here.
How Are ASPCA Pet Insurance, Hartville & Waffle Related?
Both ASPCA and Hartville pet insurance are administered by C&F Insurance Agency, Inc., which has been in the insurance business since 1997. ASPCA Pet Health Insurance isn't directly affiliated with the ASPCA, but Crum & Forster (C&F) pays a royalty fee for the use of the ASPCA name. More specifically, ASPCA is serviced under a licensing agreement by C&F Pet Insurance Group along with a few other branded products.
To further clarify, ASPCA and Hartville Pet Insurance offer very similar products, sold under two different brand names. ASPCA Pet Insurance is the more well-known consumer product, thanks to the prominent ASPCA reputation.
The fact that the ASPCA is putting its name on this Hartville product says a lot about their trust in this pet insurance. Both ASPCA Pet Health Insurance and Hartville Pet Insurance are available to all consumers, as well as groups and employers.
How does Waffle tie into this? ASPCA Pet Health Insurance is sold through Waffle to provide a one-stop-shop for insurance needs.
ASPCA Pet Insurance
Pros
Offers optional wellness coverage
Conditions that are free of symptoms and treatment for 180 days are not considered pre-existing conditions
BBB rating: A+ (C&F Insurance Agency, Inc.)
30-day money-back guarantee
Your pet is covered when they travel with you in the U.S., Guam, Puerto Rico, U.S. Virgin Islands, and Canada
Accident-Only plan available
Offers a 10% discount for each additional pet
No upper age limits for coverage
Cons
$2 transaction fee, if not paying annually
Can't change/add some items to plan until the next 12 month period begins
Low reimbursements reported by customers
No unlimited payout option
14-day waiting period for accidents is longer than competitors
Claim repayment is longer than normal due to COVID-19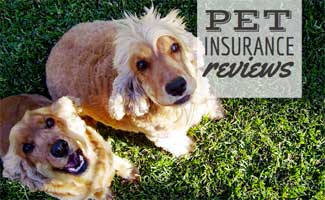 Alternatives To ASPCA
Don't like the score you're seeing? Our experts have analyzed over a dozen pet insurance providers. Check out our pet insurance reviews to learn more about this year's top-ranked companies.
Key Features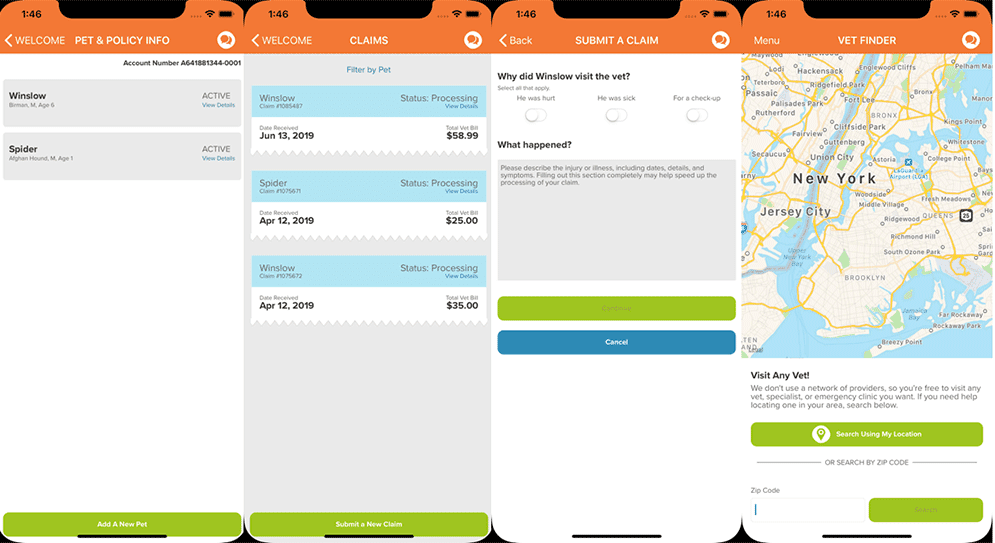 Underwriter: United States Fire Insurance Company
No exam period
Claims process:

Must submit your claim within 270 days from the date of service via the mobile app (Android | iOS), online via the member center, mail, or fax
Check and direct deposit are available for claim repayment
ASPCA Pet Insurance wouldn't share its claim repayment average with us, but it did say the COVID-19 pandemic has slowed its processing time down. In a previous audit, it was averaging 8-9 days, so it's safe to say that timeline has increased slightly.
Option to pay vets directly, so you don't have to pay a hefty vet bill in advance and wait for reimbursement (not available everywhere)

One bilateral exclusion (a condition or disease that affects both sides of the body)

From ASPCA: If your pet exhibited symptoms of a knee and ligament condition at any time, prior to enrollment or during a waiting period, all ligament and knee conditions will be excluded. Ligament and Knee are conditions involving a ligament, patella, meniscus or soft tissue disorder of the knee.

30-day free look period (similar to a money-back guarantee)
The three most common claims paid out by ASPCA Pet Insurance are:

Ear-related claims (e.g., ear infections)

Veterinary records are required at the time of the first claim, not during the enrollment process
Offers pre-approval of estimates/procedures in advance of treatment
No upper age limits for coverage and pets must be at least six weeks old to enroll
Pre-Existing Conditions
Defined by ASPCA as:
Illness, disease, injury, or change to your pet's health that first occurs or shows symptoms before coverage is effective or during a waiting period. This includes conditions that are related to, secondary, or resultant from a pre-existing condition. A condition will no longer be considered pre-existing if your pet's condition has been cured and free from treatment and symptoms for a period of 180 days.
Customer Service Hours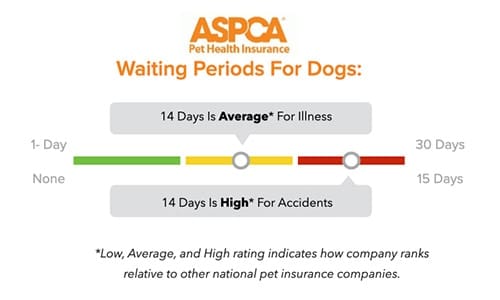 Email and phone: Monday – Friday 8am – 9pm EST
Waiting Periods
What Does ASPCA Cover?
Please know that none of the pet insurance providers in our comparison cover pre-existing conditions or cremation and burial costs. All of them cover the following items when deemed medically necessary: x-rays, blood tests, ultrasounds, cat scans, MRIs, rehabilitation, specialized exams, surgery, hospitalization, emergency care, specialty care, hydrotherapy, chronic conditions, cancer, diagnostic treatment, alternative/holistic therapy, and euthanasia. However, there may be limitations to this coverage, so please check your policy.
| Condition | Covered By ASPCA Pet Insurance |
| --- | --- |
| Exam Required To Set Health Baseline | |
| Behavioral Therapies | |
| Exam Fees | |
| Wellness Care Available For An Extra Fee | |
| Non-Routine Dental Treatment | |
| Hereditary Conditions | |
| Congenital Conditions | |
| Prescription Medication | |
| Breed, Whelping, Pregnancy | |
| Cosmetic Procedures (e.g., Tail Docking, Ear Cropping, Dew Claw Removal) Unless Medically Necessary | |
Is Hip Dysplasia Covered?
Hip dysplasia coverage is under the Complete Coverage plan subject to the annual deductible, reimbursement percentage, and annual limit selected by the customer. There's a 14-day waiting period.
Pricing Quotes
ASPCA Pet Health Insurance offers customization options that allow you to choose your deductible ($100, $250, or $500) and reimbursement percentage (70%, 80%, or 90%). It also offers four annual payout options: $3,000, $5,000, $7,000, and $10,000.
The cost of each policy is unique to your pet and depends on many variables, including your pet's age, breed, location, health conditions, and more. To give you a general idea, we gathered the following sample quotes in December 2020.
| Breed | Labrador Retriever | Golden Retriever | German Shepherd | Yorkshire Terrier | Mixed Breed Cat |
| --- | --- | --- | --- | --- | --- |
| Gender | Male | Female | Male | Female | Male |
| Age | 2 | 8 | 4 | 6 | 2 |
| Location | Iowa (50125) | Illinois (60631) | California (92027) | New York (10012) | Ohio (44108) |
| Price Per Month | $79.38 | $90.95 | $49.83 | $66.53 | $27.59 |
| Reimbursement Level | 80% | 70% | 80% | 90% | 80% |
| Annual Deductible | $250 | $500 | $500 | $250 | $250 |
| Annual Payout Limit | $10,000 | $5,000 | $10,000 | $5,000 | $10,000 |
You can get personalized price quotes for your pet(s) from reputable companies when you fill out just one short form. You can also visit our pet insurance quotes page to see how ASPCA's costs stack up against the competition.
Coupon Code
ASPCA Customer Reviews
Positive Reviews
ASPCA has been wonderful! They have covered 90% of my dog's surgery. The staff is very friendly when you call to talk to a live person. The process does take a little longer, but with COVID and lost jobs, it is understandable. If you haven't heard back from them in a timely manner, just give them a call. Thank you ASPCA! – KI W., Yelp 8/25/2020
Our animal has been insured for the past 3.5 years. Our claims, when filed, have been responded to and paid with accuracy and promptness. We have also had phone contact to address some issues and the staff has been wonderful and solved our issues. – Roger, Consumer Affairs 8/31/2020
Negative Reviews
Yikes. I adopted my senior dog at the beginning of May and got coverage for him pretty much immediately. He is blind due to cataracts and I knew going into it that was a pre-existing condition and wouldn't be covered. However, he scratched both his eyeballs mid summer and I took him to the emergency care center on the 4th of July. I filed a claim afterwards and did not hear back until recently. It took FIVE MONTHS for them to tell me his scratched eyes were considered a pre-existing condition (which I don't understand) and they were not going to pay for it or any of the follow up visits. So I paid over $600 in bills out of pocket on top of the $135 a month I paid the ASPCA for their "services". I could have just cancelled that monthly bill and put it towards his medical bills that I had to pay for myself. Cancelling my policy now since they won't help me out anyways. – Erin E., Yelp 12/14/2020
I have 3 outstanding claims with them and they say because of covid it's taking longer. One is 3 months, one 2 months and a third is about a month. I am owed over $1,000. I don't understand how they are so behind but processed my payment for automatic insurance renewal. I called and emailed and can't get my Money. – Kim, Consumer Affairs 10/12/2020
Frequently Asked Questions
Here are some frequently asked questions regarding ASPCA Pet Insurance from our readers.
How To Cancel ASPCA Pet Insurance?
To cancel your ASPCA Pet Insurance policy, contact ASPCA Pet Insurance via email, fax, mail, or phone. ASPCA Pet Insurance will refund any premium that you paid for any period after your last date of coverage.
If cancellation takes place within the first 30 days of the first effective date, ASPCA Pet Insurance will refund the premium paid if no covered expenses have been applied to your deductible or reimbursed.
If you'd like a replacement for your ASPCA Pet Insurance policy, take a look at our pet insurance reviews to see which pet insurance companies we've selected in our top three.
Why Do I Need Pet Insurance?
If your dog experiences any accidents or illnesses, the vet bills can quickly add up. Not insuring your pup can result in hundreds or even thousands of dollars in bills.
What's Our Verdict On ASPCA Pet Insurance?
When it comes to coverage, customer service, and other features, there's not much that stands out about ASPCA Pet Insurance compared to the competition. However, the plan choices are relatively flexible, so you may be able to find the right fit for you and your pup. Find out how ASPCA Pet Insurance compares to other top companies in our pet insurance showdown. Learn more about ASPCA pet insurance direct from the source in our interview with Liz Watson.
Why are you considering ASPCA Pet Insurance?