To keep the lights on, we receive affiliate commissions via some of our links. Our review process.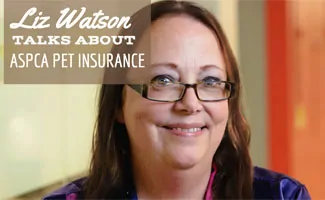 You have many options when it comes to pet insurance. But Liz Watson shares compelling reasons to consider ASPCA's Pet Insurance. As Vice President of Crum & Forster (the parent company for ASPCA Pet Insurance), Liz leads the way for one of the nation's top name pet insurance providers. Find out what sets the company apart and how you can save money while saving your pet's life.
How did you end up in this position?
I was a marketing executive in the telecommunications industry for more than two decades. When the opportunity arose to join a company that shared my passion for animal welfare, I just couldn't pass it up. What better prelude to retirement than dedicating yourself to something you believe in? It's been a fun, exciting journey so far.
Do you have pets?
Yes, I'm a pet parent myself: my two dogs, Henry and Gracie, and four cats, Marmalade, Marmaduke, Murphy, and Oreo. And, of course, I'm lucky to have a pack of dogs in my life when I'm at work. It's one of the best parts about our office: employees can bring their dogs to work every day. I have a special place in my heart for many of my colleagues' four-legged friends, too.
Explain Crum & Forster's relationship with ASPCA
Founded in 1997, Crum & Forster is one of the original pet insurance providers in the U.S. In 2006, as part of a strategic partnership with the American Society for the Prevention of Cruelty to Animals® (ASPCA®), we introduced our most recognizable and impactful brand, ASPCA® Pet Health Insurance.*
What makes ASPCA Pet Insurance unique?
As one of the original pet insurance companies, we're a leader in the industry. But what does that mean to a pet parent? Our expertise. Our longevity. Our stability. Those are core foundations you want in any financial institution. It means we're a reliable company you can trust.
On a very micro level, this comes through in things like rates. For instance, we've watched some of our competitors have to issue very high percentage rate increases, sometimes year-after-year. While we're certainly not removed from adjusting rates, we pride ourselves on the fact that when it does happen, they are relatively low, and less frequent.
For the most part, the industry has shifted to a very similarly structured model: reimbursement of the actual vet bill, ranging from 70, 80 or 90 percent, after deductible, and with certain annual limits. However, within these details, there are places where we certainly stand out. For instance, we cover exam fees, where many insurance companies don't. Also, a nuance customers need to consider is how the deductible is structured. Our deductible is annual. Once it's met, you don't have to pay it again for the rest of the plan year.
However, some use a per incident deductible, which means you are basically expected to cover that cost each time you file a claim. This can really cut into a pet parent's reimbursement.
One more unique aspect about our plans is that we adhere to the principles laid out by our partners at the ASPCA. So, we don't cover certain elective procedures like tail docking, ear cropping, and claw removal.
What's do you wish all pet parents knew about pet insurance?
With a few exceptions, pet health insurance doesn't cover pre-existing conditions. So, it's best to purchase coverage for your dog or cat when they're young, before any ailments or issues occur.
Why should pet parents consider getting pet insurance?
To help cover veterinary expenses when the unexpected occurs. And, as any pet parent learns, the unexpected happens more frequently than you think.
Where do you see the industry in the future?
It's easy to look at all the cool tech out there and hatch big dreams about the future of veterinary medicine. I'm excited our company can play a role as the industry evolves.
That said, as a pet health insurance company, when we peer into the future, we're looking at the challenge we all face industry-wide: expanding what is a very small market penetration.
Estimates say around two percent of dogs and cats in the U.S. have pet insurance. That means a large segment of pet parents aren't even considering us. That needs to change.
How does your company stay on top of trends?
We're uniquely positioned as both an agency and an underwriter, which gives us a holistic view of the entire pet health insurance industry. What this means is our expertise covers everything from technology to actuarial to business development, as well as veterinary, operations, claims, and consumer marketing. In fact, our structure not only helps us stay ahead of trends, but is a competitive advantage.
How does ASPCA Pet Insurance differ from your other brand, Hartville Pet Insurance?
ASPCA Pet Health Insurance is certainly our most recognizable brand, with more than a decade of protecting pets. That said, Hartville Pet Insurance, which carries the namesake from our company's founding, has a growing presence and provides an opportunity to reach a different audience.
Anything else you'd like to add?
I always tell people, when it comes to pet health insurance, do your homework and research the various offerings. Check out their websites and policies so you can make an educated decision. Also, look at what people are saying online and on review sites (like this one).
Thanks Liz for taking the time to share your insights. Learn more about ASPCA Pet Health Insurance in our review.
*Crum & Forster Pet Insurance Group's pet health insurance plans are underwritten by United States Fire Insurance Company and produced by C&F Insurance Agency, Inc.(NPN # 3974227), a Crum & Forster company. ASPCA Pet Health Insurance is provided by Crum & Forster Pet Insurance Group through its licensed agency. The ASPCA® is not an insurer and is not engaged in the business of insurance. Through a licensing agreement, the ASPCA receives a royalty fee that is in exchange for use of the ASPCA's marks and is not a charitable contribution.
Tagged With: Reviewed By Insurance Agent