To keep the lights on, we receive affiliate commissions via some of our links. Our review process.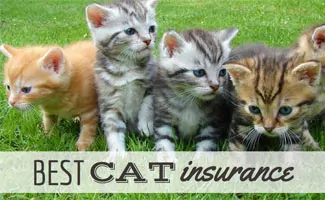 They say cats have nine lives, but if you love your little purr-baby, it's probably not best to test that theory.
Cat insurance is a great way to protect your (mostly) self-sufficient feline in the event of illness, accident, injury, and aging-related health concerns. Pet insurance also covers the owner if you find yourself in a tight financial spot (and who hasn't found themselves a little strapped for cash before?).
The table below shows a quick snapshot of top picks for pet insurance providers this year. Additionally included in the table are some quick stats for the top companies to help you quickly see some of the key differences.
Pet Insurance Ranking
Best
Overall
Best For Young Pets
Best No-Cap Payouts
Best
Coverage
Best
Value
Best
Newcomer
Company
Policy Price (avg)
Variable
Variable
Variable
Higher
Lower
Average
Policy Coverage
Extensive
Extensive
Limited
Extensive
Extensive
Limited
Customer Service & Reputation
Good
Good
Excellent, Stable
Excellent, Stable
Excellent, Stable
Uncertain, New
Claim Processing (avg)
7-14 Days
5-6 Days
2 Days
5 Days
3 Days
2 Days
Vet Direct Pay Option
Plan Customization Options
Many
Many
Restricted
Many
Many
Many
 
Get A Quote
Get A Quote
Get A Quote
Get A Quote
Get A Quote
Get A Quote
 
Read Review
Read Review
Read Review
Read Review
Read Review
Read Review
How Does Cat Insurance Work?
Most pet insurance companies require you to pay your pet's vet costs upfront. After paying your vet bill, you'll then send the insurance company an itemized receipt and all the necessary claim forms.
The company will then send you a reimbursement check (or direct deposit), minus your pre-arranged deductibles. Companies base their claim reimbursement on:
Your policy details and exclusions
Type and cost of procedure performed
The allowance per procedure on your policy
Claim processing times vary by each insurance company, but most reimburse you within ten days.
Best Cat Insurance Providers
Below are our winners for best pet insurance for cats based on various factors ranging from price and coverage options to reimbursement rates and customer service.
Best Overall: Pets Best Review

Pets Best is our best overall pick for pet insurance because of its generally low prices, multiple options for customer support, and detailed coverage. Pets Best is consistently among the least expensive options for cat insurance. Unfortunately, claim processing has been taking much longer recently (averaging 25-40 days) due to an increase in customers and insufficient staffing (a common problem during COVID times). However, Pets Best is actively hiring and training new employees to help get claim processing back to a more reasonable time.
A big perk is that Pets Best covers periodontal disease, which is especially important for cat owners since 80% of felines over the age of three have periodontal disease. Many pet insurance companies exclude this from coverage.
Coupon Code
Pets Best offers the following discounts:
5% off for multiple pets
5% off for military members and their families
Use this link to take advantage of the best possible price. No promo code is needed. You can also visit our dedicated Pets Best promotions page to learn more.
Best Value: Figo Review
We love that Figo offers some of the lowest prices in the industry without sacrificing coverage. Customers can customize their policy based on deductible, reimbursement percentage, and payout amount, allowing you to choose a plan that meets your budget. It's one of the only companies that offers a 100% reimbursement option, which may be enticing for some of you.
Coupon Code
Figo offers the following discounts:
5% off any new Figo pet insurance policy (exclusive for Canine Journal readers – use this link)
5% off for multiple pets
Your deductible automatically goes down $50 each year you don't receive a claim payment
Use this link to take advantage of the best possible price. No promo code is needed. You can also visit our dedicated Figo promotions page to learn more.
Fastest Claim Processing: Healthy Paws Review
Healthy Paws has an annual deductible, reimburses up to 90% of the actual vet bill post-deductible, covers all accidents, illnesses, and hereditary conditions (so long as they weren't pre-existing), and they offer unlimited lifetime benefits for your cat with no cap. They also have a reputation for excellent customer service.
Coupon Code
Use this link to take advantage of the best possible price and get a quote for your pet from Healthy Paws. You can also visit our dedicated Healthy Paws promotions page to learn more.
Best Discounts For Multiple Pets: Embrace Review

If you have multiple pets under your roof, you may be interested in Embrace. It offers up to a 10% discount for each pet you insure. Embrace offers extensive coverage, has a stable reputation, timely claim processing, and many options for plan customizations.
The downside is that Embrace's prices are often higher than our other top pet insurance companies. However, that doesn't mean that your pet is average! It doesn't hurt to get a quote, so you can compare the costs for your cat yourself.
Coupon Code
Embrace offers the following discounts:
10% off (5% off in NY) for multiple pets
5% off for military and veterans (NY and TN excluded)
10% off if your company or clinic offers Embrace as an employee benefit (FL, ND, NY, and TN excluded)
5% off in NY if you pay annually
Up to 25% off for eligible USAA customers
Your deductible automatically goes down $50 each year you don't receive a claim payment
Use this link to take advantage of the best possible price. No promo code is needed. You can also visit our dedicated Embrace promotions page to learn more.
Best Newcomer: Lemonade Pet Insurance Review

Lemonade is stirring the pot with its Artificial Intelligence (AI)-driven claims processing, allowing them to get to you within seconds of hitting the submit button in some instances. Its pricing is often among the lowest, but its coverage is more limited than the competition.
With it being newer to the pet insurance industry, we hesitate to sign up because there's potential for some significant changes as it adjusts to balance profitability based on realistic pricing and claims payments over time. However, if this risk doesn't concern you, Lemonade may be a good option. And while they are new to pet insurance, they have been offering homeowners and auto insurance since 2015.
Coupon Code
Lemonade offers the following discounts:
10% off if you bundle with your renters, homeowners, auto, condo, or co-op insurance
5% off for multiple pets
Use this link to take advantage of the best possible price. No promo code is needed.
Common Cat Health Issues
There are about 250 hereditary diseases identified among cats so far. Some of the common hereditary feline diseases are polycystic kidney disease (PKD), hypertrophic cardiomyopathy (HCM), diabetes mellitus (DM), feline lower urinary tract disease (FLUTD), progressive retinal atrophy (PRA), and others. These conditions are broadly known, and a lot of research is continuously conducted to improve their recognition and treatment.
Consider getting cat insurance while your cat is young. As your cat ages, it is more likely they may contract one of these common illnesses, which would then be characterized as a pre-existing condition for an uninsured pet.
Terminology
Now that we've covered the important stuff, we want to arm you with an extra bit of knowledge. Here are a few need-to-know terms to help you navigate policy jargon when looking for your purr-fect cat health insurance policy.
Code: The word "code" is listed on your schedule of benefits with most pet insurance companies. Underneath this term, you'll see a number listed. This is the "code" the company uses to identify the diagnosis given to your pet.
Co-Payment: The co-pay is the amount of out-of-pocket expense you must cover per incident after your deductible. The co-payment is usually listed as a percentage. For example, 80/20 means that the insurance company will cover 80% of the remaining balance after you pay your deductible, and you must pay the remaining 20%.
Deductible: The deductible is the amount of money you must pay out-of-pocket before you're eligible to receive reimbursement from your pet's insurance plan. For most companies, this deductible must be paid annually rather than per incident. Be sure to understand your agreement, as the annual vs per-incident deductible is a big deal.
Elective Procedures: Elective surgeries and procedures can be scheduled in advance. Examples of elective procedures include spaying, neutering, declawing, and more.
Exclusions: Exclusions are items that are not covered by your policy. This can include pre-existing conditions, certain musculoskeletal disorders, congenital disorders, hereditary disorders, intentional injuries caused by you or your family, and elective or cosmetic procedures. Again, be sure to request a quote and review all exclusions in detail before signing up.
Incidents: The term incident refers to the condition causing you to visit the veterinarian. Chronic diseases, such as skin allergies, are considered single incidents even if you make multiple vet visits for that condition.
Pre-Existing Conditions: Every major company in this category excludes pre-existing conditions from their coverage. This means that any ongoing condition your dog or cat was diagnosed with before being covered by their policy will not be covered in future claims. For example, if your dog has already been diagnosed with hip dysplasia, any costs associated with this condition will not be covered by most insurance.
Preventative/Routine/Wellness Care: Anything that pet parents and vets medically do that helps prevent disease. Examples of preventative care include vaccinations, heartworm preventative, flea control, annual vet checkups, and teeth cleanings.
Primary Diagnosis or Condition: This term appears on your schedule of benefits and refers to the financial limit that the company places on a primary diagnosis or condition, which includes injections, hospitalization, exams, surgery, and treatment.
Primary Diagnostic Testing Maximums: This term also appears on your schedule of benefits and refers to the company's cost limit on primary diagnostic testing. This allowance is generally made per bodily system. This benefit limit does not extend to specialized diagnostic tests in many cases.
Schedule of Benefits: The schedule of benefits is a document that the company provides to you when you sign up for your policy. This document outlines covered conditions under your plan and the monetary allowance for each diagnosis.
Secondary Diagnosis or Condition: If your pet receives treatment for a second condition resulting from the primary diagnosis, it will be covered under the benefits listed as a secondary diagnosis or condition. This secondary condition will receive financial reimbursement in addition to the primary diagnosis or condition.
Secondary Insurance: Some may choose to purchase a second pet insurance policy to help cover the costs not covered by the primary insurer. It's important to understand that the secondary insurer may not fully pay the outstanding amount from the primary insurance; coverage depends on your policy's details.
Free Cat Insurance Quotes
Rather than taking our word for it, run price quotes with a handful of highly recommended companies by completing one short form. It will give you a better understanding of the costs and reasons to consider pet insurance as a good investment for your cat.
If you aren't sure whether you need pet insurance, read our is pet insurance worth it overview. To learn about the other pet insurance carriers (beyond our top picks), be sure to read our pet insurance reviews.
Tagged With: Cats, Reviewed By Insurance Agent