To sustain this free service, we receive affiliate commissions via some of our links. This doesn't affect rankings. Our review process.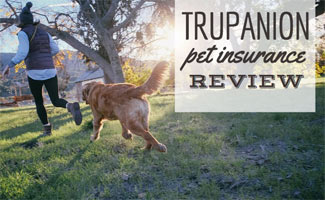 Almost any kind of insurance is notorious for being difficult to decipher – from inclusions and exclusions to complicated deductibles and premiums. Trupanion, however, claims to set itself apart from the pack. Does Trupanion live up to its promise to provide a straightforward and transparent pet insurance experience? Or it is just hype to get your business?
Article Overview
Trupanion
Pros
90% reimbursement with no payout limits
Offers optional benefits for additional expenses that cover acupuncture, physical therapy, hydrotherapy and behavioral modification training and therapy
Hip dysplasia has no age restrictions
BBB rating: A+
30-day money-back guarantee
Pet is covered in the U.S., Canada and Puerto Rico
Cons
More expensive
One-time $35 administration fee
Policies have 5-day waiting period for injuries and 30-day waiting period for illnesses
Up to a 20% increase in premiums from year to year (based on the state you live in)
Pets aren't eligible for enrollment after their 14th birthday
No wellness plan
Does not cover exam fees
Key Features
Trupanion has a per-incident deductible instead of an annual deductible; this means you'll have to meet the deductible multiple times for every new emergency your pet encounters instead of one annual deductible, which means all claims go toward one deductible (annual deductibles are usually less costly to the policyholder)
No exam period
Pre-existing conditions defined by Trupanion:

I. Illnesses or Injuries for which signs or evidence of their potential manifestation existed within the 18 months prior to the Policy Enrollment Date.
II. Illnesses or Injuries masked or controlled by treatment or Medication at any time during the 18 months prior to the Policy Enrollment Date. SAMPLE 14 Medical Insurance for Your Pet – TRU 00001 (v09.201601) SECTION 9 CONTINUED
III. Illnesses or Injuries that occurred or began within the 18 months prior to the Policy Enrollment Date and would have been observable or reasonably known to be present by You or Your Veterinarian or that are evidenced by the presence of typical signs, even if they are not noted in Your Pet's medical records.
IV. The Actual Cost of Treatment for the following if signs or evidence presented on either side of Your Pet during the period 18 months prior to the Policy Enrollment Date through to and including the 30 days after the Policy Enrollment Date: luxating patella, glaucoma, entropion, ectropion, elbow dysplasia, cataracts, prolapse of the tear gland of the third eyelid (cherry eye), and disease, weakness, instability, tear, partial tear or rupture of the cranial cruciate ligament.
V. Hip dysplasia if there was any sign or evidence of the potential manifestation of the Condition any time prior to the Policy Enrollment Date or if the Condition was reasonably known to be present by You, even if not noted in Your Pet's medical records.
VI. Illnesses or Injuries that arise from a repetitive and specific activity that leads to medical or surgical treatment of Your Pet (e.g., ingestion of foreign materials and bite wounds) if the same or similar activity occurred two times within the 18 month period prior to the Policy Enrollment Date.
VII. The Actual Cost of Treatment for any cutaneous or subcutaneous mass if cutaneous or subcutaneous mass(es) of the same type (determined by diagnostic testing or medical records descriptions) are present during the 18 months prior to the Policy Enrollment Date through to and including the 30 days after the Policy Enrollment Date.
VIII. The Actual Cost of Treatment relating to intervertebral disc disease if there was any sign or evidence of the potential manifestation of it in any part of the spine prior to the Policy Enrollment Date or during any applicable waiting periods.

No bilateral exclusions (a condition or disease that affects both sides of the body)
Claim repayment is within 60 days and averages 14 days
Must submit claims within 90 days of the treatment date via mail, email or fax
Option to have Trupanion pay vets directly, so you don't have to pay a hefty vet bill in advance and wait for reimbursement (not available everywhere but ask your vet, and they may be able to call to set up Trupanion Express)
30-day free look period (similar to a money-back guarantee)
Continues coverage for a pet if its policy transfers to a new owner
Customer service hours:

Email, phone and SMS: 24/7
What Does Trupanion Cover?
| Covered by Trupanion | Not Covered by Trupanion |
| --- | --- |
| Illnesses | Exam fees |
| Injuries | Sales tax where applicable |
| Hereditary conditions | Wellness and preventive care (parasite control, spay/neuter, vaccinations) |
| Congenital conditions | Pre-existing conditions |
| Diagnostic tests | |
| Surgeries | |
| Hospital stays | |
| Medications | |
| Veterinary supplements | |
| Herbal therapy | |
| Prosthetic devices and carts | |
Pet Owner Assistance Add-On Package
The Pet Owner Assistance package costs $4.95/month in addition to the core plan premium.
Boarding fees in the event you're hospitalized
Liability coverage for third-party property damage
Holiday vacation cancellation costs
Cremation or burial for deaths due to an accident
Advertising and rewards for lost pets
Recovery & Complementary Care Rider
The price of this plan can vary from a couple of dollars up to $30 and is in addition to the core plan premium.
Acupuncture
Chiropractic
Homeopathy
Hydrotherapy
Physical and rehabilitative therapy
Behavioral modification
Naturopathy
Is Hip Dysplasia Covered?
Trupanion covers hip dysplasia in its core policy. There is a 30-day waiting period, and it has an exclusion, which states the following.
Hip dysplasia (is covered) if there was any sign or evidence of the potential manifestation of the Condition any time prior to the Policy Enrollment Date or if the Condition was reasonably known to be present by You, even if not noted in Your Pet's medical records.
Pricing Quotes
Trupanion has a set 90% reimbursement with the option of a $0 to $1,000 deductible and unlimited annual limit.
The cost of each policy is unique to your pet and depends on many variables, including your pet's age, breed, location, health conditions and more. Below are some example monthly premiums for various pets from December 2018.
| Breed | Labrador Retriever | German Shepherd | Yorkshire Terrier | Mixed Breed Cat |
| --- | --- | --- | --- | --- |
| Age | 4 Months | 2 Years | 6 Months | 4 Years |
| Male/Female | Female | Male | Female | Male |
| Location | New York City (10005) | Los Angeles (90010) | Chicago (60604) | Miami (33114) |
| Reimbursement Level | 90% | 90% | 90% | 90% |
| Annual Deductible | $200 | $200 | $200 | $500 |
| Price Per Month | $125.57 | $142.10 | $66.80 | $51.13 |
You can get personalized price quotes for your pet(s) from reputable companies when you fill out just 1 short form. You can also visit our Pet Insurance Quotes page to see how the cost of Trupanion stacks up against the competition.
Coupon Code
Use this link to get the best deal we can offer from Trupanion.
Waiting Periods
Trupanion Customer Reviews
Positive Reviews
I have my dog Frosty insured with Trupanion for 5 years and never needed to file a claim until 4 weeks ago when he was diagnosed with a tumor on his spleen which had ruptured and caused internal bleeding and needed lifesaving surgery. The whole procedure came at $9240 which I had prepaid out of pocket and while waiting for the claim to be processed, I looked up some of the reviews online and got really worried. Fortunately my experience was different and very positive, the agents on the phone were very caring, understanding and knowledgeable and after about 20 days I received an email stating my claim was approved and 90% of the cost will be covered by Trupanion (minus the deductible). They also informed me the reason why it took 20 days to process was due to that being our first claim. Thank you Trupanion. – Tobias M., Yelp 4/24/2018
For years, I had my previous dog insured with Trupanion and I never had any issues with their coverage. I read my policy prior to enrollment (a common error I can see many people making when they complain about coverage). Prior to enrollment, my dog had about one UTI every year so I just never made claims for those. But when she developed a cancerous lung tumor, Trupanion was there every step of the way covering her care and allowing me to give her the best last 18 months I could. Over the 5 years I had her insured, there was never a dramatic premium increase and one year, her premium went DOWN! How often does that happen? They base their premiums on actuary data about pets with similar breed, age, and postal code so if the cost of care is high in your areas, you can see increases. I see it as a fair trade off for such comprehensive coverage at 90%. I have since gotten a new elderly dog a few months ago and a new kitten just a few days ago! Once again invested in a Trupanion policy for both of them. The dog I adopted came with some allergies and while I know those are pre-existing and not eligible for coverage, it is a comfort to me to know that Trupanion is there for us when we need them for future accidents or injuries. – Courtney P., BBB 4/7/2018
Negative Reviews
Kesa, I don't have any questions. I have already wasted HOURS of my lunch breaks, weekends, and precious time on the phone with Trupanion to no avail. My concerns were trivial, but you dug your heels in and made this the worst experience in the many tough times. Unless there is anything you can do to repay me AT ALL, I will NEVER recommend your company and absolutely not waste another minute on the phone. There is no point with arguing when you clearly don't want to help but just profit off technicalities that were not explained anywhere in your site or paperwork. Like I said in previous reviews, even my vet, a loyal recommender of Trupanion was very upset to hear of my experiences with you. You response was clearly a ploy to look decent and try to resolve issues; until I'm on the phone and you couldn't care less. – Allison P., Yelp 4/20/2018
This pet insurance company is awful. They barely cover anything! My kitten had a toxic exposure and they wouldn't cover calling animal poison control or her bath which was all necessary with the exposure. I was told that I would receive a call regarding the bath dispute, they never called, emailed me a new invoice with no explanation on anything. We use a different company for our older kitty and are switching back. Also you must pay a deductible for each different issue, not a calendar year! – Emily L., BBB 4/12/2018
Why Get Pet Insurance?
Need a better understanding of why you should consider purchasing pet insurance for your pup? Check out our video below.
Compare Trupanion To Other Leading Pet Insurance Providers
Trupanion's policy choices are less complicated than many other pet insurance providers, which may be appealing for some consumers. Of course, this also means fewer options. It's also on the expensive side compared to similar coverage from other companies, and its underwriter is unrated by A.M. Best.
Visit our Best Pet Insurance comparison to see a comprehensive review of the leading insurance providers for your four-pawed family members. See how Trupanion stacks up against the competition and if they're the right pick of the litter for you.
Are you considering pet insurance through Trupanion?
Disclaimer: Information regarding insurance company offerings, pricing and other contract details are subject to change by the insurance company at any time and are not under the control of this website. Information published on this website is intended for reference use only. Please review your policy carefully before signing up for a new pet health insurance contract or any other contract as your unique circumstances will differ from those of others who may be used for example purposes in this article.
Disclaimer: The information provided through this website should not be used for diagnosing or treating a health problem or a disease. It is not a substitute for professional care. If you have or suspect you may have a health problem, you should consult your health care provider.
Disclaimer: This website contains reviews, opinions and information regarding products and services manufactured or provided by third parties. We are not responsible in any way for such products and services, and nothing contained here should be construed as a guarantee of the functionality, utility, safety or reliability of any product or services reviewed or discussed. Please follow the directions provided by the manufacturer or service provider when using any product or service reviewed or discussed on this website.