To sustain this free service, we receive affiliate commissions via some of our links. This doesn't affect rankings. Our review process.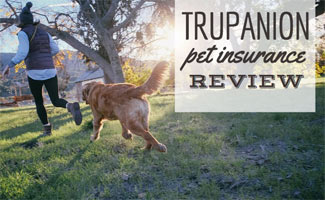 You turned your back for one minute and now Fido has a stomach full of bathroom trash. Yuck! You know this isn't going to be good. You take him to the vet and have an x-ray done and see all the q-tips, bobby pins and, oh no, a part of an old razor blade. Things just got really scary for you. The vet performs surgery and thankfully, Fido will be okay. However, your bank account is in some real pain now. Had you signed up for pet insurance, you may not have had to pay as much for the vet bills. That's where Trupanion comes into play.
Trupanion offers pet insurance to help you cover your dog's vet fees. Depending on the plan you choose, you could have nearly all of your vet bills covered. We're going to look at Trupanions pros, cons, price quotes, what they do/don't cover and more to help you decide if they're the right provider for your dog.

Trupanion Review
Pros
Offers an unlimited lifetime limit on coverage
Offers optional benefits for additional expenses that cover acupuncture, physical therapy, hydrotherapy and behavioral modification training and therapy
Hip Dysplasya has no waiting period and no age restrictions
BBB rating is A+
Claims are settled within four days on average (65% are settled the day they are received and 80% are settled within seven days)
The only company that offers vet direct pay*
24/7 phone support
30-day money back guarantee
Pet is covered in the U.S., Canada and Puerto Rico
Cons
More expensive than our top three picks
One time $35 administration fee
Policies have three day waiting period for injuries and 30 day waiting period for illnesses
Allow up to a 20% increase on premiums from year to year
Pets are not eligible for enrollment after their 14th birthday
No wellness plan
Does not cover exam fees
*Vet Direct Pay: Trupanion pays the veterinarian directly in as little as five minutes. This means policyholders don't have to wait for reimbursements. Instead, you pay the portion that your Trupanion policy doesn't cover after Trupanion has paid.
Pricing
As a Trupanion subscriber, you are able to customize your Tru-panion plan to suit your budget and type(s) of care and coverage desired. Your Trupanion pet insurance policy cost will vary depending on a variety of factors; such as the age of your pet when you sign up, the deductible amount you choose (anywhere from $0-$1,000), and the type of optional riders you select. No matter which plan you select, remember that there are no coverage limits on the Trupanion core plan or riders.
Below are some example monthly premiums for various pets in different geographic locations.
| Breed | Labrador Retriever | German Shepherd | Yorkshire Terrier | Mixed Breed Cat |
| --- | --- | --- | --- | --- |
| Age | 4 Months | 2 Years | 6 Months | 4 Years |
| Male/Female | Female | Male | Female | Male |
| Location | New York City (zipcode: 10005) | Los Angeles (zipcode: 90010) | Chicago (zipcode: 60604) | Miami (zipcode: 33114) |
| Reimbursement Level | 90% | 90% | 90% | 90% |
| Annual Deductible | $200 | $200 | $200 | $500 |
| Price Per Month | $115.07 | $108.28 | $48.29 | $42.69 |
Coupon Code
There are not any active Trupanion coupon codes at this time.
What Does Trupanion Cover?
After the deductible and exam fee, even with the basic, or "core" plan, Trupanion pays 90% of actual veterinary bills for approved illness and accident claims, whether from the veterinary hospital, specialty animal hospital or emergency care center. While it is great that Trupanion covers 90% of the bill, other pet insurance providers are more flexible, allowing customers to choose their reimbursement level. This could mean a lower monthly premium for you. Below is a list of some items Trupanion does and does not cover. For a full list we recommend asking for a sample policy.
| Covered by Trupanion | Not Covered by Trupanion |
| --- | --- |
| Illnesses | Exam fees |
| Injuries | Sales tax where applicable |
| Hereditary conditions | Wellness and preventative care |
| Congenital conditions | Pre-existing conditions |
| Diagnostic tests | |
| Surgeries | |
| Hospital stays | |
| Medications | |
| Veterinary supplements | |
| Prosthetic devices and carts | |
| Alternative and rehabilitative therapies (optional) | |
| Extra protection for breeding dogs (optional) | |
Pet Owner Assistance Add-On Package
The Pet Owner Assistance package costs $4.95/month in addition to the core plan premium.
Boarding fees
Liability coverage for third-party property damage
Vacation cancellation costs
Cremation or burial fees
Advertising and reward for lost pet
Recovery and Complementary Care Rider
The price of this plan can vary anywhere from a couple of dollars towards $30 and is in addition to the core plan premium.
Acupuncture
Chiropractic
Homeopathy
Hydrotherapy
Physical and rehabilitative therapy
Behavioral modification and therapy
Naturopathy
About Trupanion Pet Medical Insurance
Trupanion pet medical insurance was founded in Canada in 1998 as VetInsurance. In 2005, VetInsurance expanded to the U.S. and re-branded in 2008 as Trupanion. For the last decade, American Pet Insurance Co. (APIC), a subsidiary, has performed the underwriting duties for Trupanion. Many pet insurance providers do not have their own underwriter, Trupanion claims that this allows them to pay back 70 cents for every dollar spent in premiums. The U.S. branch is headquartered in Seattle, Washington, and was named one of Washington state's Best Workplaces in 2013.
Compare Trupanion to Other Leading Pet Insurance Providers
Visit our Pet Insurance Reviews page to see a comprehensive comparison of the leading insurance providers for pets. See how Truepanion stacks up against the competition and if they're the right pick for you.
Why are you thinking of getting pet insurance through Trupanion?
Disclaimer: Information regarding insurance company offerings, pricing and other contract details are subject to change by the insurance company at any time and are not under the control of this website. Information published on this website is intended for reference use only. Please review your policy carefully before signing up for a new pet health insurance contract or any other contract as your unique circumstances will differ from those of others who may be used for example purposes in this article.