To keep the lights on, we receive affiliate commissions via some of our links. Our review process.
Almost any kind of insurance is notorious for being difficult to decipher — from inclusions and exclusions to complicated deductibles and premiums. Trupanion claims to set itself apart from the pack in this arena. In fact, it's one of the only pet insurance companies to offer a $0 deductible. Does Trupanion live up to its promise to provide a straightforward and transparent pet insurance experience? Let's find out!

Trupanion Pet Insurance Review
Product Name: Trupanion Pet Insurance
Product Description: Trupanion offers pet insurance for dogs and cats.
Summary
Trupanion's policy choices are less complicated than many other providers. Though Trupanion can be more expensive than some competitors, it's a great option for pets with specific conditions.
Our pet insurance experts read through each pet insurance company's policies to provide detailed comparisons and information regarding how a provider fares against others in the industry. We also speak with customers, read online feedback, and communicate one-on-one with the pet insurance companies to obtain a well-rounded, unbiased analysis of a company's standings.
Our team rates pet insurance companies based on several factors, including A.M. Best ratings (an indicator of financial stability), claim processing reputations, contract coverage, customer service, pricing, plan customizations, and more.
Pros
90% reimbursement with no payout limits
Offers optional benefits for additional expenses that cover acupuncture, physical therapy, hydrotherapy and behavioral modification training and therapy
Hip dysplasia has no age restrictions (but 30-day waiting period)
Offers enrollment from birth
30-day money-back guarantee
Pet is covered in the U.S., Canada, and Puerto Rico
Claim processing averages 2 days
Vet direct pay option at participating clinics
Cons
Quotes tend to be among the most expensive compared to competitors
One time $35 administration fee ($25 in WA and $0 in MD and MI)
Policies have a 30-day waiting period for illnesses (industry average is 14)
No multi-pet discount
Pets aren't eligible for enrollment after 14th birthday
No wellness plan
Doesn't cover exam fees
Alternatives To Trupanion: Our experts have analyzed over a dozen pet insurance providers. Check out our pet insurance reviews to learn more about this year's top-ranked companies.
Key Features
Underwriter: American Pet Insurance Company

A.M. Best rating (a measure of financial stability): Unrated

Trupanion has a per-incident deductible for the lifetime of the pet instead of an annual deductible; this means you'll have to meet the deductible for each new condition/incident your pet encounters but once you have reached the deductible, your pet is covered for as long as your policy is active
No bilateral exclusions (a condition or disease that affects both sides of the body)
Claims process:

Must submit claims within 90 days of the treatment date via mail, email, or fax
Claims are processed in an average of 2 days
Option for Trupanion to pay the vet directly, so you don't owe a hefty vet bill when you leave the office or have to wait for reimbursement (not available everywhere but ask your vet; they may be willing to work with Trupanion's Vet Direct Pay)

Continues coverage for a pet if its policy transfers to a new owner
Covers curable pre-existing conditions if there are no signs or symptoms within 18 months prior to enrollment
State Farm offers pet insurance through Trupanion
How Does Trupanion's Vet Direct Pay Work?
Trupanion's Vet Direct Pay is software that allows Trupanion to pay the vet directly, within seconds, at the time of checkout. You pay your portion of the claim to the vet, and Trupanion pays the remaining amount – eliminating the reimbursement model. The claims process becomes a thing of the past. The software clearly shows what's covered and excluded, so you know the amount you're responsible for paying.
Trupanion's Vet Direct Pay software needs to be installed on your vet's office computers for you to take advantage of this feature. If your vet doesn't currently have it installed, Trupanion processes the majority of claims in two days and many within minutes.
Customer Service Options & Hours
Email, phone, fax, and live chat: 24/7
What Are Trupanion's Waiting Periods*?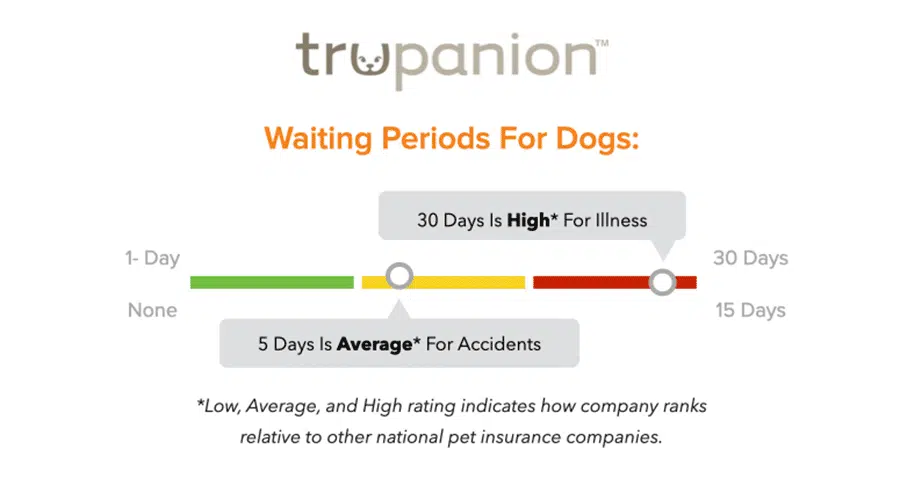 Illnesses: 30 days
Accidents: 5 days
Cruciate Ligaments: 30 days
Hip Dysplasia: 30 days
*Waiting periods for California, Maine, and Mississippi are as follows:
Accidents - 0 days
Illnesses - 14 days
Cruciate Ligament Conditions - 30 days
Routine Care - 0 days
What Does Trupanion Cover?
Please know that none of the providers in our pet insurance comparison charts cover pre-existing conditions, cremation and burial costs, pregnancy and breeding, or unnecessary cosmetic procedures.
All of them cover the following items when deemed medically necessary: emergency care, surgery and hospitalization, specialized exams and specialty care, X-rays, blood tests, ultrasounds, cat scans, MRIs, rehabilitation, cancer, chronic conditions, euthanasia, hereditary conditions, congenital conditions, non-routine dental treatment, and prescription medications. However, this coverage may have limitations, so please check your policy.
| Condition | Covered By Trupanion |
| --- | --- |
| Behavioral Therapies | |
| Alternative/Holistic Therapies | Extra Fee |
| Sick Visit Exam Fees | |
| Wellness Care | |

Pet Owner Assistance Add-On Package
The Pet Owner Assistance package costs $4.95/month in addition to the core plan premium.
Boarding fees in the event you're hospitalized
Liability coverage for third-party property damage
Holiday vacation cancellation costs due to pet-related issues
Cremation or burial for deaths due to an accident
Advertising and rewards for lost pets
Recovery & Complementary Care Rider
This plan's price can vary from a couple of dollars up to $30 and is in addition to the core plan premium.
Acupuncture
Chiropractic
Homeopathy
Hydrotherapy
Physical and rehabilitative therapy
Behavioral modification
Naturopathy
How Is Trupanion's Pricing Determined?
Trupanion requires a one-time enrollment fee of either $0, $25, or $35, depending on the state in which you live, but has no transaction fees. Your monthly premium is based on the deductible, reimbursement percentage, and annual payout options that you choose from the table below.
| Deductible Options | Payout Options | Reimbursement Options |
| --- | --- | --- |
| $0-$1,000 (in $5 increments) | Unlimited | 90% |
Trupanion is one of the only providers we've reviewed with a $0 deductible option. They also allow a vast range of deductible amounts, providing a helpful way to adjust your premium price to best suit your budget.
They only offer a 90% reimbursement option because they strongly believe that no pet owner should be left holding a massive vet bill following a pet's medical need. So after your deductible is paid, a pet owner's out-of-pocket expense will never exceed 10% of the covered amount.
Pricing is also based on your pet's details (age, breed, location, pre-existing conditions, etc.). We recommend obtaining quotes from Trupanion for your specific pet to get an idea of how much a policy would cost you.
You can also use our pet insurance quote form below to see how top providers compare for your actual pet.
Does Trupanion Have Any Coupon Codes?
Use this link to take advantage of the best possible price and get a quote for your pet from Trupanion. You can also visit our dedicated Trupanion promotions page to learn more.
The Trupanion Plan
Trupanion has made changes to its coverage that are currently available in Texas, Arizona, and Maine and that will be available in all 50 states by the end of 2023. The policy still includes unlimited payouts, comprehensive coverage, and the ability to pay their portion of the vet bill within seconds at the time of checkout, so all the pet owner has to pay is the remaining balance. The key changes they are updating are:
$0 deductible for all plans
More reimbursement options (50%, 60%, 70%, 80%, 90%, or 100%)
There is a 12-day delay in the effective date. This is similar to a waiting period, but the pet insurance industry is moving towards changing the language from the waiting period to the effective date, so Trupanion is being proactive in this update.

The biggest difference between a waiting period and an effective date is that the customer isn't charged until the effective date, but with a waiting period, the customer is charged on the day of enrollment.

A Medical Record Summary is given to pet parents and hospitals within 30 days of coverage. This summary details exactly what you can expect covered and excluded.
No more add-ons. Everything is included in one plan (alternative therapies like physical therapy, behavioral therapy, acupuncture, and more)
How Does The Claim & Reimbursement Process Work?
Trupanion uses a "deductible then co-pay" reimbursement method. This is calculated in the following way:
Actual eligible vet bill amount – Remaining annual deductible – Co-pay = Reimbursement amount
Reimbursement Story
Here's a reimbursement story to help you better understand how Trupanion processes claims.
Dog: Chief, 3-year-old male Border Collie
Condition: Emergency vet, ambulance, hospitalization, and rehab/physical therapy
Trupanion Reimbursed: $40,000

Frequently Asked Questions
Here are some frequently asked questions regarding Trupanion pet insurance from our readers.
Can I Cancel Trupanion Online?
You may cancel your Trupanion policy at any time with written notice.
Fax: 866-405-4536
Email: [email protected]
Mail: Trupanion USA, 6100 4th Ave South, Suite 200, Seattle, WA 98108
If you'd like to find an alternative for your Trupanion insurance policy, take a look at our pet insurance reviews to find out more about the pet insurance companies available and which might prove best for your needs.
Is Pet Insurance Worth It?
Need a better understanding of why you should consider purchasing pet insurance for your pup? Check out our video below.
Trupanion vs Other Companies
Interested in seeing how Trupanion stacks up against other popular pet insurance companies? We've analyzed and detailed how Trupanion and other leading pet insurance companies compare in coverage, customer service and reputation, claim processing, plan customization, and price.
Compare Trupanion To Other Leading Pet Insurance Providers

As advertised, Trupanion's policy choices are less complicated than many other pet insurance providers, which may appeal to some consumers. Though Trupanion can be more expensive than some competitors, it's an excellent option for pets with bilateral conditions such as hip dysplasia. It is also a great way to manage your budget in a pet emergency since you will know your deductible is set, and then you will only owe 10% of the approved claim amount.
Visit our best pet insurance guide to see our top pet insurance picks, pros and cons for each company, comparison tables to see where providers differ, frequently asked questions, and more.
Tagged With: Reviewed By Insurance Agent