This post may contain affiliate links and we'll be compensated if you make a purchase. This doesn't affect rankings. Our review process.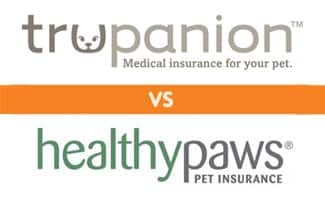 You just took your dog to her yearly checkup. Bad news, she has cancer. Your world has just been destroyed. You don't want her to endure all this pain. You want her to live. You'll do anything in your power to help her, but can you afford the treatments? Pet insurance may be a good proactive solution if you sign up before a health emergency arises. It's your responsibility to think ahead in case something bad were to happen to your dog. Had you signed up for pet insurance when you got your furry friend you would be covered financially. Unfortunately, you now have to try to find a way to pay for the cancer treatments out of your own pocket.
Perhaps Trupanion or Healthy Paws is the solution you need to reduce your financial risk. Find out which pet insurance provider is the top dog. We compare features and give you a side by side quote comparison to show you the different options. Let's dig in!
Trupanion vs Healthy Paws
Trupanion and Healthy Paws cover basically the same things. One main difference is that Healthy Paws has an annual deductible whereas Trupanion's deductible is per-condition and lifetime. This Healthy Paws feature is important if your pet experiences multiple accidents or illnesses during the policy period (one year). However, if your dog is subject to chronic conditions like allergies, hip dysplasia, cancer, urinary tract infections, etc., then Trupanion's per condition deductible for the life of your pet may be a better choice. Claims seem to be paid a little quicker by Healthy Paws, which also has a slightly cheaper enrollment fee, but overall, these two companies look very similar at first glance. So how do you choose one over the other?
Winner: Healthy Paws

Healthy Paws is our #1 pick for Best Pet Insurance Company overall, beating out Trupanion this year. What really put Healthy Paws in the lead is that they offer an unlimited lifetime benefit, have an annual deductible, more coverage options to fit your needs and budget, quick claim payment and an easy to understand contract. They are also consistently cheaper than Trupanion and have outstanding customer service.
Healthy Paws is a great pet insurance company to go with if your pet causes trouble often and gets into places they shouldn't be. This is due to the fact that they apply an annual deductible and not a "per incident" deductible. This means that if your pet gets sick or has an accident and your out-of-pocket expenses meet your deductible then you won't have to start over and pay another deductible for any future covered claims for the remainder of that policy year. Although you do have to pay a $25 enrollment fee, you will more than get that money back should your pet run into more than once incident in a year.
Read our in-depth review of Healthy Paws
What About Trupanion?
Trupanion didn't rank in our top three for Best Pet Insurance Reviews but there are a lot of things they are doing very well. Although they have no per-incident cap and no payout limits per pet they still didn't have what it takes to be the best. We like a lot of things about Trupanion though, like your pet being covered when you travel throughout the U.S., Canada and Puerto Rico and chronic illnesses are covered for the lifetime of your pet rather than being capped by an annual deductible. They also cover every pet at 90% which could save you money if you get into a costly emergency situation, but in most cases you will pay a higher monthly fee for this just in case coverage.
However, there are some things they could improve on. They have a 30-day wait period for illnesses and a 3-day waiting period for injuries after you sign up. If you are looking to buy a new policy for your dog that is 14 years old or older, Trupanion is not an option. Lastly, they tend to have higher premiums than competitors.
Read our full review of Trupanion
Trupanion vs Healthy Paws Comparison Table
We know it's easier to compare two companies by seeing what they cover side by side. That's why we've created this pet insurance comparison table to help you see the similarities and differences between Trupanion and Healthy Paws.
 
Healthy Paws
Trupanion
Overall Ranking in our Pet Insurance Comparison
1st
Honorable
Mention
X-Rays
Blood Tests
Ultrasounds
Cat Scans
MRI
Rehabilitation
Behavioral Therapies
Specialized Exams
Surgery
Hospitalization
Emergency Care
Specialty Care
Hydrotherapy
Pre-existing Conditions
Check Ups, Vaccinations, Spay/Neuter, Teeth Cleaning
Non-Routine Dental Treatment
Hip Dysplasia
Chronic Conditions
Illnesses
Accidents
Hereditary Conditions
Congenital Conditions
Cancer Treatments
Diagnostic Treatment
Alternative/Holistic Therapy
Extra Fee
Prescription Medications
Enrollment Fee
$25
$35
30-Day Money Back Guarantee

(30-Day Certificate)
BBB Rating
A
A+
Claim Limits
Unlimited
Unlimited
Trupanion vs Healthy Paws: Quote Comparison
To give you an example of the price difference between Trupanion and Healthy Paws we've created a quote comparison for dog insurance. See how the two stack up and compare your dog's quotes against one another by using our links above (you can save some cash!). Remember that pricing can vary depending on the age of your pet, where you live, your dog's breed, etc.
Dog – Akita Pet Insurance Quote
Characteristics considered for these quotes:
Age: 4 years old
Male
No microchip
No multi-pet discount
No pre-existing conditions
Neutered
Residency in Los Angeles, California (zip code 90016)
Quote is from April 27, 2017
|   | Deductible | Reimbursement % | Price Per Month |
| --- | --- | --- | --- |
| Healthy Paws | $250 | 90% | $65.33 |
| Trupanion | $250 | 90% | $106.00 |
| Healthy Paws | $100 | 90% | $81.49 |
| Trupanion | $100 | 90% | $137.05 |
Why Should You Get Pet Insurance?
Find out why Michael chose to get pet insurance for his pup, Bambie. He makes some pretty valid points.
Other Pet Insurance Reviews
Owning a dog can cost anywhere from $700 to $3,000 a year. Can you afford that? In addition to these two companies, there are many other pet insurance companies to consider in your search before you sign on the dotted line. If you'd like to see how all the national providers compare against one another, be sure to read our Pet Health Insurance Reviews article. We've ranked the top three companies so you can see where Healthy Paws, Trupanion and all the others fall.
Which pet insurance company looks better to you and why?
Disclaimer: Information regarding insurance company offerings, pricing and other contract details are subject to change by the insurance company at any time and are not under the control of this website. Information published on this website is intended for reference use only. Please review your policy carefully before signing up for a new pet health insurance contract or any other contract as your unique circumstances will differ from those of others who may be used for example purposes in this article.