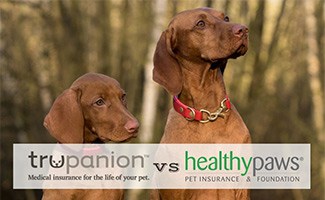 Pet insurance is a great proactive solution if you sign up before a health emergency occurs with your dog. It's your responsibility to think ahead in case something terrible happens. Could you afford treatment for a cancer diagnosis?
Perhaps Trupanion or Healthy Paws is the solution you need to reduce your financial risk. Find out which pet insurance provider is the top dog. Our experts compare features and give you a side-by-side quote comparison to show you the different options.
Visit Healthy Paws' Website | Visit Trupanion's Website
Policy Coverage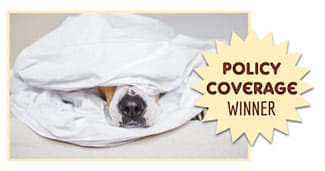 The table below shows specific differences between what Trupanion and Healthy Paws cover. Note: Both companies cover X-rays, blood tests, ultrasounds, cat scans, MRIs, rehabilitation, specialized exams, surgery, hospitalization, emergency care, specialty care, chronic conditions, cancer, euthanasia, hereditary conditions, congenital conditions, and prescription medication.
| | Healthy Paws | Trupanion |
| --- | --- | --- |
| Overall Ranking in our Pet Insurance Comparison | 2nd | Not Ranked |
| Pre-Existing Conditions | | |
| Illnesses Waiting Period | 15 Days | 30 Days |
| Accidents Waiting Period | 15 Days | 5 Days |
| Hip Dysplasia Waiting Period | 12 Months | 30 Days |
| ACL Waiting Period | 15 Days | 30 Days |
| Behavioral Therapies | | |
| Alternative/Holistic Therapy | | Extra Fee |
| Wellness Care Available For An Extra Fee | | |
| Exam Fees | | |
| Enrollment Fee | $25 | $35 ($25 in WA and $0 in MD and MI) |
| 30-Day Money-Back Guarantee | | (30-Day Certificate) |
| Annual Payout Limit | Unlimited | Unlimited |
| BBB Rating | A+ | A- |
| Underwriter | Westchester Fire Insurance Company/Chubb | American Pet Insurance Company |
| A.M. Best Rating | A++ | Unrated |
As you can see, Trupanion and Healthy Paws offer very similar coverage. The primary notable differences are that Healthy Paws does not cover behavioral therapies, and Trupanion charges extra for alternative/holistic therapy.
Additionally, Healthy Paws has an annual deductible, whereas Trupanion's deductible is per-condition and lifetime. An annual deductible is important if your pet experiences multiple accidents or illnesses during the policy period (one year). However, if your dog is subject to chronic conditions, like allergies, hip dysplasia, cancer, urinary tract infections, etc., then Trupanion's per-condition deductible for the life of your pet may be a better choice.
Both companies charge a one-time enrollment fee, and Healthy Paws requires a vet exam within the last 12 months or 15 days of policy issuance for dogs younger than six. For dogs older than six, you must have a vet examine your dog within the last 30 days or 15 days of policy issuance.
You'll also notice that Healthy Paws has a better rating (A+) from the Better Business Bureau than Trupanion (A-), and its underwriter has an A++ A.M. Best rating (a measurement of financial stability), which is the best we've seen from any pet insurance company.
However, Trupanion ultimately edges past Healthy Paws in this category because they only have a 30-day waiting period for hip dysplasia, whereas Healthy Paws' is 12 months. And Trupanion's waiting period is only 5-days for accidents, while Healthy Paws' is 15 days.

The video below shares more about what makes Trupanion stand out.
Policy Coverage Winner: Trupanion
Customer Service & Reputation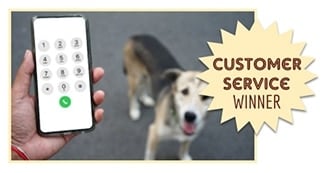 Customer service and reputation can be overlooked when you're met with an attractive quote for your policy, but we think it's one of the most important elements you should consider. We hope you never have to file a claim, but should the need arise, we want it to be as painless and easy on you and your furry friend as possible.
It doesn't matter how much you pay; if you call a company and never get your questions answered or problems solved, you feel like you've wasted your money.
Healthy Paws has some of the best customer service we've seen. Our readers have shared many positive testimonials with us, raving about their experiences. On the other hand, we've received more complaints about Trupanion.

Customer Service & Reputation Winner: Healthy Paws
Claim Repayment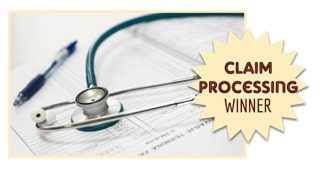 Healthy Paws pays 99% of its claims within two days. This is a speedy turnaround on repayment. Compare this to the time it may have taken to get your money back when you've filed a claim for a car accident or on your homeowners insurance policy.
Trupanion allows up to 60 days to pay claims (but averages 14 days). That's a long time. If your dog required a medical emergency that cost over $1,000, would you be able to go 60 days without getting reimbursed? That being said, you should also have your vet call Trupanion's claims center before you pay.
Trupanion may be able to pay your vet directly for the covered portion of your bill, so you wouldn't have to wait for reimbursement. Direct payment to the vet is one of the unique perks that Trupanion offers its customers, but only at participating vet offices. (Note: Healthy Paws may be able to provide this option as well if you call and discuss it with them. However, you may not find it as necessary since its claim repayment is more timely.)

Claim Repayment Winner: Healthy Paws
Plan Customization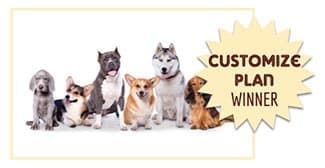 Trupanion has a set 90% reimbursement and a set unlimited payout limit, so their policies aren't nearly as customizable as many other pet insurance companies. Trupanion also has a per-incident deductible (choose from $0 to $1,000), which means you'll have to meet the deductible multiple times for each emergency or illness in a given policy period. This can result in more expenses for you.
Healthy Paws has unlimited payouts on all plans, and they offer more plan flexibility than Trupanion. Unfortunately, Healthy Paws has some restrictions on reimbursement and annual deductible amounts, depending on your pet's age at enrollment.
Dogs and cats 5 years and under:

90%, 80%, and 70% reimbursement
$100, $250, and $500 deductible

Dogs and cats 6 and 7 years old:

80%, 70%, or 60% reimbursement
$250, $500, or $750 deductible

Dogs 8 years and older:

50% or 60% reimbursement
$750 or $1,000 deductible
Additionally, Trupanion offers coverage for pets starting at birth, while Healthy Paws' coverage begins at 8 weeks old. Trupanion doesn't enroll pets older than 13 years old. Meanwhile, Healthy Paws doesn't register pets older than 14 years old (older than 4 years old aren't eligible for enrollment in New York).

Plan Customization Winner: Healthy Paws
Price Of Policy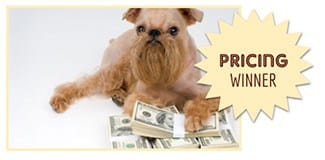 To give you an example of the price difference between Trupanion and Healthy Paws, we've created a quote comparison with an example dog.
Characteristics considered for these quotes:
Neutered male Jack Russel Terrier, 2-years-old
No microchip, multi-pet discount, or pre-existing conditions
Residency in New York (zip code 10034)
Quote is from December 2020
| | Deductible | Reimbursement % | Price Per Month |
| --- | --- | --- | --- |
| Healthy Paws | $250 | 90% | $41.44 |
| Trupanion | $250 | 90% | $101.00 |
| Healthy Paws | $500 | 90% | $35.22 |
| Trupanion | $100 | 90% | $130.49 |
To see more quote comparisons, take a look at our pet insurance comparison page. You'll find that Trupanion was consistently more expensive than Healthy Paws for every quote we ran. When you take coverage into consideration as well, you get a better value with Healthy Paws in most instances.

Price Of Policy Winner: Healthy Paws
Coupons
Healthy Paws
Trupanion
Why Should You Get Pet Insurance?
Find out why Michael chose to get pet insurance for his pup, Bambie. He makes some pretty valid points.
What's The Verdict?
Healthy Paws is the clear winner in this comparison. For similar coverage, better customer service reputation, and a shorter claim repayment, most people can save money by choosing Healthy Paws over Trupanion. If you didn't find what you were looking for, our experts have gone in-depth with individual reviews of Trupanion and Healthy Paws so you can expand your comparison.

Overall Winner: Healthy Paws
Healthy Paws won this showdown against Trupanion, but how do these two companies stack up against other providers? Our experts have spent hundreds of hours researching to bring you our comprehensive pet insurance reviews, including our top picks as well as details on each of the most popular pet insurance companies.
If you prefer to see winners by category, we award the best price, multiple pets, 100% reimbursement, unlimited payouts, and "best for" categories, including puppies, older dogs, dental, wellness coverage, bilateral conditions, behavioral therapy, and more in our best pet insurance comparison. You'll even see winners for exotic pets and cats.
Which pet insurance provider are you leaning toward?