How do we keep this site running? This post may contain affiliate links — the cost is the same to you, but we get a referral fee. Compensation does not affect rankings. Thanks!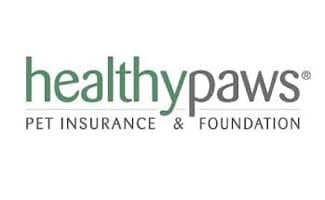 Healthy Paws pet insurance is our #1 pick for best pet health insurance. Healthy Paws took the gold medal because it has a history of great customer service, annual deductible (vs per incident) and unlimited lifetime benefits. You get to choose how you want to pay by deciding your annual deductible and the percentage of the vet bill that you'll be reimbursed for when you sign-up for your initial plan.
Healthy Paws also likes to give to those in need. Each time you get a quote from Healthy Paws they donate money to a homeless pet in need. Healthy Paws covers many services including genetic conditions like hip dysplasia, a condition that is rarely covered in the industry. Take a deeper look at our Healthy Paws Reviews to learn if they are the right pet insurance provider for you.
Help a homeless pet just by getting a quote… read more below about their Every Quote Gives Hope™ program.
Review Overview
Customer Service & Reputation
Timeliness of Claim Payment
Summary : Healthy Paws is our #1 pick for pet insurance. Healthy Paws covers practically anything your dog would need covered. Their customer service is great and their pricing is among the lower end when compared to other pet insurance providers.
Why Does My Dog Need Health Insurance?
The same reason you need it. Should an unexpected accident or illness arise you don't want to find yourself with large vet bills asking you to pay large sums of money to get your dog back to 100%. It's comforting knowing that if something does happen, you are able to help your pup without the cost of high unplanned medical bills. It's nice having that financial support to lean on for help so that the emotional wear is a little less as well.
Services Covered By Healthy Paws
Here is a list of services that HealthyPaws covers and does not cover (as of January 2017). Services included are not limited to this list and are subject to change.
| Covered | Not Covered |
| --- | --- |
| Surgeries | Pre-existing conditions |
| Hospitalization | Wellness visits (preventative or routine care) |
| Cancer | Vaccinations |
| Prescription medications | Teeth cleaning |
| Diagnostic treatment and testing (x-rays, blood tests, etc.) | Spay/neuter procedures |
| Injuries | Veterinary exam or office visit fees |
| Illnesses | |
| Congenital conditions | |
| Hereditary conditions | |
| Chronic conditions | |
| Accidents | |
| Emergency care | |
| Alternative treatment | |
How Does It Work?
After you pay for your dog's treatment at the vet, use the mobile app to take a photo of your itemized vet invoice to submit your claim instantly. If you prefer pencil and paper, there is a claims form that you can print out and complete as well. Healthy Paws will process your claim and send you a reimbursement check. Most reimbursement checks are received within ten days of when the claim is filed which is likely before your credit care bill even shows up, if that is how you chose to cover the cost until the insurance company paid you back.
Pros

Cons

Fewer exclusions, broader coverage benefits
Annual deductible vs. per incident deductible
Unlimited lifetime coverage so no annual or per incident limits on claims
Your pet is covered when they travel with you in the United States or Canada
Prescription medication is covered
High customer satisfaction
Easy to submit a claim on the Healthy Paws app for quick claim reimbursement
Most claims are paid within 7-10 days (first claims may take longer since they need to review your dog's full medical history)
BBB accredited with an A rating
Great email response time
Good CCL (ACL) coverage, read this comment thread for more information

Veterinary exam fee is not covered
Falls about in the middle when it comes to price
Excludes hip dysplasia in animals enrolled after age six, so this might not be the best option for large breeds that are older than six. There is also a 12 month waiting period.
Contract states under section III item 5, You must agree to implement all reasonable means possible in the care and protection of your pet. This statement is rather vague and may be open to the company's interpretation of whether or not you are caring for your pet appropriately.
If your pet is older than six you must have a vet exam within the past 30 days prior to enrollment. If not, then you must get one within 15 days for the policy to be effective.
Coupon Code
Use this link and you will receive up to a 10% discount. If for any reason the discount does not show up, add in the SAVE10 Healthy Paws discount code to make sure you get this web discount. You can also visit our dedicated HealthyPaws promotions page to discuss current offers.
Is My Dog Eligible for Healthy Paws?
All dog breeds are eligible for Healthy Paws' unlimited lifetime benefits. Dogs between the ages of 8 weeks and 14 years are eligible to enroll. Once enrolled, your dog is protected for the lifetime of the policy. Pets 8 years and older receive a 70% reimbursement level and $500 annual deductible without the other options due to increased risk of accidents or illness with age. Below is a table showing examples of quotes from Healthy Paws. You can put your pet's information directly into their site to get a better estimate for your pet (use our link above for the best discount).
Breed
Labrador Retriever
English Cocker Spaniel
German Shepherd
Yorkshire Terrier
Yorkshire Terrier
Yorkshire Terrier
Mixed Breed Cat
Age
2 years
8 years
4 years
6 years
2 months
2 months
2 years
Location
Florida
(zipcode: 33601)
Illinois
(zipcode: 60290)
California
(zipcode: 90001)
New York
(zipcode: 10001)
New York
(zipcode: 10001)
Florida
(zipcode: 33601)
Washington D.C.
(zipcode: 20001)
Price Per Month
$32.75
$53.99
$46.10
$67.00
$43.75
$25.65
$16.77
Reimbursement Level
80%
70%
90%
90%
90%
80%
80%
Annual Deductible
$200
$500
$500
$100
$100
$200
$250
As shown above, things like location can change the price per month. In four columns we changed one thing to show how your monthly payments can vary depending on your reimbursement level, annual deductible, location, and age.
What If My Dog Gets Hip Dysplasia?
Healthy Paws covers expensive hereditary and congenital conditions under the condition that your veterinarian has not noted these clinical symptoms prior to obtaining Healthy Paws' pet insurance. You must enroll your dog for lifetime hip dysplasia before the age of 6 for you to take advantage of this coverage. It's important to know that there is a 12-month waiting period for hip dysplasia coverage from when you sign up with no related medical history to when your pet can be treated for it. Although there are some conditions that must be met to obtaining hip dysplasia coverage, it is a rare and great advantage that few pet insurance providers offer. Check out our hip dysplasia article to learn more about this condition, if your dog is likely to suffer from it and possible treatments for your pup.
Healthy Paws' Every Quote Gives Hope Program
Healthy Paws donates toward a homeless pet's medical care each time you get a pet insurance quote with their Every Quote Gives Hope™ grant program. Cash grants are given to pet rescue and adoption organizations for life-saving vaccines, medical treatments, and spay/neuter surgeries. By caring for these homeless pets, they are made more adoption-read since they are in good health and ready to go.
Healthy Paws' Mobile App
Healthy Paws launched the first pet insurance app in June 2014. All you have to do is take a photo of your pet's veterinary invoice and submit your claim on the app. There's no need for paper forms anymore. This is a faster and easier way to submit claims. The claims get processed quickly and a reimbursement is sent. You can download the iOS app for free via this link or the Android app here.
Opinions on Healthy Paws
We found real Healthy Paws customers' reviews. Not only the good but also the bad so you could see both ends of the company. Since the dogs couldn't share their thoughts we asked the pet parents 😉 .
Positive Reviews
I have 2 dogs insured with Healthy Paws since about 3 years ago. Fortunately, only submitted a couple of claims but their staff is always super helpful and understanding. The claim process was smooth and easy, and they were very clear on what they would/would not cover. I have no complaints. – J.W., BBB 4/19/16
They came through AGAIN. Kora just had TPLO surgery yesterday for a torn cruciate ligament. There was no drama with healthy paws, no constant back and forth, no refusal to pay certain items. Just an immediate completion of the claim (1 day!!!) with an assurance that the check would be here soon. I'm not even waiting to get the check to file this review because I know their practices. They come through. – Scott F., Yelp 6/19/15
Baxter's Story
Cancer is the highest disease related cause of death for pets each year making up almost making up almost 50%. Unfortunately, Baxter was diagnosed with cancer and his owners needed help financially. See how Healthy Paws helped this family in a time of need.
Negative Reviews
I've been paying into this pet policy for over a year only to find out that since I moved abroad to France for the year as a student and couldn't leave my pet behind, the policy won't even cover a $140 vet bill internationally. Get with the times Healthy Paws. – Starlene T., Yelp 11/11/13
I got my dog insurance because he's getting to that age and I thought it would be useful, boy was I wrong. My dog has never been sick or had anything wrong with him. I took him in after 3 months of having healthy paws. My bill was about $500 dollars at the vet because I noticed a lump and wanted it to get checked. It took them about 3 months to pay me back and not only that but they wanted all of his shot records from when he was a puppy that has nothing to do with him being sick. They tried and tried to get out of refunding my money back. Worst pet insurance EVER!!!!! Don't use them they will scam you like they did to me!!!!! – Danielle M., Yelp 7/29/14
What Are Your Healthy Paws Reviews?
Read our Healthy Paws review but still not sure if it's the right pet insurance provider for you? That's ok! You've got lots of options and you should always get at least two quotes to compare coverage and cost to find the best value for your family. Our Pet Insurance Reviews article compares Healthy Paws against many other providers to help you determine the best fit for you. If you're thinking about getting pet insurance but still have some unanswered questions feel free to ask us! We're here to help you and your pets live a better, less stressful life.
Do you have any questions about Healthy Paws plans and what they cover?
Disclaimer: Information regarding insurance company offerings, pricing and other contract details are subject to change by the insurance company at any time and are not under the control of this website. Information published on this website is intended for reference use only. Please review your policy carefully before signing up for a new pet health insurance contract or any other contract as your unique circumstances will differ from those of others who may be used for example purposes in this article.