To sustain this free service, we receive affiliate commissions via some of our links. This doesn't affect rankings. Our review process.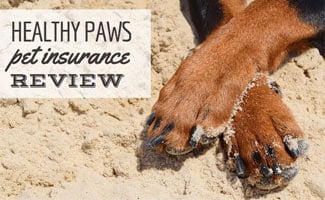 Healthy Paws is committed to helping homeless pets — so much so, they've donated over $1 million in grants to more than 300 nonprofit organizations. A great selling point for a pet insurance company, for sure.
But is Healthy Paws worthy of insuring your beloved pet? How does its coverage, service and cost compare to other top pet insurance companies?
Healthy Paws
Pros
Annual deductible (not per incident)
Unlimited lifetime coverage so no annual or per incident limits on claims
Pricing is generally the best value vs competition
Your pet is covered when they travel with you in the United States or Canada
High customer satisfaction
Easy to submit a claim on the Healthy Paws app for quick claim reimbursement
BBB rating: A+
Great email response time
Good CCL (ACL) coverage
Claim repayment averages 2 days (Direct deposit or check reimbursement)
Cons
Veterinary exam fee and behavioral therapies are not covered
Excludes hip dysplasia in animals enrolled after age 6. There is 12-month waiting period for all.
There are age restrictions (if pet is older than 6, you must have vet exam within past 30 days for enrollment or within 15 days of policy issuance)
Pets older than 8 years old are restricted to 60% reimbursement and a $750 annual deductible
15-day waiting period for accident and illness
No wellness plan
Charges a one-time $25 fee
Can't enroll pets over 4 years old in NY
Key Features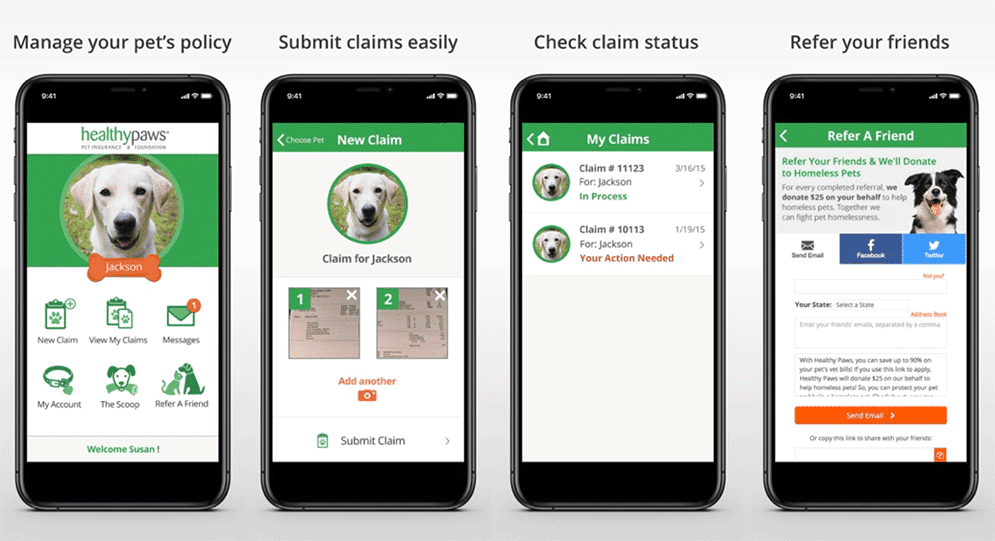 Underwriter: Westchester Fire Insurance Company/Chubb
Has one bilateral exclusion (a condition or disease that affects both sides of the body): pre-existing cruciate ligament problems to one leg as respects to the cost of future treatment for problems of the other leg
Must file claims within 90 days of the date of service, and they process 99% of claims within 2 days
Policyholders can opt for direct deposit instead of a hard copy check
With approval from Healthy Paws and the clinic, on a claim-by-claim basis, Healthy Paws may be able to pay your clinic directly. This means you don't have to pay a hefty vet bill in advance and wait for reimbursement (check with your vet — not available everywhere).
Can transfer your policy without a lapse in coverage to someone else if the pet parent becomes unable to care for the pet. The new policyholder will pay the same amount, and there will be no newly added pre-existing conditions.
Submit claims through the app (download the iOS app for free via this link or the Android app here) or online customer center
30-day free look period (similar to a money-back guarantee)
Continues coverage for a pet if its policy transfers to a new owner
AAA and AMAC member discounts may be available
Exam Period
Dogs younger than 6-years-old must have visited the vet in the last 12 months or go within 15 days of policy issuance
Dogs older than 6-years-old must have been to the vet in the last 30 days or go within 15 days of policy issuance
Pre-Existing Conditions
Defined by Healthy Paws as:
a. an illness or the recurrence of any illness or condition which first occurred or displayed any signs and/or symptoms consistent with the stated illness or condition prior to the pet policy effective date;
b. an injury or recurrence of an injury that occurred prior to the pet policy effective date; or
c. any condition or complication resulting from an illness or injury that occurred prior to the pet policy effective date.
Customer Service Hours
Email: 24/7
Phone: Monday – Friday from 6am to 6pm PST and Saturday – Sunday from 8am to 5pm PST
Waiting Periods
15 days: Illnesses
15 days: Accidents
15 days: Cruciate ligament events (bilateral exclusion for pre-existing cruciate ligament injuries and lameness)
12 months: Hip dysplasia
There are no waiting periods for New Hampshire and Maryland.
What Does Healthy Paws Cover?
Services included are not limited to this list and are subject to change.
| Covered | Not Covered |
| --- | --- |
| Surgeries | Pre-existing conditions |
| Hospitalization | Veterinary exam fees |
| Cancer | Preventative care (vaccines, flea control, heartworm medication, dental health care, grooming, anal gland expression, spay and neuter) |
| Prescription medications | Behavioral modification |
| Diagnostic treatment and testing (x-rays, blood tests, ultrasounds, etc.) | |
| Accidents | |
| Illnesses | |
| Congenital conditions | |
| Hereditary conditions | |
| Specialty Care | |
| Emergency care | |
| Alternative treatment | |
Is Hip Dysplasia Covered?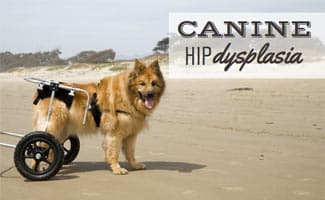 Healthy Paws covers expensive hereditary and congenital conditions if your vet hasn't noted associated clinical symptoms before you purchase a policy. Still, you must enroll your dog for Healthy Paws pet insurance before the age of 6 for you to take advantage of this coverage. Healthy Paws DOES NOT cover hip dysplasia for dogs enrolled after the age of 6.
Healthy Paws also has a 12-month waiting period for hip dysplasia coverage from the date you sign up.* This applies as long as there's no prior related medical history for this condition. Check out our hip dysplasia article to learn more about this condition.
*Both New Hampshire and Maryland remove the 15-day waiting period and the 12-month hip dysplasia waiting period. New Hampshire retains the hip dysplasia age limitation for coverage. Maryland does not have this age limitation.
Is My Dog Eligible For Healthy Paws?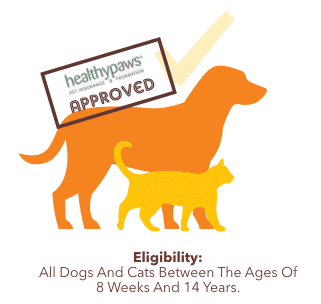 All dog breeds are eligible for Healthy Paws' no-caps-on-claim payouts. Dogs between the ages of 8 weeks and 14 years are eligible to enroll, and your dog has coverage for the lifetime of the policy.
Healthy Paws has some restrictions on reimbursement and annual deductible amounts depending on your pet's age at enrollment.
Dogs and cats 5 years and under:

90%, 80% and 70% reimbursement
$100, $250 and $500 deductible

Dogs and cats 6 and 7 years old:

80%, 70% or 60% reimbursement
$250, $500 or $750 deductible

Dogs 8 years and older:

60% reimbursement
$750 deductible
Pricing Quotes
See the table below for examples of quotes from Healthy Paws. You can get personalized price quotes for your pet(s) from Healthy Paws and several other top-ranked companies when you fill out our short quote form.
Remember though that Healthy Paws is the only company that offers unlimited coverage. We believe it's the best choice if you're opting to get pet insurance since it covers you in just about any new situation. However, pricing may be slightly higher for Healthy Paws since you receive more complete coverage.
Breed
Labrador Retriever
English Cocker Spaniel
German Shepherd
Yorkshire Terrier
Yorkshire Terrier
Mixed Breed Cat
Boy or Girl
Boy
Boy
Girl
Boy
Girl
Girl
Age
2 years
8 years
4 years
2 months
2 months
2 years
Location
Florida
(zip code: 33601)
Illinois
(zip code: 60290)
California
(zip code: 90001)
New York
(zip code: 10001)
Florida
(zip code: 33601)
Washington D.C.
(zip code: 20001)
Price Per Month
$44.86
$52.57
$71.63
$33.82
$31.87
$18.13
Reimbursement Level
80%
50%
90%
80%
80%
80%
Annual Deductible
$200
$1,000
$500
$250
$200
$250
You should expect annual increases on your premiums from any pet insurance company. These rates and increases will vary based on your location, changes in vet costs and more.
Also, visit our pet insurance quotes page to see how the cost of Healthy Paws stacks up against the competition.
Coupon Code
How Is Reimbursement Calculated?
Reimbursement is determined by taking the total of the covered treatments and multiplying that by your chosen reimbursement rate. The annual deductible is then subtracted. Here's an example for someone with a 90% reimbursement and $100 deductible:
$1,200 (covered treatments) x 90% (reimbursement level) = $1,080
$1,080 – $100 (remaining annual deductible) = $980 reimbursement amount
Healthy Paws' deducible is annual, which means it only needs to be satisfied once per policy year. It resets on the anniversary of your pet's enrollment.
Reimbursement Story
Dog: Charlie, miniature Dachshund
Diagnosis: Intervertebral Disc Disease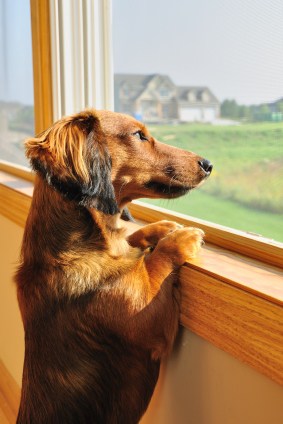 Jordan, Charlie's pet parent, knew something was wrong with Charlie when he didn't greet her when she returned home as usual, so the next day they went to a vet for neuro and orthopedic exams. They both came back normal.
The vet took knee and hip radiographs, which also came back normal. Jordan worked at the vet's office and knew that Dachshunds were prone to back problems, so she requested a second neuro and orthopedic exam. This time, he failed both.
Charlie was unable to walk by this time so Jordan rushed him to the emergency hospital where she was told it was intervertebral disc disease. They started him on a pain regimen, and things got worse overnight. Charlie was prepared for anesthesia and had an MRI which identified where his discs herniated into the spinal canal. Fortunately, the damage was corrected in surgery.
After weeks of physical therapy and about 2 years later, Charlie is about 90% recovered. He still receives maintenance therapy every 2 weeks but is running around like a puppy again.
Treatment Cost: $12,085
Healthy Paws Reimbursed: $9,168
Final Cost For Pet Parent: $2,917 ($250 deductible, 20% copay)
Customer Opinions
Positive Reviews
It was a huge relief to have Healthy Paws insurance. They paid accurately and on time. It is hard enough to have a pet go through something like this, and knowing that we had insurance to help with expenses made it more bearable. – E.F., BBB 11/18/2019
My wife and I are so extremely thankful to all of you at healthy paws. It means such a great deal to us that for the most part, we will never have to make the hard decision of choosing between trying to avoid difficult financial hardship and our dog Monkey's well being. This especially rings true to us because a friend of ours had to deal with those circumstances recently and unfortunately, to poor results. Even though the complexities of health insurance may escape Monkey, it certainly does not escape my wife and I. Monkey is well loved and cared for and that is due in part to all of you at healthy paws. – John S., Yelp 10/2/2019
Negative Reviews
My pet was fully examined and declared to be healthy when I took possession of her from her rescue. I signed up for Healthy Pets and they asked for her medical records and I sent her the FULL packet from her vet. Healthy Pets said great!!! Thanks that is everything we need to cover her, after her waiting period she is covered for everything blah blah blah. Fast forward to now when I have my first vet visit with her and reason for claim. Their reponse? "You aren't covered because we haven't received your medical history from your vet! Nah, nah, nah, nah, nahhhh, NAH." (keep in mind that anytime you interact with them after you are a paying customer you have to wait almost 2 weeks for a reply or sit on hold for over an hour.) So I explain that she was healthy during her last full exam, nothing has changed and she hasn't been to the vet BECAUSE SHE HAS BEEN HEALTHY. Too bad!!!! they say, now she is never covered for any future back issues (she threw out her back after hiking with us) because apparently you have to go to the vet and pay for nothing even with a healthy pet for them to cover anything. Also they won't even cancel my policy, they write back (after 2 weeks as is their MO) and keep making you jump through hoops. $40 a month wasted since signing up for NOTHING. AVOID THIS COMPANY at all costs. – K.M., BBB 10/7/2019
I just cancelled. I had one more pet on my policy and now I have none. I got a notification that my insurance was going to increase yet AGAIN in the next 90 days. My cat just turned 6 and what started as a 21.00 monthly, now costs more than my own health insurance. They hook you with low rates and increase the premium substantially over time to recoup the cost for the initial low rates. With their declining customer services, as you can see in my previous review and some of the other customer reviews, it's time to cancel. I hope they see these bad reviews and improve for the sake of other pet owners. – Shanny L., Yelp 10/15/2019
How Did Healthy Paws Help Baxter & His Pet Parents?
Cancer is the highest disease-related cause of death for pets each year, making up almost 50% of the total. Unfortunately, Baxter's cancer diagnosis meant his owners needed help financially. See how Healthy Paws helped this family in a time of need.

Healthy Paws vs Other Companies
See what the key differences are between Healthy Paws and other leading pet insurance companies.
Healthy Paws vs Trupanion
Healthy Paws has a better customer service reputation and pays out 99% of its claims within 2 days as opposed to the 60 days Trupanion allows.
Trupanion is consistently more expensive than Healthy Paws in the quotes we ran.
Trupanion has a shorter 30-day waiting period for hip dysplasia, while Healthy Paws is 12 months.
Compare Healthy Paws and Trupanion
Healthy Paws vs Embrace
All Healthy Paws plans include unlimited claim limits. The maximum claim limit you can get online from Embrace is $30,000, you must call in for unlimited claim limits.
Healthy Paws averages a 2-day claim repayment, while Embrace average 10 to 15 business days.
Embrace has a 2-day waiting period for accidents, while Healthy Paws has a 15-day waiting period for accidents.
Compare Healthy Paws and Embrace
Healthy Paws vs Petplan
All Healthy Paws plans include unlimited claim limits, while Petplan offers claims limits ranging from $2,500 to unlimited.
Petplan has a shorter 6-month waiting period for hip dysplasia, while Healthy Paws is 12 months.
Healthy Paws averages a 2-day claim repayment, while Petplan average 5 to 14 business days.
Compare Healthy Paws and Petplan
Healthy Paws vs Pets Best
Pets Best offers $5,000 or unlimited claim limits, while Healthy Paws offers unlimited.
Healthy Paws has a longer waiting period for hip dysplasia at 12 months vs Pets Best's 14 days but a shorter ACL waiting period at 15 days vs Pets Best's 6 months.
Both companies were consistently among the least expensive when we ran quotes, but Pets Best is often slightly lower in cost.
Compare Healthy Paws and Pets Best
Healthy Paws vs Figo
Healthy Paws was founded in 2009 and has a great reputation for customer service. Figo was founded in 2012 and doesn't have the customer service reputation that Healthy Paws has.
Healthy Paws pays 99% of its claims within 2 days, while Figo typically pays claims within 5 to 7 business days.
Healthy Paws was more consistently among the least expensive options in quotes we ran, whereas Figo was more sporadic.
How Does Healthy Paws Compare?
Healthy Paws has a history of excellent customer service, an annual deductible (vs per incident) and unlimited lifetime benefits with every policy. When you sign up for your initial plan, you choose your yearly deductible and the percentage of the vet bill for reimbursement. Learn more about Healthy Paws and their foundation in our interview with Co-Founder Rob Jackson.
If you're still not sure if Healthy Paws is the right pet insurance provider for you, you've got lots of options, and you should always get multiple quotes to compare coverage and costs to find the best value for your family.
Our best pet insurance article compares Healthy Paws against many other providers to help you determine the best fit for you. If you're thinking about getting pet insurance but still have some unanswered questions, feel free to ask us. We're here to help you and your pets live a better, less stressful life.
Do you have any questions about Healthy Paws and what they cover?
Disclaimer: Information regarding insurance company offerings, pricing and other contract details are subject to change by the insurance company at any time and are not under the control of this website. Information published on this website is intended for reference use only. Please review your policy carefully before signing up for a new pet health insurance contract or any other contract as your unique circumstances will differ from those of others who may be used for example purposes in this article.
Disclaimer: The information provided through this website should not be used for diagnosing or treating a health problem or a disease. It is not a substitute for professional care. If you have or suspect you may have a health problem, you should consult your health care provider.
Disclaimer: This website contains reviews, opinions and information regarding products and services manufactured or provided by third parties. We are not responsible in any way for such products and services, and nothing contained here should be construed as a guarantee of the functionality, utility, safety or reliability of any product or services reviewed or discussed. Please follow the directions provided by the manufacturer or service provider when using any product or service reviewed or discussed on this website.