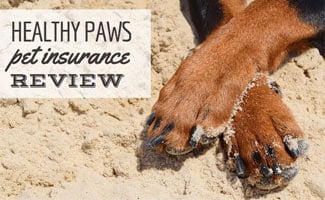 Healthy Paws is committed to helping homeless pets — so much so, they've donated over $1.3 million to help in their efforts to-date. More than 500,000 pets are covered for emergencies by Healthy Paws.
But is Healthy Paws worthy of insuring your beloved pet? How does its coverage, service, and cost compare to other top pet insurance companies?
Healthy Paws Pet Insurance
Pros
Unlimited lifetime coverage so no annual or per incident limits on payouts
Claim repayment averages 2 days (direct deposit or check reimbursement)
Good CCL (ACL) coverage
Your pet is covered when they travel with you in the U.S. or Canada (up to 3 months)
High customer satisfaction
Easy to submit a claim on the Healthy Paws app for quick claim reimbursement
BBB rating: A
Great email response time
Cons
Veterinary exam fee and behavioral therapies are not covered
12-month waiting period for hip dysplasia
Pets enrolled after age 6 aren't eligible for hip dysplasia coverage (MD doesn't have this age limitation)
15-day waiting period for accidents is longer than the competition
No wellness plan
Charges a one-time $25 fee in some states
Can't enroll pets over 4 years old in NY
Pets older than 8 years old are restricted to specific limits
Plans aren't as customizable as competitors (can't select a lower annual payout limit than unlimited to reduce your monthly premium)
Key Features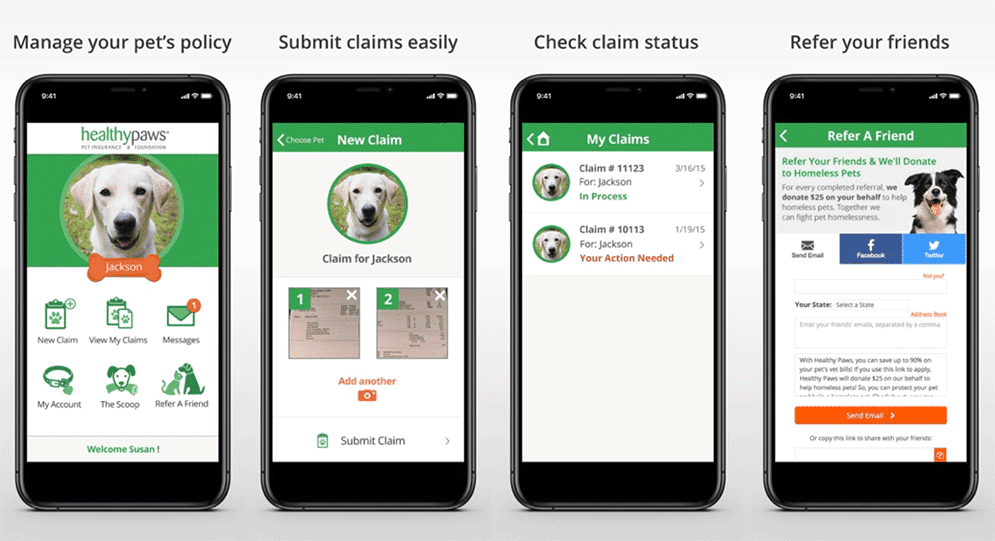 Underwriter: Chubb (administered by one of these branches: ACE American Insurance Company, Westchester Fire Insurance Company, Indemnity Insurance Company of North America, ACE Property & Casualty Insurance Company, Atlantic Employers Insurance Company)
BBB (Better Business Bureau) – Healthy Paws gets an A rating and has been an accredited business since 1/4/2011. The BBB also hosts its own consumer reviews for Healthy Paws.
Has one bilateral exclusion (a condition or disease that affects both sides of the body): pre-existing cruciate ligament problems to one leg as respects to the cost of future treatment for problems of the other leg
Claims process:

Must file claims within 90 days of the date of service, and they process 99% of claims within 2 days
Submit claims through the app (download the iOS app for free via this link or the Android app here), online customer center, email, fax, or mail
Policyholders can opt for direct deposit instead of a hard copy check
With approval from Healthy Paws and the clinic, on a claim-by-claim basis, Healthy Paws may be able to pay your clinic directly. This means you don't have to pay a hefty vet bill in advance and wait for reimbursement (check with your vet — not available everywhere).

Can transfer your policy without a lapse in coverage to someone else if the pet parent becomes unable to care for the pet. The new policyholder will pay the same amount, and there will be no newly added pre-existing conditions.
30-day free look period (similar to a money-back guarantee)
Won the best for unlimited payouts award in our best pet insurance article
Some of the most common claims submitted by Healthy Paws customers are:

Skin conditions – as high as $4,138 for some families
Pain – as high as $11,425 for some families
Exam Period
Healthy Paws requires an enrollment exam for all pets:
Dogs younger than 6 years old must have visited the vet in the last 12 months or go within 15 days of policy issuance
Dogs older than 6 years old must have been to the vet in the last 30 days or go within 15 days of policy issuance
Pre-Existing Conditions
Defined by Healthy Paws as:
a. an illness or the recurrence of any illness or condition which first occurred or displayed any signs and/or symptoms consistent with the stated illness or condition prior to the pet policy effective date;
b. an injury or recurrence of an injury that occurred prior to the pet policy effective date; or
c. any condition or complication resulting from an illness or injury that occurred prior to the pet policy effective date.
Customer Service Hours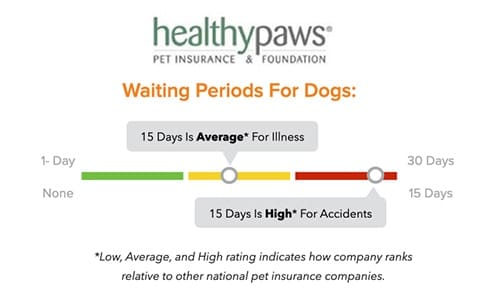 Email: 24/7
Phone: Monday-Friday from 7am to 5pm PST and Saturday from 8am- 5pm PST
Waiting Periods
Both New Hampshire and Maryland remove the 15-day waiting period and the 12-month hip dysplasia waiting period.
What Does Healthy Paws Cover?
Please know that none of the pet insurance providers in our comparison cover pre-existing conditions or cremation and burial costs. All of them cover the following items when deemed medically necessary: x-rays, blood tests, ultrasounds, cat scans, MRIs, rehabilitation, specialized exams, surgery, hospitalization, emergency care, specialty care, hydrotherapy, chronic conditions, cancer, diagnostic treatment, alternative/holistic therapy, and euthanasia. However, there may be limitations to this coverage, so please check your policy.
| Condition | Covered By Healthy Paws |
| --- | --- |
| Exam Required To Set Health Baseline | |
| Behavioral Therapies | |
| Exam Fees | |
| Wellness Care Available For An Extra Fee | |
| Non-Routine Dental Treatment | |
| Hereditary Conditions | |
| Congenital Conditions | |
| Prescription Medication | |
| Breed, Whelping, Pregnancy | |
| Cosmetic Procedures (e.g., Tail Docking, Ear Cropping, Dew Claw Removal) Unless Medically Necessary | |
Is My Dog Eligible For Healthy Paws?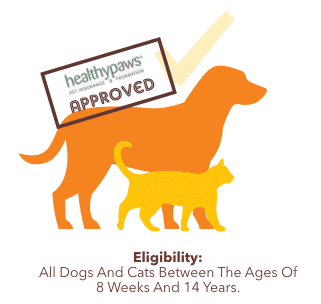 All dog breeds are eligible for Healthy Paws' no-caps-on-claim payouts. Dogs between the ages of 8 weeks and 14 years* are eligible to enroll, and your dog has coverage for the policy's lifetime.
Healthy Paws has some restrictions on reimbursement and annual deductible amounts depending on your pet's age at enrollment.
Dogs and cats 5 years and under:

90%, 80%, and 70% reimbursement
$100, $250, and $500 deductible

Dogs and cats 6 and 7 years old:

80%, 70%, or 60% reimbursement
$250, $500, or $750 deductible

Dogs 8 years and older:

50% or 60% reimbursement
$750 or $1,000 deductible
*Pets older than 4 years old aren't eligible for enrollment in New York.
Pricing Quotes
See the table below for examples of quotes from Healthy Paws. You can get personalized price quotes for your pet(s) from Healthy Paws and several other top-ranked companies when you fill out our short quote form.
Breed
Labrador Retriever
English Cocker Spaniel
German Shepherd
Yorkshire Terrier
Yorkshire Terrier
Mixed Breed Cat
Male or Female
Male
Male
Female
Male
Female
Female
Age
2 years
8 years
4 years
2 months
2 months
2 years
Location
Florida
(zip code: 33601)
Illinois
(zip code: 60290)
California
(zip code: 90001)
New York
(zip code: 10001)
Florida
(zip code: 33601)
Washington D.C.
(zip code: 20001)
Reimbursement Level
80%
50%
80%
80%
80%
80%
Annual Deductible
$200
$1,000
$250
$250
$200
$250
Annual Claim Limit
Unlimited
Unlimited
Unlimited
Unlimited
Unlimited
Unlimited
Price Per Month
$48.39
$59.78
$75.40
$39.57
$35.80
$20.70
All quotes are based on age, breed, species, gender, and residing zip code. You should expect annual increases in your premiums from most pet insurance companies. These rates and increases will vary based on your location, changes in vet costs, and more.
Also, visit our pet insurance quotes page to see how the cost of Healthy Paws stacks up against the competition.
Coupon Code
How Is Reimbursement Calculated?
Reimbursement is determined by taking the total of the covered treatments and multiplying that by your chosen reimbursement rate. The annual deductible is then subtracted. Here's an example for someone with a 90% reimbursement and $100 deductible:
$1,200 (covered treatments) x 90% (reimbursement level) = $1,080
$1,080 – $100 (remaining annual deductible) = $980 reimbursement amount
Healthy Paws' deducible is annual, which means it only needs to be satisfied once per policy year. It resets on the anniversary of your pet's enrollment.
Reimbursement Story
Dog: Charlie, miniature Dachshund
Diagnosis: Intervertebral Disc Disease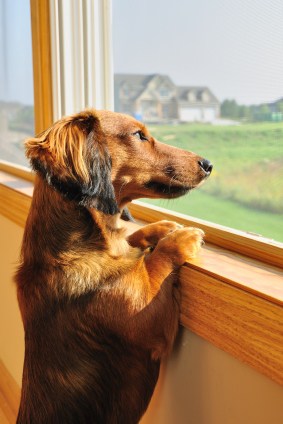 Jordan, Charlie's pet parent, knew something was wrong with Charlie when he didn't greet her when she returned home as usual, so the next day, they went to a vet for neuro and orthopedic exams. They both came back normal.
The vet took knee and hip radiographs, which also came back normal. Jordan worked at the vet's office and knew that Dachshunds were prone to back problems, so she requested a second neuro and orthopedic exam. This time, he failed both.
Charlie couldn't walk by this time, so Jordan rushed him to the emergency hospital, where she was told it was intervertebral disc disease. They started him on a pain regimen, and things got worse overnight. Charlie was prepared for anesthesia and had an MRI, which identified where his discs herniated into the spinal canal. Fortunately, the damage was corrected in surgery.
After weeks of physical therapy and about two years later, Charlie is about 90% recovered. He still receives maintenance therapy every two weeks but is running around like a puppy again.
Treatment Cost: $12,085
Healthy Paws Reimbursed: $9,168
Final Cost For Pet Parent: $2,917 ($250 deductible, 20% copay)
Customer Reviews
Positive Reviews
Extremely helpful. Time between filing claim and receiving reimbursement was less than two weeks. Professional and caring service which included concern for my pet and thoughtful follow up regarding her recovery. I highly recommend Healthy Paws. – Eileen K., BBB 12/3/2020
Healthy Paws Pet Insurance allows us to get our Banjo the care he needs and deserves without worrying about an unaffordable vet bill. The policy is easy to understand, and we were able to pick between several policies to find the best option for our anticipated needs. The claims process is simple; if you can drag and drop files on your computer, you can file a claim in seconds. Health Paws also works directly with our vet(s) to fill in any gaps in the records they need to process the claim for us. We don't like having to file claims with Healthy Paws because that means Banjo isn't feeling well, be we are sure happy to have their help when we need it. Highly recommend. – David K., Yelp 12/9/2020
Complaints
They never pay for the fees. They keep closing my case! – Kristen L., BBB 11/10/2020
Absolute nightmare to work with. Claims go unanswered for months. We had to fight with them over every single claim because of their extremely broad and ambiguous definition of what a "pre-existing condition" is. Honestly not worth the time/energy/money to get insured with Healthy Paws. You are better off finding another insurer or just paying for vet bills out of pocket because Healthy Paws will see to it that you never reach your deductible anyway. Cancelled our insurance so we did not have to deal with this scummy business anymore. – Colin K., Yelp 11/30/2020
How Did Healthy Paws Help Baxter & His Pet Parents?
Cancer is the highest disease-related cause of death for pets each year, making up almost 50% of these deaths1. Unfortunately, Baxter's cancer diagnosis meant his owners needed help financially. See how Healthy Paws helped this family in a time of need.
Frequently Asked Questions
Here are some frequently asked questions regarding Healthy Paws pet insurance from our readers. Have your own? Ask us in the comments.
Does Healthy Paws Cover Dental?
Healthy Paws covers non-routine dental treatments and tooth extractions due to accident. It also covers trauma to the teeth, face, and jaw.
Does Healthy Paws Cover Ear Infections?
Ear infections are eligible for coverage as long as the condition is not pre-existing and the pet has not shown symptoms during the 15-day waiting period.
Can You Cancel Healthy Paws Insurance?
You may cancel your Healthy Paws policy via regular mail to the address below, fax to (888) 228-4129, email to info@gohealthypaws.com, or via phone by calling (855) 898-8991.
Healthy Paws Pet Insurance
P.O. Box 50034
Bellevue, WA 98015
If you'd like a replacement for your Healthy Paws insurance policy, take a look at our pet insurance reviews to see which pet insurance companies we've selected in our top three.
Who Owns Healthy Paws?
Healthy Paws began as Healthy Paws Pet Insurance & Foundation back in 2009, and is co-founded by Steve Siadek and Rob Jackson (check out our exclusive interview with Rob). They met through a local, no-kill animal shelter. Steve had left a corporate career to pursue his pet passion and become the shelter's executive director. Rob, an insurance executive, adopted his dogs from the shelter and kept coming back to foster more.
Healthy Paws vs Other Companies
See what the key differences are between Healthy Paws and other leading pet insurance companies.
Healthy Paws vs Trupanion
Healthy Paws has a better customer service reputation and pays out 99% of its claims within 2 days instead of the 60 days Trupanion allows.
Trupanion is consistently more expensive than Healthy Paws in the quotes we ran.
Trupanion has a shorter 30-day waiting period for hip dysplasia, while Healthy Paws is 12 months.
Compare Healthy Paws and Trupanion
Healthy Paws vs Embrace
All Healthy Paws' plans include unlimited payout limits. The maximum payout limit you can get online from Embrace is $30,000; you must call Embrace for unlimited payout limit options.
Healthy Paws averages a two-day claim repayment, while Embrace averages eight to nine days.
Embrace has a two-day waiting period for accidents, while Healthy Paws has a 15-day waiting period for accidents.
Compare Healthy Paws and Embrace
Healthy Paws vs Petplan
All Healthy Paws' plans include unlimited payout limits, while Petplan offers payout limits ranging from $2,500 to unlimited.
Petplan has a shorter 6-month waiting period for hip dysplasia, while Healthy Paws' is 12 months.
Healthy Paws averages a 2-day claim repayment, while Petplan averages 22 days.
Compare Healthy Paws and Petplan
Healthy Paws vs Pets Best
Pets Best offers $5,000 or unlimited payout limits, while Healthy Paws only offers unlimited.
Healthy Paws has a longer waiting period for hip dysplasia at 12 months vs Pets Best's 14 days but a shorter ACL waiting period at 15 days vs Pets Best's 6 months.
Pets Best is often among the least expensive when we run quotes, and it covers exam fees, something Healthy Paws doesn't provide coverage for.
Compare Healthy Paws and Pets Best
Healthy Paws vs Figo
Healthy Paws doesn't cover exam fees, Figo covers them for an extra fee.
Healthy Paws pays 99% of its claims within 2 days, while Figo typically pays claims within 4 business days (50% are paid within 24 hours).
Figo offers more payout limit options than Healthy Paws does (unlimited only).
Healthy Paws vs Nationwide
Nationwide offers a wellness plan, but Healthy Paws doesn't.
Nationwide offers coverage for exotic pets (rabbits, ferrets, reptiles, etc.), Healthy Paws doesn't.
Healthy Paws doesn't offer coverage for exam fees, Nationwide does (unless it's for a pre-existing condition).
Compare Healthy Paws and Nationwide
Healthy Paws vs Lemonade Pet Insurance
Lemonade offers a wellness plan, but Healthy Paws doesn't.
Healthy Paws offers unlimited payout options for all plans, and Lemonade offers $5,000 to $100,000.
Healthy Paws is available nationwide; Lemonade is only available in 34 states and Washington D.C.
Compare Healthy Paws and Lemonade
How Does Healthy Paws Compare?
Healthy Paws has a history of excellent customer service, an annual deductible, and unlimited lifetime benefits with every policy. When you sign up for your initial plan, you choose your yearly deductible and the percentage of the vet bill for reimbursement. Learn more about Healthy Paws and their foundation in our interview with Co-Founder Rob Jackson.
If you're still not sure if Healthy Paws is the right pet insurance provider for you, you've got lots of options, and you should always get multiple quotes to compare coverage and costs to find the best value for your family.
Our best pet insurance article ranks our top three picks for pet insurance as well as the best options for specific characteristics and conditions (e.g., dental coverage, price, wellness coverage, bilateral conditions, and more) to help you determine the best fit.
If you're thinking about getting pet insurance but still have some unanswered questions, feel free to ask us. We're here to help you and your pets live a better, less stressful life.
Do you have any questions about Healthy Paws and what they cover?
Sources: [1] AR