To keep the lights on, we receive affiliate commissions via some of our links. Our review process.
Healthy Paws has no maximum payouts for all policies, so you never have to worry about hitting the limit on your coverage payouts, and you can count on reimbursement for any covered costs after your deductible is met. Most claims are reimbursed within two days, among the fastest in the industry. But do its policies cover the conditions you're most concerned about?
Healthy Paws Pet Insurance Review

Product Name: Healthy Paws Pet Insurance
Product Description: Healthy Paws offers pet insurance for dogs and cats.
Summary
Healthy Paws offers some of the lowest pricing for plans with unlimited payouts. It also has some of the most responsive customer support in the industry.
Our pet insurance experts read through each pet insurance company's policy to provide detailed comparisons and information regarding how a provider fares against others in the industry. We also speak with customers, read online feedback, and communicate one-on-one with pet insurance companies to obtain a well-rounded, unbiased analysis of a company's standings.
Our team rates pet insurance companies based on several factors, including A.M. Best ratings (an indicator of financial stability), claim processing reputations, contract coverage, customer service, pricing, plan customizations, and more.
Pros
Unlimited lifetime coverage, so no annual or per-incident limits on payouts
Claim processing averages 2 days (direct deposit or check reimbursement)
Good CCL (ACL) coverage
Your pet is covered when they travel with you in the U.S. or Canada (up to 3 months)
High customer satisfaction
Great email response time
Cons
Veterinary exam fee and behavioral therapies are not covered
12-month waiting period for hip dysplasia
Pets enrolled after age 6 aren't eligible for hip dysplasia coverage (MD doesn't have this age limitation)
15-day waiting period for accidents is longer than the competition
Plans aren't as customizable as competitors (can't select a lower annual payout limit than unlimited to reduce your monthly premium)
Doesn't cover curable pre-existing conditions
Pets older than 8 years old are restricted to specific limits
Key Features
Underwriter: Chubb (administered by one of these branches: ACE American Insurance Company, Westchester Fire Insurance Company, Indemnity Insurance Company of North America, ACE Property & Casualty Insurance Company, Atlantic Employers Insurance Company)

A.M. Best rating (a measure of financial stability): A++

Has one bilateral exclusion (a condition or disease that affects both sides of the body): pre-existing cruciate ligament problems to one leg as respects to the cost of future treatment for problems of the other leg
Claims process:

Must file claims within 90 days of the date of service, and they process most claims within 2 days
Submit claims through the app, online customer center, email, fax, or mail
Policyholders can opt for direct deposit instead of a hard copy check
With approval from Healthy Paws and the clinic, on a claim-by-claim basis, Healthy Paws may be able to pay your clinic directly. This means you don't have to pay a hefty vet bill in advance and wait for reimbursement (check with your vet — not available everywhere).

Can transfer your policy without a lapse in coverage, and no new pre-existing conditions are added.
Exam Period
Healthy Paws requires an enrollment exam for all pets:
Dogs younger than 6 years old must have visited the vet in the last 12 months or go within 15 days of policy issuance
Dogs older than 6 years old must have been to the vet in the last 30 days or go within 15 days of policy issuance
Customer Service Options & Hours
Email
Phone:

Monday-Friday: 7am to 4pm PST
Saturday: 8am- 5pm PST
Sunday: Closed

Vet Helpline
Waiting Periods*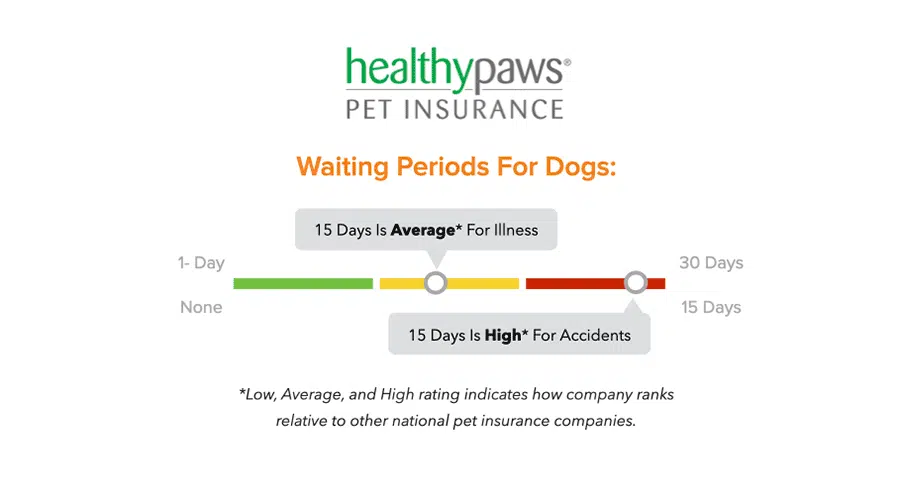 Illnesses: 15 days
Accidents: 15 days
Cruciate Ligament: 15 days
Hip Dysplasia: 12 months
Both New Hampshire and Maryland remove the 15-day waiting period and the 12-month hip dysplasia waiting period.
*Waiting periods for California, Maine, and Mississippi are as follows:
Accidents - 0 days
Illnesses - 14 days
Cruciate Ligament Conditions - 30 days
Routine Care - 0 days
What Does Healthy Paws Cover?
Please know that none of the providers in our pet insurance comparison charts cover pre-existing conditions, cremation and burial costs, pregnancy and breeding, or unnecessary cosmetic procedures.
All of them cover the following items when deemed medically necessary: emergency care, surgery and hospitalization, specialized exams and specialty care, X-rays, blood tests, ultrasounds, cat scans, MRIs, rehabilitation, cancer, chronic conditions, euthanasia, hereditary conditions, congenital conditions, non-routine dental treatment, and prescription medications. However, this coverage may have limitations, so please check your policy.
| Condition | Covered By Healthy Paws |
| --- | --- |
| Behavioral Therapies | |
| Alternative/Holistic Therapies | |
| Exam Fees | |
| Wellness Care | |
Is My Dog Eligible For Healthy Paws?
All dog breeds are eligible for Healthy Paws' no-caps-on-claim payouts. Dogs between the ages of 8 weeks and 14 years* are eligible to enroll, and your dog has coverage for the policy's lifetime.
Healthy Paws has some restrictions on reimbursement and annual deductible amounts depending on your pet's age at enrollment.
Dogs and cats 5 years and under:

90%, 80%, and 70% reimbursement
$100, $250, and $500 deductible

Dogs and cats 6 and 7 years old:

80%, 70%, or 60% reimbursement
$250, $500, or $750 deductible

Dogs 8 years and older:

50% or 60% reimbursement
$750 or $1,000 deductible
*Pets older than 4 years old aren't eligible for new enrollment in New York.
How Is Healthy Paws' Pricing Determined?
Healthy Paws has no one-time fees or transaction fees. Your monthly premium is based on the deductible, reimbursement percentage, and annual payout options that you choose from the table below.
Deductible Options
Payout Options
Reimbursement Options
$100
$250
$500
$750
$1,000
Unlimited
50%
60%
70%
80%
90%
Pricing is also based on your pet's details (age, breed, location, etc.). We recommend obtaining quotes from Healthy Paws for your specific pet to get an idea of how much a policy would cost you.
You can also use our pet insurance quote form below to see how top providers compare for your actual pet.
Does Healthy Paws Have A Coupon Code?
Use this link to take advantage of the best possible price and get a quote for your pet from Healthy Paws. You can also visit our dedicated Healthy Paws promotions page to learn more.
How Does The Claim & Reimbursement Process Work?
Healthy Paws uses a "copay then deductible" reimbursement method. This is calculated in the following way:
(Eligible vet expenses x Reimbursement percentage) – Remaining annual deductible = Reimbursement amount
Reimbursement Story
Dog: Darby, Labrador Retriever mix
Diagnosis: Cancerous tumor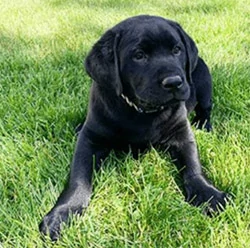 Darby, a 7-year-old retriever mix, developed a lump on her side. Further inspection revealed a tumor needed to be removed, based on the location and type. After removal, a biopsy confirmed it was cancerous. However, Darby didn't require any follow-up chemo or radiation treatments because it was caught early and the cancerous tissue removed.
Darby's recovery went smoothly. She rested for a couple of weeks while a large wound on her side healed up. Now her fur has fully grown back, and she is as good as new. She is expected to live a completely normal life.
Treatment Cost: $3,181
Healthy Paws Reimbursed: $2,737
Final Cost For Pet Parent: $444 ($250 deductible, 10% copay)
$3,181 (actual vet bill amount) – $250 (remaining annual deductible) – $194 (copay) = $2,737 (reimbursement amount
What Are The Most Common Claims Submitted To Healthy Paws?
Stomach issues (e.g., vomiting, diarrhea) – as high as $29,086 for some families
Skin conditions – as high as $4,138 for some families
Pain – as high as $11,425 for some families
How Did Healthy Paws Help Baxter & His Pet Parents?
Cancer is the highest disease-related cause of death for pets each year, making up almost 50% of these deaths. Unfortunately, Baxter's cancer diagnosis meant his owners needed help financially. See how Healthy Paws helped this family in a time of need.
Frequently Asked Questions
Here are some frequently asked questions regarding Healthy Paws pet insurance from our readers.
What Is The Annual Deductible For Healthy Paws?
Healthy Paws' has annual deductible choices that range from $100 to $1,000. Not all options may be available to you based on your dog's age, breed, and location.
Does Healthy Paws Insurance Go Up With Age?
Yes, Healthy Paws increases premiums as your pet ages, and the cost of vet care increases.
Does Healthy Paws Have A Lifetime Limit?
Healthy Paws plans have no maximum limits on payouts, whether they're per incident, annually, or for the lifetime of the pet.
Does Healthy Paws Cover Dental?
Healthy Paws covers non-routine dental treatments and tooth extractions due to accidents. It also covers trauma to the teeth, face, and jaw.
Does Healthy Paws Cover Ear Infections?
Ear infections are eligible for coverage as long as the condition is not pre-existing and the pet has not shown symptoms during the 15-day waiting period.
Can You Cancel Healthy Paws Insurance?
You may cancel your Healthy Paws policy via regular mail to the address below, fax to (888) 228-4129, email to [email protected], or via phone by calling (855) 898-8991.
Healthy Paws Pet Insurance
P.O. Box 50034
Bellevue, WA 98015
If you'd like a replacement for your Healthy Paws insurance policy, take a look at our pet insurance reviews to see which pet insurance companies we recommend.
Who Owns Healthy Paws?
Healthy Paws began as Healthy Paws Pet Insurance & Foundation back in 2009 and is co-founded by Steve Siadek and Rob Jackson (check out our exclusive interview with Rob). They met through a local, no-kill animal shelter. Steve had left a corporate career to pursue his pet passion and become the shelter's executive director. Rob, an insurance executive, adopted his dogs from the shelter and kept coming back to foster more.
Healthy Paws vs Other Companies
Interested in seeing how Healthy Paws stacks up against other popular pet insurance companies? We've written many comparison articles for you to see how Healthy Paws and other leading pet insurance companies compare in coverage, customer service and reputation, claim processing, plan customization, and price.
How Does Healthy Paws Compare?
Healthy Paws has a history of excellent customer service, an annual deductible, and unlimited lifetime benefits with every policy. When you sign up for your initial plan, you choose your yearly deductible and the percentage of the vet bill for reimbursement.
If you want to know how Healthy Paws stacks up against other pet insurance carriers, check out our comparison of pet insurance providers. We compare the top ten pet insurance providers and rank them, explaining each company's strengths and weaknesses. We also have many comparison tables to help you see where pet insurance companies differ. We answer frequently asked questions, walk you through a pet insurance claim example, list out all of your pet insurance options in an easy-to-digest directory format, and more. We're sure we can answer all your pet insurance questions so you feel equipped to make the best decision for your pet.
Tagged With: Reviewed By Insurance Agent