To keep the lights on, we receive affiliate commissions via some of our links. Our review process.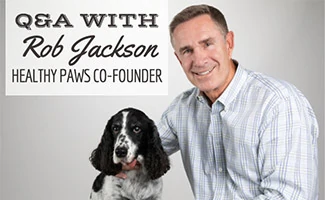 Rob Jackson, Co-Founder of Healthy Paws (one of our top-ranked pet insurance companies), has more than 20 years in the pet insurance industry. He also has a huge heart and soft spot for helping pets in need. Learn how he leverages his experience to fuel his passion and make a difference for pets everywhere in our exclusive interview with Rob.
Tell us about your background.
I've worked in the insurance industry my whole career, serving as Founder & CEO of another specialty insurance company, after which I was Chief Operations Officer and President of a different pet health insurance provider.
In 2009 I co-founded Healthy Paws with Steve Siadek, who I met through a local, no-kill animal shelter. Steve was the shelter's executive director, and I had adopted and fostered dogs from there. We saw a need to help pet parents deal with the financial impact of giving their pets quality veterinary treatments and also to help animal rescue organizations care for the many sick pets in their care.
Get A Quote | Read Our Review Of Healthy Paws
What are your day-to-day CEO duties?
As CEO, I'm responsible for working with our Underwriting Partner to drive product design and rating models to provide long-term stability and maximum benefit for our pet parents and their pets. I work with our President and COO to create and implement an operating model that provides the optimum customer experience for our pet parents so that it's good and easy to do business with Healthy Paws.
Which shelters does Healthy Paw's Foundation benefit?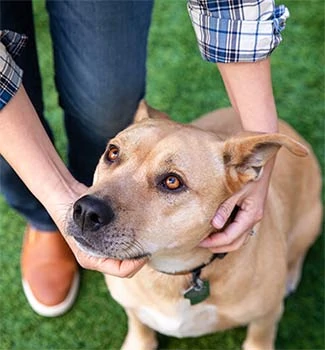 We donate in a few different ways to a large variety of organizations all over the country. The only criteria are they must be a registered charity and a no-kill shelter.
We make some big donations annually to organizations such as the Human Animal Bond Research Institute and Pawsitive Alliance (a Washington state organization that coordinates adoption, spay/neuter, and pet retention programs).
We donate money as needed to groups responding to natural disasters and pet food pantries. Healthy Paws employees also participate in choosing which nonprofits receive funding throughout the year through our monthly employee giving program.
How does the Foundation help homeless pets?
It's impossible to know exactly how many pets we've helped. We just surpassed $1 million in donations and have given to more than 300 hardworking rescues and shelters that help homeless pets (which anyone can view here), so we know it's made a difference. Those organizations use the funds for life-saving vaccines, spay/neuter surgeries, and advanced medical treatments they might not otherwise be able to afford.
How does the Every Quote Gives Hope™ medical grant program work?
For every person who comes to our website and requests a free quote, we donate towards a homeless pet's medical care through our Foundation, even if they don't sign up with us. We also have our Refer a Friend program where we donate $25 on your behalf for every completed referral.

What else besides unlimited coverage sets Healthy Paws apart from competition?
The number one advantage has to be our people. We hire people who are committed to providing extraordinary, caring customer service, and we provide ample training. And all of our employees are pet parents or animal lovers themselves, so they understand what our customers are going through. Everything we do is driven from this love of animals and our passion for assuring a better life for all animals, homeless and adopted.
What struggles have you or the company faced?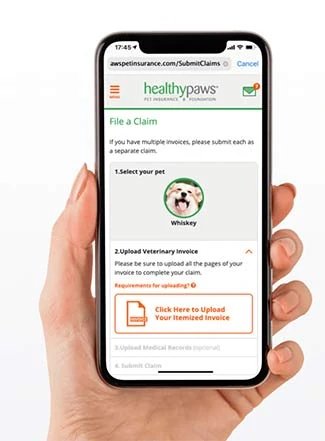 Our challenge from the very beginning has been making people aware of the value of pet insurance and what it covers. Through word-of-mouth and social media (and sites like ours!), people are starting to become more aware. We constantly work to educate people about pet insurance and how it helps to alleviate financial concerns, which helps you take the best possible care of your pet.
Do you have any pets?
Currently, I have a 13-year-old mixed-breed mutt named Barney that I adopted from a shelter. Including Barney, I've had five dogs covered by Healthy Paws. I'm a customer, too, and I see the value I've received from pet insurance. Filing claims has been as easy as taking a photo of my vet bills and submitting them through the Healthy Paws app. Customer service has been excellent too!
What's next for Healthy Paws and the pet insurance industry?
We see nothing but growth and positive trends ahead. While the pet insurance industry is growing by about 14 percent a year, it's still a small percentage of the population in the U.S. that has pet insurance, so we see a lot of potential. Pets have become more like family, especially for millennials who may choose not to have children. People are pampering their pets more and are opting for pet insurance so they can give their pets the care they need without worrying about the cost.
How do you stay up to date on the latest pet news and information?
We are members of the American Pet Products Association (APPA), The North American Pet Health Insurance Association (NAPHIA) and the Human Animal Bond (HABRI). Of course, I read CanineJournal.com and several other pet-focused sites, publications and blogs.
Get A Quote | Read Our Review Of Healthy Paws
What are some of your favorite past times?
I'm passionate about giving back to the community. So, in addition to the Healthy Paws Foundation, I also founded Partners in Education and Home Court NW, two nonprofit organizations serving youths in Greater Seattle. In addition to travel, golf, and skiing, I enjoy relishing the time with my family and grandkids.
Tagged With: Reviewed By Insurance Agent