To keep the lights on, we receive affiliate commissions via some of our links. Our review process.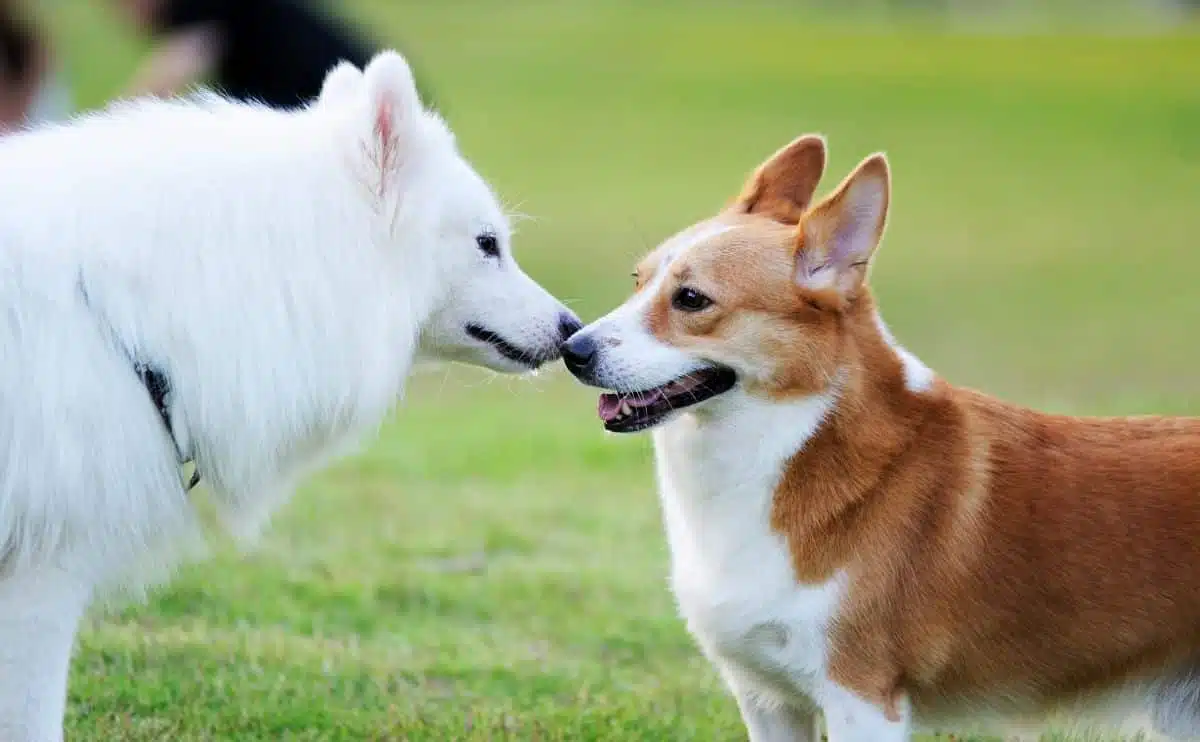 Pet insurance is essential for all responsible pet owners. It prepares you financially to deal with any unexpected (and expensive) accident or illness. This is why we regularly review the top pet insurance companies to find out who comes out on top.
This time, we're putting two big name insurers in the ring, Healthy Paws vs Fetch, to see which plan is a better value and the best fit for you and your pup.
Policy Coverage
Policy Coverage Winner

The table below shows specifically what Healthy Paws and Fetch cover. Both companies cover emergency care, surgery and hospitalization, specialized exams and specialty care, X-rays, blood tests, ultrasounds, cat scans, MRIs, rehabilitation, cancer, chronic conditions, euthanasia, hereditary conditions, congenital conditions, non-routine dental treatment, and prescription medications. Neither covers pre-existing conditions, cremation and burial costs, pregnancy and breeding, or unnecessary cosmetic procedures.
Healthy Paws
Fetch
Illness Waiting Period
15 Days
15 Days
Accident Waiting Period
15 Days
15 Days
Hip Dysplasia Waiting Period
12 Months
6 Months
CCL Surgery Waiting Period
15 Days
6 Months
Behavioral Therapies
Alternative/Holistic Therapy
Wellness Care For An Extra Fee
Exam Fees
Underwriter
Westchester Fire Insurance Company/Chubb
XL Specialty Insurance Company
AXIS Insurance Company
A.M. Best Rating
A++
A+
A
*Healthy Paws only offers hip dysplasia coverage to dogs enrolled before the age of six.
As you can see, Healthy Paws has shorter waiting periods for most conditions (except hip dysplasia), but Fetch covers behavioral therapies, alternative/holistic therapy, and exam fees.
You'll notice that Healthy Paws has an A++ A.M. Best rating (a measurement of financial stability), which is the best we've seen from any pet insurance company. Fetch's underwriters have an A+ and A rating, which is excellent as well.
Another key deciding factor for you may be the age restrictions attached to Healthy Paws, which doesn't enroll pets older than 14 years old (no new enrollment for pets older than four in New York state). And if you choose to enroll your pet with Healthy Paws after their sixth birthday, you'll notice plan customization restrictions and exclusions for hip dysplasia coverage.
Overall, we feel Fetch has better coverage than Healthy Paws. In fact, Fetch offers coverage for items that aren't typically covered by a pet insurance company, including virtual vet visits, advertising and paying a reward for a stolen or lost pet, and more.
Customer Service & Reputation
Customer Service & Reputation Winner
Healthy Paws has excellent customer service and has offered stability in the pet insurance space since its inception.
While the Fetch brand has only been a consumer option since January 2022, the former brand name went through an underwriter change in 2016 that resulted in sharp price increases and upset customers. It's not uncommon to see price adjustments when an insurance company switches underwriters. The company received a lot of negative backlash with this change. However, it has mostly bounced back since then, and negative reviews have subsided.
We like the consistency that Healthy Paws has shown in the pet insurance space. We'd like to see how Fetch fares through its rebranding efforts. Often, we see companies go through turbulence when making a significant change, and because of this, Healthy Paws wins this category.
Claim Processing
Claim Processing Winner
Fetch averages 5-6 days for claim processing but allows up to 30 days. Healthy Paws processes most claims in two days. Healthy Paws is significantly better here with a max timeline of 10 days, which is why it wins this category.
You may be able to have Healthy Paws pay your vet directly, so you don't have to afford a hefty vet bill in advance and wait for reimbursement, but this isn't available everywhere, so check with your vet to see if it's an option for you. Fetch doesn't offer this option.
Price Of Policy
Price Of Policy Winner
Neither Healthy Paws nor Fetch require one-time fees.
Your premium price quote is based on your pet's details (age, breed, location, etc.). We recommend obtaining quotes from each company for your specific pet. You can also visit our pet insurance comparison quotes to see a few sample prices we've gathered.
It's a bit of a mixed bag on which company is less expensive and depends on the coverage details you select. On average, Healthy Paws is less expensive than Fetch for unlimited payouts (the only option offered by Healthy Paws). However, Fetch may offer lower prices for $5,000 or $10,000 annual payouts if you don't require unlimited payouts.
Remember that it's always best to get quotes for your specific dog to compare what pet insurance could cost for you. You can use our pet insurance quote form to get multiple company quotes when you complete this one-quick form.
Both companies have annual deductibles, which is important if your pet experiences multiple accidents or illnesses during the policy period (one year).
Coupons
Healthy Paws
Use this link to take advantage of the best possible price and get a quote for your pet from Healthy Paws. You can also visit our dedicated Healthy Paws promotions page to learn more.
Fetch
Fetch offers the following discounts:
Up to 10% off for animal shelter adoptees and employees, corporate benefit plans, medical services pets, strategic partners, military, veterinary staff, and students
10% off premiums for Walmart shoppers
Save $25 or more when you pay quarterly or annually
10% off for AARP members for life
No promo code is needed. Use this link to take advantage of the best possible price. Alternatively, call 800-237-1123. You can also visit our dedicated Fetch promotions page to learn more.
Plan Customization
Plan Customization Winner

The significant difference between these two companies in your ability to customize your plan comes down to age restrictions. While Healthy Paws has unlimited payouts for all plans, they do have some restrictions on reimbursement and annual deductible amounts, depending on your pet's age at enrollment.
Dogs and cats 5 years and under:

90%, 80%, and 70% reimbursement
$100, $250, and $500 deductible

Dogs and cats 6 and 7 years old:

80%, 70%, or 60% reimbursement
$250, $500, or $750 deductible

Dogs 8 years and older:

50% or 60% reimbursement
$750 or $1,000 deductible
Healthy Paws only enrolls pets from 8 weeks to 14 years old. Fetch has no age restrictions and offers a lot of customizable options. You can choose your annual payout option from $5,000, $15,000, or unlimited. Fetch also offers reimbursement rates of 70%, 80%, or 90% and annual deductibles of $300, $500, and $700.
Fetch ultimately comes out on top because of greater flexibility to build your plan no matter your pet's age.
When Does Pet Insurance Matter?
Six million dogs and six million cats are diagnosed with cancer every year, according to estimates. See how Healthy Paws pet insurance helped Baxter get much-needed cutting-edge treatment for his cancer.
What's The Verdict?
Overall Winner
In the end, Healthy Paws is our winner, but Fetch puts up a great fight with excellent coverage and customer service. As always, we suggest you run quotes for your specific pet and location. If you didn't find what you were looking for, our experts have gone in-depth with individual reviews of Healthy Paws and Fetch so you can expand your comparison.
Our experts have spent thousands of hours researching to bring you our comprehensive and frequently updated pet insurance reviews, including our top picks, along with details on each of the most popular pet insurance companies. So, if you want to know how other providers compare against one another, you may find this review helpful in your pet insurance search.
Tagged With: Reviewed By Insurance Agent, Vs