To sustain this free service, we receive affiliate commissions via some of our links. This doesn't affect rankings. Our review process.
When a copperhead snake snuck up and bit Alyssa's Doberman, Miles, on the muzzle, she didn't think twice about rushing her pup to the vet. But the $600 vet bill stopped her in her tracks. Miles was fine after a dose of antivenom and some TLC, but Alyssa's bank account is still recovering.
Melissa's Bichon Frise, Fenway, needed not one but two knee surgeries to repair subluxated patellas, a relatively common orthopedic problem in the breed. Melissa ended up shelling out more than $4,000 to get Fenway back up and running again.
Looking back, Alyssa and Melissa wish they had considered pet insurance more seriously before their dogs experienced such costly vet bills. While both chose to move forward with shelling out the money for the expensive procedures, other parents don't have this option.
Article Overview
Pet Insurance Checklist
Want to understand pet insurance? We've put together a checklist for you:
*You should expect annual increases on your premiums from any pet insurance company. These rates and increases will vary based on your location, changes in vet costs and more.
Price Of Policy Ratings
Get Free Pet Insurance Quotes
The cost of each pet insurance policy is unique to your pet and is calculated based on a vast number of variables, including but not limited to your pet's age, breed, location (e.g., where you live), health conditions and so forth.
We calculate our "price of policy" ratings based on quotes we run in addition to reader and consumer feedback. Since the price for your pet may vary significantly from that of others for a given provider, we encourage you to get quotes from multiple companies.
1st Place: Healthy Paws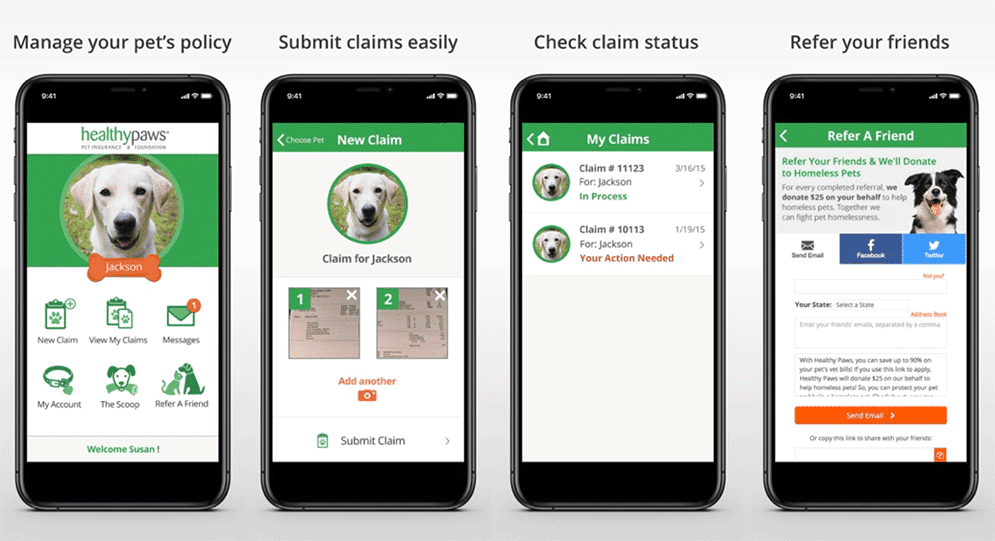 All scores are on a scale of 1 to 5, with 1 paw being the worst and 5 paws being the best.
1st
Overall Ranking
4.65 / 5.00
Policy Coverage
Visit Website
Customer Service & Reputation
Timeliness of Claim Payment
Price of Policy
Why Do We Consider Healthy Paws The Winner?
Lots Of Plan Options With No Caps – Healthy Paws offers four annual deductible levels ($100, $250, $500 or $750), four percentage options for actual vet bill payouts (60%, 70%, 80% or 90%) and no cap (per-incident, lifetime or otherwise) on any of its claims.
No Yearly Limits – Once you meet your annual deductible, all policy-covered incidents will be paid during that year, while most companies reimburse after you reach each incident deductible. So, if your pet is susceptible to trouble more than once a year or you just want to be on the safe side, this plan could be a good fit.
The Best Customer Service – Healthy Paws has some of the best customer service reviews in the business.
Low Premium Prices – Most consumers report lower premium prices for similar coverage (unlimited lifetime benefits with no claim limits).
Coupon Code
Read Our In-Depth Review Of Healthy Paws
2nd Place: Pets Best
All scores are on a scale of 1 to 5, with 1 paw being the worst and 5 paws being the best.
2nd
Overall Ranking
4.55 / 5.00
Policy Coverage
Visit Website
Customer Service & Reputation
Timeliness of Claim Payment
Price of Policy
Why Did We Choose Pets Best As Our #2 Pick?
True Emergency Only Option – Pets Best offers an "Accident Only Plan" to cover you in case of emergencies, but it does not include exam fees or specialty treatments. This plan has a $10,000 annual limit with a $250 deductible and 90% reimbursement, making it one of the least expensive options for pet insurance.
Low Pricing – Pets Best was consistently among the least expensive pet insurance companies when we ran quotes.
Customer Service Options – It offers live chat, phone, email, fax and FAQs to help answer your questions. We're also impressed with its 24/7 Pet Helpline, which allows you to speak with a vet expert any time of day.
Customizable Plans Tailored To What You Want – You choose what coverage you want to pay for instead of paying more for stuff you don't want. Deductible options are from $50-$1,000, reimbursement is available for 70%, 80% or 90%, and it offers two wellness plans.
Coupon Code
Pets Best offers two discounts that you may be eligible for when you use
this link
:
5% multi-pet discount
5% discount for military members and their families
You can also visit our
dedicated Pets Best promotions page
to discuss current offers.
Read Our In-Depth Review Of Pets Best
3rd Place: Figo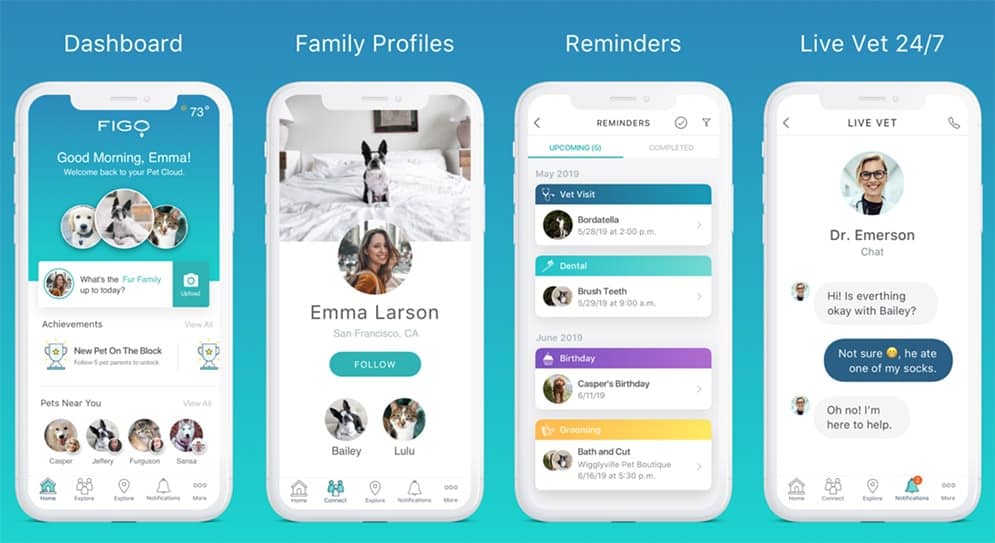 All scores are on a scale of 1 to 5, with 1 paw being the worst and 5 paws being the best.
3rd
Overall Ranking
4.50 / 5.00
Policy Coverage
Visit Website
Customer Service & Reputation
Timeliness of Claim Payment
Price of Policy
Why Is Figo Our #3 Pick?
100% Reimbursement Available – Figo is the only pet insurance company in our reviews to offer 100% reimbursement for claims. If you want your full claims covered, Figo may be the company for you.
Low Pricing – Figo was consistently among the least expensive pet insurance companies when we ran quotes.
Customer Service Options – You can reach Figo in many ways, including phone, text, live chat, email, fax, Facebook Messenger or Twitter.
Fully Customizable Plans – Pet owners considering Figo can create a plan to best meet their needs and budget with a choice of maximum annual coverage amount ($10,000 to unlimited coverage), annual deductible ($100 to $750) and reimbursement rate (70%, 80%, 90% or 100%). Depending on the location and age of the pet, you may qualify for additional options including a deductible between $50 and $1,500 and/or a 60% reimbursement rate.
Coupon Code
Read Our In-Depth Review Of FIGO
The Rest Of The Pack
Get Free Pet Insurance Quotes
Here's a list of companies we include in our annual
pet insurance reviews
(which goes above and beyond this comparison by including in-depth reviews of each provider with pros and cons) with their founding year:
First: Healthy Paws, 2009
Second: Pets Best, 2005
Third: Figo, 2013
24PetWatch, 2000
AKC Pet Healthcare, 2003
ASPCA/Hartville Pet Insurance, 1997
Embrace, 2003
Nationwide acquired VPI in 2014 and started selling pet insurance as Nationwide (VPI was founded in 1982)
PetFirst, 2004
Petplan U.S., 2003 (Petplan started in the UK in 1976)
PetPremium, 2013
Trupanion, 2000
Why Don't We Review New Entrants?
In the past, we've seen new companies enter the pet insurance space at meager prices. However, after some time in business and paying some claims, these companies increase rates to make ends meet. This ends up hurting the customers because their premiums increase drastically — and if they submitted a claim, their pet now has a pre-existing condition. So, if they change providers, that condition will not be covered by another pet insurance provider. In the end, they may have been better off going with a different, more well-established company.
Because of these issues, we've decided only to review pet insurance companies that have at least 5 full years of national experience. We think this approach gives companies time to establish a consistent pricing system and reputation, which helps give customers and us a better idea of what to expect.
What Is Pet Insurance & Is It Worth It?
Still not sure whether you need or understand pet insurance? We created a pet insurance 101 guide, which includes:
What Is Pet Insurance?
How Does It Work?
Why Do I Need It?
What Does It Cover?
How Much Is Pet Insurance?
Is Pet Insurance Worth It?
Real Reimbursement Stories
What Are The Benefits Of Pet Insurance?
This video is a useful introduction to dog insurance and the benefits of having a policy.
Pet Insurance Facts & Stats (Infographic)

To share this infographic on your site, simply copy and paste the code below:
What Could Possibly Go Wrong?
For those of you still on the fence, you're probably wondering what kind of common scenarios your pup might get into when pet insurance would apply. Check out our list of common dog health issues to get an idea. For example, removing lumps and bumps is one of the most common surgeries for dogs and can cost more than $1,000 each time.
That's a lot of money that you weren't planning to spend, and many people don't have that amount of cash lying around. Insuring your pet can lift that weight off of you so you can focus on enjoying your time with your pets instead of worrying about having to pay for unexpected medical bills.
Have you had experiences (good or bad) with pet insurance?
Disclaimer: Information regarding insurance company offerings, pricing and other contract details are subject to change by the insurance company at any time and are not under the control of this website. Information published on this website is intended for reference use only. Please review your policy carefully before signing up for a new pet health insurance contract or any other contract as your unique circumstances will differ from those of others who may be used for example purposes in this article.
Disclaimer: The information provided through this website should not be used for diagnosing or treating a health problem or a disease. It is not a substitute for professional care. If you have or suspect you may have a health problem, you should consult your health care provider.
Disclaimer: This website contains reviews, opinions and information regarding products and services manufactured or provided by third parties. We are not responsible in any way for such products and services, and nothing contained here should be construed as a guarantee of the functionality, utility, safety or reliability of any product or services reviewed or discussed. Please follow the directions provided by the manufacturer or service provider when using any product or service reviewed or discussed on this website.