To sustain this free service, we receive affiliate commissions via some of our links. This doesn't affect rankings. Our review process.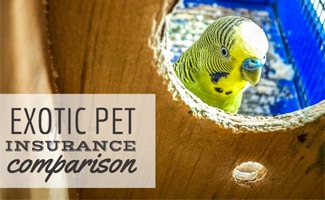 Most pet insurance policies protect dogs and cats, but more families are adopting reptiles, birds, rabbits, ferrets, guinea pigs, and other exotic pets and are looking for insurance options to cover their new family members. Exotic pet insurance (which isn't the easiest to find) covers these animals.
Currently, only one big name company offers pet insurance for rabbits, reptiles, birds and more in the United States. Read further to learn what exotic pet insurance is and where you can get it.
Article Overview
What Is Exotic Pet Insurance & What Does It Cover?
Exotic pet insurance is similar to regular pet insurance in that it covers unexpected visits to the vet that are subject to the insurance plan you choose. These policies can include the loss of your exotic pet due to escape or theft, the death of your pet, illnesses, injuries and more.
Exotic pets require special care that not all standard vets can offer. Your exotic pet may need a vet with specialized knowledge, which may cost more for vet visits and care. Exotic pet insurance gives you the peace of mind that if something terrible happens to your pet, you won't face a massive vet bill during an already difficult time. Exotic pet insurance lets you make tough decisions without a second thought because your pet is covered.
Which Pet Insurance Companies Are The Best For Covering Exotic Pets?
Not all pet insurance companies offer exotic pet insurance. In fact, only Nationwide (read our in-depth review) offers exotic pet insurance in the U.S. at the moment. Below is a table of the 12 major pet insurance companies according to the North American Pet Health Insurance Association and the types of pet insurance offered by each.
| | Rabbits | Birds | Reptiles | Others | Dogs | Cats |
| --- | --- | --- | --- | --- | --- | --- |
| Embrace | | | | | | |
| Hartville | | | | | | |
| Healthy Paws | | | | | | |
| Nationwide | | | Chameleons, Geckos, Iguanas, Lizards, Snakes, Tortoises, Turtles | Amphibians, Chinchillas, Ferrets, Gerbils, Goats, Guinea pigs, Hamsters, Hedgehogs, Mice, Opossums, Potbellied pigs, Rats, Sugar gliders | | |
| PetFirst | | | | | | |
| Pethealth Inc (including 24PetWatch) | | | | | | |
| PetPartners | | | | | | |
| Petplan | | | | | | |
| Pets Best | | | | | | |
| Pets Plus Us | | | | | | |
| Trupanion | | | | | | |
| Western Financial Insurance Company | | | | | | |
Exotic Pet Insurance vs Dog/Cat Insurance
Avian and exotic pet insurance plans from Nationwide have per incident benefit schedules as opposed to cat and dog insurance, which reimburses a percentage of eligible vet expenses. Neither plans cover pre-existing conditions (no pet insurance providers cover pre-existing conditions).
How Much Does Exotic Pet Insurance Cost?
Nationwide has more than 600,000 pets insured in the United States. Avian and exotic pet insurance plans through Nationwide average $9 per month. However, this price can vary based on your pet and its specific health needs.
What Types Of Claims Are Most Commonly Filed For Exotic Pets?
Exotic pets experience different issues compared to cats and dogs. Avian, exotic and reptile pet parents commonly submit claims for feather issues and skin/shell disorders. In contrast, cat and dog owners commonly file claims for dental disease, skin allergies and ear infections.
The Future Of This Article
With all this said, we recommend looking further into Nationwide if you want avian insurance, guinea pig insurance, parrot insurance, rabbit insurance, reptile insurance and more. In the near future, we hope to have more information in this article about Nationwide's exotic pet insurance offerings to keep you informed about your options.
What exotic pet do you need to insure?
Disclaimer: Information regarding insurance company offerings, pricing and other contract details are subject to change by the insurance company at any time and are not under the control of this website. Information published on this website is intended for reference use only. Please review your policy carefully before signing up for a new pet health insurance contract or any other contract as your unique circumstances will differ from those of others who may be used for example purposes in this article.
Disclaimer: The information provided through this website should not be used for diagnosing or treating a health problem or a disease. It is not a substitute for professional care. If you have or suspect you may have a health problem, you should consult your health care provider.
Disclaimer: This website contains reviews, opinions and information regarding products and services manufactured or provided by third parties. We are not responsible in any way for such products and services, and nothing contained here should be construed as a guarantee of the functionality, utility, safety or reliability of any product or services reviewed or discussed. Please follow the directions provided by the manufacturer or service provider when using any product or service reviewed or discussed on this website.