To sustain this free service, we receive affiliate commissions via some of our links. This doesn't affect rankings. Our review process.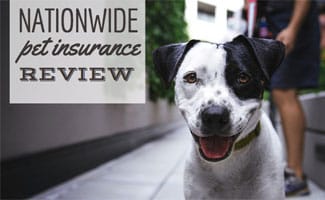 Did you know that Nationwide sells pet insurance and that it sold its first policy to Lassie? We don't know about you, but we think it's pretty cool that Lassie's pet parents loved her enough to have pet insurance for her. This first sale by Nationwide (formerly known as VPI) quickly grew into multiple sales throughout California and now the rest of the United States.
While researching Nationwide pet insurance, we found ourselves a little overwhelmed. They display things differently than other companies. For example, they list exact illnesses that are or aren't covered, which can be good if your dog's breed is prone to a specific illness. After digging a little deeper, we unraveled the complexities and offer up a thorough review to help you learn about this product.
Article Overview
Key Features
Underwriter: National Casualty Company (outside CA); VPI (in CA)
No exam period
Pre-existing conditions defined by Nationwide:

Any condition that began or was contracted, manifested, or incurred up to twelve months before the effective date of this policy or during any waiting period, whether or not the condition was discovered, diagnosed, or treated. A chronic condition is a pre-existing condition unless it began after the effective date of this policy.

No bilateral exclusions
Claims should be paid within 30-days after all documents are received
Claims must be submitted within 90-days of treatment
Submit your claim via fax, mail or mobile app
Nationwide Pet Insurance Review
Pros
Track claims in real-time online and submit them through your smartphone
Unlimited claims for Major Medical and Whole Pet with Wellness plans
One of the only pet health insurance companies to offer exotic pet insurance
BBB rating: A+
Cons
Wellness plans are not available in all states
High number of complaints overall (finding negative reviews is not difficult)
12 month waiting period for CCL (ACL) surgery
14-day waiting period for Whole Pet with Wellness and Major Medical plans. 24-hour waiting period for Pet Wellness plan
Nationwide BBB page has an alert about fraudulent checks
Major Medical Plan has annual limits per condition
$2 transaction fee for those who pay monthly
Plan Options
Nationwide has two different plan options: Whole Pet with Wellness and Major Medical. The Whole Pet with Wellness plan is more like the other pet insurance companies in that it reimburses a percentage of what you paid the vet for treatment. On the other hand, the Major Medical plan is very different from the competition because it uses a benefit schedule to outline the capped amount for any given condition or treatment and that is the maximum amount that you can ever expect to be reimbursed, regardless of how much your vet bills you.
What Does Nationwide Cover?
Nationwide doesn't list what is and isn't covered like other pet insurance companies do. Instead, it is extremely specific with what's included in your coverage. Below are some pages we suggest looking at, and please be sure to read carefully since there could be exclusions.
Coupon Code
There are no active Nationwide Pet Insurance coupon codes at this time.
Nationwide Pet Insurance Quotes
Nationwide offers an unlimited annual maximum, 90% reimbursement (Whole Pet with Wellness) or benefit schedule reimbursement (Major Medical), and a $100 (Whole Pet with Wellness) or $250 (Major Medical) deductible. You can go directly to Nationwide's site to get a better estimate of what your specific price would be. Quotes are from May 2018.
| Breed | Labrador Retriever | English Cocker Spaniel | German Shepherd | Yorkshire Terrier | Yorkshire Terrier | Mixed Breed Cat (Medium Hair) |
| --- | --- | --- | --- | --- | --- | --- |
| Age | 2 | 8 | 4 | 6 | 6 months | 2 |
| Location | Iowa (Zip code: 50125) | Illinois (Zip code 60604) | California (Zip code: 90001) | New York (Zip code: 10001) | New York (Zip code: 10001) | Ohio (Zip code: 44101) |
| Whole Pet with Wellness ($100 deductible, unlimited annual benefit) | N/A | N/A | $97.97 | $125.80 | N/A | $36.98 |
| Whole Pet with Wellness ($250 deductible, unlimited annual benefit) | $85.45 | $221.16 | N/A | N/A | N/A | N/A |
| Whole Pet ($250 deductible, $10,000 annual benefit) | $61.52 | $178.34 | N/A | N/A | N/A | $26.63 |
| Major Medical ($250 deductible, unlimited annual benefit) | $26.65 | $70.96 | $48.32 | $61.50 | $35.55 | $15.57 |
| Major Medical + Wellness Plus (with no deductible) | N/A | N/A | N/A | N/A | $53.55 | N/A |
Hip Dysplasia Coverage
Hip dyslplasia is covered by Nationwide after a 14-day waiting period, but it has the following exclusions.
Certain bone or joint conditions associated with (1) hip dysplasia, or any luxation or subluxation associated with hip dysplasia, (2) elbow dysplasia, (3) patellar luxation or subluxation, (4) osteochondritis dissecans, or (5) any fracture, luxation, or subluxation associated with aseptic necrosis of a femoral head, but we do provide limited additional coverage for specified ineligible conditions
Waiting Periods
Customer Reviews
Positive Reviews
I have had nothing but a positive experience with Nationwide (formerly VPI) in the many years I've had it. The entire claim procedure is easy and can be done online. Reimbursements are reviewed and paid within 30 days with a full explanation on their site. Payments are made directly to one's bank. My cat recently had his eye removed due to glaucoma. For some reason the diagnosis was incorrect so only a small amount was paid. When I went back and got the diagnosis reviewed and changed by our doctor (he had no idea who created the first diagnosis) Nationwide reimbursed the difference (over $1000) within 30 days. Anytime I've called the representative has been helpful and informative. I would HIGHLY recommend Nationwide to anyone considering pet insurance. – Irish Lady G., Yelp 3/15/2018
Nationwide is not a typical insurance company, but it works. Breakdown: if your pet has a pre-existing condition the claim will not be approved. The older your pet is, the more expensive your plan will be. If you deplete your benefit amount for that policy year, it won't be paid out if the same incident happens again. I have this insurance because it'll cover PREVENTATIVE care which are the checkups, shots, flea medication, heartworm preventative, chips, etc. My plan also covers any major accidents, but the downfall is that whatever the diagnosis is there is a set amount for it for the policy year. If your pet suffers from that same condition and you've already been reimbursed for the amount, you may not get paid out again if you've been refunded the entire benefit claim amount until the next policy year. I have another insurance company for my dogs as a backup that will cover the remaining amount. – Jennifer, Consumer Affairs 3/23/2018
Negative Reviews
Beware!  Nationwide Pet Insurance is a scam operation. With a new puppy, I thought it would be wise to immediately purchase insurance for him.  After waiting a couple of weeks for final approval and providing Nationwide with our vet's contact information, I assumed Nationwide contacted the vet for his medical records.  When I submitted my first claims several months later, ALL of the claims were denied!!!! (I purchased the most expensive/comprehensive package available).  They wrote and said they now need all of his medical records and that they mailed me forms for this!!  1) I never received the forms 2) why didn't they obtain his records before taking our $$$ and not waiting until claims were submitted.  Also, they claim to cover teeth cleaning…..what they have in small print is the cleaning MUST be done by a certified vet and not a vet tech (non-aesthetic cleaning)!!! – Rita G., Yelp 1/25/2018
My job started offering pet insurance and Nationwide is who provided it. I got insurance for two of my cats. My 9 year old Olive and 2 year old Grover. I got the most expensive and comprehensive plans they offer. Two months after getting the insurance Olive needed her teeth cleaned so I had to have bloodwork done before she went under. The bloodwork showed she had hypothyroidism. She had never shown any symptoms but I was so happy I had the insurance. Nationwide wanted all her records which I provided and I am hypervigilant about bringing my cats to the vet. They denied my claims for subsequent visits saying she had a pre-existing condition even though she did not. Then they told me she was ten years old and could not receive the coverage I applied for. I have her adoption paperwork and she wasn't ten yet. – Mary, Consumer Affairs 5/2/2018
Exotic Pet Insurance
Nationwide offers pet insurance for exotic pets including birds, rabbits, reptiles, rodents or other exotic pets. The plan covers accidents and illnesses in addition to exams, lab fees, x-rays, hospitalization, prescriptions and more. For more information on this plan, checkout their page here.
Why You Need Pet Insurance
Check out our video explaining why we think it would be wise to get pet insurance for your furry companion.
What We Don't Like
We hope you've made your own decision on Nationwide pet insurance. Our opinion? We feel they strong arm you into purchasing the Whole Pet with Wellness plan because it's the only package that offers both prevention and illness coverage.
The lower packages are reasonably priced for the amount of coverage you are getting but does it cover enough to justify having pet insurance at all? Then, the price for the Whole Pet with Wellness plan can be pretty high. We feel there are better options available. To learn more about your other choices, take a look at our Pet Insurance Reviews.
Why are you considering getting pet insurance from Nationwide?
Disclaimer: Information regarding insurance company offerings, pricing and other contract details are subject to change by the insurance company at any time and are not under the control of this website. Information published on this website is intended for reference use only. Please review your policy carefully before signing up for a new pet health insurance contract or any other contract as your unique circumstances will differ from those of others who may be used for example purposes in this article.
Disclaimer: The information provided through this website should not be used for diagnosing or treating a health problem or a disease. It is not a substitute for professional care. If you have or suspect you may have a health problem, you should consult your health care provider.
Disclaimer: This website contains reviews, opinions and information regarding products and services manufactured or provided by third parties. We are not responsible in any way for such products and services, and nothing contained here should be construed as a guarantee of the functionality, utility, safety or reliability of any product or services reviewed or discussed. Please follow the directions provided by the manufacturer or service provider when using any product or service reviewed or discussed on this website.