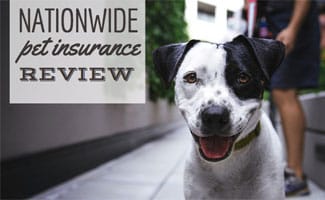 Did you know that Nationwide sells pet insurance, and its first customer was Lassie? We don't know about you, but we think it's pretty cool that Lassie's pet parents loved her enough to get pet insurance. This first sale by Nationwide (formerly known as VPI) quickly grew into multiple sales throughout California and now the rest of the United States.
While researching Nationwide pet insurance, we found ourselves a little overwhelmed. (To learn how top-ranked pet insurance carriers work, visit our pet insurance comparison.) It displays benefits differently than other companies. For example, it lists specific illnesses that are or aren't covered, which can be good if your dog's breed is prone to a particular disease. After digging a little deeper, we unraveled the complexities to help you learn about this product.
Nationwide Pet Insurance
Pros
Track claims in real-time online and submit them through your smartphone
Unlimited claim limits for Whole Pet with Wellness plans
One of the only pet health insurance companies to offer exotic pet insurance
BBB rating: A+
Optional wellness plan (not available in all states), must be purchased in conjunction with pet insurance
Cons
High number of complaints overall (finding negative reviews is not difficult)
12-month waiting period for CCL (ACL) surgery for Major Medical plan
Major Medical Plan has annual limits per condition
$2 transaction fee for monthly payment
Does not cover your pet if they travel outside the U.S. with you
Allows 30 days for claim repayment

Alternatives To Nationwide
Don't like the score you're seeing? Our pet insurance experts have analyzed over a dozen pet insurance providers. Check out our pet insurance reviews to learn more about this year's top-ranked companies.
Key Features
Get Free Pet Insurance Quotes
Underwriter: Nationwide Casualty Company (Outside CA), Veterinary Pet Insurance Company (CA only)
No exam period
No bilateral exclusions (a condition or disease that affects both sides of the body)
Claims process:

Must submit claims within 90-days of treatment
Submit your claim via fax, mail, email, or the VitusVet mobile app (see below)
Pays claims within 30-days after receipt of all documents (averages 5-15 days)

Ranked as the best pick for exotic pet insurance
Pre-Existing Conditions
Defined by Nationwide as:
Any condition that began or was contracted, manifested, or incurred up to twelve months before the effective date of this policy or during any waiting period, whether or not the condition was discovered, diagnosed, or treated. A chronic condition is a pre-existing condition unless it began after the effective date of this policy.
Customer Service Hours
Phone, email, and live chat: Monday-Friday 5am-7pm PST and Saturday 7am-3:30pm PST
Waiting Periods
What Are My Plan Options?
Nationwide has three different plan options:
Whole Pet
Major Medical with Wellness
Major Medical
The Whole Pet plan is similar to other pet insurance companies in that it reimburses a percentage of what you paid the vet for treatment.
On the other hand, the Major Medical plans differ significantly from the competition because they use a benefit schedule for any given condition or treatment that outlines the maximum amount you can expect as reimbursement, regardless of how much your vet charges you.
Benefit Schedule vs Usual Pet Insurance Repayment
Nationwide uses a benefit schedule to outline the maximum coverage amount that a pet parent should expect to be paid per incident when they make a claim. Visit the website to see an example of Nationwide's benefit schedule for pet insurance.
This is different from other pet insurance companies where the claim repayment calculation is based on your vet's receipt, and thus, the amount you actually paid your vet vs a figure reflected in the benefits schedule that may not cover what you paid.
What Does Nationwide Cover?
Nationwide doesn't simply list what is and isn't covered the same way other pet insurance companies do. Instead, it's extremely specific with what's included in your coverage. Below are some pages we suggest you read carefully since there could be exclusions.
Pricing Quotes
The cost of each policy is unique to your pet and depends on many variables, including your pet's age, breed, location, health conditions, and more. You can go directly to Nationwide's site to get a better estimate of what your specific price would be. The sample quotes below are from December 2020.
| Breed | Labrador Retriever | English Cocker Spaniel | German Shepherd | Yorkshire Terrier | Mixed Breed Cat (Medium Hair) |
| --- | --- | --- | --- | --- | --- |
| Age | 2 | 8 | 4 | 6 | 2 |
| Location | Iowa (50125) | Illinois (60604) | California (90001) | New York (10001) | Ohio (44101) |
| Major Medical with Wellness ($250 deductible, limited benefits per condition) | $46.82 | $113.74 | $70.23 | $92.37 | $31.03 |
| Major Medical ($250 deductible, limited benefits per condition) | $28.82 | $95.74 | $52.23 | $74.37 | $13.03 |
| Whole Pet (90% reimbursement, $250 deductible, $10,000 annual limit) | $61.52 | N/A | $82.02 | N/A | $26.63 |
You can get personalized price quotes for your pet(s) from reputable companies when you fill out just one short form. Also, visit our pet insurance quotes page to see how the cost of Nationwide stacks up against the competition.
Coupon Code
Customer Reviews
Positive Reviews
I'm shocked two see negative reviews for Nationwide's pet insurance. I've have multiple great experiences with them each year. Most recently, my 8-year old Dane mix (Cooper) tore his ccl. Consistent with my past experiences, Nationwide processed every claim related to this injury within one week. While my monthly bill is similar to car insurance, it's worth every penny. I can't imagine life without Nationwide. I highly recommend their top tier coverage (low annual deductible and 90% reimbursement). – Matthew F., Yelp 12/14/2020
I've had my German Shepherd insured through Nationwide since 2015 (when they were Veterinary Pet Insurance). The annual premium appears to be set such that, if you do for the year are wellness visits to the vet *and* you purchase the usual meds (flea, tick, heartworm), you will recover the cost of the premium — that is, you break even for the year. That's actually a pretty good deal, because if there are any unanticipated issues, then you're likely going to be saving money. – Vincent, ConsumerAffairs 9/30/2020
Negative Reviews
I have one of Nationwide's most expensive and comprehensive plans which includes what they call "wellness and prevention." My dog went in for routine dental cleaning. The doctor recommended that for her particular case that she NOT be put under general anesthesia. Nationwide won't cover the procedure UNLESS I put her under anesthesia. Therefore, they only will cover this basic necessary wellness and preventative procedure if I put her at risk by making her go under anesthesia even though it goes against the doctor's recommendation. I can either pay out of pocket or put my dog at risk, those are the options Nationwide gives me. That's just WRONG. Nationwide does NOT care about our pets. Avoid at all costs please. – Guy B., Yelp 12/21/2020
I pay for the top tier insurance for my pet. It's remarkable the reasons they come back with a denial of claims. Today I called to inquire about why a routine dental cleaning was denied. They told me it was a pre-existing condition. Hows that? How is a routine dental cleaning a pre-existing condition? I cancelled the policy and what made matters worse is that they didn't even attempt at keeping me as a customer. I would avoid this company at all costs. – Brian, ConsumerAffairs 8/11/2020
Need Exotic Pet Insurance?
Nationwide also offers pet insurance for exotic pets, including birds, rabbits, reptiles, rodents, and more. The plan covers accidents and illnesses in addition to exams, lab fees, x-rays, hospitalization, prescriptions, and more. This is the only pet insurance company we review that offers exotic pet insurance.
Nationwide's exotic pet insurance plans have per-incident benefit schedules, similar to its dog insurance policy. Exotic plans average $9 per month, but the price can vary based on your pet and their needs. Common claims submitted for exotic pets include feather issues and skin/shell disorders.
Why Do I Need Pet Insurance?
Check out our video explaining why we think it would be wise to get pet insurance for your furry companion.
Nationwide vs Other Companies
See what the key differences are between Nationwide and other leading pet insurance companies.
Nationwide vs Trupanion
Nationwide offers preventative care for an extra fee, Trupanion doesn't.
Nationwide's underwriter has an A+ rating from A.M. Best, while Trupanion's is unrated.
Trupanion had more expensive premiums than Nationwide in the quotes we ran.
Compare Nationwide and Trupanion
Nationwide vs Healthy Paws
Nationwide offers a wellness plan, but Healthy Paws doesn't.
Nationwide uses a benefit schedule opposed to Healthy Paws, which has unlimited claim limits.
Neither Healthy Paws nor Nationwide offer coverage for exam fees.
Compare Nationwide and Healthy Paws
How Do We Rate Nationwide Pet Insurance?
From what we've uncovered, we feel that Nationwide strong-arms you into purchasing the Whole Pet with Wellness plan because it's the only package that offers both prevention and illness coverage.
The lower packages are reasonably priced for the amount of coverage you get, but we're not sure they cover enough to justify having pet insurance at all. And the price for the Whole Pet with Wellness plan is pretty high. We think there are better options available. To learn about your other choices, take a look at our pet insurance comparison.
Are you considering getting pet insurance from Nationwide?