To sustain this free service, we receive affiliate commissions via some of our links. This doesn't affect rankings. Our review process.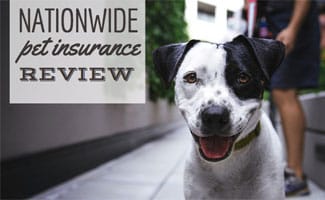 Did you know that Nationwide sells pet insurance, and that it sold its first policy to Lassie? We don't know about you, but we think it's pretty cool that Lassie's pet parents loved her enough to have pet insurance for her. This first sale by Nationwide (formerly known as VPI) quickly grew into multiple sales throughout California and now the rest of the United States. While researching Nationwide pet insurance, we found ourselves a little overwhelmed. They display things differently than other companies. For example, they list exact illnesses that are or aren't covered, which can be good if your dog's breed is prone to a specific illness. After digging a little deeper, we unraveled the complexities and offer up a thorough review to help you learn about this product.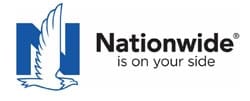 Visit Website
Nationwide Pet Insurance Review
Pros
Whole Pet with Wellness Plan is in all 50 states
Track claims in real-time online and submit them through your smartphone
Unlimited claims for Major Medical and Whole Pet with Wellness plans
One of the only pet health insurance companies to offer exotic pet insurance
Among the lowest monthly cost options
Hip dysplasia coverage in the Major Medical and Whole Pet with Wellness plans
Cons
Wellness Only plans are not available in NH and FL
High number of complaints overall (finding negative reviews is not difficult)
12 month waiting period for CCL (ACL) surgery for Major Medical plan
14-day waiting period for Whole Pet with Wellness and Major Medical plans. 24-hour waiting period for Pet Wellness plan
Nationwide BBB page has an alert about fraudulent checks
Major Medical Plan has annual limits per condition
$2 transaction fee
VPI Pet Insurance Is Now Nationwide Pet Insurance
Get 3 Free Pet Insurance Quotes
VPI insurance (Veterinary Pet Insurance) started selling pet insurance in 1982 as a brand under the Nationwide umbrella of products. In 2014 all of Nationwide's insurance companies joined under the one brand.
This article therefore covers both Nationwide pet insurance reviews and VPI pet insurance reviews since it is such a new product under the Nationwide brand name.
Nationwide Pet Insurance Review
Nationwide pet insurance has an entire page dedicated to what is excluded from their plans. Take a look at this page for a full listing.
Pricing
Below is a table showing an overview of what each plan offers at each price. Pricing can vary based on pet, age, breed, location and more.
| Pet Wellness | Major Medical | Whole Pet with Wellness |
| --- | --- | --- |
| starting at $18/month | starting at $35/month | starting at $65/month |
| Flea/heartworm prevention | Accidents and illnesses | Accidents and illnesses |
| Vaccinations | Some hereditary conditions (after 1-yr waiting period) | Hereditary conditions (no waiting period) |
| Microchipping | Benefits renew in full each year | No maximum benefit |
| Wellness exam | Chronic conditions covered at no extra cost | Chronic conditions covered at no extra cost |
| | | No age restrictions |
| | | Wellness exams and treatments |
| | | 90% back on veterinary bills* |
*Grooming, tax, waste disposal, boarding, or pre-existing conditions are not eligible for coverage (read complete contract for full list of exclusions).
Coupon Code
There are not any active Nationwide Pet Insurance coupon codes at this time.
Exotic Pet Insurance
Nationwide offers pet insurance for exotic pets including birds, rabbits, reptiles, rodents or other exotic pets. The plan covers accidents and illnesses in addition to exams, lab fees, x-rays, hospitalization, prescriptions and more. For more information on this plan, checkout their page here.
Nationwide Pet Insurance Quotes
We've compiled some quotes from Nationwide to give you an idea of what your Nationwide dog insurance may cost. You can go directly to Nationwide's site to get a better estimate of what your specific price would be.
| Breed | Labrador Retriever | English Cocker Spaniel | German Shepherd | Yorkshire Terrier | Yorkshire Terrier | Yorkshire Terrier | Mixed Breed Cat (Medium Hair) |
| --- | --- | --- | --- | --- | --- | --- | --- |
| Age | 2 | 8 | 4 | 6 | 6 months | 6 months | 2 |
| Location | Iowa (zipcode: 50125) | Illinois (zipcode 60604) | California (zipcode: 90001) | New York (zipcode: 10001) | New York (zipcode: 10001) | Iowa (zipcode: 50125) | Ohio (zipcode: 44101) |
| Annual Maximum | Unlimited | Unlimited | Unlimited | Unlimited | Unlimited | Unlimited | Unlimited |
| Major Medical Price Per Month ($250 annual deductible) | $26.65 | $70.96 | $42.81 | $61.50 | $35.55 | $25.85 | $15.57 |
| Whole Pet with Wellness Price Per Month ($100 annual deductible) | $91.85 | $202.07 | $97.97 | $125.80 | N/A | N/A | $36.87 |
| Major Medical + Wellness Plus (with no deductible) | N/A | N/A | N/A | N/A | $53.55 | $43.95 | N/A |
Customer Reviews
Positive Nationwide Pet Insurance Reviews
I'm currently a Risk Manager for a large real estate investment trust and was formerly an insurance broker for 20 years prior to my current role. I know how difficult insurance companies can be to deal with for accounts large and small and I have to say I've been extremely impressed with the coverage and service provided by Nationwide (formerly VPI). I've used them for my 1 year old boxer and have had no issues with recovery under the policy. Their portal is user-friendly and I've been impressed with their customer services. I find them to be communicative from the day a claim is submitted through receiving reimbursement and details of that calculation. Even after having several claims in year 1, my premium did not change upon renewal. Overall, I would recommend Nationwide to help you and your family protect your pet and include a full coverage plan for any unforeseen medical costs.  Hopefully, you never need them, but its nice to know they are there. – Jason B., Yelp 2/11/2016
I have been reading the reviews and I have to tell you I have had only great experiences with this insurance. I started with VPI (veterinary pet insurance) when my puppy was 4 months old and they changed to Nationwide sometime back. (My dog is now 2). I have to file 5 or 6 claims in this amount of time and I have ALWAYS been reimbursed! I have met my deductible (easy to do on one visit alone!) and the reimbursement in my last 3 visits has been 100% within 2-3 weeks. I am hoping this letter will not jinx me, but so far so good! I actually have no complaints! – Fran, Consumer Affairs 12/31/2016
Negative Nationwide Pet Insurance Reviews
Any review higher than 1 star is either FAKE or from a customer prior to 6/2014. PERIOD NO EXCEPTIONS. VPI is a full on SCAM. Pays nothing, Hit our 500 deductible, only to have a new medication given to our dog for Hip Pain. Total of 130 a bottle. Every 30 days. VPI Cover it? Nope claims it's pre-existing?? We've been with VPI 5 years she was 8 months old when we joined. Can they show me anywhere in the 5 years she's ever had hip problems? NOPE, nothing rep says pre-existing and nothing can be done. SCAM SCAM SCAM. Happily I paid our $585 premium with my AMEX, Just filed a dispute as services not rendered. Thank god for AMEX. – Scott, Yelp 1/7/2016
I enrolled in Nationwide (then VPI) when I adopted my beagle 9 years ago; she's healthy and has only had wellness visits, for which I was reimbursed some percentage. In December 2016, she had surgery (at age 10, her first surgery) to remove a perianal adenoma — Nationwide reimbursed me $480 on a $1,487 bill. I'm stunned. Very disappointed. – Carol, Consumer Affairs 1/24/2017
Finding Bumps on Your Dog
Cancer is one of the most common illnesses among dogs. By being proactive and searching your dog regularly you could catch it sooner. Here are some tips from Nationwide Pet Insurance. Not every lump is cancerous, so read our article if you are trying to figure out whether to worry about your dogs bumps and lumps.
What We Don't Like
We hope you've made your own decision on Nationwide pet insurance. Our opinion? We feel they strong arm you into purchasing the Whole Pet with Wellness plan because it's the only package that offers both prevention and illness coverage. The lower packages are reasonably priced for the amount of coverage you are getting but does it cover enough to justify having pet insurance at all? Then, the price for the Whole Pet with Wellness plan can be pretty high. We feel there are better options available, unless you are seeking exotic pet insurance. To learn more about your other choices, take a look at our Dog Insurance Reviews.
Why are you considering getting pet insurance from Nationwide?
Disclaimer: Information regarding insurance company offerings, pricing and other contract details are subject to change by the insurance company at any time and are not under the control of this website. Information published on this website is intended for reference use only. Please review your policy carefully before signing up for a new pet health insurance contract or any other contract as your unique circumstances will differ from those of others who may be used for example purposes in this article.