To keep the lights on, we receive affiliate commissions via some of our links. Our review process.
Nationwide pet insurance can be a little overwhelming to understand. It offers a more traditional type of pet insurance plan as well as one with a benefit schedule. Read below to unravel the complexities of these plans, get a better understanding of how it all works, and learn how it could benefit you.
Did you know that Nationwide sells pet insurance, and its first customer was Lassie? We don't know about you, but we think it's pretty cool that Lassie's pet parents loved her enough to get pet insurance. This first sale by Nationwide (formerly known as VPI) quickly grew into multiple sales throughout California and now the rest of the United States.

Nationwide Pet Insurance Review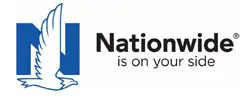 Product Name: Nationwide Pet Insurance
Product Description: Nationwide Pet Insurance is the oldest provider in the industry offering health coverage for dogs, cats, birds, rabbits, and other exotic pets.
Summary
Nationwide's benefit schedule is a big differentiator for it. This is the only company that has its policies set up this way. According to Nationwide, the benefit schedule reduces the frequency of rate increases, so you're less likely to see significant premium increases from the company. Additionally, Nationwide is the only company to offer pet insurance coverage for exotic pets.
Our pet insurance experts read through each pet insurance company's policy to provide detailed comparisons and information regarding how a provider fares against others in the industry. We also speak with customers, read online feedback, and communicate one-on-one with pet insurance companies to obtain a well-rounded, unbiased analysis of a company's standings.
Our team rates pet insurance companies based on several factors, including A.M. Best ratings (an indicator of financial stability), claim processing reputations, contract coverage, customer service, pricing, plan customizations, and more.
Pros
Track claims in real-time online and submit them through your smartphone
Unlimited payout limits for Whole Pet with Wellness plans
One of the only pet health insurance companies to offer exotic pet insurance
Covers your pet if they travel outside the U.S. with you
Optional wellness plan
5% multi-pet discount for 2-3 pets (10% for 4 or more pets)
Cons
High number of complaints overall (finding negative reviews is not difficult)
1 year waiting period for CCL (ACL) surgery for Major Medical plan
Major Medical Plan has annual payout limits per condition
$2 transaction fee for monthly payment
Allows 30 days for claim processing
Age restrictions for pets older than 10 years old
Alternatives To Nationwide
Key Features
Underwriter: Nationwide Casualty Company (outside of CA), Veterinary Pet Insurance Company (CA only)
No bilateral exclusions (a condition or disease that affects both sides of the body)
Claims process:

No time limit for claim submission
Submit your claim via the Pet Account Access page, fax, mail, or email
Claim processing averages 4 days, and direct deposit and check reimbursement are available

Doesn't offer pre-approval of estimates/procedures in advance of treatment
An average annual rate increase due to the aging of pets is approximately 12%
Customer Service Options & Hours
Phone, email, and live chat:

Monday-Friday 5am-7pm PST and Saturday 7am-3:30pm PST
What Are Nationwide's Waiting Periods*?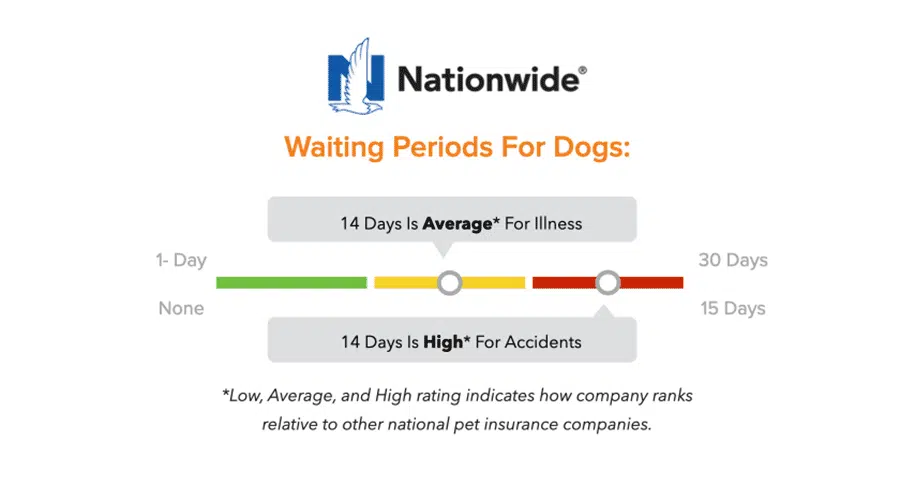 Whole Pet with Wellness and Major Medical plans: 14 days
Cruciate Ligament: 1 year
Hip Dysplasia: up to 1 year†
Wellness: 1 day
*Waiting periods for California, Maine, and Mississippi are as follows:
Accidents - 0 days
Illnesses - 14 days
Cruciate Ligament Conditions - 30 days
Routine Care - 0 days
†Depends on the plan you choose.
Plans Offered (With Wellness Options)
Nationwide has four different plan options:
Whole Pet with Wellness
Whole Pet
Major Medical with Wellness
Major Medical
The Whole Pet plan is similar to other pet insurance companies in that it reimburses a percentage of what you paid the vet for treatment.
On the other hand, the Major Medical plans differ significantly from the competition because they use a benefit schedule for any given condition or treatment that outlines the maximum amount you can expect as reimbursement, regardless of how much your vet charges you.
Benefit Schedule vs Usual Pet Insurance Repayment
Nationwide uses a benefit schedule to outline the maximum coverage amount that a pet parent should expect to be reimbursed per incident when they make a claim. Visit the website to see an example of Nationwide's benefit schedule for pet insurance.
This is different from other pet insurance companies where the claim repayment calculation is based on your vet's receipt, and thus, the amount you actually paid your vet vs a figure reflected in the benefits schedule that may not cover what you paid.
We asked Nationwide why it chooses to use a benefit schedule since it's the only pet insurance company we review that does this. Nationwide responded with the following:
In general, benefit schedule plans are subject to less frequent rate increases since the per condition limits make losses more predictable for the insurer. Inflation, changes within veterinary industry and frequency and/or severity of claims received have less of an impact. Therefore, benefit schedule plans can be priced lower, while still offering benefits for a wide variety of conditions. Those in areas with a higher cost of veterinary treatment, may see lower reimbursement on a benefit schedule plan; however, those in areas with a lower cost of veterinary treatment may find that a benefit schedule plan meets their needs and provides more robust reimbursement.
What Does Nationwide Cover?
Please know that none of the providers in our pet insurance comparison charts cover pre-existing conditions, cremation and burial costs, pregnancy and breeding, or unnecessary cosmetic procedures.
All of them cover the following items when deemed medically necessary: emergency care, surgery and hospitalization, specialized exams and specialty care, X-rays, blood tests, ultrasounds, cat scans, MRIs, rehabilitation, cancer, chronic conditions, euthanasia, hereditary conditions, congenital conditions, non-routine dental treatment, and prescription medications. However, this coverage may have limitations, so please check your policy.
| Condition | Covered By Nationwide |
| --- | --- |
| Behavioral Therapies | |
| Alternative/Holistic Therapies | |
| Exam Fees | |
| Wellness Care | Extra Fee |
Price Quotes And Available Discounts
Nationwide has no one-time enrollment fee but charges a $2 transaction fee. Your monthly premium is based on the plan, deductible, reimbursement percentage, and annual payout options that you choose.
Pricing is also based on your pet's details (age, breed, location, pre-existing conditions, etc.). We recommend obtaining quotes from Nationwide for your specific pet to get an idea of how much a policy would cost you.
You can also use our pet insurance quote form below to see how top providers compare for your actual pet.
Discounts
Looking for a Nationwide Pet Insurance promo code? Click here for the best deal we could find.
Reimbursement Stories
Below are two reimbursement stories for you to see how claims could be handled if you chose Nationwide.
Senta's Claim
Dog: Senta the Weimaraner, 2 months old
Plan: Whole Pet with Wellness
Diagnosis: Hypertrophic osteodystrophy, allergic reactions, and foreign object
Treatment Cost: $7,770
Nationwide Reimbursed: $6,609
Max's Claim
Cat: Max the Siberian, 1 year old
Plan: Major Medical Plan
Diagnosis: Urinary blockage
Treatment Cost: $14,168
Nationwide Reimbursed: $6,432
Customer Reviews
Positive Reviews
Nationwide Pet Insurance has probably been the ONLY Insurance that has been a pleasant experience for me. We've utilized them for 5 years for both my cat and dog and I've never had any major concerns. I'd honestly say they continue to improve. My dog was relatively healthy for the first 4 years on this insurance but this year her health has declined and Nationwide has made sure claims were paid within a few days. Their customer service is always pleasant and helpful. I'm honestly grateful for them in those dire times with my pets. I truly hope this continues to be my experience and the experience of others.

– Maria P., Yelp 7/12/2022
I had insurance my dog with Nationwide Pet for 8 years. They always paid the claims in approximately 48 hrs. Never had an issue with the company. Recently my Dog got cancer and I had no other choice but to let him sleep. This Insurance company after paying the ER bill, sent me card showing their condolence for my loss. I lost my best friend, but I have to thank God that he did not suffer. Thank you Nationwide Pet Insurance.

– R., Consumer Affairs 11/29/2022
Negative Reviews
DO NOT waste your money! They do not cover any pre-existing condition even when a Vet prescribed ongoing medications or special diet food. Website and phone app difficult to navigate. Calling Customer Service is a waste of time as they lack knowledge, empathy and good customer service skills. I canceled half way in to first month and they didn't even ask me why!!!

– Steve M., Yelp 11/21/2022
Pet insurance will do everything possible to not cover your expenses. Just a waste of money, They don't even cover vaccines and if there is any record of your pet having any problems, they will say it was a pre existing condition and will not cover anything else. Bruna.

– Bruna, Consumer Affairs 10/25/2022
Does Nationwide Offer Exotic Pet Insurance?
Nationwide also offers pet insurance for exotic pets, and is the only pet insurance company we know of that offers exotic pet insurance.
Exotic pet parents can get back up to 90% on vet exams and treatment, including preventative care. Plans average $11 per month for reptiles, $13 per month for birds, and $19 per month for rabbits. Premiums can vary based on your pet's species, age, and state.
What Pets Are Eligible For Coverage?
Below is a table including pets that are and aren't available for coverage.
| Available For Coverage | Not Available For Coverage |
| --- | --- |
| Birds | Farm animals (e.g., horses, cows, sheep, and goats kept for milk or meat production) |
| Rabbits | Miniature horses |
| Reptiles and amphibians (e.g., snakes, lizards, chameleons, iguanas, tortoises, turtles, axolotl) | Kangaroos |
| Ferrets | Wallaby |
| Miniature pigs | Fennec fox |
| Guinea pigs | Capybara |
| Goats | Wallaroo (wallaby and kangaroo mix) |
| Sugar gliders | Primates (e.g., spider monkey) |
| Chinchillas | Kinkajou |
| Other small mammals | Degu |
| | Spotted genet |
| | Tarantula |
| | Madagascar hissing cockroach |
| | Patagonian cavy |
| | Anteater |
| | Armadillo |
| | African giant millipede |
| | Jerboa |
| | Coatimundi |
| | Fiddler crab |
| | Sloth |
What Is Covered?
Common injuries
Illnesses (e.g., cancerous conditions)
Treatment for internal or external parasites
Teeth trimming/floating/filing if associated with disease
Reproductive diseases and egg production disorders
Congenital or hereditary diseases
E.cunculi, trichomoniasis, and other viral, bacterial, and fungal infections
Behavioral conditions including self-mutilation or regurgitation
Surgical removal of reproductive organs, expression, or removal of scent glands
Vitamins and mineral supplements prescribed to treat an eligible condition
Routine care, examinations, vaccinations, and dental (only if wellness coverage is purchased)
Most Common Exotic Pet Insurance Claims
Find out the most common claims for exotic pets, so you have an idea of what type of expense you could have covered for your unique pet.
Birds
Nationwide has insured various birds at different ages, including a 90-year-old macaw. Various conditions are commonly claimed for birds, including infections and reproductive conditions to self-mutilation and soft tissue trauma.
Rabbits
Rabbits are among the most popular pet for Nationwide's exotic policy. An average of $5,000 worth of claims are submitted annually for conditions like ileus (i.e., gastrointestinal status), overgrown teeth, conjunctivitis, arthritis, and cystitis/urethritis.
Small Mammals
Common claims for small mammals totaling almost $10,000 include skin masses, hoof/horn diseases, overgrown teeth, gastrointestinal status, bacterial infections, and urinary tract issues.
Reptiles
The most popular insured reptile for Nationwide is bearded dragons. Common claims for the species include internal parasites, enteropathy, upper respiratory infections, and bacterial infections. The oldest reptile insured by Nationwide is a 100-year-old tortoise.
Frequently Asked Questions
Here are some frequently asked questions regarding Nationwide pet insurance we've received from our readers.
Does Nationwide Pet Insurance Cover 90%?
Nationwide's Whole Pet with Wellness has a 90% reimbursement on eligible vet expenses.
Does Nationwide Pet Insurance Have An Annual Limit?
It depends on the plan you select. Nationwide's benefit schedule plans have limits per condition, while its more traditional style pet insurance plan has unlimited annual payouts.
Does Nationwide Cover Spaying?
As you can see in our what does pet insurance cover guide, spaying and neutering (desexing) isn't covered through accident and illness pet insurance policies. However, it may be covered by one of Nationwide's wellness plans.
How To Cancel Nationwide Pet Insurance?
According to Nationwide, you can cancel anytime at my.petinsurance.com or by letting them know in writing. Their member mailing address is P.O. Box 2344, Brea, CA 92822-2344. They have a 100% money-back guarantee if you cancel within ten days of when your policy went into effect and if Nationwide hasn't reimbursed you for any claims to date (terms may vary by state). If you decide to cancel later, they will refund your unused premium on a pro-rata basis.
If you'd like a replacement for your Nationwide pet insurance policy, look at our pet insurance reviews to see which pet insurance companies we recommend.
Does Nationwide Pet Insurance Have An App?
Yes, Nationwide has a mobile app for iPhone, iPad, and Android. Note that it's not only for pet insurance customers, it's for managing all your Nationwide insurance accounts. Note that they have discontinued support of the VitusVet app, so if you see a site say that's their app, they're wrong.
Why Do I Need Pet Insurance?
Check out our video explaining why we think it would be wise to get pet insurance for your furry companion.
Nationwide vs Other Companies
Interested in seeing how Nationwide stacks up against other popular pet insurance companies? We've written comparison articles for you to see how Nationwide and other leading pet insurance companies compare in coverage, customer service and reputation, claim processing, plan customization, and price.
How Do We Rate Nationwide Pet Insurance?
From what we've uncovered, we feel that Nationwide strong-arms you into purchasing the Whole Pet with Wellness plan because it's the only package that offers both prevention and illness coverage.
The lower packages are reasonably priced for the amount of coverage you get, but we're not sure they cover enough to justify having pet insurance at all. And the price for the Whole Pet with Wellness plan is pretty high. We think there are better options available. To learn about your other choices, take a look at our comparison of pet insurance providers.
Tagged With: Reviewed By Insurance Agent