To sustain this free service, we receive affiliate commissions via some of our links. This doesn't affect rankings. Our review process.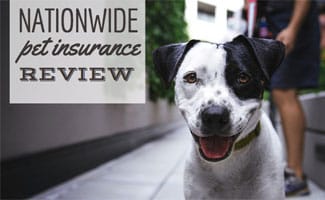 Did you know that Nationwide sells pet insurance and its first customer was Lassie? We don't know about you, but we think it's pretty cool that Lassie's pet parents loved her enough to get pet insurance. This first sale by Nationwide (formerly known as VPI) quickly grew into multiple sales throughout California and now the rest of the United States.
While researching Nationwide pet insurance, we found ourselves a little overwhelmed. (To learn how top-ranked pet insurance carriers work, visit our pet insurance reviews.) It displays benefits differently than other companies. For example, it lists specific illnesses that are or aren't covered, which can be good if your dog's breed is prone to a particular disease. After digging a little deeper, we unraveled the complexities to help you learn about this product.
Nationwide Pet Insurance
Pros
Track claims in real-time online and submit them through your smartphone
Unlimited claims for Whole Pet with Wellness plans
One of the only pet health insurance companies to offer exotic pet insurance
BBB rating: A+
Cons
Wellness plans are not available in all states
High number of complaints overall (finding negative reviews is not difficult)
12-month waiting period for CCL (ACL) surgery
Nationwide BBB page has an alert about fraudulent checks
Major Medical Plan has annual limits per condition
$2 transaction fee for monthly payment
Does not cover your pet if they travel outside the U.S. with you
Allows 30 days for claim repayment

Alternatives To Nationwide
Don't like the score you're seeing? Our pet insurance experts have analyzed over a dozen pet insurance providers. Check out our pet insurance reviews to learn more about this year's top-ranked companies.
Key Features
Get Free Pet Insurance Quotes
Underwriter: Nationwide Casualty Company (Outside CA), Veterinary Pet Insurance Company (CA only)
No exam period
No bilateral exclusions (a condition or disease that affects both sides of the body)
Pays claims within 30-days after receipt of all documents (averages 5-15 days)
Must submit claims within 90-days of treatment
Submit your claim via fax, mail, email or the VitusVet mobile app (see below)
Pre-Existing Conditions
Defined by Nationwide as:
Any condition that began or was contracted, manifested, or incurred up to twelve months before the effective date of this policy or during any waiting period, whether or not the condition was discovered, diagnosed, or treated. A chronic condition is a pre-existing condition unless it began after the effective date of this policy.
Customer Service Hours
Phone, email and live chat: 24/7
Waiting Periods
14 days: Whole Pet with Wellness and Major Medical plans
24 hours: Pet Wellness plan
12 months: Cruciate ligament events
What Are My Plan Options?
Nationwide has three different plan options:
Whole Pet with Wellness
Major Medical with Wellness
Major Medical
The Whole Pet with Wellness plan is similar to other pet insurance companies in that it reimburses a percentage of what you paid the vet for treatment.
On the other hand, the Major Medical plans differ significantly from the competition because they use a benefit schedule for any given condition or treatment that outlines the maximum amount that you can ever expect as reimbursement, regardless of how much your vet charges you.
Benefit Schedule vs Usual Pet Insurance Repayment
Nationwide uses a benefit schedule to outline the maximum coverage amount that a pet parent should expect to be paid per incident when they make a claim. Visit the website to see an example of Nationwide's benefit schedule for pet insurance.
This is different from other pet insurance companies where the claim repayment calculation is based on your vet's receipt, and thus, the amount you actually paid your vet vs a figure reflected in the benefits schedule that may not cover what you paid.
What Does Nationwide Cover?
Nationwide doesn't simply list what is and isn't covered the same way other pet insurance companies do. Instead, it's extremely specific with what's included in your coverage. Below are some pages we suggest you read carefully since there could be exclusions.
Is Hip Dysplasia Covered?
Nationwide covers hip dysplasia after a 14-day waiting period, but it has the following exclusions.
Certain bone or joint conditions associated with (1) hip dysplasia, or any luxation or subluxation associated with hip dysplasia, (2) elbow dysplasia, (3) patellar luxation or subluxation, (4) osteochondritis dissecans, or (5) any fracture, luxation, or subluxation associated with aseptic necrosis of a femoral head, but we do provide limited additional coverage for specified ineligible conditions
Pricing Quotes
The cost of each policy is unique to your pet and depends on many variables, including your pet's age, breed, location, health conditions and more. You can go directly to Nationwide's site to get a better estimate of what your specific price would be. The sample quotes below are from December 2019.
| Breed | Labrador Retriever | English Cocker Spaniel | German Shepherd | Yorkshire Terrier | Mixed Breed Cat (Medium Hair) |
| --- | --- | --- | --- | --- | --- |
| Age | 2 | 8 | 4 | 6 | 2 |
| Location | Iowa (50125) | Illinois (60604) | California (90001) | New York (10001) | Ohio (44101) |
| Whole Pet with Wellness (90% reimbursement, $250 deductible, unlimited annual benefit) | $85.45 | $221.16 | $111.86 | $139.01 | $36.98 |
| Major Medical with Wellness ($250 deductible, limited benefits per condition) | $46.82 | $113.74 | $66.32 | $92.37 | $31.03 |
| Major Medical ($250 deductible, limited benefits per condition) | $28.82 | $95.74 | $48.32 | $74.37 | $13.03 |
You can get personalized price quotes for your pet(s) from reputable companies when you fill out just 1 short form. Also visit our pet insurance quotes page to see how the cost of Nationwide stacks up against the competition.
Coupon Code
Use
this link
to get the best deal we can offer from Nationwide Pet Insurance.
Customer Reviews
Positive Reviews
Nationwide is like any provider and if you read the fine print and the coverage for your pet you will be well informed as to what they do or do not cover. Then you will not be disappointed in your reimbursement. Butter has been cared for due to my policy and expect as dogs get older the policy may go up as care increases. In about 8 years my policy went for $54 to $94 per month. It was worth every penny from eye surgery to back issues to general wellness care. Yes I have to pay up front but grateful for the claims explanations and refunds on my top of the line plan. I recommend filing claims on line rather than faxing as once my claim was lost even though I had a received receipt from fax machine. I would not be without my insurance. Butter throives today thanks to their help. – Terry P., Yelp 11/25/2019
Nationwide Pet Insurance was the perfect addition to my work benefits. Once I enrolled, I designated the premium to be automatically taken out of my paycheck. Because my cat was already up to date with all his health and dental needs prior to me purchasing the "Whole Pet with Wellness" plan, it was simply a precaution against a worst-case scenario. Unfortunately, the scenario came to fruition when my Shadow had to be rushed into surgery for a blockage in his small intestine. He was hospitalized for 3 nights and needed around the clock IV fluids. This was an expensive emergency! While I had to pay the 5k upfront, once I submitted my receipts for reimbursement the processing, approval, and payout time took place within a week. This is why I bought the insurance, for emergencies and I'm glad I did! It saved my wallet, my credit, and most importantly, my Shadowcat's life! Thanks Nationwide!!! – Jolina, Consumer Affairs 5/22/2019
Negative Reviews
HUUUUUGE SCAM. OBAMACARE FOR PETS! Making claims is practically useless and when we wanted to hear the recordings of what THEY told us and to confirm, they told us we had to subpoena the recordings. Seriously don't waste your money, it's better not to have insurance at least you don't get angry all the time. Switching to another insurance which is only 10 bucks more expensive per month with a $100 deductible instead of 250 and covers 90% on everything except vaccines FOR LIFE. They're "true companions" (hint hint) when it comes to covering your pets and a real insurance company. We moved here from France and got scammed big time. – Sarah S., Yelp 11/8/2019
I pay to Nationwide over 150 monthly for the Whole Pet with Wellness with 90% reimbursement. My dog thank God is in a good health and once twice a year I take him to his vet for a normal check up like blood work or teeth cleaning BUT NATIONWIDE FIND ANY NONSENSE EXCUSE TO NOT REIMBURSE. THEY ARE GOOD ON JUST TAKING YOUR MONEY! – May, Consumer Affairs 12/8/2019
Need Exotic Pet Insurance?
Nationwide also offers pet insurance for exotic pets, including birds, rabbits, reptiles, rodents and more. The plan covers accidents and illnesses in addition to exams, lab fees, x-rays, hospitalization, prescriptions and more. This is the only pet insurance company we review that offers exotic pet insurance.
Nationwide's exotic pet insurance plans have per-incident benefit schedules, similar to its dog insurance policy. Exotic plans average $9 per month, but the price can vary based on your pet and their needs. Common claims submitted for exotic pets include feather issues and skin/shell disorders.
Why Do I Need Pet Insurance?
Check out our video explaining why we think it would be wise to get pet insurance for your furry companion.
How Do We Rate Nationwide Pet Insurance?
From what we've uncovered, we feel that Nationwide strong-arms you into purchasing the Whole Pet with Wellness plan because it's the only package that offers both prevention and illness coverage.
The lower packages are reasonably priced for the amount of coverage you get, but we're not sure they cover enough to justify having pet insurance at all. And the price for the Whole Pet with Wellness plan is pretty high. We think there are better options available. To learn about your other choices, take a look at our pet insurance comparison.
Are you considering getting pet insurance from Nationwide?
Disclaimer: Information regarding insurance company offerings, pricing and other contract details are subject to change by the insurance company at any time and are not under the control of this website. Information published on this website is intended for reference use only. Please review your policy carefully before signing up for a new pet health insurance contract or any other contract as your unique circumstances will differ from those of others who may be used for example purposes in this article.
Disclaimer: The information provided through this website should not be used for diagnosing or treating a health problem or a disease. It is not a substitute for professional care. If you have or suspect you may have a health problem, you should consult your health care provider.
Disclaimer: This website contains reviews, opinions and information regarding products and services manufactured or provided by third parties. We are not responsible in any way for such products and services, and nothing contained here should be construed as a guarantee of the functionality, utility, safety or reliability of any product or services reviewed or discussed. Please follow the directions provided by the manufacturer or service provider when using any product or service reviewed or discussed on this website.