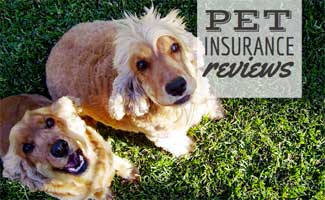 Fido just leaped for a frisbee, and now he's limping. What's wrong with him? Do I need to take him to the vet? How much will it cost? This is why pet insurance is so critical. In a time of panic, you should focused on the health of your dog, not worrying about paying for it.
Our pet insurance experts (including a licensed professional) review the industry's most reputable companies, conduct extensive research, and analyze customer feedback. In addition, our pet insurance reviews are regularly updated throughout the year as providers undergo changes to their policies, premiums, payout limits, reimbursements, customer service experience, and more. Who are the best pet insurance companies this year? Let's find out.
Top 3 Pet Insurance Companies
Total Score, Policy Coverage, Customer Service & Reputation, Claim Repayment, Price Of Policy, and Plan Customization are all on a scale of 0 to 5.
Pet Insurance Reviews: Top 3 Companies
Without further ado, here are our top three winners for best pet insurance company for 2021. We highlight a brief snapshot of each company, what your options are for deductibles and reimbursement amounts, and what stands out in terms of coverage and exclusions compared to the competition. We also encourage you to get a quote and compare rates from at least three companies, and read our in-depth reviews of those you are interested in.
Winner – Figo Review
Promo Code
2nd – Healthy Paws Review
Promo Code
3rd – Pets Best Review
Promo Code
Pet Insurance Comparison Chart (Top 10 Companies)
The table below shows some of the deductible, reimbursement, and payout options for each company.
*Deductible: The amount of money you must pay for vet treatment before your policy will begin to reimburse you and after coinsurance has been applied. For most companies, you must pay this deductible annually rather than per incident. Be sure to understand your policy, as the annual vs per-incident deductible can vary greatly.
**Reimbursement: The percentage of a claim that you're eligible for repayment by the pet insurance company after you've paid the coinsurance.
***Payout Limit Options: The highest amount a pet insurance company will reimburse during the policy period. A lower payout limit means you may be responsible for more costs if your pet experiences expensive vet treatment(s).
Cost And Coverage Comparisons
We've compiled a couple of comparison tables that address cost and coverage issues: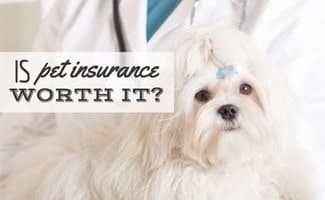 If you're unsure where to start, you may want to read our experts' take on whether pet insurance is worth it. It addresses common questions such as how pet insurance works, what it covers, statistics, reimbursement stories, whether it's worth it for everyone, and more.
†You should expect annual increases on your premiums from most pet insurance companies. These rates and increases will vary based on your location, changes in vet costs, and more.
Free Pet Insurance Quotes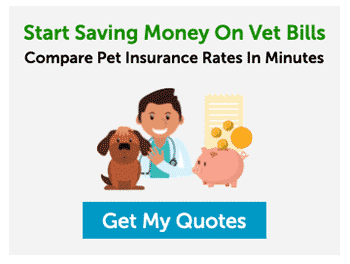 Our coverage comparison is relatively straightforward, but pricing comparisons can get complicated. Why? Pricing quotes are unique because they're based on a pet's age, breed, geographic location, and several other factors.
For this reason, we encourage you to get quotes from multiple companies before deciding on a pet insurance provider. We've made this easy for you by creating a free quote form that pulls quotes from top pet insurance companies when you fill out your pet's details. By entering your pet's specific characteristics, you can get a better understanding of the coverage needed.
Pet Insurance Reviews: 4th – 10th Place Companies
The companies listed below didn't rank in our top three, but with the exception of two very popular new entrants (Lemonade and Spot), they've been in business for at least five years and have established a solid history (this is a requirement to be eligible for our top three – here's why). We review these companies with just as much scrutiny as our top-rated providers. Every pet and every situation is different. So you may find the best fit for your unique furry friend with one of these companies rather than our top recommendations.
4th – Embrace Review
*An orthopedic report card is a veterinary exam and waiver process designed to assess any bone or muscle deformities in your dog. To reduce the six-month waiting period for orthopedic conditions, take your dog to the vet and have an orthopedic exam conducted after your policy is purchased. Your vet will record any health findings for your dog's hips, legs, shoulders, forelimbs, spine, joints, and bones. You can learn more about Embrace's orthopedic exam and waiver process for dogs.
Promo Code
5th – Petplan Review
Promo Code
6th – ASCPA Pet Insurance Review
Promo Code
Full Review Of ASPCA Pet Insurance
7th – Spot Review
Coupon Code
8th – Lemonade Pet Insurance Review
Promo Code
Full Review Of Lemonade Pet Insurance
9th – Nationwide Pet Insurance Review
Promo Code
Full Review Of Nationwide Pet Insurance
10th – Trupanion Review
Promo Code
Don't See Your Company?
Didn't see the company you were looking for? Wondering what happened to 24PetWatch, Bivvy, Companion Protect, Hartville, ManyPets, Odie, PetFirst, PetPartners, PetPremium, Prudent Pet, Pumpkin, Toto, Wagmo, or policies offered by Allstate, American Family, Farmers Insurance, Geico, MetLife, Progressive, State Farm, USAA, Waffle, or Walmart? Don't worry, we got you covered. We have stats and some full reviews on all of these companies on our pet insurance companies listing page.
Why Trust Our Reviews?
We know choosing the right pet insurance policy for your pet is a personal decision. That's why we value your trust in us to provide all the objective information you need to make an informed choice. Here is a quick comparison table showing what we can offer you compared to the competition.
What Is (And Isn't) Covered By Pet Insurance?
Please know that none of the pet insurance providers in our comparison cover pre-existing conditions, cremation and burial costs, pregnancy and breeding, or unnecessary cosmetic procedures.
All of them cover the following items when deemed medically necessary: emergency care, surgery and hospitalization, specialized exams and specialty care, x-rays, blood tests, ultrasounds, cat scans, MRIs, rehabilitation, cancer, chronic conditions, euthanasia, hereditary conditions, congenital conditions, and non-routine dental treatment.
However, there may be limitations to this coverage, so please check your policy. Our experts have put together a comprehensive guide to what pet insurance covers. You'll also find cost and reimbursement examples, criteria to consider, alternatives to pet insurance, wellness plans, and more.
Which Pet Insurance Company Is Best For You?
The number of pet insurance companies to choose from is overwhelming. People often decide to go with the largest, most well-known company, failing to spend the essential time needed to consider their options fully. But if you take the time to do some research, you may find a provider that's a better fit for your particular breed and health concerns. We recommend that you first and foremost consider these factors:
Your biggest concern as a pet parent should be the reputation of the pet insurance provider. Have you heard of them? Do family and friends use them? What has their experience been when they've had to file a claim? Getting a pet insurance policy is useless if it doesn't cover what you expect it to cover or if you can't afford the monthly premium. Remember, although the monthly cost is important, it's not the most crucial factor when choosing insurance. The whole point of any insurance policy is to ensure that you have the coverage to pay for otherwise unaffordable bills in emergencies.
Decide what type of coverage you want for your dog and which additional perks may be negotiable to lower your costs. If you'd like to learn more about what some of the commonly referenced terms in pet insurance mean, check out our terminology 101 section that breaks the lingo down into laymen's terms for you.
Don't hesitate to contact potential providers with any questions before signing up. And pay close attention to that experience — it may be a reflection of customer service quality down the road.
Picking a pet insurance plan is a personal choice, and no one knows what your dog needs better than you. Take the time to make an informed decision, and know that it'll be worth having the added protection in the long run. We're here to help in any way we can, so don't hesitate to ask any outstanding questions anywhere on this site.
How To Pick Pet Insurance Infographic
Here's a handy graphic we made to reference when shopping for pet insurance.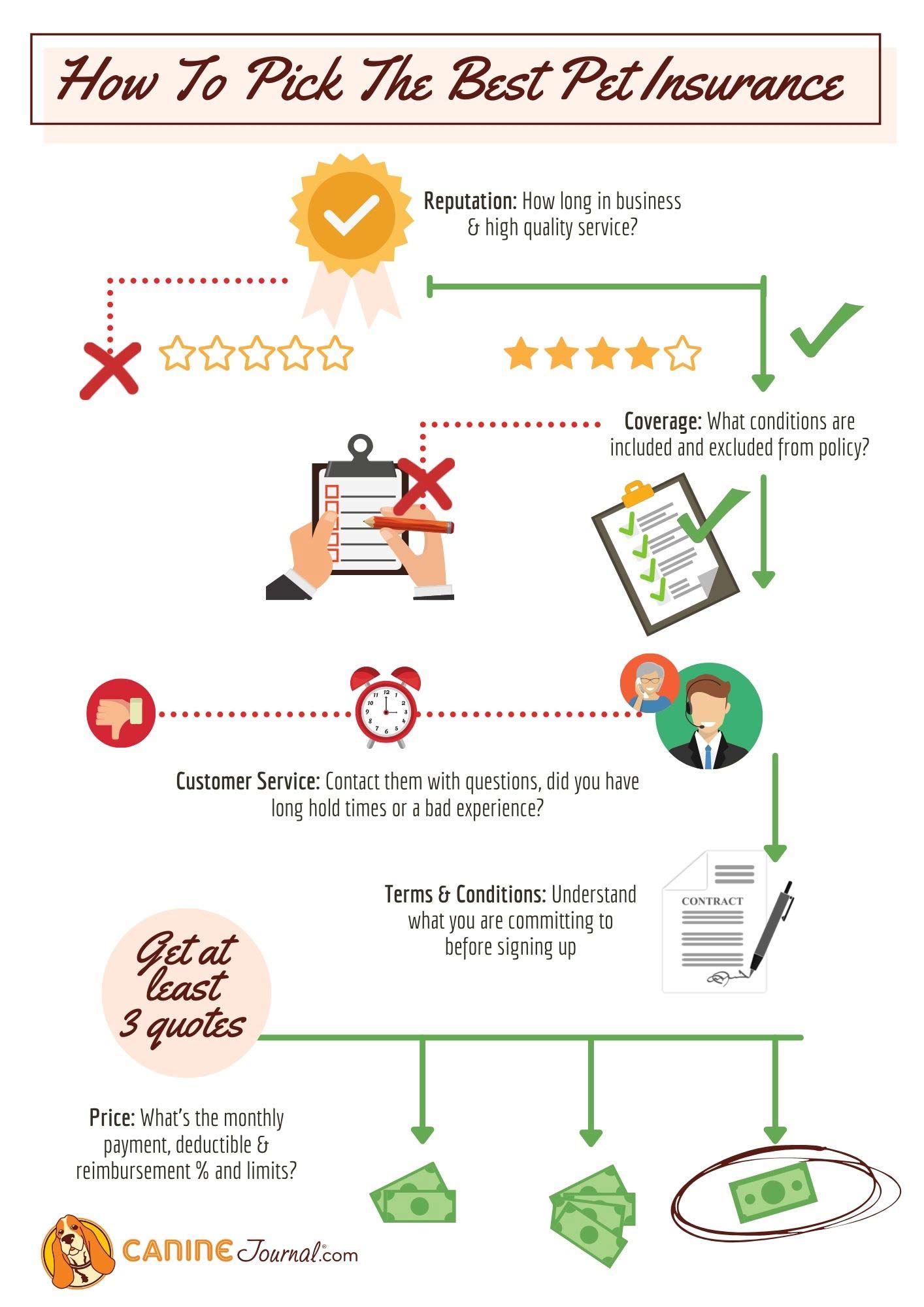 Best Pet Insurance Providers By Category (Need)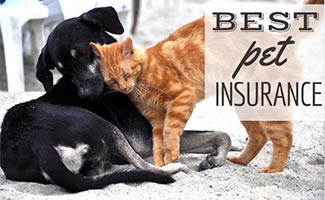 In addition to our comprehensive reviews of the most popular pet insurance providers (this article), we also review providers based on value and special needs. Head on over to our best pet insurance article to see providers ranked based on value factors, including price, a healthy pet discount, multiple pets option, and reimbursements. You'll also see that we review coverage based on special needs, including the best pet insurance for older dogs, dental health, wellness coverage, and bilateral conditions.
What's most important to you when choosing a pet insurance provider?