To sustain this free service, we receive affiliate commissions via some of our links. This doesn't affect rankings. Our review process.
Fido just leaped for a frisbee and now he's limping. What's wrong with him? Do I need to take him to the vet? How much will it cost? This is why pet insurance is so critical. In a time of panic, you should be worrying about the health of your dog, not the number in your bank account.
We rate the biggest names in the pet health insurance industry based on our own research and provide you with a summary of what each company offers as well as pros and cons for each. Feel free to click on the "Read Review" text below the company name in the table below to go straight to its review.
Top Pet Insurance Companies 2019
Pet Insurance Cost & Coverage Comparison Tables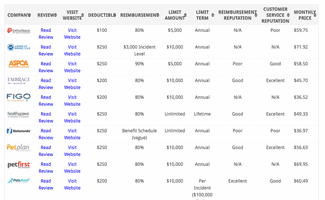 Our coverage comparison is fairly straightforward, but pricing gets a little more complicated as the price quote for your specific pet will be unique to your pet, their age, breed, geographic, location, and a number of other factors.
For this reason, we encourage you to get quotes from multiple companies before deciding on a pet insurance provider. We've made this easy for you by creating a quote widget that will pull price quotes from our top 3 companies when you fill out one short form with your pet's details.
Free Quotes From Our Top 3
By entering your pet's specific characteristics you can get a better understanding of the coverage he or she needs. We have put together a couple of comparison tables that address cost and coverage issues:
These links will open comparison tables in a new window so you can compare coverage and estimated costs side-by-side as you research company reviews. If you are unsure where to start, be sure to read our main dog insurance guide.
Healthy Paws Review
| | |
| --- | --- |
| #1 | |
Healthy Paws continues to impress us with its unlimited benefits with no per-incident, annual or lifetime caps. There are also far fewer coverage exclusions than some of its competitors so, on paper, it appears that it is less likely your claim will be denied as long as you keep paying your bill on time.
You can also customize your out-of-pocket expense risk by adjusting your policy's reimbursement rate (70%, 80% or 90%) and deductible ($100, $250, $500 or $750) when you sign up. There are some restrictions on the reimbursement and annual deductible amounts for pets depending on the age when they're enrolled.
Healthy Paws has excellent customer service reviews. In fact, check out the comment section in our Healthy Paws individual review. It is filled with real customer accounts.
What could it improve on? Healthy Paws does not offer a wellness plan to cover annual vet visits, which is becoming increasingly popular among pet parents.
Overall, we think Healthy Paws is a great pet insurance company. It has some of the best coverage and at one of the least expensive monthly premiums. If you do run into any hiccups, we're sure you'll get the help you need with its excellent customer service.
Pros

Cons

Annual deductible (not per incident)

Unlimited lifetime coverage so no annual or per incident limits on claims
Pricing is generally the best value vs competition (get quotes)
Your pet is covered when they travel with you in the United States or Canada
High customer satisfaction
Easy to submit a claim on the Healthy Paws app for quick claim reimbursement
BBB rating: A+
Great email response time
Good CCL (ACL) coverage, read this comment thread for more information
Direct deposit or check reimbursement

Veterinary exam fee and behavioral therapies are not covered
Excludes hip dysplasia in animals enrolled after age 6, so this might not be the best option for large breeds that are older than 6. There is also a 12 month waiting period.
There are age restrictions (if pet is older than 6 you must have vet exam within past 30 days for enrollment or within 15 days of policy issuance)
Pets older than 8-years-old are restricted to 60% reimbursement and a $750 annual deductible
15-day waiting period for accident and illness
No wellness plan
Charges a one time $25 fee
Coupon Code
Use this link and you will automatically receive up to a 10% discount. The actual discount varies based on individual state regulations. You can also visit our dedicated HealthyPaws promotions page to discuss current offers.
Read Our Full Review Of Healthy Paws
Pets Best Review
| | |
| --- | --- |
| #2 | |
Pets Best has stepped it up with the items it covers in addition to its low priced "Accident-Only Plan". This unique policy allows you to insure against unexpected pet emergencies without charging you monthly for the lower priced (vet exams) or less likely costs (rehab, chiropractic and acupuncture care).
Pets Best was consistently among the least expensive pet insurance companies when we ran quotes. We're also impressed with its average claim repayment of 5 days and it has a 24/7 Pet Helpline, which allows you to speak with a vet expert any time of day.
Its deductibles range from $50 to $1,000 and it offers 2 wellness plans for you to choose from. You can truly customize your coverage with Pets Best. Pets Best doesn't require an exam to set your pet's health baseline (something both Healthy Paws and Petplan require).
What kept it from being #1? Pets Best has one of the same underwriters (American Pet Insurance Company or APIC) as Trupanion (another pet insurance company). Further, its underwriter (APIC) is unrated by A.M. Best which we consider a higher risk factor vs. those who are rated.
However, we can't dispute Pets Best's low prices and excellent coverage, which is why we feel it deserves a spot in our top 3.
Pros

Cons

No lifetime limits on any plan
Great pricing, consistently among the least expensive when we ran quotes
BBB rating: A+
Multiple forms of customer support: live chat, phone, email, FAQ
Claim payment is typically made in less than 5 days (electronic claim filing, and direct deposit options)
5% multi-pet discount
No age limits

6-month waiting period for CCL injuries
14-day waiting period for Illness and 3 days for Accident
$2 transaction fee (waived if pay annually)
Holistic/experimental therapies are not covered
Coupon Code
Our readers have access to an exclusive PetsBest discount of 5% off BestBenefit plans for the first year! Just use this link to get started (Eligible in all states except AK, FL, HI and TN and does not apply to accident-only plan or wellness rider). You can also visit our dedicated Pets Best promotions page to discuss current offers.
View Our Full Review Of Pets Best
Petplan Review
| | |
| --- | --- |
| #3 | |
Petplan offers unlimited annual coverage but at a higher price on average compared to our top two picks. However, we still think Petplan offers some of the best coverage. Petplan has a great claim repayment reputation and allows 30 days for claim repayment but averages 5-14 days.
The company covers exam fees and has a shorter waiting period for hip dysplasia at only 15 days. In addition, Petplan's policy has coverage for travel cancellation due to life-threatening pet injury or illness, as well as coverage for advertising expenses related to a lost pet and even, in some cases, reimbursement of the cost of the pet in the tragic case that it is never found.
Petplan offers discounts on your premiums if you don't file a claim for a period of time, rewarding you for keeping your pet safe and healthy.  It has an annual coverage limit of $2,500 to unlimited, annual deductibles of $250 to $1,000 and 70%, 80% or 90% reimbursement rates. There may be even more options available to you through the call center at this number: 800-237-1123 (our exclusive 5% discount will be honored for this phone call as well).
Petplan is known for its outstanding customer service reputation and is among the best offering live chat, phone, email, FAQ, mail and fax. Petplan's policy is crystal clear and it is specific about what your duties are as a pet parent for you to maintain your pet's insurance policy.
The main thing keeping Petplan from the top two spots is its higher prices for similar coverage. You can get unlimited annual coverage from Healthy Paws and Pets Best for a less expensive monthly premium according to quotes we ran.
Pros

Cons

There is a 5% discount for users purchasing their insurance plan online
No lifetime or per condition claims limit
BBB rating: A+ (under its incorporated name, Fetch, Inc.)
Claims are typically paid within 5-14 days although they allow up to 30 days
App available to support claims via iOS and Android
Covers advertising lost pets, losing your pet, canceled vacation due to pet illness, etc.

Complaints from existing customers of premium increases being drastically higher than competitors
For coverage to apply, you must take your dog to the vet within 48 hours of noticing symptoms of an illness or injury
A number of policyholders complain that Petplan delays payment on claims (often due to a short upfront waiting period as a new customer) and requires extensive proof of treatment documentation
Dogs must have annual health and dental checkups in order for coverage to be applied. Failure to do so may mean your dog won't get insurance coverage until that checkup is done.
Only covers CCL (ACL) on a second leg if the first leg remains healed for 12 months
Customers state (and our sample quotes show) it is more expensive than Healthy Paws for unlimited annual coverage
No wellness plan
Coupon Code
Use coupon code CanineJournal to receive an additional 5% discount (10% total if you sign up online). Alternatively, if you call 800-237-1123 you will automatically get the additional 5% discount! You can also visit our dedicated Petplan promotions page to discuss current offers.
Read Our Full Review Of Petplan
Other Pet Insurance Companies
The companies listed below did not make our top three rankings, but we have reviewed them in case you want to learn more. Every pet and every situation is different. You might find a great fit for your family below. Companies are listed in alphabetical order.
Note: companies with less than 5 years of nationwide business experience have been excluded from this ranking to provide reliable recommendations (e.g. FIGO was founded in 2013, so it will be added this year).
24PetWatch | AKC | ASPCA | Embrace | Nationwide | PetFirst | Trupanion
24PetWatch Review
24PetWatch, founded in 2000, offers pet insurance for dogs as long as you enroll them before the age of ten years old. In the quotes we ran, 24PetWatch was consistently among the more expensive options.
It also does not offer unlimited claims as an option, which is a feature we've come to expect from pet insurance providers. However, one cool thing 24PetWatch does is they will cover chronic conditions if your pet has gone 24 months symptom-free. This is not standard for pet insurance providers.
Pros

Cons

Wellness coverage available as an add-on
No waiting period for accidents
Submit and track claims in real-time online
Your pet is covered when they travel with you in the United States or Canada
No additional waiting period for ACL, elbow dysplasia and hip dysplasia
Chronic conditions can be covered if they go 24 months without showing any symptoms

Limited enrollment age (8 weeks – 10 years) compared to other insurance companies
14-30 day waiting period for illness coverage to kick in
Many consumer complaints about the poor claims process (long time to get paid, lost claims, etc.)
A number of customer complaints about overall bad customer service
If one leg has a CCL (ACL) injury prior to enrollment the other leg will not be covered even if there are no prior issues. It is considered a pre-existing condition.
No unlimited claims options
$2.50 monthly transaction fee
Priced on the higher end when we ran quotes
Not BBB accredited
Coupon Code
There are no active 24PetWatch coupon codes at this time.
Read Our Full Review Of 24 Pet Watch
AKC Pet Insurance Review (aka PetPartners)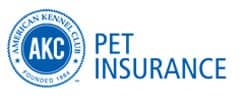 AKC Pet Insurance, a PetPartners brand, was founded in 2003, doesn't require vet records or an exam prior to enrollment. There are age restrictions and it requires an additional fee for hereditary and congenital conditions to be covered, something we expect to be covered in the average pet insurance plan.
It has more limitations compared to other pet insurance providers and only covers hip dysplasia for dogs enrolled prior to their second birthday. AKC was also consistently among the most expensive when we ran our quotes.
Pros

Cons

No vet records or exam required to enroll
Option to add on a wellness plan, exam fee, euthanasia and hereditary condition coverages
BBB rating: A+ through PetPartners, Inc. (AKC's corporate name)
Your pet is covered when they travel with you in the United States or Canada
5% multi-pet discount

No illness coverage for dogs enrolled after age 9
14-day waiting period for illness, 2 days for accidents
Coverage for inherited/congenital conditions must be purchased additionally
Hip dysplasia and congenital and hereditary conditions are only available for coverage if you enroll your dog at two-years-old or younger
Limits per incident reimbursements over the lifetime of the pet
$4 transaction fee, highest in this comparison
Among the most expensive
6-month waiting period for CCL injuries
Coupon Code
There are not any active AKC Pet Insurance coupon codes at this time.
Read Our Full Review of AKC Pet Insurance 
ASPCA Insurance Review (aka Hartville)
Unfortunately, when looking through the overall features of ASPCA insurance, we cannot highly recommend this company. It's important to note that C&F Insurance Agency, the administrators of the ASPCA Pet Health Insurance program pays a royalty fee to the ASPCA for the use of its mark through a licensing agreement.
C&F Insurance Agency also administers Hartville, which is identical to ASPCA pet insurance. They are not directly affiliated with the ASPCA. The company, founded in 1997, has a history of low reimbursements, even under its highest cost plan.
Pros

Cons

Offers optional wellness coverage
Wide variety of plan costs, with their cheapest plan starting at less than $15 per month for accident only coverage and a $100 annual deductible (for female 10-year-old labrador)
Conditions that are free of symptoms and treatment for 180 days are not considered pre-existing conditions
No waiting period for accidents
BBB rating A+ (C&F Insurance Agency, Inc.)
30-day money back guarantee

$2 transaction fee, if not paying annually
14-day waiting period for illnesses, including knee and ligament injuries
Can't change/add some items to plan until the next 12 month period begins
Low reimbursements reported by customers
Coupon Code
There are no active ASPCA Pet Health Insurance coupon codes at this time.
Read Our Full Review Of ASPCA Pet Insurance
Embrace Review
Embrace has great customer support options and a rather good reputation overall. When it comes to monthly premiums, Embrace can be all over the board, so we recommend getting a quote for your specific pet.
Regarding its claims, it says it averages 5 business days for wellness claims and 10-15 days for illness/accident claims. Embrace tends to fall a little behind on technology for claims submissions versus the top players in this field.
Tip: If you have USAA, you can get a discount with Embrace.
Pros

Cons

No per incident limits on their claims as they use an annual deductible method of accounting
No lifetime limit
Offers optional Wellness Rewards
Embrace is affordable on a monthly cost basis with an accident only policy premium starting around $20 a month for a 10-year-old Labrador Retriever
BBB rating: A+
Claims are paid between 5-15 days
Up to a 10% max discount for multiple pets

$1.00 monthly transaction fee and $25 enrollment fee
Requires a 2 day waiting period for accidents (14 days in some states), 14 day waiting period for illness coverage and a 6 month waiting period for orthopedic conditions, but can be reduced to 14 days through their Orthopedic Exam and Waiver Process
Only covers pets age 14 and younger for illness
If one leg has a CCL (ACL) injury prior to enrollment the other leg will not be covered even if there are no prior issues. It is considered a pre-existing condition.
Limited live chat & phone hours
No unlimited claims options
Coupon Code
Embrace offers a few different discount options. Spayed or neutered pets get a 5% discount. if you have multiple pets, each one gets 5% off. You can also pay annually and get 5% off. Click here to access any of these discounts.
Read Our Full Review Of Embrace
Nationwide Review
Nationwide Insurance (previously VPI) is one of the most well-known dog health insurance companies. VPI was founded in 1982 and Nationwide acquired and started selling VPI's pet insurance product in 2015.
The company recently added the Whole Pet with Wellness plan that is more like most pet insurance companies, reimbursing a percentage of your vet bill for covered treatments. In the past, they only offered what they now call their Major Medical policy which uses a standard list of prices to determine payback prices for procedures and covered items, regardless of what your vet actually charges you. Major Medical is a cheaper option than the Whole Pet plan.
Nationwide is among the least expensive but it doesn't have a reputation for timely reimbursements despite the ability to track claims in real-time online. Unfortunately, Nationwide has a track record of poor customer service and quietly raising monthly premium rates as pets age.
Pros

Cons

Track claims in real-time online and submit them through your smartphone
Unlimited claims for Major Medical and Whole Pet with Wellness plans
One of the only pet health insurance companies to offer exotic pet insurance
Among the lowest monthly cost options

Wellness plans are not available in all states
High number of complaints overall (finding negative reviews is not difficult)
12 month waiting period for CCL (ACL) surgery for Major Medical plan
14-day waiting period for Whole Pet with Wellness and Major Medical plans. 24-hour waiting period for Pet Wellness plan
Major Medical Plan has annual limits per condition
$2 transaction fee
Coupon Code
There are no active Nationwide Pet Insurance coupon codes at this time.
Read Our Full Review Of Nationwide Pet Insurance
PetFirst Review

PetFirst was founded in 2004. Even though it has been in business for more than a decade, there are not a ton of reviews out there for us to share. It has a short waiting period for accidents (only one day after enrollment).
Other than that, not too much stands out about PetFirst. We suggest you request a quote and read a sample policy to see if PetFirst is good fit for you and your pup.
Pros

Cons

Wellness plan option
No vet exam required for enrollment
Accident coverage begins the day after enrollment
BBB rating: A+
No transaction or one-time fees

14 day waiting period for illness; 12 month waiting period for CCL surgery
If one leg has a CCL (ACL) injury prior to enrollment the other leg will not be covered even if there are no prior issues. It is considered a pre-existing condition.
Does not cover all non-routine dental treatments
Must purchase routine care coverage for behavioral therapy coverage
Among the most expensive
Coupon Code
There are not any active PetFirst coupon codes at this time.
Trupanion Review
Trupanion's deductibles are per condition and lifetime, meaning that once it is paid, you never pay the deductible again for that condition. However, it also means that if your pet is sick or injured multiple times in one year, you may be paying a lot in deductibles.
Trupanion is more expensive than our top 3 for similar coverage, in some cases Trupanion is double the price. We'd like to see its prices be more comparable to our top 3 in the near future.
Pros

Cons

90% reimbursement with no payout limits
Offers optional benefits for additional expenses that cover acupuncture, physical therapy, hydrotherapy and behavioral modification training and therapy
BBB rating: A
24/7 phone support
Pet is covered in the U.S., Canada and Puerto Rico

More expensive

One time $35 administration fee
Policies have 5 day waiting period for injuries and 30 day waiting period for illnesses
Allow up to a 20% increase on premiums from year to year (based on the state you live in)
Pets are not eligible for enrollment after their 14th birthday
No wellness plan
Does not cover exam fees
Per incident deductible
Coupon Code
There are not any active Trupanion coupon codes at this time.
Read Our Full Review Of Trupanion
Get Your Money Back
Dogs are quick and sneaky and there are times where you won't be watching and they'll do something they shouldn't be doing. That's exactly what Atlas did and fortunately, his parents had dog insurance for him. Atlas was able to get the care he needed and his parents didn't go broke.
Decide Which Pet Health Insurance Company Is Best For You
The number of pet insurance companies to choose from is overwhelming. Most of the time, people choose to go with the largest company that is the most well-known so they don't have to compare the companies themselves. If you decide to do the research yourself, there are some things you should take into consideration:
Your biggest concern as a pet parent should be the reputation of a pet insurance provider as offering the coverage you need at a price you can afford. Getting a pet insurance policy is useless if it doesn't cover what you expect it to cover or if you can't afford the monthly premium. Remember, although cost is an important factor, it is not the most important. Your pet's protection and coverage in the case of an emergency is your number one priority so be sure to make your decision with the long-term in mind.
After you narrow your search down based on these requirements the next step is deciding what you want covered for your dog and what additional perks may be negotiable to lower your costs. If you'd like to learn more about terms you should know regarding insurance for dogs, reference our terminology page.
Picking a pet insurance plan is a personal choice and no one knows what your dog needs better than you. Take the time to make an informed decision and know that in the long run it'll be worth having the added protection. Check out our pet insurance winners guide for more on our top 3, and don't hesitate to ask questions in the comments below.
Which factor is most important to you when choosing a pet insurance company?
Disclaimer: Information regarding insurance company offerings, pricing and other contract details are subject to change by the insurance company at any time and are not under the control of this website. Information published on this website is intended for reference use only. Please review your policy carefully before signing up for a new pet health insurance contract or any other contract as your unique circumstances will differ from those of others who may be used for example purposes in this article.
Disclaimer: The information provided through this website should not be used for diagnosing or treating a health problem or a disease. It is not a substitute for professional care. If you have or suspect you may have a health problem, you should consult your health care provider.
Disclaimer: This website contains reviews, opinions and information regarding products and services manufactured or provided by third parties. We are not responsible in any way for such products and services, and nothing contained here should be construed as a guarantee of the functionality, utility, safety or reliability of any product or services reviewed or discussed. Please follow the directions provided by the manufacturer or service provider when using any product or service reviewed or discussed on this website.