To keep the lights on, we receive affiliate commissions via some of our links. Our review process.
Will pet insurance cover your dog's pre-existing condition? That depends on what your dog's ailment is. Some pet insurance companies cover certain pre-existing conditions. Find out if your dog's malady is eligible for coverage. And if so, which provider is best for you?
| Winner | Runner-Up | Third Place | Fourth Place | Fifth Place |
| --- | --- | --- | --- | --- |
| | | | | |
| | | | | |
| Read Review | | | | |
What Is Classified As A Pre-Existing Condition?
The definition of what a pre-existing condition means (and many other industry terms) varies for each pet insurance company. We know this is highly frustrating and can be confusing. Fortunately, you can expect some standardization of industry terminology coming in the near future, thanks to what is called the pet insurance model law.
However, a general rule is that a pre-existing condition is an accident or illness which has manifested before the policy's effective date or during the waiting period. It doesn't matter whether or not this condition was treated or not by a licensed veterinarian. For an exact definition of pre-existing conditions, read the specific policy you're considering purchasing.
No pet insurance company covers pre-existing conditions that aren't curable.
What's A Curable Pre-Existing Condition?
Each pet insurance provider defines a curable pre-existing condition differently. Typically, there is a specific waiting period where no symptoms can reoccur. Some examples of curable pre-existing conditions include:
Gastrointestinal issues (diarrhea and vomiting)
Ear infections
Kennel cough
Urinary tract infections
Conditions that may be pre-existing for your pet that are considered incurable include:
Allergies
Urinary blockages
Hip dysplasia
Cancer
Diabetes
Heart disease
We include how each provider defines curable pre-existing conditions in our company reviews below.
Are Hereditary Conditions Considered Pre-Existing?
If your dog's hereditary condition presents itself before the policy's effective date or during the waiting period, it will be considered pre-existing. However, if symptoms, treatment, or diagnosis don't present until after the policy's effective date, it's most likely eligible for coverage. Most pet insurance companies cover hereditary conditions in their accident and illness policies as long as they're not pre-existing.
How Do Pet Insurance Companies Know About Pre-Existing Conditions?
There are two common ways pet insurance providers obtain records about your pet's pre-existing conditions.
The first is by requiring a vet exam within a period of time (often 30 days) before the policy's effective date. During this visit, your veterinarian will check your dog's health status. The pet insurance company may also require a thorough assessment of your dog's legs and hips for any signs of orthopedic issues.
The second way pet insurance companies collect information about your dog's pre-existing conditions is by obtaining your dog's vet records. Depending on the notes the doctor has made about your dog's health, the provider will determine what's considered pre-existing. If your dog hasn't had a recent vet exam, the pet insurance company may require a current assessment before enrollment.
Best Pet Insurance For Pre-Existing Conditions
This article only includes companies in our pet insurance reviews that offer coverage for curable pre-existing conditions. If you don't see a major provider mentioned, then it doesn't provide this type of coverage. This includes Healthy Paws, Embrace, Lemonade, Nationwide, and Trupanion (aka, they do not offer any coverage for pre-existing conditions at this time).
Now, let's learn more about the companies that could help cover your dog's curable pre-existing maladies.
1st Place: AKC Pet Insurance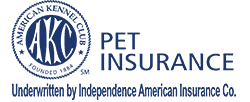 AKC Pet Insurance is the only pet insurance company to offer coverage for pre-existing conditions after 365 days of continuous pet insurance coverage (FL and WA are currently excluded from this). This offering is sure to cause a big shake-up in the pet insurance industry and can be a big selling point for pet parents whose dogs have pre-existing conditions before signing up for a policy.
2nd Place (Tie): Spot & ASPCA Pet Insurance

Both ASPCA Pet Insurance and Spot cover curable pre-existing conditions that have been free from treatment and symptoms for 180 days before your policy's effective date. However, ligament and knee conditions are excluded from this. These companies offer some of the better coverage available for curable pre-existing conditions.
3rd Place: Figo
Figo is also one of the few providers that cover curable pre-existing conditions. What are the terms? If your pet's pre-existing ailment has been cured, treatment-free, and symptom-free for one year (365 days), it is no longer considered pre-existing.
What are the exceptions? This Figo coverage doesn't apply to ligament and knee conditions, cancer, intervertebral disk disease (IVDD), hyperthyroidism,* and renal disease.**
Examples of cured pre-existing conditions eligible for coverage may include dermatological issues and undiagnosed vomiting and diarrhea as long as treatment and symptoms have been non-existent for one year or longer.
*If hyperthyroidism is a pre-existing condition, Figo will not cover medications for any kidney, heart, and high blood pressure issues that may evolve.
**Renal disease is the gradual loss of kidney function. If your dog is diagnosed, treated, or showing signs of renal disease before the end of your policy's waiting period, additional conditions are not covered, including vomiting, diarrhea, dehydration, constipation, blood pressure or pH issues, and cardiac complications.
4th Place: Fetch

Fetch covers curable conditions but read the details carefully because it can be a little confusing to understand.
Any curable condition observed, identified, or recorded at least one year before the policy's inception date is subject to a one-year curable exclusionary period from the policy inception date. Medical conditions that don't reoccur during the exclusionary period are eligible for coverage if an annual exam is done by a vet dated after the exclusionary period and before the first reoccurrence of the curable medical condition.
If the curable condition reoccurs during the exclusionary period, a second curable exclusionary period will apply after the first year. Any curable medical condition that doesn't reoccur during the second curable exclusionary period is coverable if an annual exam is conducted by a vet dated after the second exclusionary period and before the second reoccurrence of the curable medical condition. If the curable medical condition reoccurs during the second exclusionary period, it's excluded from coverage for the life of your dog.
5th Place: Pets Best

Pets Best policies exclude conditions that were present 18 months preceding the policy's effective date. What does this mean for your pet?
Let's say your dog has a random bout of diarrhea when she's one year old. There's no underlying cause to it that the vet has diagnosed. Then, when your dog turns three years old, you decide to sign up for Pets Best. Because diarrhea took place more than 18 months before the policy's effective date and there haven't been any continuing instances, diarrhea may be eligible for coverage as long as it's not related to any other pre-existing condition.
Additionally, chronic ailments, bilateral conditions, and IVDD are all considered pre-existing if they are present at any point before the Pets Best policy's effective date.
Pet Insurance Comparison
To compare the pet insurance providers in this article to other top companies, you can take a peek at our pet insurance comparison. It features multiple comparison tables for price quote examples, coverage details, waiting periods, and plan customizations.
Tagged With: Reviewed By Insurance Agent