To keep the lights on, we receive affiliate commissions via some of our links. Our review process.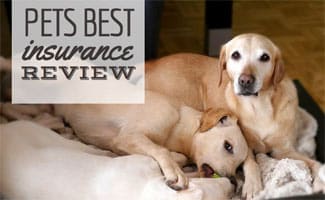 Pets Best is consistently among the least expensive pet insurance providers when we run our quotes. But does paying less mean you're getting the same coverage you would with a more expensive provider? Our experts dig in and find out.
Pets Best Overall Rating
4.8/5.0
Our pet insurance experts read through each pet insurance companies' policy to provide detailed comparisons and information regarding how a provider fares against others in the industry. We also speak with customers, read online feedback, and communicate one-on-one with the pet insurance companies to obtain a well-rounded, unbiased analysis of a company's standings.
Our team rates pet insurance companies based on several factors, including A.M. Best ratings (an indicator of financial stability), claim processing reputations, contract coverage, customer service, pricing, plan customizations, and more.
Pros & Cons Comparison Table
| Pros | Cons |
| --- | --- |
| No lifetime limits on any plan | $2 transaction fee (waived if pay annually or live in MD or AK) |
| Great pricing, consistently among the least expensive when we ran quotes | Alternative/holistic therapies are not covered |
| Discounts available for multi-pets and military | Average claim processing is longer than competitors |
| Multiple forms of customer support | |
| Electronic claim filing and direct deposit options | |
| 30-day money-back guarantee | |
| No upper age limits (pets must be 7 weeks or older) | |
| Your pet is covered when they travel with you in the U.S., Canada, and Puerto Rico | |
| Optional wellness plan | |
Key Features
Underwriter: American Pet Insurance Company

A.M. Best rating (a measure of financial stability): Unrated

No exam required at enrollment
Bilateral exclusions (a condition or disease that affects both sides of the body): includes, but not limited to, luxating patellas, cruciate ligament events (CCL/ACL), glaucoma, entropion, ectropion, hip dysplasia, elbow dysplasia, cataracts, cherry eye, and osteochondritis dissecans
Claims process:

Must submit claims within 180 days of the date of service
Submit claims via customer's online account, app, mail, email, or fax
Claim processing currently averages 25-40 days, and direct deposit and check are both options
Option to have Pets Best pay vets directly, so you don't have to pay a hefty vet bill in advance and wait for reimbursement (not available everywhere)

Can transfer ownership of a pet, and coverage will continue if the new owner contacts the company within 30 days
Progressive and Farmers Insurance sell Pets Best
Offers pre-approval of estimates/procedures in advance of treatment
Covers curable pre-existing conditions they are healed or are curable and require no further treatment (e.g., broken legs, kennel cough, etc.)
Customer Service Options & Hours
Phone

Monday – Friday: 6am to 7pm MST
Saturday: 6am – 2pm MST
Sunday: Closed

Email and live chat
24/7 Pet Helpline allows you to speak with a vet expert day or night about your pet's health or behavioral concerns
FAQ
Mail
Fax
Waiting Periods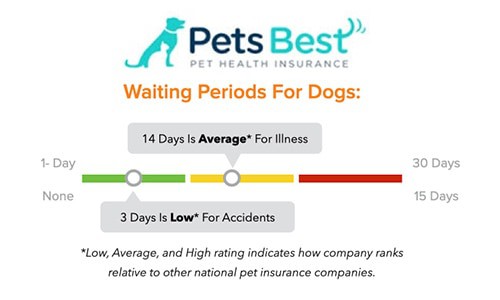 Pets Best will reduce or waive waiting periods, according to its policy:
Section 2, C5: The waiting periods may be reduced or waived for coverage acquired through pre-approved channels where the health of your Pet is certified by a participating veterinarian prior to coverage being purchased. Please refer to your Declaration Page for your Pet's specific waiting period.
Illnesses: 14 days
Accidents: 3 days
Cruciate Ligament: 6 months
Hip Dysplasia: 14 days
Wellness: 1 day
What Does Pets Best Cover?
The details below are for Pets Best's accident and illness policy. Pets Best also offers an accident-only plan and routine care coverage, which we discuss in more detail below.
Please know that none of the providers in our pet insurance comparison charts cover pre-existing conditions, cremation and burial costs, pregnancy and breeding, or unnecessary cosmetic procedures.
All of them cover the following items when deemed medically necessary: emergency care, surgery and hospitalization, specialized exams and specialty care, X-rays, blood tests, ultrasounds, cat scans, MRIs, rehabilitation, cancer, chronic conditions, euthanasia, hereditary conditions, congenital conditions, non-routine dental treatment, and prescription medications. However, this coverage may have limitations, so please review your policy carefully.
| Condition | Covered By Pets Best |
| --- | --- |
| Behavioral Therapies | |
| Alternative/Holistic Therapies | |
| Exam Fees | Extra Fee |
| Wellness Care | Extra Fee |
Accident Only Plan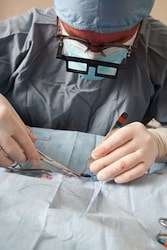 Pets Best offers an Accident Only plan with a $10,000 annual payout limit, $250 deductible, and 90% reimbursement. It only covers accidents (as its name suggests) so things like broken bones are covered.
It doesn't cover any illnesses, routine care, acupuncture, or chiropractic treatment. This plan has a flat rate of $9/month for dogs and $6/month for cats.
What's Covered?
Trauma
Poisoning
Bite (animal, insect, snake)
Hit by car or moving vehicle
Foreign body ingestion
Bone fracture
Laceration, cut, abrasion
Wound
Torn nail
Medical problems directly attributable to accidental injury
Note: ACL injuries and hip dysplasia are not covered in this plan.
Routine Care Coverage
Pets Best offers two wellness plans shown below in the table. Included are the maximum amounts that Pets Best will pay each year for that specific routine care per year.
| | EssentialWellness | BestWellness |
| --- | --- | --- |
| Price Per Month | $16 ($14 in Washington) | $26 ($30 in Washington) |
| Spay/Neuter – Teeth Cleaning | $0 | $150 |
| Rabies | $15 | $15 |
| Flea/Tick Prevention | $50 | $65 |
| Heartworm Prevention | $30 | $30 |
| Vaccination/Titer | $30 | $40 |
| Wellness Exam | $50 | $50 |
| Heartworm Test of FELV Screen | $25 | $30 |
| Blood, Fecal, Parasite Exam | $50 | $70 |
| Microchip | $20 | $40 |
| Urinalysis or ERD | $15 | $25 |
| Deworming | $20 | $20 |
| Total Annual Benefits | $305 | $535 |
Pricing Quotes
We've gathered some sample prices from Pets Best insurance for its accident and illness coverage plan. You can choose your deductible, annual payout, and reimbursement amount from the options listed in the table below.
Deductible Options
Payout Options
Reimbursement Options
$50
$100
$200
$250
$500
$1,000
$5,000
Unlimited
70%
80%
90%
The cost of each policy is unique to your pet and depends on many variables, including your pet's age, breed, location, health conditions, and more. Below are sample prices for random breeds in various locations with different limitations for Pets Best's Plus plan. Quotes are from December 2021.
| Breed | Labrador Retriever | Yorkshire Terrier | Golden Retriever | Mixed Breed Cat |
| --- | --- | --- | --- | --- |
| Age | 4 Months | 4 Years | 2 Years | 2 Years |
| Male/Female | Male | Female | Male | Female |
| Location | Miami (33114) | New York City (10006) | San Francisco (94107) | Chicago (60615) |
| Reimbursement Level | 80% | 80% | 80% | 90% |
| Deductible | $250 | $100 | $500 | $1,000 |
| Annual Payout | $5,000 | Unlimited | $5,000 | Unlimited |
| Price Per Month | $37.09 | $62.67 | $52.02 | $11.21 |
You can get personalized price quotes for your pet(s) from several top-ranked companies when you fill out just one short form. Also, visit our pet insurance quotes page to see how the cost of Pets Best stacks up against the competition.
Discounts
Pets Best offers the following discounts:
5% off for multiple pets
5% off for military members and their families
No promo code is needed. Use this link to take advantage of the best possible price. You can also visit our dedicated Pets Best promotions page to learn more
How Does The Claim & Reimbursement Process Work?
Pets Best uses a "copay then deductible" reimbursement method. This is calculated in the following way:
(Eligible vet expenses x Reimbursement percentage) – Remaining annual deductible = Reimbursement amount
Reimbursement Story
Here's a reimbursement story to help you understand how Pets Best processes claims.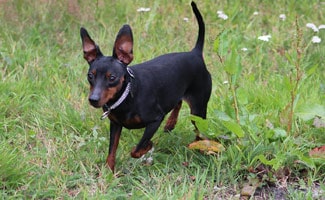 Dog: Kingston, 8-year-old Miniature Pinscher
Diagnosis: Foreign Body Ingestion
My poor little dog was vomiting, not eating and I went to the animal hospital and he needed surgery. I cannot thank Pets Best enough for their commitment to keep our precious pet alive! After reviewing my case, which only took a couple of days, I got reimbursed and they wired the money into my checking account. I tell everybody who shares with me they have a dog to sign up with Pets Best, I can't thank Pets Best enough! – Kingston's parent
Treatment Cost: $2,824.62
Pets Best Reimbursed: $2,606.37
Final Cost For Pet Parents: $218.25
Most Common Claims Submitted To Pets Best
Cancer: $4,137 for dogs and $3,282 for cats
Stomach foreign object: $3,262 for dogs and $2,955 for cats
Diabetes: $2,892 for dogs and $1,634 for cats
Broken bone: $2,371 for dogs and $2,257 for cats
Frequently Asked Questions
Here are some frequently asked questions regarding Pets Best pet insurance from our readers.
How To Cancel Pets Best Insurance?
Pets Best has a pretty straightforward cancellation policy. Simply fill out this online form, and Pets Best will cancel your policy the day it receives your notice.
If you'd like a replacement for your Pets Best insurance policy, take a look at our pet insurance reviews to see which pet insurance companies we recommend.
Pets Best vs Other Companies
Interested in seeing how Pets Best stacks up against other popular pet insurance companies? We've written comparison articles for you to see how Pets Best and other leading pet insurance companies compare in coverage, customer service and reputation, claim processing, plan customization, and price.
Our Final Verdict On Pets Best
We recommend Pets Best for its comprehensive coverage, customizable plans, and extremely competitive pricing. This company also offers an optional wellness plan. However, its underwriter is unrated by A.M. Best, which we consider a higher risk factor vs those who are rated. Further, Pets Best has received an influx of negative customer feedback regarding their lengthy claim repayment timeline in recent months.
If you're interested in how Pets Best stacks up against other pet insurance carriers, check out our pet insurance reviews. You can also look at our best pet insurance article to see if Pets Best wins any of our coveted awards. Pets Best excels at many things and may be a great fit for you and your pet's unique needs.
Tagged With: Review, Reviewed By Insurance Agent