How do we keep this site running? This post may contain affiliate links — the cost is the same to you, but we get a referral fee. Compensation does not affect rankings. Thanks!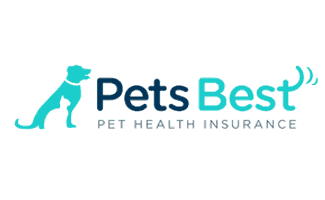 Fido just ran out the door onto the road and the worst has just happened. He got hit by a car. You immediately rush him to the vet for emergency care, thankfully he'll live. After surgery and some casts for his broken bones, he will heal in a few months. Although he will heal, your bank account is hurting bad and may not recover for a lot longer. Thousands of dollars in vet bills are causing struggles and you are beating yourself up about not signing up for pet insurance sooner.
Don't let this be you. Accidents happen, we all know this. So why do we get health insurance for ourselves but neglect to purchase it for our pets? They are our family too and their bills can rack up just as easily. Protect your pet and your bank account with pet insurance. We're going to look into Pets Best pet health insurance, our #2 pick for Best Dog Insurance, and go over what they do and don't cover in addition to pros, cons, and more to help you see if they're a good choice for you.
Visit Pets Best Insurance Website
Review Overview
Customer Service & Reputation
Timeliness of Claim Payment
Summary : Pets Best is our #2 pick this year for Best Pet Insurance due to its low priced options (accident only and essential plan), ability to pay claims in a timely fashion, good coverage and decent customer service.
What Is And Isn't Covered by Pets Best?
Covered by Pets Best
Not Covered by Pets Best
Surgeries
Pre-existing conditions
Hospitalization
Grooming
Cancer
Elective procedures
Prescription medications
Parasites
Diagnostic treatment and testing (x-rays, blood tests, etc.)
Food, special diets, supplements, vitamins
Injuries
Holistic therapies and medications
Illnesses
Cremation
Congenital conditions
Hereditary conditions
Chronic conditions
Accidents
Emergency care
Vaccinations, teeth cleaning, wellness visits, spay/neuter
Additional fee
Wellness visits (preventative or routine care)
Additional fee
Veterinary exam or office visit fees
Behavior conditions
Euthanasia (for humane reasons)
Pros

Cons

Unlimited annual coverage option
No lifetime limits on any plan
Offer Accident Only, Routine Care and Accident/Illness plans
Full coverage for hereditary and congenital conditions regardless of age at time of enrollment (excluding pre-existing conditions)
Great pricing for their Essential Plan (only covers emergency costs – not exam fees, rehabs or specialty care)
A+ BBB rating
Multiple forms of customer support: live chat, phone, email, FAQ
Claim payment is typically less than 5 days (electronic claim filing, and direct deposit options)
30 day money back guarantee
5% multi pet discount
No age limits
Pregnancy is covered for most breeds
Euthanasia are covered as long as it's for humane reasons
Great response rate on Yelp
Offers coverage for chiropractic and acupuncture services

6 month waiting period for CCL (ACL) injuries
14 day waiting period for Illness and Routine Care (if purchased) and three days for Accident
$2 transaction fee
In recent years, Pets Best has changed its insurance carrier several times
Pricing
We have gathered some sample prices from Pets Best insurance for their accident and illness coverage plan. You have the option to choose your deductible, either $50, $100, $200, $500 or $1,000. You can choose your reimbursement level as well: 70%, 80% or 90%. And for annual coverage limit you can choose $5,000,  $10,000 or unlimited. Below are the prices for random breeds in various locations with different limitations.
| Breed | Labrador Retriever (male) | Yorkshire Terrier (female) | Golden Retriever (male) | Mixed Breed Cat (female) |
| --- | --- | --- | --- | --- |
| Age | 4 Months | 4 Years | 2 Years | 2 Years |
| Location | Miami (33114) | New York City (10006) | San Francisco (94107) | Chicago (60615) |
| Reimbursement Level | 80% | 80% | 80% | 80% |
| Deductible | $100 | $100 | $500 | $500 |
| Annual Maximum | $5,000 | $5,000 | $5,000 | $5,000 |
| Price Per Month | $38.90 | $46.47 | $33.78 | $12.17 |
Coupon Code
Our readers have access to an exclusive PetsBest discount of 5% off BestBenefit plans for the first year! Just use this link to get started (Eligible in all states except AK, HI and TN and does not apply to accident only plan or wellness rider).
Essential Option Plan
The Essential Option has an annual limit of $5,000. It covers emergencies only so things like broken bones or even cancer are covered. It does not cover any routine care, vet visit or exam fees, rehab care, acupuncture or chiropractic treatments.
BestWellness Routine Care Coverage
This plan costs around $20/month (varies by breed, age, location, etc.). It can be added to most plans to help pay for your pet's wellness. For dogs, you can get up to $505 in annual benefits with no deductible. Below is a list of the limits associated with this plan.
Annual Exam – $50
Microchip – $25
Spay/neuter – $100
Teeth cleaning – $100
Blood panel – $60
Heartworm test – $25
Fecal test – $15
Urinalysis test – $25
Canine flu vaccination – $15
Rabies vaccination – $15
DHLP vaccination – $15
Parvo/Corona vaccination – $10
Bordatella vaccination – $10
Lyme vaccination – $15
Flea, tick and heartworm prevention – $25
Accident Only Plan
The Accident Only plan has no lifetime limit, a $250 deductible and reimbursement rate of 90%. It covers accidents only (as the title suggests) so things like broken bones are covered. It does not cover any illnesses, routine care, acupuncture or chiropractic treatment. This plan has a flat rate of $9/month for dogs and $6/month for cats.
What's Covered?
Trauma
Poisoning
Bite (animal, insect, snake)
Hit by car or moving vehicle
Foreign body ingestion requiring surgical intervention
Bone fracture
Laceration, cut, abrasion
Wound
Torn nail
Medical problems directly attributable to accidental injury
Note: ACL injuries and hip dysplasia are not covered in this plan.
Customer Reviews
Positive Pets Best Reviews
I've had pets best for close to 3 years and I will never switch companies. I have 2 pups on there with a $50 deductible and 80% reimbursement for pretty cheap. They're very understanding and actually care about the dogs. They understand what it's like to go through hard times with your dog. – Tiana M., Yelp 2/27/2016

I am in my second year with Pets Best and am satisfied with their coverage. I have not had to use the policies yet (I have 6 dogs insured with them). If potential customers would actually read the policy documents, all waiting periods and other disclaimers are very clear in the documents. Prices did increase at my first renewal, but it was reasonable as my dogs age. – James W., BBB 5/13/2015
Negative Pets Best Reviews
I've been with them for a year. I went in on my one year to date with my dog having a limp. They won't cover his surgery or any of his visits even with the 12 month waiting period. Stay far far away from this scam of a company. I talked to the supervisor and she was useless. – Christina P., Yelp 4/12/2016

We purchased insurance for our dog. The insurance company assured us that they would help when and if our dog got sick. Our dog of 14 years did get sick and passed away. Pets best paid $8 of a $3300 bill and then they told us to submit the burial bill and they refused that to. So be aware that they will not pay or even help to pay. With what we paid them we could have paid most of the bill ourselves. It's a shame that we had to go through this. But that is the world we live in. I just wanted other people to be aware of pets best. It's a bad deal. Thank you. Sisters loved ones. – S.W., BBB 2/8/2016
Waiting Periods
PetsBest has a 12 month waiting period for Cruciate Ligament Injuries (ACL), Luxating Patellas, Portosystemic Shunts, Elbow Dysplasia, Hip Dysplasia, Osteochondritis Dissecans and Cardiovascular Defects. However, if you have your pet examined by a vet within 30 days and he/she is determined to be in good health you can waive that 12 month period. We definitely recommend doing this so you can have full coverage on these seven conditions sooner than later.
To know more about ACL injuries in dogs, checkout this video.
What Stands Out for Pets Best Insurance?
Overall, the main things that stand out are their low prices. They have the lowest prices when it comes to pet insurance. As always, be sure to run your own specific quotes, but from what we found, they were always among the lowest. They have waiting periods like most pet insurance companies and for the most part they aren't too long. Although if your dog does suffer an ACL injury or develops hip dysplasia there is a 12 month waiting period, which is longer than we'd like it to be but at least they cover it. They offer great coverage and have really stepped it up the past couple years. If you're interested in how Pets Best Insurance stacks up against other pet insurance carriers, check out our Dog Insurance Reviews page to see the results.
What features do you like or dislike about PetsBest Health Insurance?
Disclaimer: Information regarding insurance company offerings, pricing and other contract details are subject to change by the insurance company at any time and are not under the control of this website. Information published on this website is intended for reference use only. Please review your policy carefully before signing up for a new pet health insurance contract or any other contract as your unique circumstances will differ from those of others who may be used for example purposes in this article.