To keep the lights on, we receive affiliate commissions via some of our links. Our review process.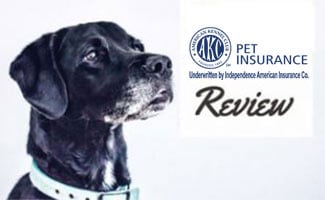 The American Kennel Club (AKC) is well-known in the pet world for its expertise in breed, health, and training for dogs. PetPartners, Inc. partnered with AKC in 2003 and administers AKC Pet Insurance.
While both PetPartners and AKC Pet Insurance offer similar pet insurance products, AKC Pet Insurance focuses more on purebred dogs and AKC customers. Find out what an AKC Pet Insurance policy covers in our review below.
AKC Pet Insurance Overall Rating
3.0/5.0
Our pet insurance experts read through each pet insurance companies' policy to provide detailed comparisons and information regarding how a provider fares against others in the industry. We also speak with customers, read online feedback, and communicate one-on-one with the pet insurance companies to obtain a well-rounded, unbiased analysis of a company's standings.
Our team rates pet insurance companies based on several factors, including A.M. Best ratings (an indicator of financial stability), claim processing reputations, contract coverage, customer service, pricing, plan customizations, and more.
Pros & Cons Comparison Table
| Pros | Cons |
| --- | --- |
| No vet records or exam required to enroll | No illness coverage for dogs enrolled after age 9 |
| Optional wellness plan | Must purchase coverage for inherited/congenital conditions separately if you want them covered |
| BBB rating: A+ through PetPartners, Inc. (which administers AKC Pet Insurance policies) | Hip dysplasia and congenital and hereditary conditions are only available for coverage if you enroll your dog before they turn 2 |
| Your pet is covered when they travel with you in the U.S. or Canada | $3-$4 monthly transaction fee (depending on state) – highest in the pet insurance space |
| 5% multi-pet discount | Exam fee coverage is an additional fee |
| Claims are typically paid within 7 days | |
Alternatives To AKC Pet Insurance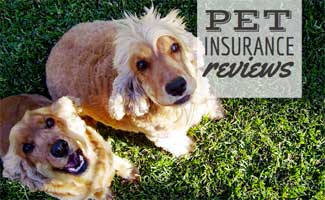 Don't like the score you're seeing? Our experts have analyzed over a dozen pet insurance providers. Check out our pet insurance reviews to learn more about this year's top-ranked companies.
Key Features
Underwriter: Independence American Insurance Company
Policies administered by PetPartners, Inc.
No exam required
Bilateral exclusions include cruciate ligament, lameness, and other conditions or diseases that affect both sides of the body
Must purchase HereditaryPlus plan if you want hereditary, congenital, and chronic conditions (e.g., hip dysplasia, arthritis, diabetes, heart disease, etc.) covered. You must enroll your pet in the HereditaryPlus plan before their second birthday.
Claims process:

Must submit claims within 180 days via email, fax, mail, app, or the online customer portal, and reimbursement is made via check or direct deposit
Aims to process claims within 3-5 days, averages 3-7 days

The Basic plan has a $500 incident limit (which we aren't fans of because you never know how costly an incident may be). These incident limits are over the lifetime of the pet, not annual. The Custom plan does not have an incident limit.
30-day "Free Look" period (similar to a money-back guarantee)
24/7 Vet Helpline allows pet owners to speak to a licensed vet professional
Other discounts available: 5% multi-pet discount, 5% discount for dogs who pass the AKC Canine Good Citizen test, and a 10% discount for puppies coming from breeders who participate in the AKC Bred with H.E.A.R.T or AKC Breeder of Merit programs
TailTrax app (Android | iOS) allows access to pet insurance portal so you can view your policy documents, submit a claim, and more
The three most common claims paid out by AKC Pet Insurance are:
Doesn't offer pre-approval of estimates/procedures in advance of treatment
Pre-Existing Conditions
Defined by AKC Pet Insurance as:
any Illness or injury which occurred, reoccurred, existed or showed Symptoms, whether or not diagnosed by a Veterinarian, prior to the Pet Original Start Date, Coverage Period or during the Waiting Period.
Customer Service Hours
Phone and email: Monday – Friday: 8:30am-8pm (EST) and Saturday: 10am-3pm (EST)
Waiting Periods
14 days: Illness
180 days: Intervertebral Disc Disease
2 days: Accidents
180 days: Cruciate ligament events
30 days: Hip dysplasia (only covered if you purchase the HereditaryPlus Plan)
30 days: Alternative coverage (acupuncture & chiropractic; physical, hydro, and behavioral therapies)
What Does AKC Pet Insurance Cover?
Please know that none of the pet insurance providers in our comparison cover pre-existing conditions or cremation and burial costs. All of them cover the following items when deemed medically necessary: x-rays, blood tests, ultrasounds, cat scans, MRIs, rehabilitation, specialized exams, surgery, hospitalization, emergency care, specialty care, hydrotherapy, chronic conditions, cancer, diagnostic treatment, alternative/holistic therapy, and euthanasia. However, there may be limitations to this coverage, so please check your policy.
| Condition | Covered By AKC Pet Insurance |
| --- | --- |
| Exam Required To Set Health Baseline | |
| Behavioral Therapies | |
| Exam Fees | Extra Fee |
| Wellness Care Available For An Extra Fee | |
| Non-Routine Dental Treatment | |
| Hereditary Conditions | HereditaryPlus Plan* |
| Congenital Conditions | HereditaryPlus Plan* |
| Prescription Medication | |
| Breed, Whelping, Pregnancy | |
| Cosmetic Procedures (e.g., Tail Docking, Ear Cropping, Dew Claw Removal) Unless Medically Necessary | |
*HereditaryPlus endorsement is only available for enrolled dogs who are 2-years-old and younger.
Routine Care Coverage
AKC Pet Insurance offers two wellness care plans shown in the table below. Included are the maximum amounts that AKC Pet Insurance will pay for each specific routine care.
| | Defender | DefenderPlus |
| --- | --- | --- |
| Price Per Month | $17 | $29 |
| Rabies | $15 | $15 |
| Flea/Tick Prevention | $50 | $65 |
| Heartworm Prevention | $30 | $30 |
| Vaccination/Titer | $30 | $40 |
| Wellness Exam | $50 | $50 |
| Heartworm Test of FELV Screen | $25 | $30 |
| Blood, Fecal, Parasite Exam | $50 | $70 |
| Microchip | $20 | $40 |
| Urinalysis or ERD | $15 | $25 |
| Deworming | $20 | $20 |
| Spay/Neuter – Teeth Cleaning | $0 | $150 |
| Total Annual Benefits | $305 | $535 |
Other Add-On Packages
Prices vary based on the pet insured.
ExamPlus: Covers primary care vets, emergency hospitals, and specialty clinics
HereditaryPlus: Covers heart disease, elbow dysplasia, arthritis, hip dysplasia, diabetes, luxating patella, spondylosis, eye disorders, and more
SupportPlus: Covers cremation, burial, urns, and memorials
Is Hip Dysplasia Covered?
You must purchase the HereditaryPlus Plan for hip dysplasia coverage, and your dog must be enrolled before he's two years old. There's an additional 30-day waiting period, as long as your dog doesn't have any symptoms or signs of pre-existing hip dysplasia.
We're disappointed that AKC Pet Insurance requires you to purchase an add-on plan to obtain hip dysplasia coverage. Most companies cover hip dysplasia in the standard accident and illness plan offered.
Is My Dog Eligible For AKC Pet Insurance?
All dog breeds are eligible for AKC Pet Insurance. However, there are some age restrictions for coverage through AKC Pet Insurance.
Pets must be at least 8 weeks old for coverage to begin
Pets must be younger than 2 years old to be enrolled in the hereditary/congenital endorsement
Pets must be younger than 5 years old to be enrolled in the SupportPlus endorsement
Pets must be younger than 9 years old to be enrolled in accident and illness coverage
What About My AKC Registered Dog?
AKC registered dogs are offered a 30 days free AKC Pet Insurance trial when they pay their AKC application fees. During this free trial period there is a one-day waiting period for accidents, five days for illnesses, and a $100 deductible. In addition, there is a $500 limit per incident (and unlimited during the trial period).
Pricing Quotes
We've gathered some sample prices from AKC Pet Insurance for its accident and illness coverage plan.
Deductibles: start at $100 and go up to $1,000
Reimbursement Levels: 70%, 80%, or 90%
Annual Payout Limits: 2,500 up to unlimited
Below are the prices for random breeds in various locations with different limitations and no upgrades added. Quotes are from December 2020.
| Breed | Labrador Retriever | English Cocker Spaniel | German Shepherd | Mixed Breed Cat |
| --- | --- | --- | --- | --- |
| Age | 2 years | 8 years | 4 years | 2 years |
| Location | Florida (33601) | Illinois (60290) | California (90001) | Washington D.C. (20001) |
| Reimbursement Level | 80% | 80% | 90% | 80% |
| Annual Deductible | $250 | $500 | $500 | $250 |
| Annual Payout Limit | Unlimited | $7,500 | $5,000 | Unlimited |
| Price Per Month | $49.55 | $71.34 | $58.05 | $24.78 |
You can get personalized price quotes for your pet(s) from reputable companies when you fill out just one short form. You can also visit our pet insurance quotes page to see how the cost of AKC Pet Insurance stacks up against the competition.
Reimbursement Examples
Below are two real-life pet insurance claims from AKC Pet Insurance.
Miniature Poodle, 7 Months Old
Location: New Jersey
Diagnosis: Gastroenteritis
Treatment Cost: $2,618.30
AKC Pet Insurance Reimbursed: $2,094.56
Final Cost For Pet Parent: $523.74
Pomeranian, 1 Year Old
Location: Virginia
Diagnosis: Bone Fracture
Treatment Cost: $4,419.67
AKC Pet Insurance Reimbursed: $3,333.99
Final Cost For Pet Parent: 1,085.68
AKC Pet Insurance Competitors
AKC Pet Insurance has some great things going for it. With a big name backing this product, customers are instantly intrigued by its offerings. However, AKC Pet Insurance requires additional fees for coverage we've come to expect in a standard pet insurance plan. Find out how AKC Pet Insurance compares against other top pet insurance providers in our pet insurance reviews article.
Tagged With: Review, Reviewed By Insurance Agent