This post may contain affiliate links and we'll be compensated if you make a purchase. This doesn't affect rankings. Our review process.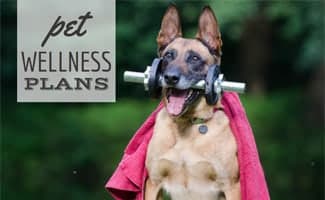 Have you been looking for comprehensive pet insurance but are frustrated because most policies don't include general pet wellness visits? You're not alone! Many of us pet parents don't realize that pet insurance differs from human health insurance in that most veterinary pet insurance plans don't cover routine wellness visits and other services. They are designed to help you manage your budget for unplanned emergencies or illnesses that could break the bank. But, if you are looking for a plan to cover routine visits instead, there are still options to get coverage for pet wellness visits. Here we'll tell you which services offer pet wellness plans, including insurance services that offer wellness plans as an add-on option.
Pet Wellness Plans Vs Pet Insurance: What's the Difference?
Pet insurance plans typically cover accident and illness services but not routine wellness veterinary visits and other services. Here's a general list of what pet wellness plans vs pet insurance offers.
Dog Wellness Plan Coverage
Annual exams
Spay/Neuter
Routine blood panels
Heartworm testing
Fecal testing
Urinalyses
Routine vaccinations (Rabies, DHLP, Bordetella, Parvo, Lyme, Giardia)
Teeth cleanings
Flea, tick and heartworm treatments
Pet Insurance Coverage
Accidents
Illnesses
Emergency care
Hereditary and congenital conditions
Orthopedic conditions
Prescription medications
Click Here to Learn More About Pet Insurance
Who Offers Pet Wellness Plans?
In most cases, you must sign up for pet insurance, and the insurance company's dog wellness plan is offered as an optional add-on. Not all insurance companies, however, offer this add-on option.
Best Stand-Alone Plan: Banfield Wellness Plan

Visit Website
Banfield stands apart from other veterinary wellness plans in that you don't have to purchase insurance in addition. With Banfield, you're required to visit a Banfield Pet Hospital, which you can find at your local PetSmart store—there are more than 800 across the country. Their plans offer preventive care, including bi-annual wellness exams, vaccinations, dental cleaning, parasite control, nutrition and behavioral services. They charge a one-time sign-up fee, with monthly payments starting at $12.95. Prices vary by age, species, location and other factors, but they do offer puppy wellness plans and those for adult dogs and other pets. See our in-depth Banfield Wellness Plan Reviews for more detailed information.
Best Pet Insurance With Wellness Coverage
Your other options to purchase a wellness plan for dogs include several insurance companies that offer wellness plans as an add-on. As we mentioned above, you're required to purchase pet insurance before you can tack on a wellness plan. See our Pet Insurance Reviews comparison article for more information about each company. Below are some of our top picks for pet insurance that covers wellness
Pets Best: Best Wellness for Dogs

Visit Website
Pets Best, our #2 choice for best pet insurance, has a few choices for more typical add-on wellness or routine care plan, EssentialWellness and BestWellness. These wellness plans cover a number of different services and treatments, but there's a per item limit (unlike Embrace, where you only have an annual cap for all services). With Pets Best, you pay $14-30 per month (price depends on which plan your choose and state you live in), but it's based on a per item basis (i.e. annual exam is covered for $50, vaccinations are $80, etc.). Pets Best requires a 14-day waiting period before coverage kicks in, and you can only add the wellness plan within 30 days of enrolling in their pet veterinary insurance program or at their annual renewal.
Embrace Pet Insurance: Wellness Rewards

Embrace, our #5 pick for best pet insurance, offers one of the most flexible wellness plans that you can add-on to any policy. You pay a monthly fee on top of your insurance —$18 per month covers up to $250 annual wellness expenses, $32.50 per month for a $450 annual cap and $46.95 per month for $650 annual expenses. Unlike their pet insurance, Embrace's Wellness Rewards plan has no deductible, no co-pay and no waiting period. And it covers a ton of treatments and services, everything from annual exams and preventative services to grooming, microchipping, anal gland expression and much more.
Other Dog Insurance Companies That Offer Wellness Plans
Should You Consider a Wellness Plan, Pet Insurance, Or Both?
Check out the following news coverage by a CBS affiliate in California that explores pet wellness plans and pet insurance.
How Can a Pet Wellness Plan Help Your Finances?
Even if your dog is healthy, preventative and routine care can add up quickly. Just consider how much you can save with a puppy wellness plan—the American Kennel Club reports that routine puppy care averages $1,000 during his first year alone! Considering the affordable monthly costs of pet wellness plans, it makes sense if you want to raise a healthy dog without breaking the bank.
What experiences have you had with pet wellness plans?