To keep the lights on, we receive affiliate commissions via some of our links. Our review process.
Spot Pet Insurance launched in 2019 with impressive coverage and two affordable wellness plans. And the company's chairman is none other than Cesar Millan from "The Dog Whisperer." But as a newcomer to an increasingly competitive industry, is Spot worth considering? We take a deep dive into what you can expect from their policies, pricing, claims process, customer service, and more.

Spot Pet Insurance Reviews

Product Name: Spot Pet Insurance
Product Description: Spot offers pet insurance for dogs and cats.
Summary
Spot's wellness plans are some of the most affordable in the marketplace. Additionally, Spot has many deductible, payout, and reimbursement options to help customize your plan to cover your needs and fit your budget.
Our pet insurance experts read through each pet insurance company's policy to provide detailed comparisons and information regarding how a provider fares against others in the industry. We also speak with customers, read online feedback, and communicate one-on-one with pet insurance companies to obtain a well-rounded, unbiased analysis of a company's standings.
Our team rates pet insurance companies based on several factors, including A.M. Best ratings (an indicator of financial stability), claim processing reputations, contract coverage, customer service, pricing, plan customizations, and more.
Pros
No lifetime or per-incident payout limits with any plan
No upper age limits
Covers alternative therapies, like acupuncture
30-day money-back guarantee Your pet is covered when they travel with you in the U.S., Canada, Puerto Rico, and other U.S. territories
Competitively priced wellness plans
Claim processing averages 10-14 days
Cons
Premiums were significantly higher than average when we ran quotes
14-day waiting period for accidents (some cover accidents within 2-3 days)
If there's a knee injury prior to enrollment or during the waiting period, they won't cover the second leg if an injury occurs. It's considered a bilateral condition.
$2 transaction fee, if not paying annually
Alternatives To Spot: We don't include Spot (or any company with less than five years in the pet insurance industry) in our annual rankings because it takes time for providers to establish consistent pricing and customer experience. Our experts regularly analyze over a dozen established companies to find the best. Learn more about this year's top-ranked companies.
Key Features
Underwriter: United States Fire Insurance Company (administered by C&F Insurance Agency, Inc., a Crum & Forster company)
Bilateral exclusions include ligament and knee conditions (a condition or disease that affects both sides of the body)
Claims process:

Must submit claims within 270 days of the date of service via app, online, fax, or mail
Claim repayment averages 10-14 business days, and direct deposit and check are options

Can transfer policy coverage to a new owner as long as the new owner contacts Spot
Covers curable pre-existing conditions that are free from treatment and symptoms for 180 days
Partners with Purina
Customer Service Options & Hours
Email: [email protected]
Phone: 855‑941-3571

Monday – Friday: 8am – 9pm EST

FAQ
Live chat:

Monday – Friday: 8am – 5pm EST

24/7 Pet Helpline for pet health, behavior, and wellness advice
What Are Spot's Waiting Periods*?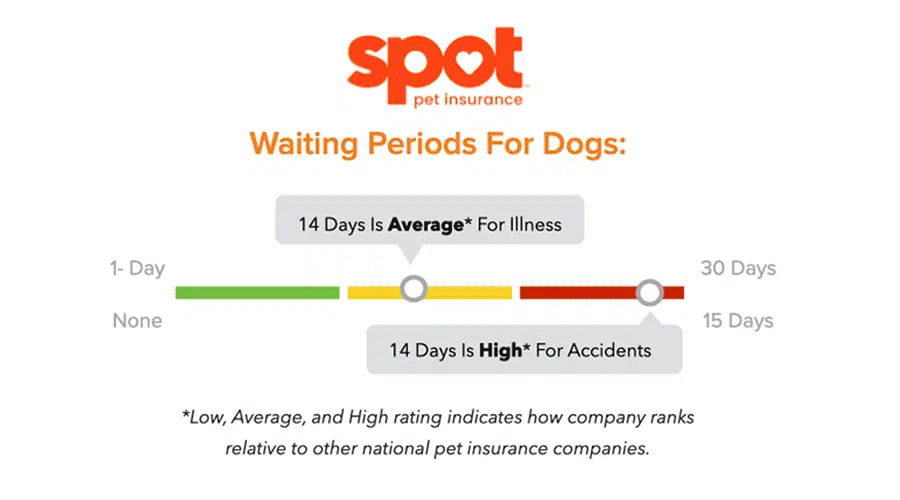 Illnesses: 14 days
Accidents: 14 days
Cruciate Ligaments: 14 days
Hip Dysplasia: 14 days
Wellness: 0 days
*Waiting periods for California, Maine, and Mississippi are as follows:
Accidents - 0 days
Illnesses - 14 days
Cruciate Ligament Conditions - 30 days
Routine Care - 0 days
What Does Spot Cover?
Please know that none of the providers in our pet insurance comparison charts cover pre-existing conditions, cremation and burial costs, pregnancy and breeding, or unnecessary cosmetic procedures.
All of them cover the following items when deemed medically necessary: emergency care, surgery and hospitalization, specialized exams and specialty care, X-rays, blood tests, ultrasounds, cat scans, MRIs, rehabilitation, cancer, chronic conditions, euthanasia, hereditary conditions, congenital conditions, non-routine dental treatment, and prescription medications. However, this coverage may have limitations, so please check your policy.
| Condition | Covered By Spot |
| --- | --- |
| Behavioral Therapies | |
| Alternative/Holistic Therapies | |
| Exam Fees | |
| Wellness Care | Extra Fee |
What's Spot's Accident Only Plan?
Spot's Accident Only Plan covers injuries and accidents only. Illness-related claims are excluded from coverage. Examples of eligible claims are listed below.
Torn ligaments
Broken bones
Bite wounds
Cuts
Lodged foreign objects
Toxic ingestions
Does Spot Offer Wellness Plans?
Once you choose your basic policy, you have the option to add one of two Preventative Care plans shown in the table below. Included are the maximum amounts that Spot will pay each year for that specific routine care.
| | Platinum | Gold |
| --- | --- | --- |
| Price Per Month | $24.95 | $9.95 |
| Dental Cleaning or Spay/Neuter | $150 | $100 (Dental Only) |
| Wellness Exam | $50 | $50 |
| Deworming | $25 | $20 |
| Health Certificate | $25 | N/A |
| Flea/Heartworm Prevention | $25 | N/A |
| DHLPP Vaccine/Titer or Feline FVRCP Vaccine/Titer | $25 | $20 |
| Rabies or Lyme Vaccine/Titer or Feline FIP Vaccine/Titer | $25 | $20 |
| Bordetella Vaccine/Titer | $25 | N/A |
| Fecal Test | $25 | $20 |
| Heartworm Test or Feline FELV Test | $25 | $20 |
| Blood Test | $25 | N/A |
| Urinalysis | $25 | N/A |
| Total Annual Benefits | $450 | $250 |
How Much Does Spot Pet Insurance Cost?
Spot has no one-time fees and a $2 transaction fee for every payment (waived if you pay annually). Your monthly premium is based on the deductible, reimbursement percentage, and annual payout options that you choose from the table below.
Deductible Options
Payout Options
Reimbursement Options
$100
$250
$500
$750
$1,000
$2,500
$3,000
$4,000
$5,000
$7,000
$10,000
$15,000
$20,000
Unlimited
70%
80%
90%
Pricing is also based on your pet's details (age, breed, location, pre-existing conditions, etc.). We recommend obtaining quotes from Spot for your specific pet to get an idea of how much a policy would cost you.
You can also use our pet insurance quote form below to see how top providers compare for your actual pet.
Does Spot Have Coupon Codes?
Spot Pet Insurance offers a 10% multi-pet discount when you use this link.
Purina customers are eligible for a 10% discount
Frequently Asked Questions
Here are some frequently asked questions regarding Spot from our readers.
How Long Has Spot Pet Insurance Been Around?
Spot Pet Insurance was founded in 2019.
Is Spot Pet Insurance Available In Canada?
Yes, Spot Pet Insurance is available in Canada.
Does Spot Cover Hip Dysplasia In Dogs?
Spot's accident and illness plan offers coverage for hip dysplasia after the 14-day waiting period.
How Is Reimbursement Calculated?
Spot uses a "deductible then co-pay" reimbursement method. This is calculated in the following way:
Actual vet bill amount – Remaining annual deductible – Co-pay = Reimbursement amount
What's Our Final Verdict?

Spot Pet Insurance has very competitive coverage and a wide variety of customizable payout limits and deductibles; however, the quotes we ran were pretty far above average. Spot is also newer to the pet insurance industry, so we'd like to see them become more well-established.
If you're unsure if Spot is the best fit for your pet insurance needs, you've got lots of options. See our top recommendations for pet insurance. We compare the top ten pet insurance providers and rank them, explaining each company's strengths and weaknesses. We also have many comparison tables to help you see where pet insurance companies differ. We answer frequently asked questions, walk you through a pet insurance claim example, list out all of your pet insurance options in an easy-to-digest directory format, and more. We're sure we can answer all your pet insurance questions so you feel equipped to make the best decision for your pet.
Tagged With: Reviewed By Insurance Agent