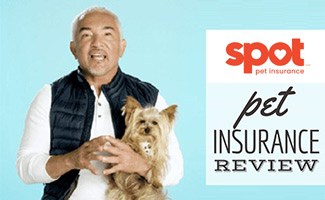 Spot Pet Insurance launched in 2019 with some impressive coverage and two affordable wellness plans. And the company's chairman is none other than Cesar Millan from "The Dog Whisperer." But as a newcomer to an increasingly competitive industry, is Spot worth considering? We take a deep dive into what you can expect from their policies, pricing, claims process, customer service, and more.
Spot Pet Insurance
Pros
No lifetime or per-incident payout limits with any plan
No upper age limits
BBB rating: A-
Claim reimbursement averages 10-14 days
30-day money-back guarantee
10% multi-pet discount
Covers alternative therapies, like acupuncture
Your pet is covered when they travel with you in the U.S., Canada, Puerto Rico, and other U.S. territories
Competitively priced wellness plans
Cons
Premiums were significantly higher than average when we ran quotes
14-day waiting period for accidents (some cover accidents within 2-3 days)
If there's a knee injury prior to enrollment or during the waiting period, they won't cover the second leg if an injury occurs. It's considered a bilateral condition.
$2 transaction fee, if not paying annually
Alternatives To Spot Pet Insurance
We don't include Spot (or any company with less than five years in the pet insurance industry) in our annual rankings because it takes time for providers to establish consistent pricing and customer experience. To find the best, our experts regularly analyze over a dozen established companies. Learn more about this year's top-ranked companies.
Key Features
Underwriter: United States Fire Insurance Company (administered by C&F Insurance Agency, Inc., a Crum & Forster company)
No exam required
Bilateral exclusions include ligament and knee conditions (a condition or disease that affects both sides of the body)
Claims process:
Can transfer policy coverage to a new owner as long as the new owner contacts Spot
30-day money-back guarantee (not available if claims have been paid and not available in NY)
24/7 medical helpline for pet health, behavior, and wellness advice
Pre-Existing Conditions
Pet insurance providers don't cover pre-existing conditions, but the specific definitions can vary by company. A pre-existing condition is defined by Spot in their policy as:
Illness, disease, injury, or change to your pet's health that first occurs or shows symptoms before coverage is effective or during a waiting period. This includes conditions that are related to, secondary, or resultant from a pre-existing condition.
If your pet's pre-existing condition is curable and has been cured and free from treatment and symptoms for a period of 180 days it is a new occurrence. This does not apply to ligament and knee conditions.
Customer Service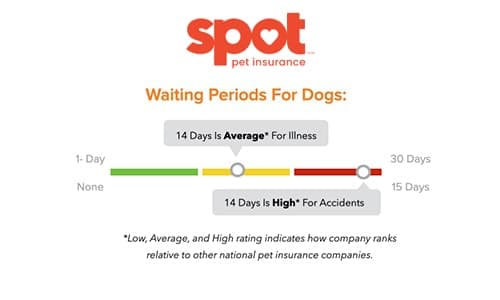 Email: service@customer.spotpetins.com
Phone: 855‑941-3571 (Monday – Friday 8:00am – 8:00pm EST)
FAQ and blog
Waiting Periods
These waiting periods begin on your policy's start date, and Spot will only consider reimbursement for your claim after the waiting period ends.
What Does Spot Cover?
Please know that none of the pet insurance providers in our comparison cover pre-existing conditions or cremation and burial costs. All of them cover the following items when deemed medically necessary: x-rays, blood tests, ultrasounds, cat scans, MRIs, rehabilitation, specialized exams, surgery, hospitalization, emergency care, specialty care, hydrotherapy, chronic conditions, cancer, diagnostic treatment, alternative/holistic therapy, and euthanasia. However, there may be limitations to this coverage, so please check your policy.
| Condition | Covered By Spot |
| --- | --- |
| Exam Required To Set Health Baseline | |
| Behavioral Therapies | |
| Exam Fees | |
| Wellness Care Available For An Extra Fee | |
| Non-Routine Dental Treatment | |
| Hereditary Conditions | |
| Congenital Conditions | |
| Prescription Medication | |
| Breed, Whelping, Pregnancy | |
| Cosmetic Procedures (e.g., Tail Docking, Ear Cropping, Dew Claw Removal) Unless Medically Necessary | |
Accident Only Plan
Spot's Accident Only Plan covers costs for all the items listed in the table above when related to injuries and accidents. This can include such incidents as:
The Accident Only plan also covers the cost of microchipping your pet.
Preventative Care Add-On Plans
Once you choose your basic policy, you have the option to add one of two Preventative Care plans shown in the table below. Included are the maximum amounts that Spot will pay each year for that specific routine care.
| | Platinum Preventative Care | Gold Preventative Care |
| --- | --- | --- |
| Price Per Month | $24.95 | $9.95 |
| Dental Cleaning or Spay/Neuter | $150 | $100 (Dental Only) |
| Wellness Exam | $50 | $50 |
| Deworming | $25 | $20 |
| Health Certificate | $25 | N/A |
| Flea/Heartworm Prevention | $25 | N/A |
| DHLPP Vaccine/Titer or Feline FVRCP Vaccine/Titer | $25 | $20 |
| Rabies or Lyme Vaccine/Titer or Feline FIP Vaccine/Titer | $25 | $20 |
| Bordetella Vaccine/Titer | $25 | N/A |
| Fecal Test | $25 | $20 |
| Heartworm Test or Feline FELV Test | $25 | $20 |
| Blood Test | $25 | N/A |
| Urinalysis | $25 | N/A |
| Total Annual Benefits | $450 | $250 |
Pricing Quotes
We've gathered some sample prices from Spot Pet Insurance for its accident and illness coverage plan. You can choose deductibles of either $100, $250, $500, $750, or $1,000. You also have three reimbursement options: 70%, 80%, or 90%.
They offer annual payout limits of $2,500, $4,000, $5,000, $7,000, $10,000, or unlimited, and there are no lifetime payout limits. Individual premium prices are based on age, breed, and location. Quotes are from November 2020.
| Breed | Labrador Retriever | Golden Retriever | Mixed Breed Dog (45 lbs) | Yorkshire Terrier | Mixed Breed Cat |
| --- | --- | --- | --- | --- | --- |
| Male or Female | Male | Male | Female | Male | Female |
| Age | 3 Years | 2 Years | 5 Years | 2 Months | 4 Years |
| Location | Virginia (22901) | California (90210) | Indiana (46201) | Florida (33601) | Illinois (60169) |
| Reimbursement Level | 80% | 80% | 80% | 80% | 80% |
| Annual Deductible | $250 | $500 | $250 | $250 | $250 |
| Annual Payout Limit | Unlimited | Unlimited | Unlimited | Unlimited | Unlimited |
| Price Per Month | $82.64 | $67.23 | $89.21 | $50.33 | $27.03 |
You should expect annual increases on your premiums from any pet insurance company. These rates and increases will vary based on your location, changes in vet costs, and more.
Coupon Code
Customer Reviews
Positive Reviews
I got this just "in case", and then my sweet dog got bone cancer. Spot has been so easy. Claims process is simple and they care about your pet's health. Highly recommend! – April, Trustpilot 10/29/2020
I'm very happy with the Spot Pet Insurance. I have accidental and illness and added Wellness coverage. The wellness has helped with vaccines and wellness visits. Very easy to upload the vet invoice to their site and reimbursed very quickly. – Helen, ConsumerAffairs 9/19/2020
Negative Reviews
We have a rescue dog. For two months Spot was saying they needed documentation from before we or the rescue had them. I had to submit it multiple times. I had to call twice to make sure they went through and that someone added the information to our account. The customer service folks are kind, but at the systems level it was annoying. – Heidi, ConsumerAffairs 8/18/2020
I submitted a claim for one of my dog on 6/2/2020 and I have contacted them several times. As of 7/24/2020 I still have not received a reimbursement (less than $50). I prepaid my premiums for 2 giant breed dogs for a year ($1,600). I think that I need to look for another insurance company. – Terry P., Trustpilot 7/24/2020
What's Our Final Verdict?
Spot Pet Insurance has very competitive coverage and a wide variety of customizable payout limits and deductibles; however, the quotes we ran were pretty far above average. Spot is also so new to the pet insurance industry, we'd like to see them become more well established.
If you're not sure if Spot is the best fit for your pet insurance needs, you've got lots of options. See our top three picks for pet insurance along with category winners (we rank the best providers for everything from older dogs and dental coverage to wellness coverage and bilateral conditions) to see how Spot compares.
Are you comfortable signing up with a new insurance provider?