To keep the lights on, we receive affiliate commissions via some of our links. Our review process.
Figo offers customizable coverage for you to choose from and even offers up to 100% reimbursement, something that most providers don't offer. Figo will even help you identify any pre-existing conditions for your pet, so you know exactly what is and isn't eligible for coverage. Find out how Figo's coverage, service, and cost compare to other top pet insurance companies.
Figo Pet Insurance Review

Product Name: Figo Pet Insurance
Product Description: Figo offers pet insurance for dogs and cats.
Summary
Figo is one of the only pet insurance providers to offer 100% reimbursement as an option. It could be an excellent option if you want more if your vet bill reimbursed.
Our pet insurance experts read through each pet insurance company's policy to provide detailed comparisons and information regarding how a provider fares against others in the industry. We also speak with customers, read online feedback, and communicate one-on-one with pet insurance companies to obtain a well-rounded, unbiased analysis of a company's standings.
Our team rates pet insurance companies based on several factors, including A.M. Best ratings (an indicator of financial stability), claim processing reputations, contract coverage, customer service, pricing, plan customizations, and more.
Pros
Annual deductible (not per-incident)
Claim processing averages 3 days
Diminishing deductible
Vet exam fee can be covered for an additional cost
Optional wellness plan (not available in all states) can be purchased as an add-on
5% multi-pet discount
Your pet is covered anywhere in the world
No upper age limits (pets must be 8 weeks or older)
Cons
If there is a knee injury prior to enrollment or during the 6-month waiting period, both knees are excluded from coverage
$2/month transaction fee (can be waived if you pay annually)
$15 administration fee
Key Features
Underwriters and A.M. Best ratings (a measure of financial stability):

Independence American Insurance Company (IAIC): A-
Market American Insurance Company: A
Markel Insurance Company: A

An exam within the last 12 months is used as your pet's baseline (if there is no exam within the last 12 months, the first exam after the effective policy period is used as a baseline)
Bilateral exclusions (a condition or disease that affects both sides of the body): luxating patellas, cruciate ligament tears or ruptures, cataracts, glaucoma, cherry eye, entropion, ectropion, hip dysplasia, elbow dysplasia, and osteochondritis dissecans
Claims process:

Must submit claims within 180 days
Submit claims via Figo Pet Cloud app, email, or fax
Processes the majority of claims within 3 days (closes nearly half in 24 hours)
Direct deposit or check reimbursement is available

Diminishing deductible: for each year a policyholder is claim free, the deductible decreases $50 until it is $0
Offers pre-approval of estimates/procedures in advance of treatment
Covers curable pre-existing conditions if there have been no signs or symptoms within the last year
Policies bought via Costco are serviced by Figo
Customer Service Options & Hours
Phone, text, live chat, email:

Monday – Friday 7am to 7pm CST
Saturday 8am to 6pm CST

Text only:
Fax
What Are Figo's Waiting Periods*?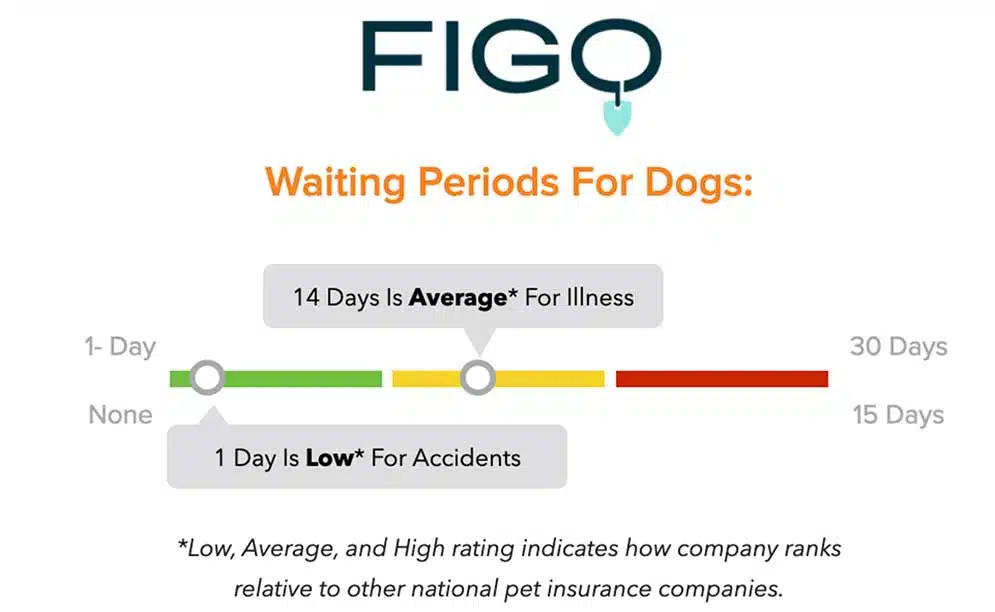 Illness: 14 days
Accidents: 1 day
Orthopedic Conditions (including cruciate ligament, knee, hip dysplasia, and more): 6 months†
Wellness: 0 days
*Waiting periods for California, Maine, and Mississippi are as follows:
Accidents - 0 days
Illnesses - 14 days
Cruciate Ligament Conditions - 30 days
Routine Care - 0 days
†Ability to waive if a veterinarian completes exam/waiver form within the first 30 days of the policy period and there are no pre-existing conditions.
What Does Figo Cover?
Please know that none of the providers in our pet insurance comparison charts cover pre-existing conditions, cremation and burial costs, pregnancy and breeding, or unnecessary cosmetic procedures.
All of them cover the following items when deemed medically necessary: emergency care, surgery and hospitalization, specialized exams and specialty care, X-rays, blood tests, ultrasounds, cat scans, MRIs, rehabilitation, cancer, chronic conditions, euthanasia, hereditary conditions, congenital conditions, non-routine dental treatment, and prescription medications. However, this coverage may have limitations, so please check your policy.
| Condition | Covered By Figo |
| --- | --- |
| Behavioral Therapies | |
| Alternative/Holistic Therapies | |
| Sick Exam Fees | Extra Fee |
| Wellness Care | Extra Fee |
Optional Coverage
Figo also offers optional "power-ups" for Wellness and Veterinary Exam Fees.
Wellness
There are two wellness plans to choose from. The table below includes the maximum amounts that Figo will pay for specific routine items each year.
| | Basic | Plus |
| --- | --- | --- |
| Monthly Price | $9.50 | $16.50 |
| Wellness Exams | $20 | $40 |
| Vaccines* | $30 | $50 |
| Tests** | $20 | $45 |
| Spay/Neuter or Teeth Cleaning | $40 | $75 |
| Microchip/Health Certificate | $15 | $30 |
| Deworming | $10 | $10 |
| Annual Wellness Coverage | $135 | $250 |
*Vaccines include titers, rabies, and other vaccines approved for general use by AVMA (American Veterinary Medical Association) or equivalent industry regulating entity. This category also includes flea, tick, and heartworm preventatives.
**Tests include heartworm test, FELV screen, blood, fecal, and parasite exam, urinalysis, or ERD.
Veterinary Exam Fees For Accident & Illness Visit
Vet exam fees are something you may assume are included with most pet insurance policies, but each company handles it differently. For an added fee, you can have exam or consultation fees associated with the diagnosis of your pet's eligible illness or accident covered.
What Does Figo Pet Insurance Cost?
Figo has a $15 one-time fee and a $2 transaction fee for every payment. Your monthly premium is based on the deductible, reimbursement percentage, and annual payout options that you choose from the table below.
Figo is one of the only providers we've reviewed to offer a 100% reimbursement option. Please know that all deductible and reimbursement options aren't available in every state.
Deductible Options
Payout Options
Reimbursement Options
$100
$250
$500
$750
$5,000
$10,000
Unlimited
70%
80%
90%
100%
Pricing is also based on your pet's details (age, breed, location, pre-existing conditions, etc.). We recommend obtaining quotes from Figo for your specific pet to get an idea of how much a policy would cost you.
You can also use our pet insurance quote form below to see how top providers compare for your actual pet.
Does Figo Have Coupons?
Figo offers the following discounts:
5% off any new Figo pet insurance policy (exclusive for Canine Journal readers – use this link)
5% off for multiple pets
Your deductible automatically goes down $50 each year you don't receive a claim payment
Use this link to take advantage of the best possible price. No promo code is needed. You can also visit our dedicated Figo promotions page to learn more.
How Does The Claim & Reimbursement Process Work?
Figo uses both a "copay then deductible" reimbursement method and a "deductible then copay" method depending on your policy.
Copay Then Deductible is calculated the following way:

(Eligible vet expenses x Reimbursement percentage) – Remaining annual deductible = Reimbursement amount

Deductible Then Copay is calculated the following way:

Actual vet bill amount – Remaining annual deductible – Copay = Reimbursement amount
Reimbursement Example
Dog: Bowie, 7-year-old Saint Bernard mix
Diagnosis: Torn CCL surgery
Total Vet Cost: $4,899.17
Total Reimbursed By Figo: $4,251.78
What Are The Most Common Claims Submitted To Figo?
Allergies: $500-$1,000
GI Conditions: $500-$1,000
TPLO Surgeries: $3,000-$5,000
Frequently Asked Questions
Here are some frequently asked questions regarding Figo pet insurance from our readers.
Where Is Figo Accepted?
You can visit any licensed vet and submit your claim to Figo for reimbursement.
What Does Figo Not Cover?
Figo excludes the following but is not limited to:
Pre-existing conditions
Rehabilitation and physical therapy treatments
Holistic and alternative medications
Behavioral problems and any related treatment
Air ambulance and ground pet ambulance
Cost of disposing of your pet's remains
Boarding
Cosmetic, aesthetic, or elective surgery
Natural supplements, vitamins, and food
Treatment for any illness for which a vaccine is available (e.g., bordatella, parvovirus, rabies, etc.)
Obedience or training classes unless prescribed by a vet for the treatment of a covered incident
Grooming
Costs or fees for treatments for parasites (e.g., heartworms, fleas, ticks, roundworms, tapeworms, hookworms, etc.)
Does Figo Cover Heartworm?
Figo's accident and illness pet insurance plans don't cover heartworms because it can be prevented through medication. Heartworm preventatives are eligible for coverage through Figo's wellness plan. However, should your dog be diagnosed with heartworms, any treatment for it will be excluded from coverage in your accident and illness policy.
What Does Figo Stand For?
We reached out to Figo, and according to them, it's a play on the popular dog name "Fido." An astute marketer might note the integration of the word "go" as in "move forward."
Does Figo Cover Dental?
Figo covers non-routine dental treatment and trauma to the teeth, face, and jaw. It also covers tooth extractions due to an accident. The key to dental procedure coverage is that it must be part of a non-routine situation.
How To Cancel Figo Pet Insurance?
You may cancel your policy at any time by emailing Figo at [email protected]. You can also reach them at (844) 738-3446. Any pro-rated refunds for pre-payment of your annual policy will be granted based on your policy contract conditions.
If you'd like a replacement for your Figo insurance policy, take a look at our pet insurance reviews to see which pet insurance companies we recommend.
Does Figo Have A Wellness Plan?
Figo offers two optional wellness plans in some states. It also offers a wellness plan for canines and felines as an add-on in its employee benefit plans.
Who Owns Figo Pet Insurance?
Figo Pet Insurance was acquired by JAB Holding Company on October 19, 2021. JAB Holding Company is a privately held group focusing on long-term investments in companies. The same company is a majority shareholder in PetPartners, Inc., which owns AKC Pet Insurance and PetPartners Group Pet Insurance.
Figo vs Other Companies
Interested in seeing how Figo stacks up against other popular pet insurance companies? We've written comparison articles for you to see how Figo and other leading pet insurance companies compare in coverage, customer service and reputation, claim processing, plan customization, and price.
Is Figo The Best Pet Insurance?
Since entering the marketplace, Figo has set a reputation for lower prices without sacrificing coverage. You have complete control over your policy's deductible, reimbursement, and annual payout.
We've compared Figo against other top pet insurance companies and explained how they stack up in our pet insurance reviews. We rank the best providers and compare them against one another to show you where the companies differ. We address your frequently asked questions, explain how pet insurance works from start to finish, discuss the different types of pet insurance, and more. We're confident we can answer all your pet insurance questions so you feel knowledgeable in making the right decision for you and your pet.
Tagged With: Reviewed By Insurance Agent