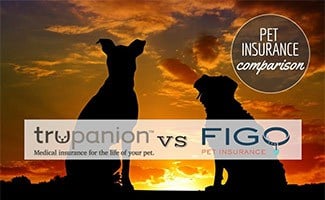 Trupanion is one of the most popular pet insurance providers and is commonly recommended by veterinarians. Figo is frequently looked at as a more affordable alternative.
Both Trupanion and Figo offer excellent pet insurance coverage. But does one cover more than the other? And how do they compare regarding price? We explain why we rank one better than the other.
Visit Trupanion's Website | Visit Figo's Website
Policy Coverage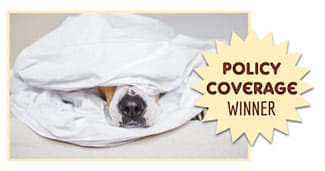 The table below shows what Trupanion and Figo cover.
Note: Both companies cover X-rays, blood tests, ultrasounds, cat scans, MRIs, rehabilitation, specialized exams, surgery, hospitalization, emergency care, specialty care, chronic conditions, cancer, euthanasia, hereditary conditions, congenital conditions, and prescription medication.
| | Trupanion | Figo |
| --- | --- | --- |
| Overall Ranking in our Pet Insurance Reviews | Not Ranked | 1st |
| Pre-Existing Conditions | | |
| Illnesses Waiting Period | 30 Days | 14 Days |
| Accidents Waiting Period | 5 Days | 1 Day |
| Hip Dysplasia Waiting Period | 30 Days | 6 Months |
| ACL Waiting Period | 30 Days | 6 Months |
| Behavioral Therapy | | |
| Alternative/Holistic Therapies | | |
| Wellness Care Available For An Extra Fee | | |
| Exam Fees | | Extra Fee |
| Enrollment Fee | $0, $25, or $35 | $15 |
| 30-Day Money-Back Guarantee | | |
| Annual Payout Options | Unlimited | $5,000, $10,000, $20,000, or Unlimited |
| BBB Rating | A | B |
| Underwriter | American Pet Insurance Company | Independence American Insurance Company (IAIC) |
| A.M. Best Rating | Unrated | A- |
As you can see, both companies have similarities and differences with coverage and waiting periods. One thing to know is that Trupanion doesn't enroll pets after their 14th birthday (however, if the pet is enrolled before turning 14, coverage will continue).
Additionally, Trupanion has a per-incident deductible instead of an annual deductible (what Figo has); this means that with Trupanion, you'll have to meet the deductible multiple times for every new incident your pet encounters instead of one annual deductible. Because of these things, we have chosen Figo as the winner of this category.

Policy Coverage Winner: Figo
Customer Service & Reputation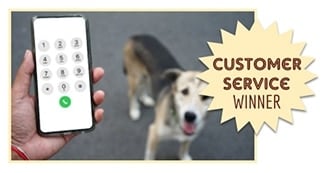 Trupanion has a consistent history of higher prices and dependable coverage. No monumental changes have recently occurred, which shows that you can count on things being relatively steady when you sign up for a Trupanion policy.
On the other hand, Figo has negative reviews regarding not paying claims. However, these claims are often for pre-existing conditions or wellness-related claims that the policy doesn't cover. Figo still has excellent customer service and is responsive to its customers' needs.
Both companies offer a variety of ways to reach out to customer service, offering email, phone, and text support. Additionally, Figo offers live chat as an option. Trupanion's support personnel are available 24/7 while Figo has more restricted hours (Monday thru Friday 8am to 7pm CST, Saturday 8am to 6pm CST and Sunday (text only) 11am to 3pm CST).
Unfortunately, due to Trupanion's higher prices, it often has more customer complaints than Figo does.

Customer Service & Reputation Winner: Figo
Claim Repayment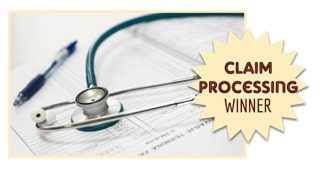 Trupanion says it will pay claims within 60 days but averages a 14-day repayment. A 14-day claim repayment leans toward a longer claim repayment timeline, but it's still shorter than some competitors.
Additionally, you may be able to have Trupanion pay your vet directly, so you don't have to pay a hefty vet bill in advance and wait for reimbursement. But this isn't available everywhere, so check with your vet first to see if Trupanion Express is an option for you.
Figo averages a four-day claim repayment, with about 50% of them closed within 24 hours. This is among the fastest claim repayment averages in the industry. Figo doesn't offer a vet direct pay feature at this time. However, because of the quicker claim reimbursement, Figo wins this category.

Claim Repayment Winner: Figo
Plan Customization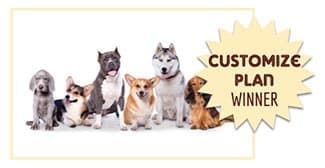 The other significant differences between these two companies are the level of plan customization available and age restrictions.
Trupanion has unlimited payouts and 90% reimbursement for all plans. The only customization part of a Trupanion policy is the option of a $0 to $1,000 deductible. Additionally, Trupanion offers enrollment starting at birth, but it doesn't allow a pet older than 14 years old into a new policy. One other difference with Trupanion is that they offer coverage from birth and are among the only companies to offer coverage for newborns.
Figo offers many customization options, no matter the pet's age:
Annual payout options: $5,000, $10,000, and unlimited
Deductibles: $100, $200, $250, $500, $750, $1,000, and $1,500
Reimbursement: 70%, 80%, 90%, and 100%
As you may have noticed, Figo offers 100% reimbursement, which isn't commonly available with pet insurance providers. This may be of interest to you, depending on your budget and coverage needs. Figo offers coverage for pets beginning at eight weeks old with no upper age limits.
Overall, Trupanion has fewer customization options than Figo does, which may make it more challenging to fit your budget and unique needs. Additionally, Figo supports new coverage for older dogs later in life, but Trupanion offers coverage for dogs younger than eight weeks. In the end, Figo wins this category.

Plan Customization Winner: Figo
Price Of Policy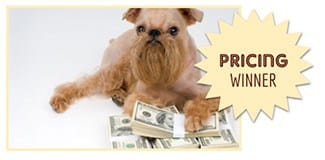 Trupanion requires a one-time enrollment fee of either $0, $25, or $35, depending on the state in which you live, but charges no transaction fees. On the other hand, Figo has a one-time $15 administration fee and a $2 per month transaction fee, which can be waived if you opt to pay annually.
Below are some pet insurance quotes we pulled in July 2021. All information is for pets without a microchip, no multi-pet discount, and no pre-existing conditions.
| | Breed | Birthday | Gender | Location | Deductible | Reimbursement % | Annual Payout | Price Per Month |
| --- | --- | --- | --- | --- | --- | --- | --- | --- |
| Trupanion | Yorkshire Terrier | December 2017 | Male | Ohio (43205) | $100 | 90% | Unlimited | $81.40 |
| Figo | Yorkshire Terrier | December 2017 | Male | Ohio (43205) | $100 | 90% | Unlimited | $42.73 |
| Trupanion | Labrador Retriever | April 2017 | Female | California (90024) | $250 | 90% | Unlimited | $231.45 |
| Figo | Labrador Retriever | April 2017 | Female | California (90024) | $250 | 80% | $5,000 | $56.21 |
| Trupanion | Medium Mixed Breed | January 2015 | Female | Illinois (60604) | $500 | 90% | Unlimited | $125.27 |
| Figo | Medium Mixed Breed | January 2015 | Female | Illinois (60604) | $500 | 100% | $10,000 | $60.49 |
| Trupanion | American Pitbull Terrier | September 2018 | Male | New York (10012) | $500 | 90% | Unlimited | $148.85 |
| Figo | American Pitbull Terrier | September 2018 | Male | New York (10012) | $500 | 70% | Unlimited | $82.27 |
We like that Figo has more annual payout and reimbursement percentage options than Trupanion, allowing you the ability to adjust coverage based on your needs and budget. On average, Trupanion offers some of the most expensive coverage, but it's hard to compare apples to apples when Trupanion only gives you an unlimited claim limits option.

Price Of Policy Winner: Figo
Coupons
Trupanion
Figo
What's The Verdict?
Overall, Figo wins our comparison due to its quick claim repayment, customized plans, and more affordable pricing. However, if you want a company that can cover your puppy at birth, you may want to consider Trupanion.
If you didn't find what you were looking for, our experts dig even deeper into each company in our individual reviews of Trupanion and Figo.
Overall Winner: Figo

Our experts have spent hundreds of hours researching to bring you our comprehensive and frequently updated pet insurance reviews, including our top picks and details for each of the most popular pet insurance companies.
If you prefer to see winners by category, see our best pet insurance comparison. We give awards for the best price, multi-pet discounts, 100% reimbursement, unlimited payouts, and other "best for" categories, including puppies, older dogs, dental, wellness coverage, bilateral conditions, behavioral therapy, vet direct pay, and more. You'll even see winners for exotic pets and cats as well as breeders.
Would you choose Trupanion or Figo for your dog? Why?