To keep the lights on, we receive affiliate commissions via some of our links. Our review process.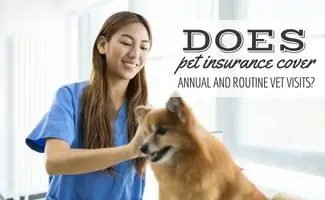 Often, we dread taking our dogs to the vet for an annual checkup. We believe it'll only cost about $30, but we forget about all the other items included in this vet visit.
Is there a way to get help covering this expense? Does any pet insurance cover routine visits? Let's dig in to discover ways to be reimbursed for your dog's annual visit.
Does Pet Insurance Cover Annual Visits?
Depending on the pet insurance policy you purchase, it may include routine vet visits in coverage. Basic accident and illness pet insurance policies exclude annual visits. However, if you buy an optional wellness plan as an add-on to your primary accident and illness policy, then a portion of your dog's wellness visit may be eligible for coverage.
What Is A Wellness Plan?
Wellness plans cover a portion of routine vet treatments, such as annual exams, spaying/neutering procedures, heartworm testing, vaccinations, flea and tick prevention, microchipping, and more. The items and amounts covered vary based on the pet insurance company and policy you purchased. Accident and illness pet insurance policies don't cover these preventative expenses on their own.
Which Pet Insurance Companies Offer Wellness Plans?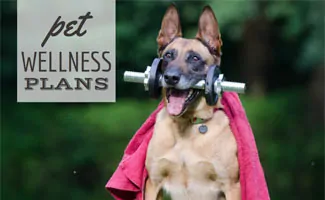 Numerous companies offer pet wellness plans, but each company handles them differently. Some companies require you to purchase an accident and illness pet insurance policy and then add a wellness policy to the plan. Others allow you to enroll your pet in wellness coverage without buying an insurance policy first. To find a company to help assist in the expense of routine visits, read about pet wellness plans.
Pet Insurance Can Save You Money
Annual vet visits can cost $85 or more, depending on where you live and your vet's fees. Along with this routine visit, you may have vaccines, nail trimming, anal gland expression, fecal parasite tests, and other wellness-related items addressed. This can turn into a much larger vet expense, totaling $200 or more. A wellness plan can help cover a large portion of this bill.
Additionally, many health concerns can be diagnosed and treated sooner than if you hadn't taken your dog for her annual checkup. This means better health for your dog and fewer medical expenses and stresses for you in the long run.
Direct Your Focus To Your Dog's Health, Not Your Wallet
Insuring your pet makes impossible decisions a little bit easier. Instead of worrying about how you'll pay for your dog's vital medical treatment, you can focus entirely on their healing and recovery—no need to decide between your bank account and your pet's health.
On average, pet insurance plans cost $50 per month for dogs ($30 for cats). Budgeting for this monthly expense could save you thousands in unexpected vet bills. We review the best pet insurance and rank them based on coverage, customer service, price, and more, so you can choose the best policy for your furry pal.
Tagged With: Reviewed By Insurance Agent