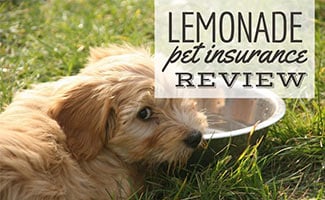 Lemonade hit the pet insurance market in July 2020 with a unique Artificial Intelligence (AI)-driven claims process and four solid years of providing reputable homeowners and renters insurance.
For pet insurance, they offer affordable premiums, customizable policies, a wellness plan add-on, and a fast claims process they handle through their smartphone app.
But does Lemonade provide all the coverage you'll need for your pet? And how do they stack up against their competitors?
Lemonade Pet Insurance
Pros
Annual deductible (not per incident)
No lifetime payout limits on any plan
Wellness coverage available as an add-on
Easy to submit claims on mobile apps
Lower than average pricing
Coverage available for pets aged 8 weeks to 20+ years (depending on breed)
Company makes sizeable charitable contributions to causes of their customers' choosing
BBB rating: C
Cons
Vet exams for accidents and illnesses only covered in extended add-on plan
Must pay extra for physical therapy, acupuncture, and hydrotherapy coverage
Strict exclusions for pre-existing bilateral conditions
Limited customer service options
Only available in 34 states and DC
Not covered when traveling with your pet outside of the U.S.
Doesn't enroll some breeds once they hit a certain age, but they never terminate coverage for pets as they age
No multi-pet discount
Alternatives To Lemonade Pet Insurance
We don't include Lemonade (or any company with less than five years in the pet insurance industry) in our annual rankings because it takes time for providers to establish consistent pricing and customer experience. To find the best, our experts regularly analyze over a dozen established companies. Learn more about this year's pet insurance rankings.
Key Features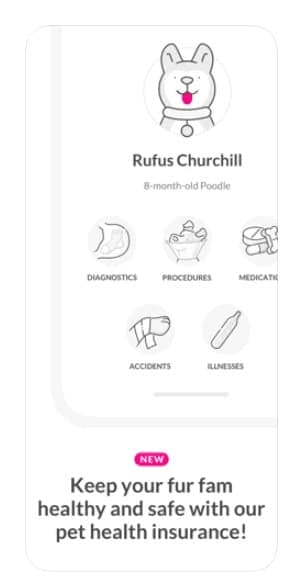 Underwriter: Lemonade Insurance Agency LLC
Requires a full medical exam from the past 12 months for pets older than one
Bilateral exclusions (a condition or disease that affects both sides of the body) are considered pre-existing
Claims process:
Also offers homeowners and renters insurance, and you can get a 10% discount if you bundle pet insurance with one of these other policies
Live chat with medical experts on the app
Only available in 34 states and the District of Columbia: AL, AZ, AR, CA, CO, CT, GA, IL, IN, IA, MD, MI, MS, MT, NE, NV, NH, NJ, NM, NY, NC, ND, OH, OK, OR, PA, RI, SC, TN, TX, UT, VA, WA, and WI.
Policies start at $10 per month
Doesn't offer pre-approval of estimates/procedures in advance of treatment
Pre-Existing Conditions
Pet insurance providers don't cover pre-existing conditions, but the specific definitions can vary by company. A pre-existing condition is defined by Lemonade in their policy as:
Any Condition for which a Veterinarian provided medical advice, the pet received treatment for, or the pet displayed signs or symptoms consistent with the stated Condition prior to the Start Date of a pet insurance policy or during any Waiting Period.
Customer Service
Lemonade offers fewer customer service options than most pet insurance providers because it's structured largely as a digital company. All claims are handled through their app, and their app has an AI-driven chatbot.
Phone: 1-844-733-8666 (their site says this is for use in case of emergencies -e.g., your pet needs immediate surgery to save his life)
Email: help@lemonade.com
Waiting Periods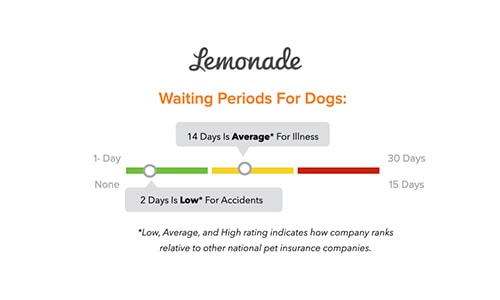 These waiting periods begin on your policy's start date, and Lemonade will only consider reimbursement for your claim after the waiting period ends.
What Does Lemonade Cover?
Please know that none of the providers in our pet insurance comparison cover pre-existing conditions or cremation and burial costs. All of them cover the following items when deemed medically necessary: X-rays, blood tests, ultrasounds, cat scans, MRIs, rehabilitation, specialized exams, surgery, hospitalization, emergency care, specialty care, hydrotherapy, chronic conditions, cancer, diagnostic treatment, alternative/holistic therapy, and euthanasia. However, there may be limitations to this coverage, so please check your policy.
| Condition | Covered By Lemonade |
| --- | --- |
| Exam Required To Set Health Baseline | |
| Behavioral Therapies | |
| Exam Fees | Extra Fee |
| Wellness Care Available For An Extra Fee | |
| Non-Routine Dental Treatment | |
| Hereditary Conditions | |
| Congenital Conditions | |
| Prescription Medication | |
| Breed, Whelping, Pregnancy | |
| Cosmetic Procedures (e.g., Tail Docking, Ear Cropping, Dew Claw Removal) Unless Medically Necessary | |
Extended Accident And Illness Package
Lemonade also offers an Extended Accident and Illness package that allows you to get reimbursed for the time and labor costs your vet might charge.
Vet exam fees for eligible accidents and illnesses
Physical therapy, acupuncture, and hydrotherapy
Like with the basic plan, Lemonade bases prices for the Extended Plan on your pet's age, breed, and location. When we ran quotes, prices averaged about $13/month for dogs and $3.50/month for cats.
Preventative Care Plan
If you opt to pay extra for wellness care through Lemonade, here's what you'll be reimbursed for. Not covered are spay and neuter surgery or microchipping, which most other companies include in their preventative care plans.
| Reimbursement Percentage | 70% | 80% | 90% |
| --- | --- | --- | --- |
| Price Per Month for Dogs | $15 | $16 | $18 |
| Price Per Month for Cats | $9 | $10 | $11 |
| Annual Wellness Exam | $50 | $50 | $55 |
| Heartworm Test | $35 | $40 | $45 |
| Internal Parasite or Fecal Test | $35 | $35 | $40 |
| Bloodwork | $55 | $65 | $75 |
| Up To Three Vaccines Each Year | $65 | $75 | $80 |
| Total Annual Benefits | $240 | $265 | $295 |
Pricing Quotes
Lemonade Pet Insurance offers flexible annual payout limits at $5,000, $10,000, $20,000, $50,000, and $100,000. There are no lifetime payout limits. You can choose deductibles of either $100, $250, or $500. You also have three reimbursement options: 70%, 80%, or 90%. Individual premium prices are based on age, breed, and location. Below are sample quotes we compiled in October 2020.
| Breed | Labrador Retriever | Mixed Breed Dog (45 lbs) | Yorkshire Terrier | Golden Retriever | Mixed Breed Cat |
| --- | --- | --- | --- | --- | --- |
| Male or Female | Male | Female | Female | Male | Female |
| Age | 3 Years | 5 Years | 4 Years | 2 Years | 2 Years |
| Location | Virginia (22901) | Indiana (46201) | New York City (10023) | California (90210) | Virginia (22901) |
| Price Per Month | $31.50 | $26.33 | $35.17 | $33.75 | $12.75 |
| Reimbursement Level | 80% | 80% | 80% | 80% | 80% |
| Annual Deductible | $250 | $250 | $250 | $500 | $250 |
| Annual Payout Limit | $20,000 | $20,000 | $50,000 | $100,000 | $20,000 |
You should expect annual increases on your premiums from any pet insurance company. These rates and increases will vary based on your location, changes in vet costs, and more.
Coupon Code
Customer Reviews
We typically share a couple of positive and negative reviews from customers in our pet insurance reviews, but we're unable to for Lemonade Pet Insurance because it's so new. If you have experiences with Lemonade's pet insurance, we encourage you to share them in our comment section below.
Positive Reviews
As a brand new dog owner with a dog that has predisposed stomach problems and dietary sensitivities I knew Teddy (my cockapoo) was going to be a handful. When I was told Teddy will always have a sensitive stomach I knew I needed to get the best coverage for Teddy and have him be seen by the best doctors, ALWAYS. He's been going to his vet and hasn't had any problems, except for the first time he got colitis. I was hit with a $600+ bill! He was given an x-ray, medication, and needed rounds of IV because he was dehydrated. I contacted Lemonade and got reimbursed within DAYS. I kid you not. I submitted the paperwork through the app, was emailed by a kind representative and within days got my reimbursement. – Sarah, Consumer Affairs 5/13/2021
I am very happy with Lemonade pet insurance. They usually have fast responses within 24-36 hours and the funds get to my bank within 4-5 days. They are also very caring, when my puppy is sick they always respond with "hope she is feeling better." The only negative-which is why I gave them 4 stars is that I didn't realize my accident illness coverage does not cover the vet exam fee. This is my first pet so I didn't understand how vet fees/insurance works. Overall I am very happy with Lemonade and have recommended them to my friends as well. – Ruby, Consumer Affairs 6/19/2021
Complaints
Do not get this insurance for your pets. I regret that I've put my cats under this insurance for over a year and never once got any reimbursement for their care. Pretty much anything your cat or dog has they'll try to frame it as a pre-existing condition. If your cat has had diarrhea? Or thrown up once when he was a kitten? Welp, forget about getting coverage if your pet ever has any colitis or inflamed stomach in the future. You won't get a penny, they'll make sure that's the case. Although they do say that if your pet gets into an accident and break a bone they'd cover it. So there's that. – Yinan X., BBB 5/20/2021
STAY AWAY!! We started with Lemonade Insurance earlier this year for pet insurance and were excited at first. Their branding seemed fun, the service seemed good on the surface, and the cost to insure our puppy was very competitive. However, we filed two claims, both of which they rejected after lengthy investigation processes. They claimed it was because my puppy had a pre-existing 'allergy' condition that caused the underlying issue for both claims – and that our vet verified this diagnosis. However, our dog has NEVER been diagnosed with allergies. When we spoke to our vet, she also verified she NEVER diagnosed our dog with allergies and that she communicated this many times to Lemonade. Our vet was baffled that they were giving us a hard time. They were looking for any excuse to not reimburse us – and even resorted to downright lying. Very shady business. I'd recommend going with a more reputable brand. – Jenna B., BBB 5/7/2021
How Is Lemonade's Business Model Unique?
Lemonade isn't your traditional insurance company in several ways. See how they stand out for their AI-driven process, digital claims processing, and commitment to charitable contributions in this four-minute video of Lemonade's CEO Daniel Schreiber on CNBC.
Lemonade vs Other Companies
See what the key differences are between Lemonade and other leading pet insurance companies.
Lemonade Pet Insurance vs Healthy Paws
Lemonade offers a wellness plan, but Healthy Paws doesn't.
Healthy Paws offers unlimited payout options for all plans, and Lemonade offers $5,000 to $100,000.
Healthy Paws is available nationwide; Lemonade is only available in 34 states and Washington D.C.
Compare Lemonade Pet Insurance and Healthy Paws
Lemonade Pet Insurance vs Trupanion
Trupanion has longer waiting periods for illnesses and accidents than Lemonade.
Trupanion is available nationwide, and Lemonade isn't.
Lemonade plans are more customizable than Trupanion plans offering multiple payout limit options, deductibles, and reimbursement percentages.
Compare Lemonade and Trupanion
What's Our Final Verdict?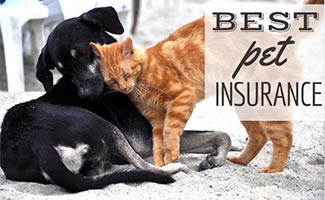 Since Lemonade is so new to the pet insurance industry, there's still a lot of room for this company to experience changes before establishing a solid reputation for handling claims and customer issues. However, their pricing, coverage, and flexible policies are worth considering if you're comfortable with the lack of customer service options.
If you're not sure if Lemonade is the right pet insurance provider for you, you've got lots of options. See our top three picks for best pet insurance along with category winners (we rank the best providers for everything from older dogs and dental to wellness coverage and bilateral conditions) to see how Lemonade compares. And you should always get multiple pet insurance quotes to compare coverage and costs to find the best value for your family.
What stands out most for you about Lemonade Pet Insurance?