To keep the lights on, we receive affiliate commissions via some of our links. Our review process.
Lemonade hit the pet insurance market in July 2020 with a unique Artificial Intelligence (AI)-driven claims process and four solid years of providing reputable homeowners and renters insurance. For pet insurance, they offer affordable premiums, customizable policies, a wellness plan add-on, and a fast claims process they handle through their smartphone app. But does Lemonade provide all the coverage you'll need for your pet? And how do they stack up against their competitors?

Lemonade Pet Insurance Review

Product Name: Lemonade Pet Insurance
Product Description: Lemonade offers pet insurance for dogs and cats.
Summary
Lemonade's pet insurance has affordable premiums, optional wellness plans, and a unique AI-driven claims process. Since their pet insurance is relatively new, they're gradually expanding to all 50 states. There's still time to establish a solid reputation, but pet parents are already excited about the offerings from Lemonade.
Our pet insurance experts read through each pet insurance company's policy to provide detailed comparisons and information regarding how a provider fares against others in the industry. We also speak with customers, read online feedback, and communicate one-on-one with pet insurance companies to obtain a well-rounded, unbiased analysis of a company's standings.
Our team rates pet insurance companies based on several factors, including A.M. Best ratings (an indicator of financial stability), claim processing reputations, contract coverage, customer service, pricing, plan customizations, and more.
Pros
Annual deductible (not per incident)
No lifetime payout limits on any plan
Wellness coverage available as an add-on
Company makes sizeable charitable contributions to causes of their customers' choosing
Lower than average pricing
Coverage available for pets aged 8 weeks to 20+ years (depending on breed)
Cons
Vet exams for accidents and illnesses only covered in extended add-on plan
Must pay extra for physical therapy, acupuncture, and hydrotherapy coverage
Only available in 37 states and DC
Not covered when traveling with your pet outside of the U.S.
Doesn't enroll some breeds once they hit a certain age, but they never terminate coverage for pets as they age
Key Features
Underwriter: Lemonade Insurance Agency LLC

A.M. Best rating (a measure of financial stability): Unrated

Requires a full medical exam from the past 12 months for pets older than one
Bilateral exclusions (a condition or disease that affects both sides of the body) are considered pre-existing
Claims process:

You can only submit claims through their app, and you must file claims within 180 days of an accident or illness occurring
Claim processing averages 2 days
Direct deposit and check options available for repayment

Also offers homeowners and renters insurance, and you can get a 10% discount if you bundle pet insurance with one of these other policies
Doesn't offer pre-approval of estimates/procedures in advance of treatment
Covers curable pre-existing conditions that are considered cured after 1 year (chronic and knee-related conditions are exempt from coverage)
Where Is Lemonade Pet Insurance Available? (Map)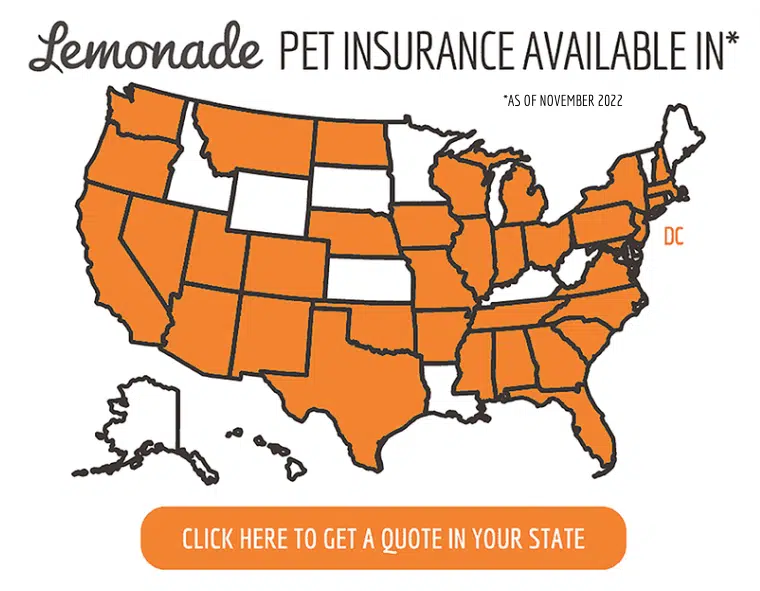 Customer Service Options & Hours
Lemonade offers fewer customer service options than most pet insurance providers because it's structured largely as a digital company. All claims are handled through their app, and their app has an AI-driven chatbot.
Phone: 1-844-733-8666
Email: [email protected]
Monday-Friday: 8am-8pm EST
Saturday & Sunday: Closed
Live chat with medical experts on the app
Waiting Periods*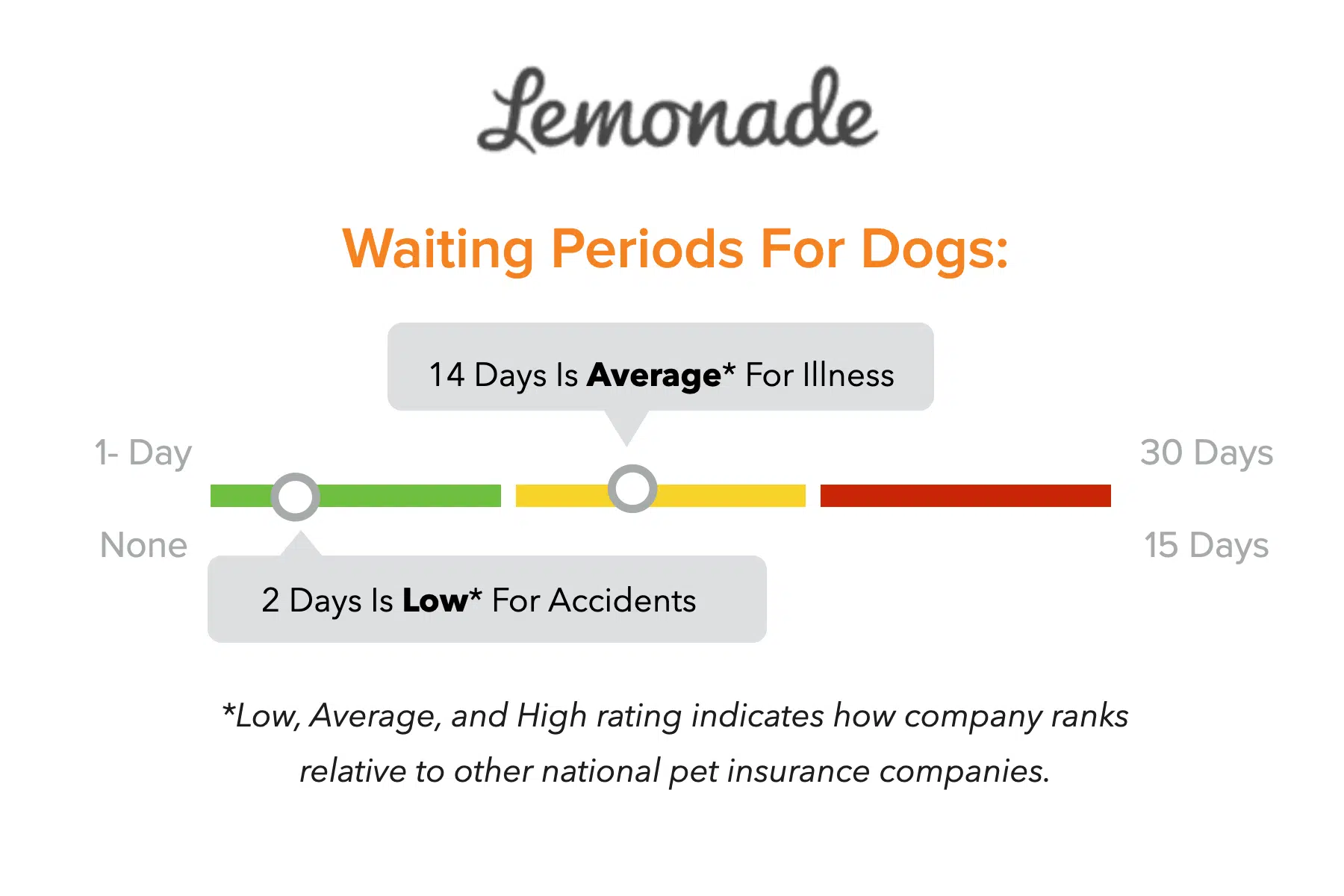 Accidents: 2 days
Illnesses: 14 days
Cruciate Ligament Events (bilateral exclusion for pre-existing cruciate ligament injuries and lameness): 6 months
Hip Dysplasia: 14 days
Wellness: 1 day
*Waiting periods for California, Maine, and Mississippi are as follows:
Accidents - 0 days
Illnesses - 14 days
Cruciate Ligament Conditions - 30 days
Routine Care - 0 days

What Does Lemonade Cover?
Please know that none of the providers in our pet insurance comparison charts cover pre-existing conditions, pregnancy and breeding, or unnecessary cosmetic procedures.
All of them cover the following items when deemed medically necessary: emergency care, surgery and hospitalization, specialized exams and specialty care, X-rays, blood tests, ultrasounds, cat scans, MRIs, rehabilitation, cancer, chronic conditions, euthanasia, hereditary conditions, congenital conditions, non-routine dental treatment, and prescription medications. However, this coverage may have limitations, so please check your policy.
| Condition | Covered By Lemonade |
| --- | --- |
| Behavioral Therapies | Extra Fee |
| Alternative/Holistic Therapies | |
| Exam Fees | Extra Fee |
| Wellness Care | Extra Fee |
Optional Coverage
Lemonade also offers optional add-ons.
Vet Visit Fees
For an additional fee, you can purchase coverage for vet visits pertaining to eligible accidents or illnesses.
Physical Therapy
You can purchase supplemental coverage for physical treatments like acupuncture, chiropractic care, and more for an extra fee.
Dental Illness
For coverage of an additional $1,000 limit toward dental illness such as gum disease or stomatitis, you can add on this coverage.
End Of Life & Remembrance
Lemonade will cover euthanasia, cremation, and memorial items totaling up to $500 if you purchase this add-on.
Preventative Care Plan
You can add-on preventative coverage for your pet to get up to 80% covered costs with no deductible. Lemonade's Preventative Care plans may vary based on your location, pet species/breed, age, etc.
| | Great For Dogs & Cats | Ideal For Dogs & Cats | Great For Puppies & Kittens |
| --- | --- | --- | --- |
| Price Per Month For Canines | $16 | $24.33 | $44 |
| Price Per Month For Felines | $10 | $16 | $34 |
| Wellness Exam | 1 up to $50 | 1 up to $50 | 2 up to a total of $100 |
| Fecal or Internal Parasite Test | 1 up to $35 | 1 up to $35 | 2 up to a total of $70 |
| Vaccines or Boosters | 3 up to a total of $75 | 3 up to a total of $75 | 6 up to a total of $150 |
| 1 Heartworm or FeLV/FIV Test | up to $40 | up to $40 | up to $40 |
| 1 Blood Test | up to $65 | up to $65 | up to $65 |
| Spay/Neuter | | | up to $120 |
| Microchip | | | up to $40 |
| Flea/Tick or Heartworm Meds | | up to a total of $65 | up to a total of $65 |
| Routine Dental Cleaning | | up to $150 | |
Pricing Quotes
Lemonade has no one-time fees or monthly transaction fees. Your monthly premium is based on the deductible, reimbursement percentage, and annual payout options that you choose from the table below.
Deductible Options
Payout Options
Reimbursement Options
$100
$250
$500
$5,000
$10,000
$20,000
$50,000
$100,000
70%
80%
90%
Pricing is also based on your pet's details (age, breed, location, pre-existing conditions, etc.). We recommend obtaining quotes from Lemonade for your specific pet to get an idea of how much a policy would cost you.
You can also use our pet insurance quote form below to see how top providers compare for your actual pet.
Discounts
Lemonade offers the following discounts:
10% off if you bundle with your renters, homeowners, auto, condo, or co-op insurance
5% off for multiple pets
5% off if you pay annually
Use this link to take advantage of the best possible price. No promo code is needed.
How Is Lemonade's Business Model Unique?
Lemonade isn't your traditional insurance company in several ways. See how they stand out for their AI-driven process, digital claims processing, and commitment to charitable contributions in this four-minute video of Lemonade's CEO Daniel Schreiber on CNBC.
You Can Bundle Several Insurance Policies With Lemonade
One of the biggest differentiators with Lemonade is that it also offers renters, homeowners, car, and life insurance, so you can bundle your pet insurance with your other policies. This can simplify things instead of having several insurance companies for your assets. Best of all, Lemonade offers a 10% discount if you bundle your pet insurance with another policy.
Artificial Intelligence Allows For Speedy Claim Processing
Lemonade is able to process many of its claims within minutes of submission because of the use of artificial intelligence. For more straightforward claims, you may see a near-instantaneous approval of your claim submission. However, more complicated claims may take a couple of days. But this is still an excellent claim processing average and among the fastest in the industry.
How Does The Claim & Reimbursement Process Work?
Lemonade uses a "copay then deductible" reimbursement method. This is calculated in the following manner:
(Eligible vet expenses x Reimbursement percentage) – Remaining annual deductible = Reimbursement amount
Let's say you chose a $100 deductible with an 80% reimbursement percentage. You take Fido to the vet, and the vet bill is $200. Out of this total, $40 are for the vet visit fee, which is ineligible for coverage unless you opt for the Vet Visit add-on. That means $160 is eligible for coverage, so here's how your reimbursement would be calculated.
$160 (eligible vet expenses) x 80% (reimbursement percentage) – $100 (remaining annual deductible) = $28 (reimbursement amount
Now that your deductible has been met, any future eligible vet expenses for the policy period will not require you to pay the deductible again.
Lemonade vs Other Companies
Interested in seeing how Lemonade stacks up against other popular pet insurance companies? We've written comparison articles for you to see how Lemonade and other leading pet insurance companies compare in coverage, customer service and reputation, claim processing, plan customization, and price.
What's Our Final Verdict?

Because Lemonade is so new to the pet insurance industry, there's still a lot of room for this company to experience changes before establishing a solid reputation for handling claims and customer issues. However, their current pricing, coverage, and flexible policies are worth considering if you're comfortable with fewer customer service options.
If you're unsure if Lemonade is the right pet insurance provider for you or if it's not available in your state, you've got lots of options. Check out our comparison of pet insurance companies to learn about other national providers. We compare the top ten pet insurance providers and rank them, explaining each company's strengths and weaknesses. We also have many comparison tables to help you see where pet insurance companies differ. We answer frequently asked questions, walk you through a pet insurance claim example, list out all of your pet insurance options in an easy-to-digest directory format, and more. We're sure we can answer all your pet insurance questions, so you feel equipped to make the best decision for your pet.
Tagged With: Reviewed By Insurance Agent