To keep the lights on, we receive affiliate commissions via some of our links. Our review process.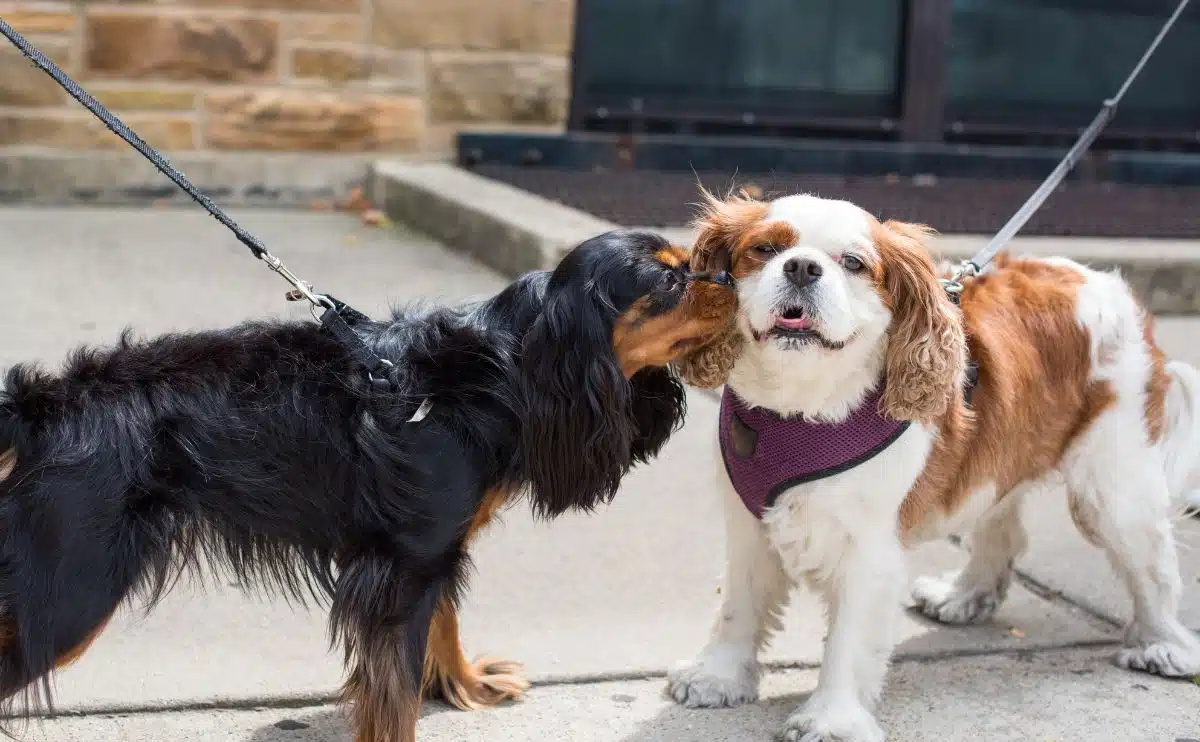 Lemonade is a pet insurance newcomer, while Healthy Paws is a veteran. We compare these two pet insurance companies head-to-head and choose a winner. We explain our reasoning for our rankings below.
Remember, you should always get quotes for your specific pet and location and read the policy before signing up. Ultimately, we feel that coverage should be a leading factor for you to consider before purchasing, but we also realize that cost is important.
Policy Coverage
Policy Coverage Winner
The table below shows precisely what Lemonade and Healthy Paws cover. Both companies cover emergency care, surgery and hospitalization, specialized exams and specialty care, X-rays, blood tests, ultrasounds, cat scans, MRIs, rehabilitation, cancer, chronic conditions, euthanasia, hereditary conditions, congenital conditions, non-routine dental treatment, and prescription medications. Neither covers pre-existing conditions, cremation and burial costs, pregnancy and breeding, or unnecessary cosmetic procedures.
| | Lemonade | Healthy Paws |
| --- | --- | --- |
| Illness Waiting Period* | 14 Days | 15 Days |
| Accident Waiting Period* | 2 Days | 15 Days |
| Hip Dysplasia Waiting Period* | 14 Days | 12 Months† |
| CCL Surgery Waiting Period* | 6 Months | 15 Days |
| Behavioral Therapies | Extra Fee | |
| Alternative/Holistic Therapy | | |
| Wellness Care For An Extra Fee | | |
| Exam Fees | Extra Fee | |
| Underwriter | Lemonade Insurance Agency LLC | Westchester Fire Insurance Company/Chubb |
| A.M. Best Rating | Unrated | A++ |
*Waiting periods for California, Maine, and Mississippi are as follows:
Accidents - 0 days
Illnesses - 14 days
Cruciate Ligament Conditions - 30 days
Routine Care - 0 days
†Healthy Paws only offers hip dysplasia coverage to dogs enrolled before the age of six.
You'll notice that Healthy Paws has an A++ A.M. Best rating (a measurement of financial stability), which is the best we've seen from any pet insurance company. Lemonade's underwriter is unrated, which shows uncertainty.
Another key deciding factor for you may be the age restrictions attached to each of these companies. Healthy Paws doesn't enroll pets older than 14 years old. Additionally, Healthy Paws will not enroll pets older than four years old in New York state. And if you choose to enroll your pet with Healthy Paws after their sixth birthday, you'll notice plan customization restrictions and exclusions for hip dysplasia coverage. Meanwhile, Lemonade has breed restrictions and plan restrictions for specific ages.
Additionally, Healthy Paws is available in 49 states (currently not enrolling new pets in Washington), whereas Lemonade is only available in 37 states and Washington, D.C. Because of this, Healthy Paws is the winner of this category.
Customer Service & Reputation
Customer Service & Reputation Winner
Lemonade pet insurance was founded in 2020, so it's hard for us to gauge if Lemonade will offer consistent coverage and pricing for the long haul. It doesn't have the longstanding reputation that Healthy Paws does.
Healthy Paws is known for having one of the best standings in the pet insurance industry. In fact, it used to lead the industry with positive change and innovations. Healthy Paws was also the first company to offer unlimited claim limits, and it has excellent customer service.
More recently, Healthy Paws' innovation has taken a back seat to providing a consistent, reliable service. The company may not be rolling out new ideas as regularly as its competitors, but it's still giving its customers dependable service. We've chosen Healthy Paws as the winner for customer service and reputation for all these reasons.
Claim Processing
Claim Processing Winner

Both Lemonade and Healthy Paws process most of their claims within two days. For years and years, Healthy Paws has been consistent with its claim processing average showing how stable it is as a company. Lemonade has an Artificial Intelligence (AI) -driven claim process, which allows Lemonade to pay several straightforward claims within seconds of submission. This has really disrupted the pet insurance space and caused competitors to step it up.
Additionally, you may be able to have Healthy Paws pay your vet directly, so you don't have to pay a hefty vet bill in advance and wait for reimbursement. But this isn't available everywhere, so check with your vet first to see if this is an option for you.
Price Of Policy
Price Of Policy Winner

Healthy Paws and Lemonade have no one-time enrollment fees or transaction fees.
Your premium price quote is based on your pet's details (age, breed, location, etc.). We recommend obtaining quotes from each company for your specific pet. You can also visit our pet insurance comparison quotes to see a few sample prices we've gathered.
It's hard to compare apples-to-apples because Healthy Paws doesn't offer all of its deductible and reimbursement options for each dog because it's based on your pet's details. However, Lemonade is typically less expensive than Healthy Paws.
Remember that it's always best to get quotes for your specific dog to compare what pet insurance could cost for you. You can use our pet insurance quote form to get multiple company quotes when you complete this one-quick form.
Additionally, both companies have annual deductibles, which is important if your pet experiences multiple accidents or illnesses during the policy period (one year).
Coupons
Lemonade Pet Insurance
Lemonade offers the following discounts:
10% off if you bundle with your renters, homeowners, auto, condo, or co-op insurance
5% off for multiple pets
No promo code is needed. Use this link to take advantage of the best possible price.
Healthy Paws
Use this link to take advantage of the best possible price and get a quote for your pet from Healthy Paws. You can also visit our dedicated Healthy Paws promotions page to learn more.
Plan Customization
Plan Customization Winner

The major differences between these two companies are the level of plan customization available and age restrictions.
While Healthy Paws has unlimited payouts for all plans, they do have some restrictions on reimbursement and annual deductible amounts, depending on your pet's age at enrollment.
Dogs and cats 5 years and under:

90%, 80%, and 70% reimbursement
$100, $250, and $500 deductible

Dogs and cats 6 and 7 years old:

80%, 70%, or 60% reimbursement
$250, $500, or $750 deductible

Dogs 8 years and older:

50% or 60% reimbursement
$750 or $1,000 deductible
Lemonade pet insurance offers a lot of customizable options no matter the pet's age:
Annual payout options: $5,000, $10,000, $20,000, $50,000, and $100,000
Deductibles: $100, $250, or $500
Reimbursement: 70%, 80%, or 90%
Lemonade offers coverage for pets aged 8 weeks to 20+ years, depending on the breed and species. Some breeds are ineligible for enrollment once they hit a certain age, but they never terminate pets' coverage as they age. (Healthy Paws doesn't terminate coverage for pets as they age either.)
Overall, Healthy Paws has more age restrictions and only one annual limit option, making it more difficult to adjust to fit your budget. Lemonade has fewer age restrictions, but it does have some breed restrictions. In the end, Lemonade wins by a hair.
What's The Verdict?
Overall Winner
Healthy Paws wins this comparison due to its coverage, reputation, customer service, and speedy claim repayment. However, if you want more customization options or a wellness plan, you may want to consider Lemonade.
If you didn't find what you were looking for, our experts dig even deeper into each company in our individual reviews of Lemonade Pet Insurance and Healthy Paws.
Our experts have spent thousands of hours researching to bring you our comprehensive and frequently updated pet insurance reviews, including our top picks, along with details on each of the most popular pet insurance companies. So, if you want to know how other providers compare against one another, you may find this review helpful in your pet insurance search.
Tagged With: Reviewed By Insurance Agent, Vs