To keep the lights on, we receive affiliate commissions via some of our links. Our review process.
Founded in 2003, Fetch licensed the Petplan name from Petplan UK until it became Fetch Pet Insurance in early 2022. Today, Fetch is one of the largest U.S. pet insurance companies and has some of the most extensive coverage. However, many competitors have stepped up in recent years.
Why do we think Fetch still deserves your consideration? Read our review to see why you might choose Fetch, especially if you're signing up as a new customer or adding a new pet.
Get A Free Fetch Quote For Your Pet
Fetch Pet Insurance Reviews

Product Name: Fetch Pet Insurance
Product Description: Fetch offers pet insurance healthcare plans for dogs and cats.
Summary
Fetch offers unique features like coverage for virtual vet appointments and curable pre-existing conditions after one year. There are no add-ons required with a Fetch policy because several conditions often excluded by competitors are included by Fetch.
Our pet insurance experts read through each pet insurance company's policy to provide detailed comparisons and information regarding how a provider fares against others in the industry. We also speak with customers, read online feedback, and communicate one-on-one with pet insurance companies to obtain a well-rounded, unbiased analysis of a company's standings.
Our team rates pet insurance companies based on several factors, including A.M. Best ratings (an indicator of financial stability), claim processing reputations, contract coverage, customer service, pricing, plan customizations, and more.
Pros
No lifetime or per-condition payout limit
Covers the exam fees for sick visits ($50-$250 on average)
Your pet is covered when they travel with you in the U.S. or Canada
Covers up to $1,000 in VirtualVet visits over video chat, call, or text
30-day money-back guarantee
Optional wellness plan
Cons
No multi-pet discount
Dogs must have annual health and dental check-ups for coverage to apply. Failure to do so may mean your dog won't get insurance coverage until that checkup is done.
Only covers CCL (ACL) on a second leg if the first leg remains healed for 12 months (if your pet received treatment for a cruciate or soft tissue injury to one knee before policy inception, then the other knee is automatically excluded)
Key Features
Underwriter: XL Specialty Insurance Company & AXIS Insurance Company
Offers a bilateral exclusion (a condition or disease that affects both sides of the body) for injuries/conditions of cruciate ligaments — if one side were pre-existing, the policy would exclude the other if injured
Claims process:

Must submit claims within 90 days following treatment via the mobile app or online
Claim repayments averages 5-6 days
Check and direct deposit are both available for reimbursement

Includes coverage for COVID-19 in pets should an enrolled pet be diagnosed with the virus
Covers VirtualVet visits up to $1,000 per policy year with no co-pay or deductible
Offers pre-approval of estimates/procedures in advance of treatment
Covers curable pre-existing conditions after 1 year
Requires a vet exam within 6 months before or 30 days after enrollment
Customer Service Options & Hours
Email, live chat, and phone:

Monday-Friday: 9am-6pm EST
Saturday & Sunday: Closed
What Are Fetch's Waiting Periods*?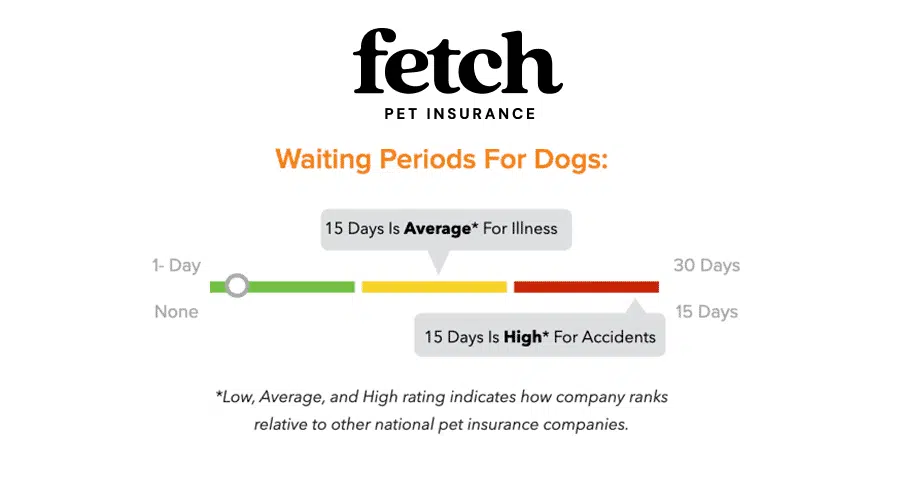 Illnesses: 15 days
Accidents: 15 days
Cruciates and Patellas: 6 months†
Hip Dysplasia: 6 months
*Waiting periods for California, Maine, and Mississippi are as follows:
Accidents - 0 days
Illnesses - 14 days
Cruciate Ligament Conditions - 30 days
Routine Care - 0 days
†Can be waived if a vet examines your pet within 30 days of policy issuance and the vet notes explicitly that there's no indication of any knee problems.
What Does Fetch Cover?
Please know that none of the providers in our pet insurance comparison charts cover pre-existing conditions, cremation and burial costs, pregnancy and breeding, or unnecessary cosmetic procedures.
All of them cover the following items when deemed medically necessary: emergency care, surgery and hospitalization, specialized exams and specialty care, X-rays, blood tests, ultrasounds, cat scans, MRIs, rehabilitation, cancer, chronic conditions, euthanasia, hereditary conditions, congenital conditions, non-routine dental treatment, and prescription medications. However, this coverage may have limitations, so please check your policy.
| Condition | Covered By Fetch |
| --- | --- |
| Behavioral Therapies | |
| Alternative/Holistic Therapies | |
| Sick Visit Exam Fees | |
| Wellness Care | |
Does Fetch Offer Wellness Plans?
Fetch offers three wellness plans shown below in the table. Included are the maximum amounts that Fetch will pay each year for that specific routine care per year.
| | Essentials | Advantage | Prime |
| --- | --- | --- | --- |
| Annual Exam | $30 | $50 | $50 |
| Bordetella/FELV Vaccines | $10 | $20 | $25 |
| DHLPP/FVRCP Vaccines | $10 | $20 | $25 |
| Rabies Vaccine | $10 | $20 | $25 |
| Lyme/FIP Vaccines | $10 | $20 | $25 |
| Heartworm, Flea & Tick Prevention | $30 | $50 | $60 |
| Heartworm Tests | $10 | $25 | $30 |
| Dental Cleaning | $75 | $100 | $125 |
| Spaying or Neutering | $100 | $100 | $125 |
| Blood Test | $10 | $25 | $30 |
| Urinalysis | $10 | $25 | $30 |
| Fecal Test | $10 | $25 | $30 |
| Microchipping | | $20 | $30 |
| Anal Gland Expression | | $20 | $20 |
| Behavioral Exam | | | $25 |
| Health Certificate | | | $30 |
| Activity Monitor | | | $50 |
| Total Annual Benefits | $315 | $520 | $735 |
What Does Fetch Cost?
Pricing is based on your pet's details (age, breed, location, pre-existing conditions, etc.) and the plan you select. We recommend obtaining quotes from Fetch for your specific pet to get an idea of how much a policy would cost you.
Fetch has no one-time fees or transaction fees. Your monthly premium is based on the deductible, reimbursement percentage, and annual payout options that you choose from the table below.
There may be more possibilities available to you based on your circumstances, so be sure to reach out to Fetch by phone at 800-237-1123 to explore potential plan customizations.
Deductible Options
Payout Options
Reimbursement Options
$300
$500
$700
$5,000
$10,000
$15,000
70%
80%
90%
Get A Free Fetch Quote For Your Pet
Does Fetch Have A Coupon Code?
Fetch offers the following discounts:
Up to 10% off for animal shelter adoptees and employees, corporate benefit plans, medical services pets, strategic partners, military, veterinary staff, and students
10% off premiums for Walmart shoppers
Save $25 or more when you pay quarterly or annually
10% off for AARP members for life
Use this link to take advantage of the best possible price. No promo code is needed. Alternatively, call 800-237-1123. You can also visit our dedicated Fetch promotions page to learn more.
How Does The Claim & Reimbursement Process Work?
Fetch uses a "deductible then co-pay" reimbursement method. This is calculated in the following way:
Actual vet bill amount – Remaining annual deductible – Co-pay = Reimbursement amount
Reimbursement Story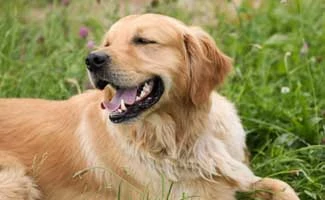 When her mother injured her back and landed in the hospital, Delaney, a five-year-old Golden Retriever, took out her stress on the holiday décor. A belly full of garland later, Delaney needed X-rays, emergency surgery, and medication to save her life. Luckily, Delaney's family had pet insurance and could say yes to the care their precious pup needed to make a full recovery.
Dog: Delaney, 5-year-old Golden Retriever
Diagnosis: Foreign Body Ingestion
Treatment Cost: $3,409
Fetch Reimbursed: $2,568
Final Cost For Pet Parents: $841
What Are The Most Common Claims Submitted To Fetch?
Mass lesions and swelling: $1,219
Oral inflammation (most likely periodontal disease): $815
GI conditions: $814
Frequently Asked Questions About Fetch Pet Insurance
Here are some frequently asked questions regarding Fetch pet insurance from our readers.
Does Fetch Cover Neutering?
No, Fetch pet insurance plans don't cover neutering or spaying. But you can add one of Fetch's wellness plans which include an alottment that can be used for neutering and spaying.
How Do I Cancel Fetch Policy?
You can cancel Fetch insurance by calling 1-866-467-3875.
If you notify Fetch within 30 days from the effective date shown on your policy declarations page and haven't submitted a claim, the company will refund your premium. After 30 days, Fetch will return the pro-rata premium based upon the date of termination of the policy.
If you are transitioning from Fetch to a new provider, take a look at our pet insurance reviews to see which pet insurance companies we recommend.
Do I Really Need Pet Insurance?
Pet insurance helps reduce out-of-pocket expenses when any significant medical event occurs in your dog's life. None of us ever plan for these unexpected events to occur, but pet insurance offers peace of mind when they do. See how Fetch pet insurance made an impact on Reuban's life in the short video below.
Fetch vs Other Companies
Interested in seeing how Fetch stacks up against other popular pet insurance companies? We've written comparison articles for you to see how Fetch and other leading pet insurance companies compare in coverage, customer service and reputation, claim processing, plan customization, and price.
What's Our Final Verdict On Fetch?

Call: 800-237-1123
Fetch's pricing is competitive, especially for younger pets. Additionally, Fetch has improved its claim processing timeline, which was 5-22 days but is now 5-6 days. We think Fetch's detailed coverage is tough to beat and certainly worth considering.
Ultimately, whether you pick Fetch for your pet is up to you; however, here at Canine Journal, we always advocate some form of insurance. See how Fetch stacks up against other pet insurance companies in our detailed comparison.
Tagged With: Reviewed By Insurance Agent